While first quarter's earnings results have been largely kind to my portfolio positions despite the challenging market, Pitney Bowes (NYSE:PBI) has been the one laggard that has left me disappointed. My investment case, which is likely similar to many value investors that have picked up shares in recent years, in Pitney Bowes lay on two core components: a slowdown in falling revenues from the legacy SMB and Enterprise Solutions businesses, all while the company executes a turnaround strategy, pivoting itself to Digital Commerce Solutions to drive growth.
I always had faith in the company managing the legacy mailing businesses. This has been, after all, Pitney Bowes' focus of operations for years and years. Despite a challenging environment for mailing and printing equipment for small and medium-sized businesses (NYSEARCA:SMB) with revenue down 4% y/y, Pitney Bowes managed to keep operating profits relatively flat in the key North American segment in Q4, down just $1M to $165M from 2014 levels.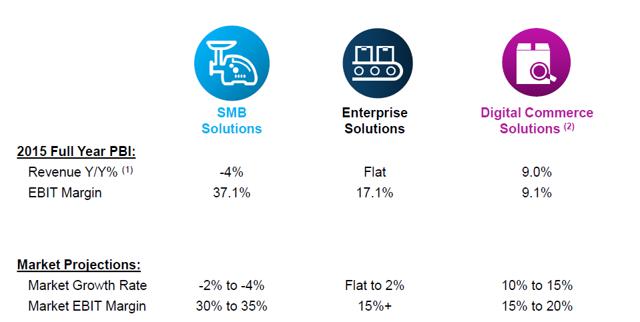 Click to enlarge
*Pitney Bowes, Q4 2015 Investor Presentation
Margins remain incredibly high in this segment, and the company actually managed to improve margins in 2015 due to cost-savings measures and a better product mix. This is to be lauded, as growing margins in a declining business is no small feat. Enterprise Solutions (sales to large businesses) was largely a similar story - relatively flat revenue and operating profit year/year.
These are all things investors, including me, wanted to see in 2105. Pitney Bowes' legacy business generates substantial free cash flow and substantially all of EBIT, and will continue to do so for some time. With that said, it is a given that the mailing needs of all businesses, from the local corner store all the way up to gigantic international corporations, will continue to bleed off slowly. Investors know that, management knows that. As a result, investors like myself need to see true value being created in the Digital Commerce Solutions segment. I needed to see double-digit growth, I needed to see margin improvement from operating leverage, and I needed to see Pitney Bowes shifting its image from a mailing supplier to a digital commerce leader. I didn't get that.
Digital Commerce Solutions
Software Services actually posted 12% y/y decline (7% constant currency). While this is largely the same decrease we saw in Q3, I was hoping for a reversal here. The company lost a key licensing deal in 2015, bringing down EBIT margins 420bps in the segment and significantly impacting y/y comparisons. Pitney Bowes management has assured investors it is continuing to add more enterprise clients, but comps remain stubborn and weak. As Software Services was a large contributor to overall Digital Commerce Solutions EBIT, I'm afraid it will be a long climb back to 2014 EBIT levels given 2015 was down by a third y/y. Mark Lautenbach shared his frustration on the company's Q4 2015 call:
"The performance of our software business was not consistent with our long-term model. Over the last several quarters and really over the last couple of years, our software team had been more effective in terms of their sales execution. The fourth quarter is a departure from this pattern. We do not experience the close rate or the deal size growth rate we would have expected for the fourth quarter of the year. The net of this was a disappointing performance. We continued to work to move our software business into new markets and to develop new channels. There is no doubt this is the right strategy. Our existing client base tells the way of the right products, but we need to move faster into these new markets."
Like myself, analysts on the call dug deep into this Software Services problem, questioning management on why sales slowed and how it plans to fix them. I appreciate management's candor in addressing these issues, but at this point I need to see execution before potentially buying back in; this slump by itself was enough to make me want to run for the door, which is not something I do often on deep value plays.
BorderFree?
BorderFree was acquired in June of 2015 for $381M (net of cash); and represented more than a 100% premium the company's prior closing price. At the time of the acquisition, I felt the cost was a little prohibitive, but I did see the value and direction that Pitney Bowes management saw with the acquisition. I gave them a pass on that cost, and was willing to let things shake out and see how this acquisition would turn out. BorderFree's model, helping businesses sell internationally, just hasn't worked out well with the continually strengthening U.S. Dollar. I think a little patience from management would have went a long way; BorderFree was a weak business on its own and the company would have been bleeding cash on its own into 2016. A deal could have been done for cheaper in hindsight.
It has helped the non-organic top-line, with revenue up 40% y/y in Digital E-Commerce (part of the Digital Commerce Solutions segment) in the back half of 2015 since the acquisition. This has helped hide weakness in organic growth, however, which has just run at 10% annualized. Given this is an 8.7% Q4 EBIT margin business line at Pitney Bowes with $450M in Q4 run-rate revenue, we aren't moving the needle much with this anemic growth when it comes to replacing potential future EBIT losses from the $1.5B, 37% EBIT margin SMB business. Pitney Bowes notes in the above graphic that market EBITs are 15-20%; so why haven't we seen meaningful improvement in the back half of the year?
Conclusion
2015 GAAP (not the company's adjusted numbers) free cash flow was down to $348M in 2015 from $465M in 2014. 6.3% GAAP free cash flow yield would be attractive, if an investor has faith that the company will continue to make moderate increases to free cash flow over time. That was the story I bought into, when ttm GAAP cash flow was in the $500M range. Given company 2016 adjusted free cash flow guidance that is relatively flat y/y ($425-525M, compared to $456M in adjusted free cash flow in 2015), we won't see cash flow improvement next year. Additionally, these numbers likely bake in management confidence in a return to normal sales levels in Software Services, which may not materialize.
Given the sell-off in the market that has occurred, I unfortunately could not keep my capital tied up in an investment I had lost faith in. It was time to move on, so I took my punches, sold Pitney Bowes, and moved on to potential greener pastures. While not all investors need follow me, I think there are better places for investor capital out there right now.
Disclosure: I/we have no positions in any stocks mentioned, and no plans to initiate any positions within the next 72 hours.
I wrote this article myself, and it expresses my own opinions. I am not receiving compensation for it (other than from Seeking Alpha). I have no business relationship with any company whose stock is mentioned in this article.