Important note: This article is not an investment recommendation and should not to be relied upon when making investment decisions - investors should conduct their own comprehensive research. Please read the disclaimer at the end of this article.
Stock prices of Williams Companies (NYSE:WMB), Williams Partners (NYSE:WPZ) and Energy Transfer Equity (NYSE:ETE) moved sharply lower on Monday. In just two trading sessions, WMB's shares and WPZ's units lost 36% and 29%, respectively, which corresponds to losses of ~$3.8 billion and ~$2.6 billion, respectively, in equity market capitalizations.
While many articles attempted to link the unexpected CFO replacement at Energy Transfer Equity as a factor contributing to the pressure on Williams' and Williams Partners' prices, the real culprit appears to be the speculations with regard to a possible Chesapeake Energy's (NYSE:CHK) bankruptcy filing that flared up on Monday.
While CHK came out with a press release denying the rumor and stating that the company "currently has no plans to pursue bankruptcy," the market has remained concerned nonetheless, with Chesapeake's shares closing yesterday 40% below their closing price two days ago, after bouncing from even lower intraday levels.
So what is the link between Chesapeake's bankruptcy fears and the steep drop in Williams' and Williams Partners' equity prices?
The link is four-fold, in my view:
The high-margin legacy gathering, processing and transportation contracts between Williams and Chesapeake may be at risk in the event CHK goes through a reorganization;
potential negative implications for Williams' pending merger with Energy Transfer Equity;
a read-across to other potential situations where customers' financial distress may cause loss of cash flows for midstream companies; and
Williams Partners' and Williams Companies' excessive leverage that amplifies the effect.
Chesapeake Energy Contractual Commitments
The following table shows Chesapeake's net aggregate undiscounted commitments under its agreements for future gathering, processing and transportation of natural gas and liquids with various midstream service companies and pipeline carriers. As one can see from the table, the total undiscounted amount of those commitments was ~$13.3 billion at year-end 2015 ($14.2 billion as of June 30, 2015, less $0.9 billion for the second half of 2015).

Click to enlarge
It is important to note that many of the gathering and processing agreements were originally entered by CHK with its own midstream arm, Chesapeake Midstream.
Chesapeake took the midstream subsidiary public using a master limited partnership structure, Chesapeake Midstream Partners LP, and used it as a capital raising vehicle. As has been typical for many midstream MLPs sponsored by E&P parent companies, contractual arrangements between Chesapeake and its MLP affiliate featured high-margin service fees and multiple performance guarantees.
Strong, contractually protected economics, which also included in some cases growing minimum volume commitments ("MVC"), and multi-year acreage dedications supported high valuations for the MLP's units and rewarded Chesapeake with high proceeds from the monetizations.
As natural gas prices collapsed in 2012, Chesapeake was forced to sell its interests in its midstream affiliates and standalone midstream assets to raise cash. The acquirer of the majority of those interests was Access Midstream Partners LP (NYSE:ACMP), another midstream master limited partnership. The largest tranche of CHK's midstream divestitures was done in tandem with another transaction in which U.S. pipeline and energy infrastructure company Williams paid $2.4 billion to buy a big stake in Access from private equity firm Global Infrastructure Partners, taking over the control of Access.
Subsequently, in 2015, Williams Companies merged the two MLP entities that it controlled - Williams Partners LP and Access Midstream Partners LP - into one entity, Williams Partners LP. Following the reorganization, Williams Companies owns approximately 60% of Williams Partners, including the interests of the general partner and the incentive distribution rights.
In the merger, Williams Partners inherited the acreage dedications and contractual agreements originally entered into by Chesapeake with its own subsidiaries. The margins and guarantee levels under the legacy contracts in some cases may significantly exceed the price levels and have more favorable terms to the midstream operator than what can be obtained today in the market.
I should note that it would be incorrect to think of the contract terms as "unfair" to Chesapeake. CHK received significant upfront benefit - in the form of monetization proceeds - for the midstream contracts that it agreed to enter into. Those funds were raised when Chesapeake strongly needed liquidity.
I would argue, however, that from the outset those contracts contained significant component of "financing in disguise" as opposed to being pure operating arrangements priced on an arms-length basis.
Access Midstream Partners
So what exactly is at risk, in the event Chesapeake ever elected to file for protection under Chapter 11?
In a hypothetical reorganization, Chesapeake's long-term midstream commitments would likely be viewed as executory contracts and would likely end up rejected or restructured. Williams (and other midstream service providers that happen to be in similar situations) would face the risk of the premium margins and minimum volume commitments under its contracts with Chesapeake being lost.
In addition, CHK's operating plan may be strongly impacted in the event of a reorganization. In addition to a major general disruption to the company, the cancellation of minimum volume commitments would eliminate the incentive for Chesapeake to maintain production volumes close to the MVC levels. Under a pessimistic scenario for natural gas, NGLs and oil prices, production volumes may decline faster if the MVCs are eliminated.
Furthermore, the impact on the gathered and transported volumes may be exacerbated by Chesapeake being the operator of significant third-party volumes.
While it is difficult to predict the exact outcome of a hypothetical reorganization, it is clear that the economic impact on Williams Partners and Williams Companies will be material under the majority of scenarios.
Even if Chesapeake's volumes still continue to flow through the same gathering and processing systems and are carried on the same pipeline routes to customers, the profitability to midstream providers may go from high and predictable to mediocre and a lot less predictable. As a result, the amount of debt that can be supported by those cash flows would decline.
In addition, under a hypothetical scenario where Chesapeake elects to pursue a reorganization under Chapter 11 (which is not the case at the moment, according to the company), Williams would find itself in a "limbo" with regard to its contracts with CHK, as some time will be required to re-define post-reorganization midstream relationships.
What Value Is At Risk To Williams Partners and Williams Companies?
To assess the magnitude of Williams Partners' exposure to the Chesapeake risk, it might be helpful to review some aspects of business and contracts of Access Midstream, which is now a segment of Williams Partners. While some of the contracts were significantly modified in 2015, Williams Partners' year-end 2014 10-K filing provides a lot of helpful details (I have included excerpts from the filing for readers' reference).
As of year-end 2014, Access provided midstream services to Chesapeake; subsidiaries of Total S.A. (NYSE:TOT); Mitsui & Co. (OTCPK:MITSY); Anadarko Petroleum (NYSE:APC); Statoil (NYSE:STO); as well as some other producers under long-term, fixed-fee contracts. Please note that Chesapeake operates significant production volumes under its joint ventures with the companies mentioned above, as well as on behalf of third-party working interest owners and royalty interest owners.
Access's primary operating areas were the Barnett Shale region; the Eagle Ford Shale region; the Haynesville Shale region; the Marcellus Shale region primarily in Pennsylvania and West Virginia; the Niobrara Shale region in eastern Wyoming; the Utica Shale region in eastern Ohio; and the Mid-Continent region which includes the Anadarko, Arkoma, Delaware and Permian Basins.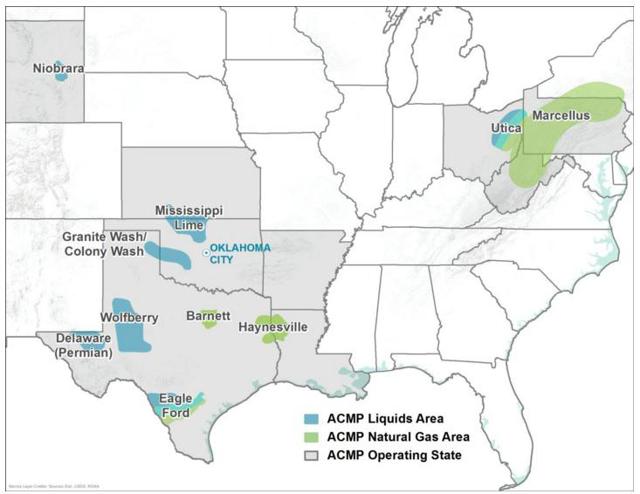 Click to enlarge
Source: Access Midstream Partners, Year-End 2013
It is important to understand that with few exceptions, Access's business reflected acreage dedications from Chesapeake. As such, the majority of Access's EBITDA and the larger portion of its expected growth were linked to Chesapeake's initial operating plans dating back to the time when the key contracts were entered into. In 2014, CHK accounted for 82% of Access's revenues.
In some areas, Chesapeake's operating plans changed quite radically due to the change in the industry's structure. However, the minimum volume commitments remain in place and represent significant value to Williams.
The fees and undersupply payments under the minimum volume commitments have provided for favorable contract-supported EBITDA margins for Access. During the first nine months of 2015, Access generated $769 million of modified EBITDA on $955 million of revenues, a remarkable 81% margin.
Let's assume, for illustration, that Williams Partners would lose half of its EBITDA margin on Chesapeake's volumes and would also lose some throughput volumes in the event of a reorganization by CHK. The EBITDA loss by Williams Partners may be in the $0.5 billion range per year under this scenario.
It is difficult to estimate the net present value impact of such hypothetical reorganization as Chesapeake's assets would remain captive to Williams after the reorganization and would continue to generate growing volumes in the long term. As a very rough "order of magnitude" estimate of the potential net present value loss to Williams Partners, I use a range of $2 billion to $3 billion. The actual impact would of course depend on the agreement reached in the reorganization.
The move in WPZ's unit price this week may appear commensurate with this illustrative estimate of the potential value impact. However, if the Chesapeake rumor was the only driver, I would argue that stock price moves were exaggerated.
First, while Chesapeake's credit risk is high, I would not take a reorganization event for granted. Second, this risk should be to a significant degree already discounted by the market - Williams Partners' exposure to the Chesapeake risk has never been a secret.
Below is a risk factor description that Access included into its year-end 2013 disclosure, among other factors:
We are currently dependent on Chesapeake for a substantial majority of our revenues. Therefore, we are indirectly subject to the business risks of Chesapeake. We have no control over Chesapeake's business decisions and operations, and Chesapeake is under no obligation to adopt a business strategy that favors us.

Historically, we have provided substantially all of our natural gas gathering, treating and compression services to Chesapeake and its working interest partners. For the year ended December 31, 2013, Chesapeake accounted for approximately 74 percent of the natural gas volumes on our gathering systems and 84 percent of our revenues.

We expect to derive a substantial majority of our revenues from Chesapeake for the foreseeable future. Therefore, any event, whether in our area of operations or otherwise, that adversely affects Chesapeake's production, financial condition, leverage, results of operations or cash flows may adversely affect our ability to sustain or increase cash distributions to our unitholders. Accordingly, we are indirectly subject to the business risks of Chesapeake, some of which are the following:

The volatility of natural gas, NGL and oil prices, which could have a negative effect on the value of its oil and natural gas properties, its drilling programs or its ability to finance its operations;
the availability of capital on an economic basis to fund its exploration and development activities;
its ability to replace reserves, sustain production and begin production on certain leases that may otherwise expire;
uncertainties inherent in estimating quantities of natural gas and oil reserves and projecting future rates of production;
its drilling and operating risks, including potential environmental liabilities;
transportation capacity constraints and interruptions;
adverse effects of governmental and environmental regulation; and
losses from pending or future litigation.

If our producers do not increase the volumes of natural gas they provide to our gathering systems and processing facilities, our growth strategy and ability to increase cash distributions to our unitholders may be adversely affected.

Our ability to increase the throughput on our gathering systems and at our processing facilities will be substantially dependent on receiving increased volumes from producers. Other than the scheduled increases in the minimum volume commitments provided for in our gas gathering agreements with certain producers in certain geographic areas, our customers are not obligated to provide additional volumes to our systems, and they may determine in the future that drilling activities in areas outside of our current areas of operation are strategically more attractive to them. For example, Chesapeake previously announced its intention to increase operations in NGL-rich areas and, in response to historically low natural gas prices, announced that it was reducing dry gas drilling, completions, production and leasehold expenditures wherever feasible, including by operating fewer drilling rigs in the Barnett Shale and Haynesville Shale regions. A reduction in the natural gas volumes supplied by Chesapeake, Total or other producers could result in reduced throughput on our gathering systems and adversely impact our ability to grow our operations and increase cash distributions to our unitholders.

Chesapeake's level of indebtedness could adversely affect our ability to grow our business, our ability to make cash distributions to our unitholders and our credit ratings and profile.

Chesapeake must devote a portion of its cash flows from operating activities to service its indebtedness, and such cash flows are therefore not available for further development activities, which may reduce the volumes Chesapeake delivers to our gathering systems and processing facilities. Furthermore, a higher level of indebtedness at Chesapeake increases the risk that it may default on its obligations, including under its gas gathering and processing agreements with us. The covenants contained in the agreements governing Chesapeake's outstanding and future indebtedness may limit its ability to borrow additional funds for development and make certain investments, which also may reduce the volumes Chesapeake delivers to our gathering systems and processing facilities.

Chesapeake's debt ratings for its senior notes are currently below investment grade. If these ratings are lowered in the future, the interest rate and fees Chesapeake pays on its revolving credit facilities will increase. Credit rating agencies such as Standard & Poor's and Moody's will likely consider Chesapeake's debt ratings when reviewing ours because of the significant commercial relationships between Chesapeake and us and our reliance on Chesapeake for a substantial majority of our revenues. If one or more credit rating agencies were to downgrade the outstanding indebtedness of Chesapeake, we could experience an increase in our borrowing costs or difficulty accessing the capital markets. Such a development could adversely affect our ability to grow our business and to make cash distributions to our unitholders.

In addition to Chesapeake, we are dependent on Total, Statoil, Anadarko and Mitsui for a significant amount of the natural gas that we gather, treat, compress and process. A material reduction in one or more producers' production gathered, treated, compressed or processed by us may result in a material decline in our revenues and cash available for distribution.

In addition to Chesapeake, we rely on Total and other producers such as Statoil, Anadarko and Mitsui for a significant amount of the natural gas that we gather, treat, compress and process. These customers may suffer a decrease in production volumes in the areas serviced by us. We are also subject to the risk that one or more of these customers default on its obligations under its gas gathering and processing agreements with us. Not all of our counterparties under our gas gathering and processing agreements are rated by credit rating agencies. Accordingly, this risk may be more difficult to evaluate than it would be with rated contract counterparties. A loss of a significant portion of the natural gas volumes supplied by Total or one or more other producers, or any nonpayment or late payment by Total or one more other producers of our fees, could result in a material decline in our revenues and our cash available for distribution.
Additional Factors: The ETE Merger And Financial Leverage
Chesapeake's credit risk has been well understood by the market.
Before Monday's drop, Chesapeake's stock price had already reflected significant credit concerns, with the company's equity market capitalization being a fraction of the enterprise value. It should also be no secret to anybody that many E&P operators with significant financial leverage are struggling in the current commodity price environment, and in many cases, the companies' credit situations continue to deteriorate with every quarter of sub-economic price realizations.
Therefore, such a vigorous reaction by Williams Partners' unit price and Williams Companies' share price to the Chesapeake rumor is somewhat surprising.
One possible explanation is that the market is concerned over the risk that a bankruptcy filing by CHK would create problems for Williams Companies' pending merger with Energy Transfer Equity (Via the merger, Energy Transfer Equity is also effectively exposed to the Chesapeake credit risk, hence the impact on the stock price).
Financial leverage is the other likely explanation for the stocks' steep drops. In all cases - Williams Partners, Williams Companies and Energy Transfer Equity - heavy financial leverage is perhaps a greater concern than the Chesapeake risk per se. The Chesapeake rumors simply put the midstream operators' potential exposure to the current downcycle in the U.S. oil and gas industry in the spotlight.
Any significant loss of cash flow would stress these companies' already overextended credit metrics and would reduce borrowing capacity. Additional sacrifices may have to be made in terms of growth projects and, very possibly, distributions to investors.
Are The Stock Price Moves Justified?
I tend to think that the speculations of Chesapeake's imminent bankruptcy are exaggerated. CHK has a significant cash balance and a vast asset portfolio, which make the company's fight for survival without a reorganization worthwhile.
That being said, Chesapeake is obviously at the mercy of the near-term trajectory of commodity prices.
However, the fact that many midstream service providers have very high debt levels and rely on inflated EBITDAs that were captured during the peak of the cycle and are now vulnerable should not be overlooked.
For more in-depth data and analysis of commodity fundamentals, please consider subscribing to Zeits OIL ANALYTICS that provides in-depth analysis of global and North American crude oil market.
Appendix: Access Midstream - Operations Profile (Based On Williams Partners' 2014 10-K Filing)
Please note that the description below is as of December 31, 2014, and does not reflect changes to the business and contractual arrangements that occurred in 2015 and in 2016 year to date.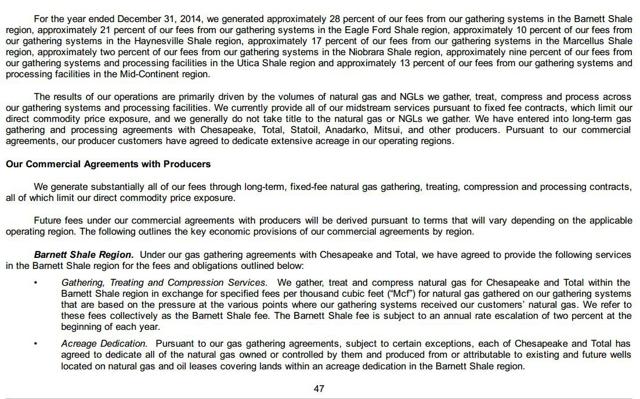 Click to enlarge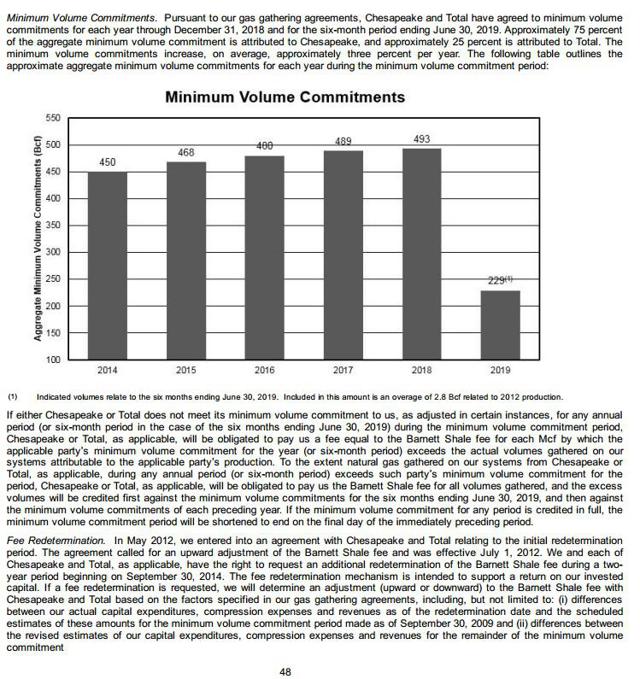 Click to enlarge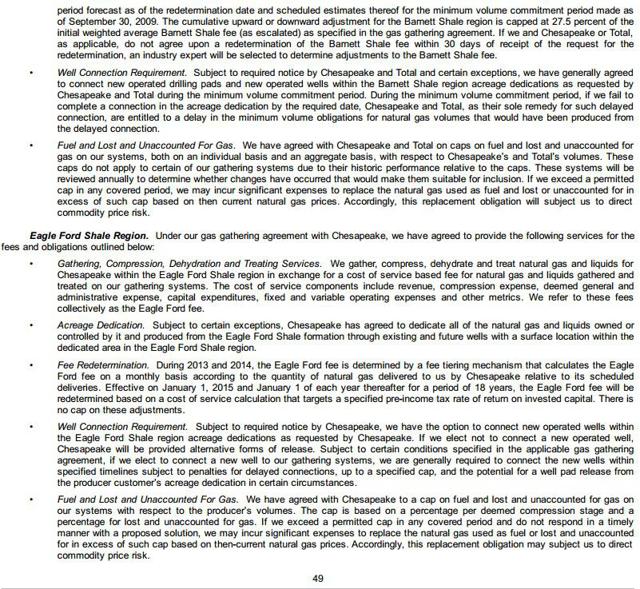 Click to enlarge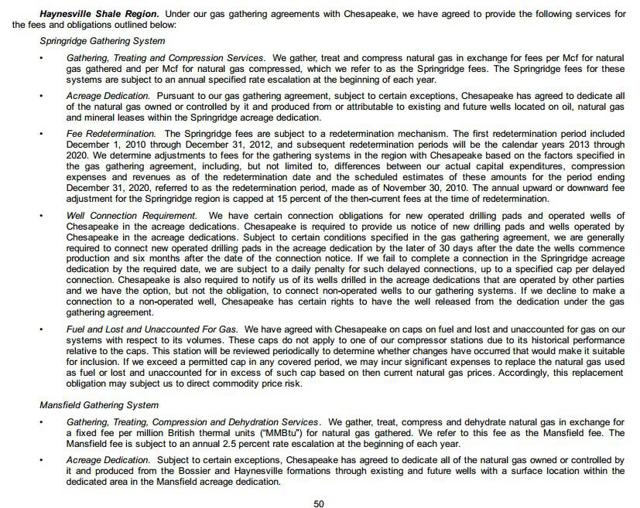 Click to enlarge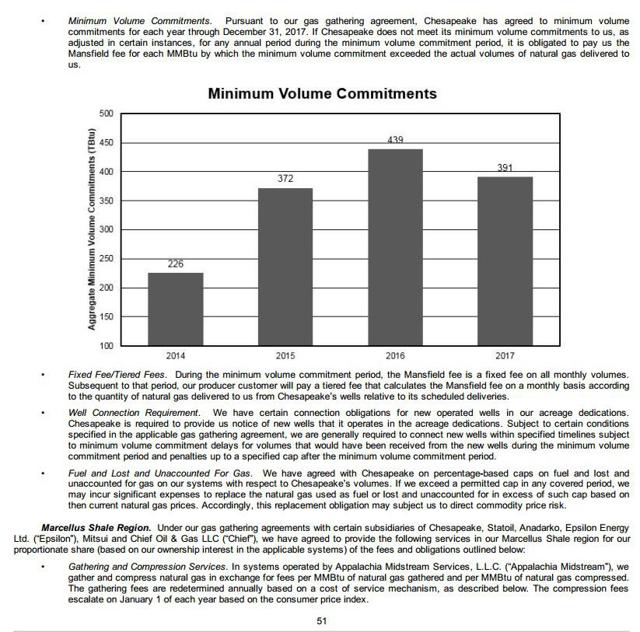 Click to enlarge
Click to enlarge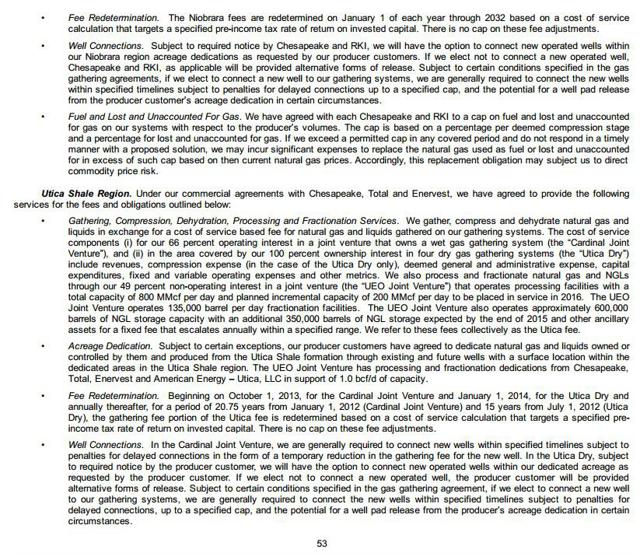 Click to enlarge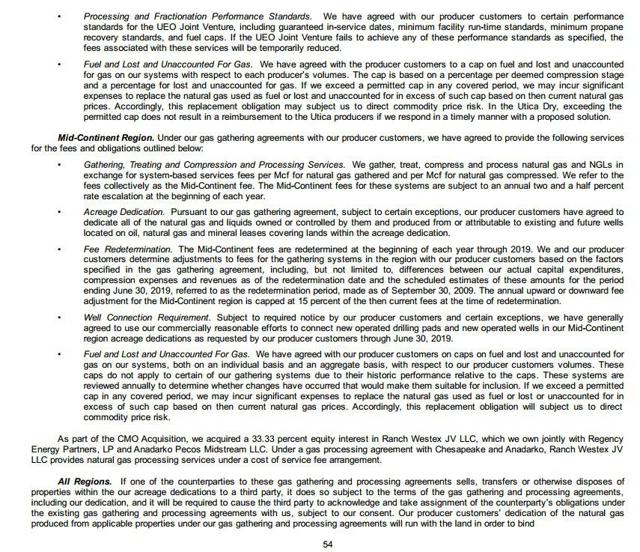 Click to enlarge

Click to enlarge
Disclaimer: Opinions expressed herein by the author are not an investment recommendation and are not meant to be relied upon in investment decisions. The author is not acting in an investment, tax, legal or any other advisory capacity. This is not an investment research report. The author's opinions expressed herein address only select aspects of potential investment in securities of the companies mentioned and cannot be a substitute for comprehensive investment analysis. Any analysis presented herein is illustrative in nature, limited in scope, based on an incomplete set of information, and has limitations to its accuracy. The author recommends that potential and existing investors conduct thorough investment research of their own, including detailed review of the companies' SEC filings, and consult a qualified investment advisor. The information upon which this material is based was obtained from sources believed to be reliable, but has not been independently verified. Therefore, the author cannot guarantee its accuracy. Any opinions or estimates constitute the author's best judgment as of the date of publication, and are subject to change without notice. The author explicitly disclaims any liability that may arise from the use of this material.
Disclosure: I/we have no positions in any stocks mentioned, and no plans to initiate any positions within the next 72 hours.
I wrote this article myself, and it expresses my own opinions. I am not receiving compensation for it (other than from Seeking Alpha). I have no business relationship with any company whose stock is mentioned in this article.