"Investors like things that appear certain. My view is that everything is uncertain, you're just trading one type of uncertainty for another."
Seth Klarman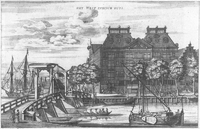 Introduction
Like Marco Rubio flustered in a debate (I have empathy for Rubio, by the way, as I have put my foot in my own mouth giving a high profile speech before, and one moment does not define a person), global central bankers keep repeating the policies and phrases, over and over, in their quest to stem the disinflationary and deflation tides that are overwhelming the global financial markets. Investors are choosing not to listen, as they run for the safety of bonds, even when vast parts of Asia and Europe sport negative interest rates.
Global stock markets are starting to sense that something is not right, and the "wealth effect" that the Fed has worked so hard to create is threatening to be unwound.
The unraveling is making its way around the globe, like Santa Claus on Christmas night, first touching Asia, then Europe, and now working its way to the United States. The consensus for the last several years has been that the U.S. would lead the global economy higher, however, it is increasingly looking like domestic stocks and bonds are the last holdouts in a global decline.
Will the Fed reverse course as seemingly everybody talks about negative interest rates? Stay tuned as we are living through one of the most fascinating periods in monetary history, dwarfing, in my opinion, episodes like John Law & The Mississippi Company, the South Seas Bubble, and the Tulip Bubble spawned by the success of the Dutch East Indian Company, the first multinational corporation in the world.
Thesis
The rotating global sell-off has now reached the United States, and investors should prepare for additional pressure on stock prices.
Global Bond Yields Plunge Led By Japan
Japanese ten-year interest rates went into negative territory this week as investors were willing to trade marginally negative returns, for the next ten-years, think about that for a minute, for the safety of government bonds!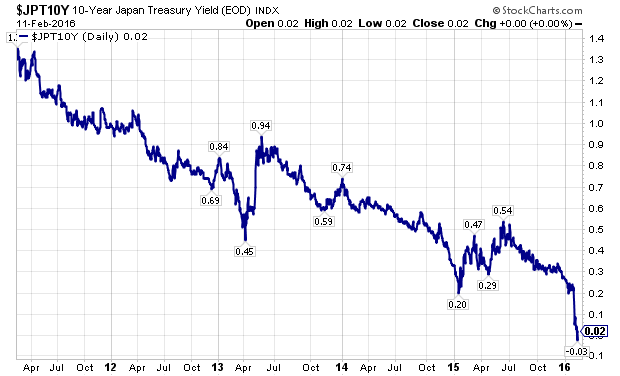 Now Japanese ten-year interest rates did bounce back to positive territory, as the above chart shows, but only barely.
European interest rates were stuck in the same pattern, exemplified by the interest rates of Germany, Europe's leading economy.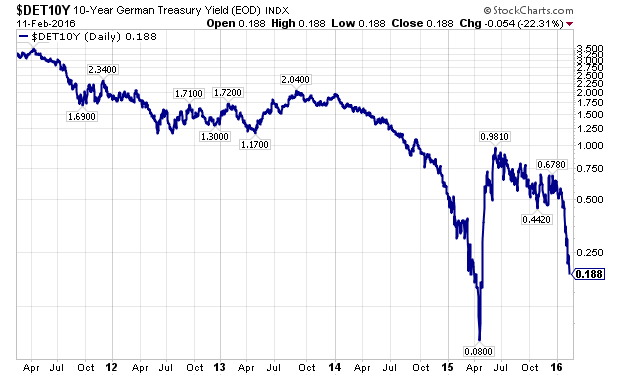 German ten-year bond yields, after reaching all-time lows below 0.1% in April of 2015, bounced to nearly 1%, yet they are now retreating again, threatening their 2015 lows.
Investors in Europe and Japan, facing barely positive interest rates, have started reaching for the relatively lucrative coupons of United States Treasury's. A recent Bloomberg article, captured the sentiment with its headline, "U.S. Benchmark Yield Will Be at Record Low in March at This Rate", and Japanese investor Toshifumi Sugimoto, in the article, elaborated on this reach for yield by saying:
"We'll see a record low around 1 percent" for the benchmark, said Toshifumi Sugimoto, chief investment officer at Capital Asset Management in Tokyo. "We'll see more money going into U.S. Treasuries." Sugimoto, who has 30 years of experience in fixed income, said he's buying long-term securities and predicts the rally, will last through April."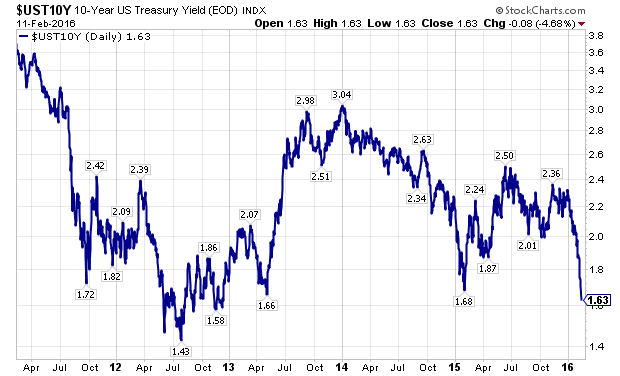 As investors around the world reach for the relative juicy yields and safety of U.S. Treasury's, it sure looks like we are set to at least test the all-time low interest rates set in 2012 as shown in the chart above. In fact, the iShares Barclays 20+Year Treasury Bond Market Fund (NYSEARCA:TLT) is poised to make new all-time highs.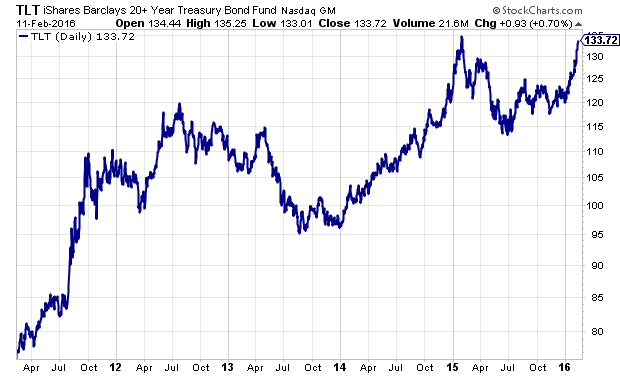 The rush for safety in sovereign bonds has occurred alongside a retreat into safe-haven currencies, including the Japanese Yen, despite the best efforts of the Bank of Japan to discourage this behavior. This is measured by the CurrencyShares Japanese Yen ETF (NYSEARCA:FXY), in the following chart.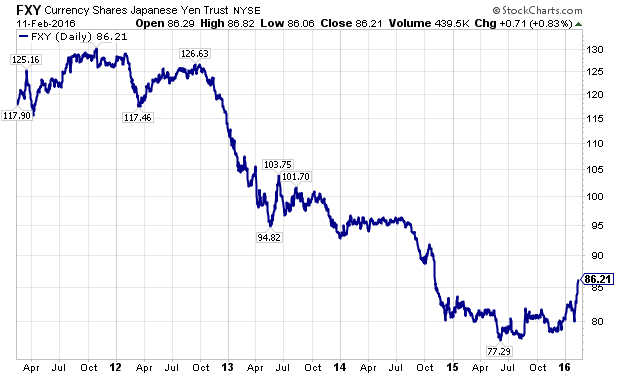 While the Yen has strengthened against the U.S. Dollar lately, look how much it has depreciated over the last three years. It makes you wonder if a little strength in the Yen, like we have seen, could cause so much commotion, how fragile the situation is? Or, are media, and investors overreacting?
Asian Stocks Turn Down
With the strength of the Japanese Yen occurring, even as the Bank of Japan initiated negative interest rates to dissuade Yen speculators, stock investors in Asia have been spooked, and they are selling shares and buying bonds. Thus, it is no surprise that many of the Asian markets, stocks, and ETF's are down more than 20% from their highs, including the iShares MSCI Japan ETF (NYSEARCA:EWJ), the Japan Smaller Companies Fund (NYSE:JOF), leading Japan brokerage firm Nomura Holdings (NYSEMKT:NOM), iShares MSCI Singapore ETF (NYSEARCA:EWS), iShares MSCI Hong Kong ETF (NYSEARCA:EWH), and the iShares China Large-Cap ETF (NYSEARCA:FXI).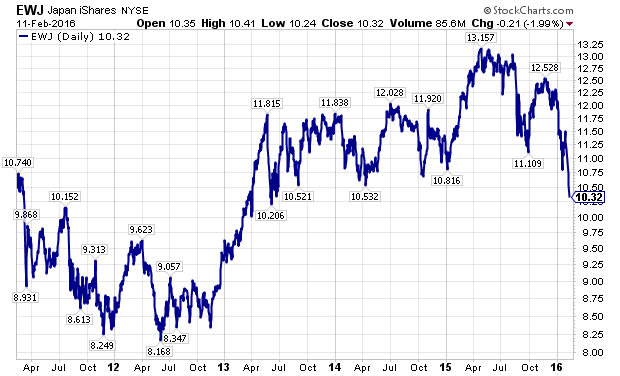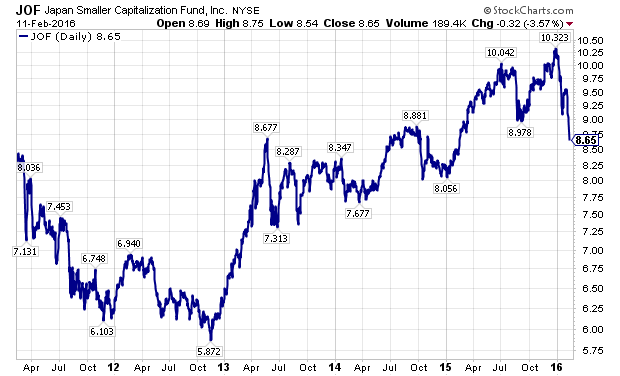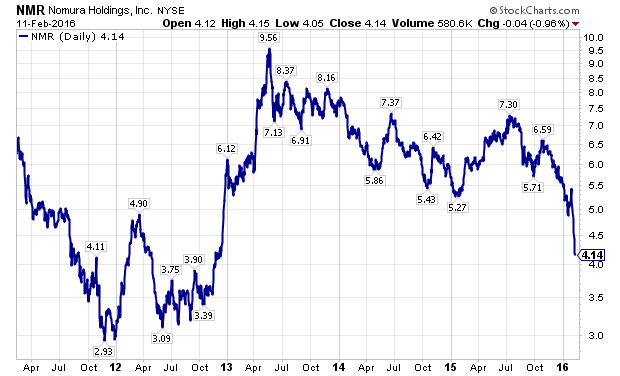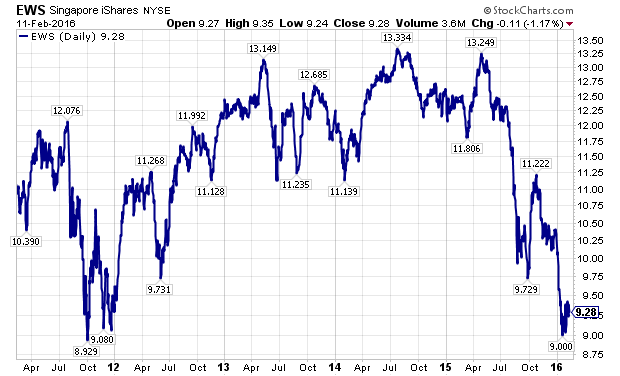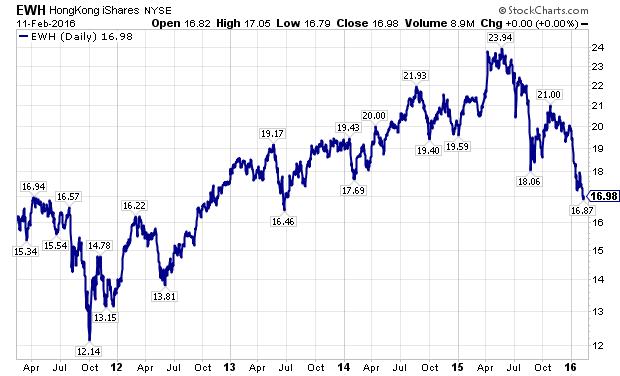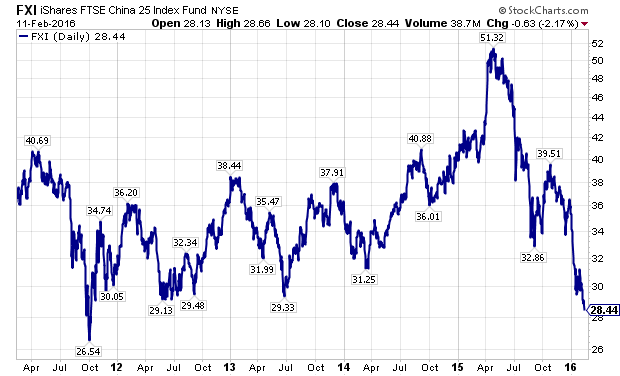 From their 2015 highs, EWJ is down 22%, JOF is down 16%, NOM is down 43%, EWS is down 30%, EWH is down 29%, and FXI is down 45%. Relative to the United States, Asian stocks remain inexpensive, from my perspective, and they certainly do not have the downside risk, as they have already declined, again in my opinion. Intrepid value investors can certainly find bargains, including in some of the stocks and ETF's I mentioned above, in my opinion.
Europe Joins The Party
As Asia has struggled, Europe has followed suit. Bubbling below the surface is another potential sovereign banking crisis. Deutshe Bank (NYSE:DB) has been the company in the crosshairs of the media, but many European banks are under pressure. To give the reader an idea of the magnitude of the decline, look at DB's price action.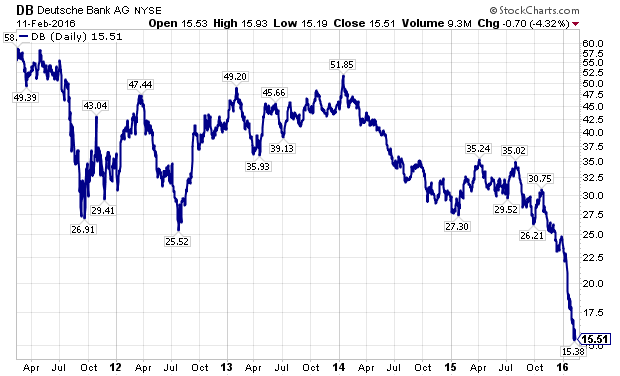 Since the beginning of 2014, Germany's leading bank has declined by 70%, and the pace of the decline has intensified in 2015. I have my thoughts on DB, and NMR for that matter, but for now, I am going to keep them inside my premium research service on Seeking Alpha, eponymously named "The Contrarian".
Enough self-promotion for now, let's move on to looking at a broader view of the European markets. We will start with iShares MSCI Germany ETF (NYSEARCA:EWG), look at broader Europe with the SPDR Euro STOXX 50 ETF (NYSEARCA:FEZ), then move to weaker links Italy, as measured by the iShares MSCI Italy Capped ETF (NYSEARCA:EWI), and Spain, as measured by the iShares MSCI Spain Capped ETF (NYSEARCA:EWP).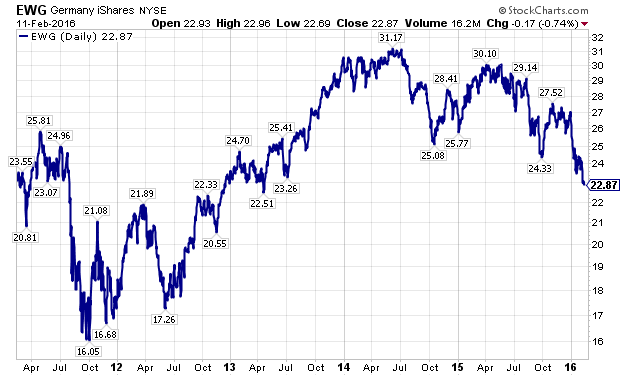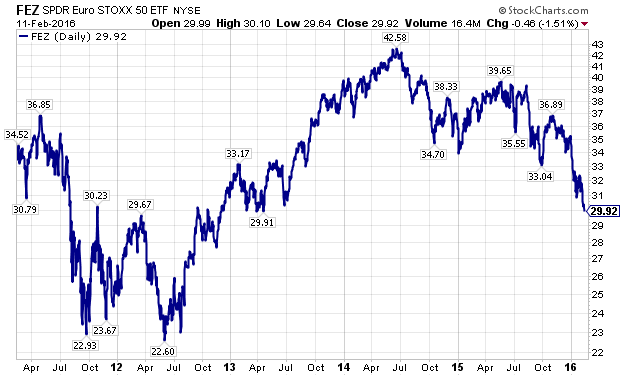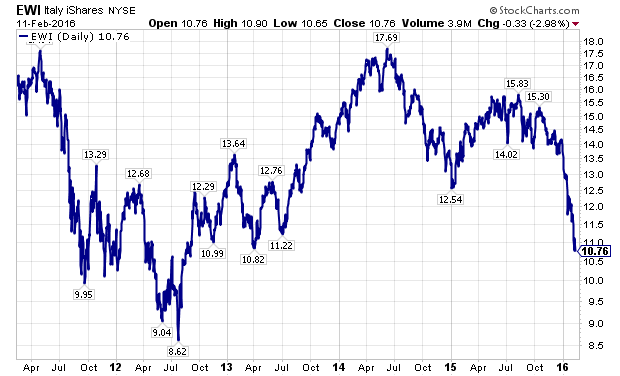 Respectively, EWG, FEZ, EWI, and EWP are down 32%, 25%, 32%, and 32% from their 2015 highs, so it should be clear that European equities are embroiled in a bear market.
U.S. Stocks Play Catch-Up On The Downside
For much of 2015, international stock markets sold off, while the U.S. broader domestic stock market, as measured by the the SPDR S&P 500 Index ETF (NYSEARCA:SPY), and the NASDAQ 100 Index, as measured by the PowerShares QQQ ETF (NASDAQ:QQQ), held near their highs.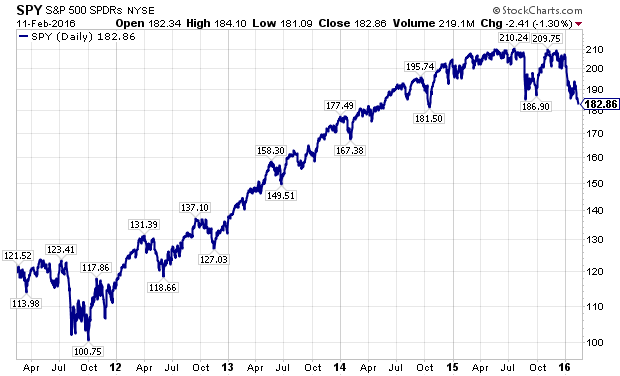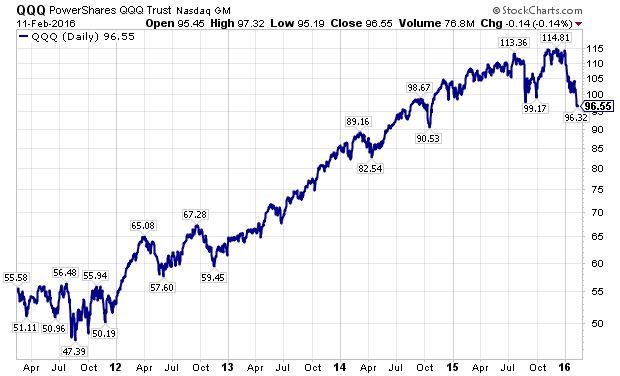 The start of 2016 put an end to this divergence, and the last two months have seen a slow motion crash in the best performing domestic stocks of the last several years, including leading market capitalization stalwarts and high-beta stocks like Apple Computer (NASDAQ:AAPL), Alphabet (NASDAQ:GOOGL), (NASDAQ:GOOG), Amazon (NASDAQ:AMZN), Facebook (NASDAQ:FB), Microsoft (NASDAQ:MSFT), Gilead Sciences (NASDAQ:GILD), Netflix (NASDAQ:NFLX), Tesla (NASDAQ:TSLA) and LinkedIn (NYSE:LNKD), to name a few who are off significantly from their highs, with the high beta names off the most.
Since investors chase performance, and since growth stocks outperformed value stocks for the past five years, especially over the past year prior to unwind in U.S. stocks beginning in December 2015, there was herding by investors into growth oriented mutual fund, hedge funds and ETF's.
It can be described in this way. The more concentrated the investment manager was in the top performing growth stocks, the better his/her performance was, and the more capital he/she attracted, until the music stopped.
Now, the unwind phase is occurring with multiples of speed of the build-up, and investors are stampeding out of institutional favorites. As the best performing growth manager's liquidate holdings to prepare for redemptions, fundamentally stronger stocks like Visa (NYSE:V), Facebook, and Nike (NYSE:NKE) are having their shares sold just because they were top holdings in growth funds.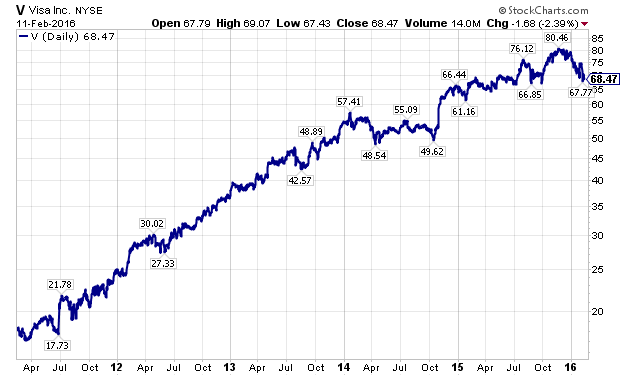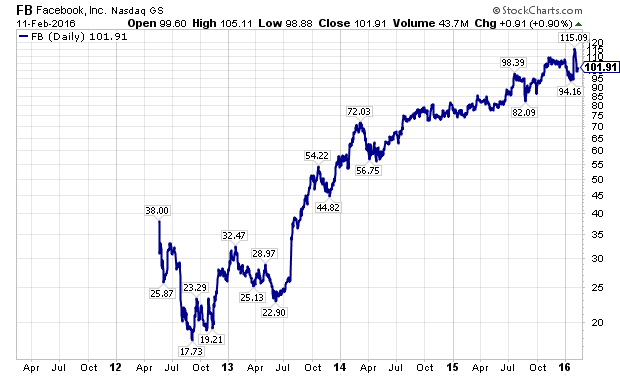 While Visa, Facebook, and Nike have corrected sharply, it should be clear from looking at their five-year charts, that there is more downside potential. That is true for the broader market indexes, like the S&P 500 Index, as the domestic market catches the "flu" that has already leveled international stocks.
Investors Search For Alternatives
With bond yields near zero, and natural gas and oil plummeting, as measured by the United States Natural Gas Fund (NYSEARCA:UNG) and the United States Oil Fund (NYSEARCA:USO) in the charts below, investors have started to search for alternatives in a world where negative interest rates are becoming commonplace.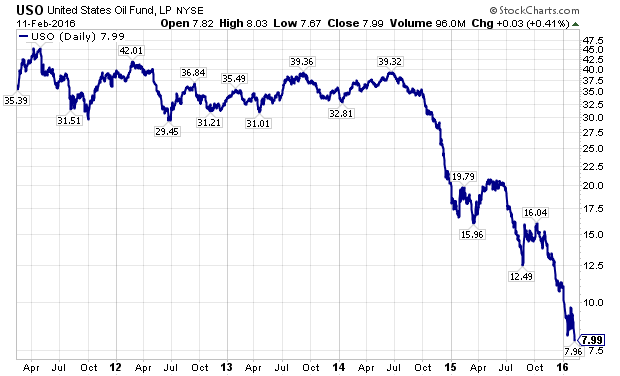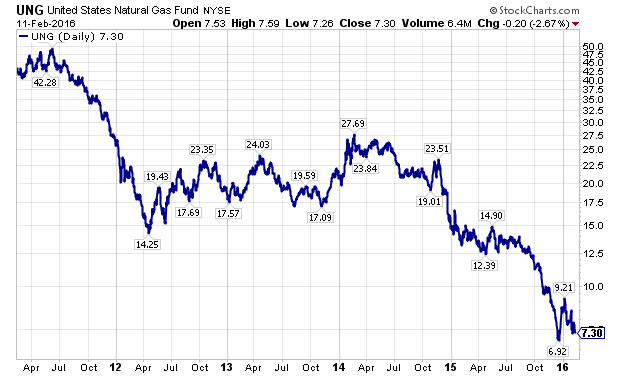 Where have they turned? Gold, a safe-haven for thousands of years, has been one recipient of global capital flows. The SPDR Gold Trust Shares ETF (NYSEARCA:GLD) has rallied nearly 20%, and left for dead gold mining shares, as measured by the Market Vectors Gold Mining ETF (NYSEARCA:GDX), and the Market Vectors Junior Gold Miners ETF (NYSEARCA:GDXJ), have rallied 47%, and 40% respectively.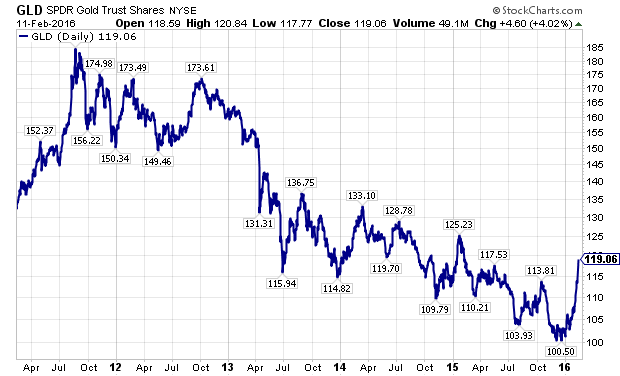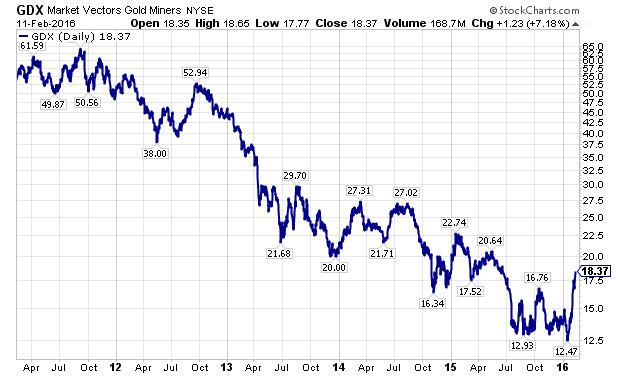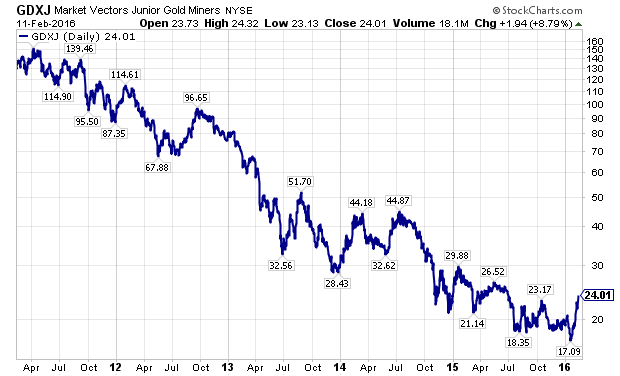 Is the gold bear market of the last five years finally over? For that matter, is the commodity bear market of the last five years coming to an end, as gold prices have historically led commodity prices?
Conclusion - Be On The Lookout For Inflation
When the Federal Reserve initiated their first Quantitative Easing program in 2009, many investors, including your humble author, who had tremendous success in 2008, 2009, 2010, and 2011 were on the lookout for inflation. And, we were wrong. Gary Schilling is one investor who got it right, and he thinks interest rates are still headed lower, which would be an ominous sign for still levitated U.S. stock prices in my opinion.
With global interest rates near zero, and increasingly negative in countries like Sweden (who admittedly Rubio did get in a good line about), and Japan, are we reaching the end of this disinflationary/deflationary bust? My best guess is that there is more short-term pain ahead, but many inflationary assets have been so decimated, that they are values today.
Toshifumi Sugimoto, the Japanese investor who I quoted earlier, said that he has participated in the financial markets for thirty years. The U.S. bond market, the preeminent bond market in the world, has been in a bull market since 1980. All investors and traders know today, is that interest rates fall in times of distress. The whole risk parity concept, flawed in my opinion, is built upon the premise that the relationship between lower stock prices and higher sovereign bond prices are wedded together. What if we have reached the end of the road here?
The answer to the inflation question has broad ramifications for every investor over the short-term, intermediate-term, and long-term. If Schilling is right, it is not too late in the short-term to raise cash, if you are overweight in U.S. equities.
The intermediate-term and longer-term answers are much more complicated, harder to decipher, and have wider reaching consequences. For example, what if inflation returned, what would happen to bond yields and returns? I have my clear views on this matter, what are yours?
Disclosure: I am/we are short SPY, AND POSITIONS CAN, AND DO CHANGE AT ANYTIME.
I wrote this article myself, and it expresses my own opinions. I am not receiving compensation for it (other than from Seeking Alpha). I have no business relationship with any company whose stock is mentioned in this article.
Additional disclosure: Every investor's situation is different. Positions can change at any time without warning. Please do your own due diligence and consult with your financial advisor, if you have one, before making any investment decisions. The author is not acting in an investment adviser capacity. The author's opinions expressed herein address only select aspects of potential investment in securities of the companies mentioned and cannot be a substitute for comprehensive investment analysis. The author recommends that potential and existing investors conduct thorough investment research of their own, including detailed review of the companies' SEC filings. Any opinions or estimates constitute the author's best judgment as of the date of publication, and are subject to change without notice.