There are many stocks on the market that divide opinion, but few do so as much as Fitbit, Inc. (NYSE:FIT). Some believe it is destined for great things, others believe it is destined for major declines on top of the ones we have already seen since its IPO. We are on the side of the former, and believe that the new Fitbit Alta range and FitStar could be the catalysts to accelerating revenue growth.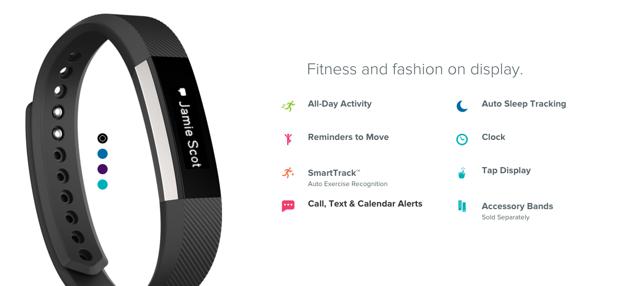 Click to enlarge
Thursday February 11 marked the day in which the lockup for the secondary offering of Fitbit shares ended. With the shares already down around 50% from the secondary offering price, it appears that many of these investors jumped ship at the first opportunity they were given, dragging the share price down by 6%. We must admit to being quite surprised to see such a drop, having expected to see many investors hold out for a recovery. This has brought the share price to an all-time low, which we see as being a great opportunity for investors to open a long position with major upside potential.
We are big fans of Fitbit's products and while many dismiss them as a mere fad, we feel there is more to them that just a fad status. We think Fitbit is positioned well with its connected health and fitness devices to grow with the health and wellness boom that is showing little sign of slowing. At a recent symposium the Hartman Group spoke about consumer trends in health and wellness. One key takeaway from this was their belief that Gen Z (which makes up 23% of the US population) "looks to exercise as a way to treat or prevent illness, and it is particularly relevant for emotional and stress-related issues."
It appears that governments around the world have listened to the World Health Organization and realized that rising healthcare costs could be slowed or reduced if its citizens take better care of themselves. The World Health Organization has stated that "increasing physical activity is a societal, not just an individual problem. Therefore, it demands a population-based, multi-sectoral, multi-disciplinary and culturally relevant approach." As more and more people become active, we feel the wearable health-tracking device market will continue to grow in size considerably.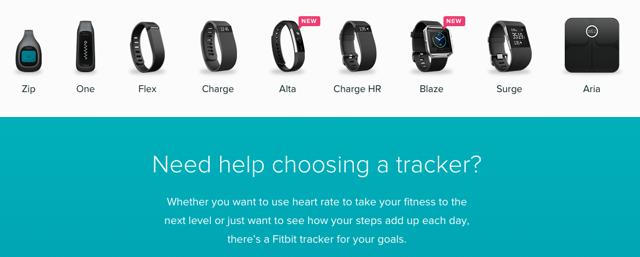 Click to enlarge
(Source: Fitbit.com)
This leads us to the product assortment that Fitbit provides, which is displayed above. From its Fitbit Zip all the way through to its Fitbit Surge, we believe there is something for everyone. The company does a fantastic job at catering to all needs and price points. Sure, the Apple Watch is fantastic, but even its entry-level watch is around 50% higher than the price of Fitbit's premium offering. For this reason, we feel Fitbit is better placed to capture the fitness market, especially those new to it.
For us, 2016 could be all about the Fitbit Alta which is pictured at the very top. We feel it looks sleek, stylish, offers users the full tracking works, and perhaps most importantly, priced at $129.95, is extremely affordable. The new device, teamed with the rise in wages and disposable income levels in the United States, could be a real boost to the top line.
We are excited to see FitStar start to provide localized versions of its award-winning fitness app. Opening it up to French, German and Spanish speakers should help its growth in these markets, as well as promote the Fitbit brand. FitStar Personal Trainer should provide a strong revenue stream for the company in the future with its personalized fitness sessions, which cost either $7.99 per month or $39.99 for a year. The massive amounts of data the company collects from its users will help give it an edge over competitors when tailoring its fitness plans. Also, the recent deal announced with Starwood Hotels (NYSE:STWD) is very promising in our opinion. By offering free FitStar trials to its Westin Hotels guests, the company is able to reach demographics that it otherwise may have struggled to get to, and step into the lucrative corporate wellness market.
Following on from the success of its link up with Tory Burch, Fitbit recently announced that it is partnering with one of New York's hottest fashion brands. Public School have announced that they are currently working on a collection of accessories for the Fitbit Alta device. By teaming up with designers such as Tory Burch and Public School we feel it gives Fitbit even more credibility with the millennial demographic. As does the excellent marketing initiatives. We think its use of social media is up there with the best of them.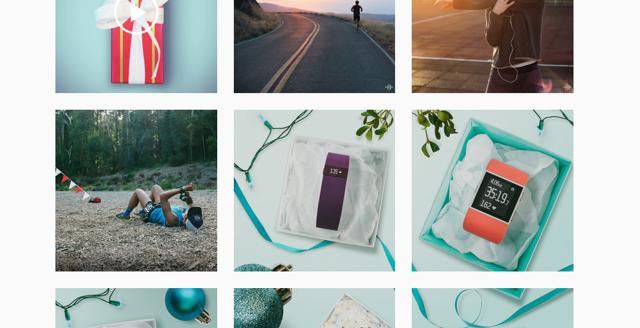 Click to enlarge
(Source: Instagram.com/Fitbit)
It's worth taking note also of the robust nature of the company's balance sheet. Cash and equivalents are up to $462 million, long-term debt is at zero, and the current and quick ratios are 2.55 and 1.78, respectively. This is a very healthy company in our opinion.
We believe the mass sell-off has been unjust and the company should be trading at least around 2x sales, close to the level which competitor Garmin (NASDAQ:GRMN) trades at. For fiscal 2015 we are expecting Fitbit to hit revenue of $1.83 billion, so based on 239 million shares outstanding and a price-to-sales ratio of 2.0, we feel fair value is approximately $15.30.
In fiscal 2016 we anticipate revenue to rise significantly to $2.51 billion, which once again, based on the same inputs, gives us a one-year price target of $21.00. This equates to a 52% return on the last close price of $13.78. We believe the company can achieve this forecast due to its position in the industry, allowing it to thrive on the health and wellness boom, the rise of FitStar, increases in disposable income, and the deals it is signing in the corporate wellness industry.
We have taken a long position in Fitbit and look forward to seeing the stock start to reverse some of its 2015 IPO share price declines. We feel quite confident one day we will see the stock rising above its IPO price once again.
Disclosure: I am/we are long FIT.
I wrote this article myself, and it expresses my own opinions. I am not receiving compensation for it (other than from Seeking Alpha). I have no business relationship with any company whose stock is mentioned in this article.