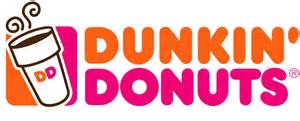 Ubiquitous coffee chain Dunkin Brands (NASDAQ:DNKN) has been an interesting story since it came public a few years ago. The company's growth story has been derailed somewhat in recent quarters and when I first reported on DNKN, the stock was going for $54 and I said it was expensive relative to its earnings trajectory. But a few months later, after the stock price reset to $41, I flipped to bullish on DNKN as it has reached a price I felt comfortable getting long. And after a brief foray into the mid-$30s, that's exactly where we find DNKN these days after an uninspiring Q4 earnings report.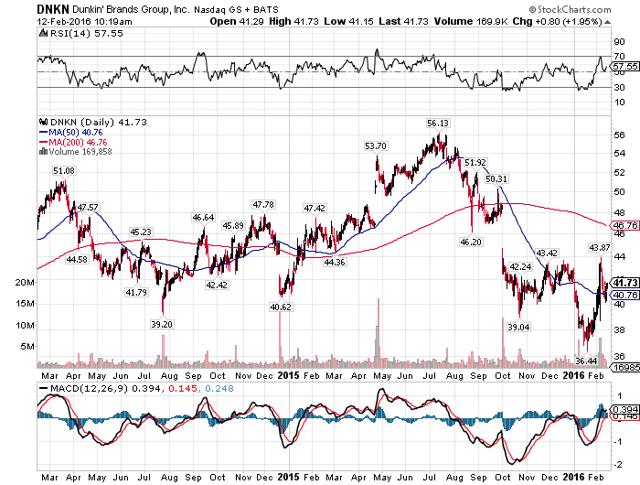 Click to enlarge
Q4's results were, shall we say, not great. DNKN's US comp for its flagship brand fell 80bps but on the bright side, the less important Baskin-Robbins produced SSS of +4.4%. DNKN's comps for the entire year were much better than DD's US showing in Q4, suggesting that there may be a slow period ahead. Or worse, it could be suggesting that DD's comps have hit a ceiling. Were that to be the case, the valuation argument for DNKN would be much more challenging to make for the bulls.
Aside from the less optimistic revenue results from Q4, DNKN continued its impressive trek higher with respect to operating margins. This company operates a capital-light, high margin franchise heavy business and it shows in adjusted operating margins, which expanded 90bps during the quarter to 51%. This is the beauty of a franchise model and why companies that execute it well trade for such lofty multiples of revenue; franchise revenue can be unbelievably profitable on a large scale and with DNKN continuing to expand here and abroad, the revenue base from franchisees will continue to grow. The ceiling for operating margins hasn't been hit yet as we won't see operating margins top out until DNKN is done expanding; we are certainly a long way away from that happening.
DNKN has done a great job of growing revenue at a mid-single digit rate and combining that with steady operating margin growth, enabling it to produce sustainable EPS gains. But most importantly, DNKN's buyback program has allowed DNKN to grow its earnings more than the business itself has produced. The company's weighted average shares outstanding in this year's Q4 against last year's was lower by 10.9%. DNKN has been hard at work with its accelerated repurchase plan and the results speak for themselves; the bulk of the company's EPS growth last year was due to a lower share count.
DNKN reauthorized $200 million after Q4 earnings - good for about 5% of the current float - and the beauty of this is that the company's guidance for 2016 doesn't include the buyback. DNKN guided for $2.18 in EPS - right in line with consensus - but the company's guidance assumes a share count of 94 million, which happens to be about 1.4 million shares more than were outstanding as of the end of the year. That means DNKN has potentially significant upside to its own guidance should it buy back the 5% or so of shares it has authorized. It has two years to buy the shares back but if management thinks the stock is cheap, it can certainly buy them all back in 2016. If it does so, the share count would be more like 88 or 89 million, not the 94 million in the forecast. That is a huge difference and is the single biggest catalyst for DNKN to beat estimates this year.
At 19 times this year's earnings and 17 times next year's, DNKN is actually a reasonable value here. It's not a screaming buy like some other names in this beaten down market but it is cheap relative to where it has traded in the past. And given that I think actual 2016 EPS could hit closer to $2.30 than $2.20 - with the buyback to thank - DNKN's 'real' current PE could be well under 19 for 2016. DNKN management has demonstrated the ability and willingness to boost EPS via buying back stock and I don't think that is going to change. In fact, with the share price languishing, it seems more likely to me that DNKN will move into repurchasing shares quickly rather than spreading them out.
While I'd like to see the business itself producing more growth, it is certainly still doing its part. Revenue growth should continue in the mid-single digit range for the foreseeable future and operating margins will likely see 1% or 2% growth annually (50 to 100bps of expansion on a base of 51%) so that will help as well. I'm concerned that the flagship brand had such a difficult Q4 and I'm a bit perturbed at the excuse given by management that the weather was to blame. The weather was not the problem for DNKN in Q4; execution was the problem. Strength from McDonald's (NYSE:MCD) and Starbucks (NASDAQ:SBUX) were the problem and hopefully, at least internally, management recognizes that. DNKN has a very strong brand and loyalty among customers and I'd hate to see it squandered due to arrogance about the weather allegedly causing falling sales.
I really like DNKN here because the market has lost faith in its ability to execute. In addition, current EPS forecasts aren't building in the anti-dilutive impact of the buyback that was just authorized. That means there is some material upside potential to EPS and that should lead to some upside in the stock. I think DNKN could trade back towards 20 times forward earnings, or about $49 this year. And if EPS grows more quickly than expected, we could see DNKN with a 5 handle again before the year is out.
Disclosure: I am/we are long DNKN.
I wrote this article myself, and it expresses my own opinions. I am not receiving compensation for it (other than from Seeking Alpha). I have no business relationship with any company whose stock is mentioned in this article.