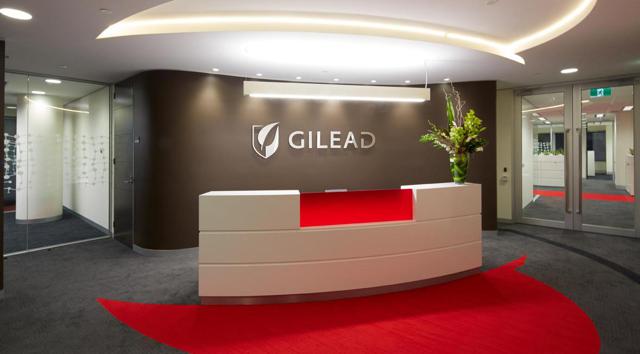 Click to enlarge
Any long-time followers of Gilead (NASDAQ:GILD) should not have been surprised at the Q4 earnings and 2016 guidance given on Feb 3. Sales were up 16.5%, and EPS gained nearly 50%. No, these results were not surprising to GILD investors because if you were a GILD investor prior to earnings, you were one of a select few to hold onto this strong company at a time when the stock dropped 20% in a month's time.
What was surprising was the fact that even with these sparkling results, GILD barely moved. Much like many of the stocks in our current market, GILD is hardly following its company fundamentals. Pressure from a possible biotech bubble and the lack of acquisition news has forced GILD downward, arguably unfairly.
While many investors jump to say that GILD is a growth stock, I am of a different viewpoint. I see GILD as a newly crowned value stock, and being so, GILD is likely to escape the wrath of a possible market crash or biotech bubble-burst. In this article, we will look at a couple of often ignored factors in the discussion of GILD: As GILD is often analyzed from a growth stock perspective, important value stock factors often take the backstage.
Note: This article was at the request of a reader. I happen to be long on GILD but did not plan to write anything on GILD until receiving this request. If you want a particular stock analysis, please request the ticker in the comments section. Specific requests, such as how certain stocks act after earnings or product releases, are okay.

Click to enlarge
Products Fuel Buybacks and Dividends
Unlike other biotech movers, GILD brings in tons of cash from its operations, actually selling drugs instead of just banking on having great-selling drugs in the future. GILD's 2016 guidance expects over $30B in product sales. This recent burst in free cash flow has led to buybacks and dividends.
In the past, outstanding shares nearly reached 2B. GILD has done well in bringing that number down, thereby raising the price of the stock (good for holders, bad for buyers) and reducing the amount of money they must pay as dividends (good for everyone). The outstanding shares continue to decrease due to the ongoing $15B buyback program: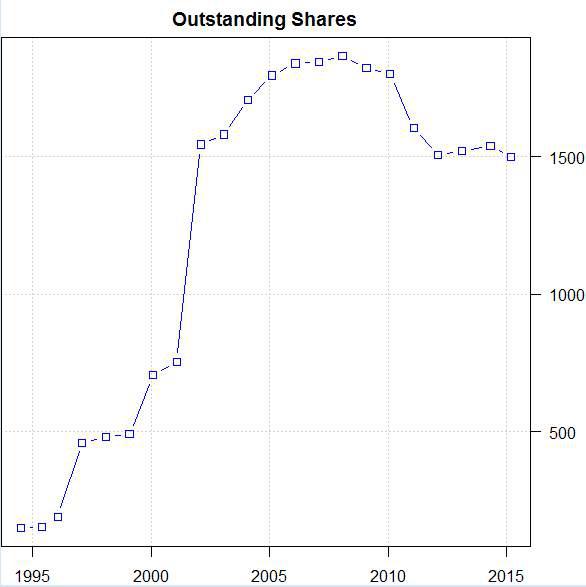 But there's more share reduction to be seen, as GILD has announced another $12B in buybacks. In total, by completion, the buyback program will reduce the outstanding shares of GILD to 1,119M. Alone, this should raise the price of GILD stock to $109.38 per share. In addition, it will help GILD reduce the payout of dividends, which eats the lion share of GILD's cash.
Cash, Cash, Cash
GILD's income has greatly risen: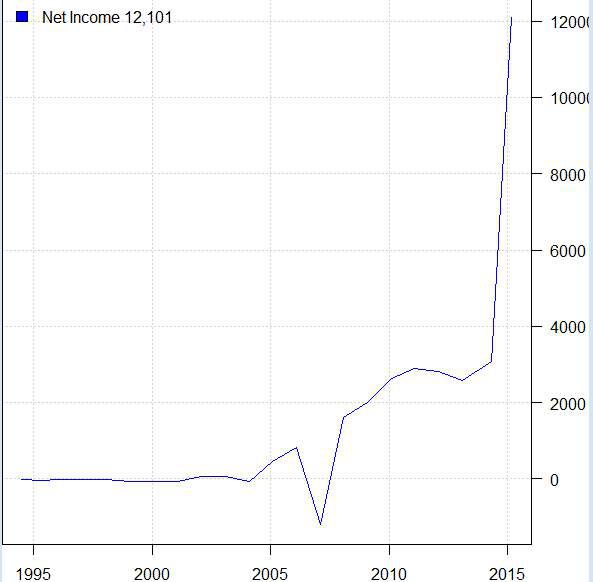 Of course, this has led to an increase in free cash flow for most years. Since 2005, free cash flow has generally risen - though some bad years exist: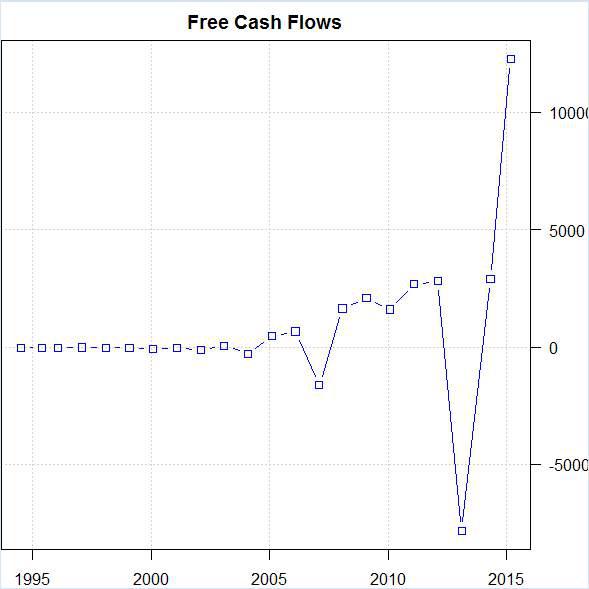 To generate a smoother image of GILD's cash on hand, we take a running average: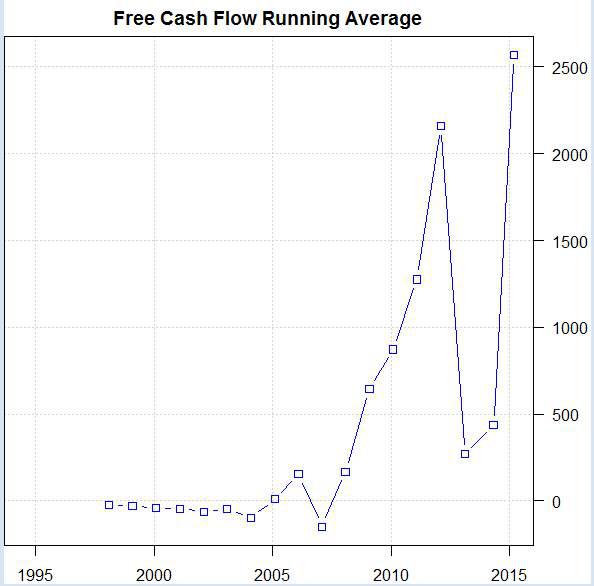 GILD has plenty of cash on hand, and the happenings in 2015 have solidified the management's confidence in future cash flows. Hence the dividend announcement in 2015. GILD currently spends most of their free cash flow in dividends and buybacks, which to me has solidified GILD's position as a value stock, not a growth stock.
Why? Primarily because growth biotech stocks need to dedicate most of their funds to research, development, and clinical trials. GILD is past this phase and will likely focus simply on its business practices, increasing the sales of its current products.
This might not be what many initial GILD investors had imagined when they bought GILD in the early years. But nevertheless, this is the current state of GILD. In fact, according to my calculations, GILD will need to dedicate almost 100% of their free cash to dividend payouts until the buyback program is completed and/or free cash flow increases significantly. My calculation for 2015's dividend payouts is $2.5B; 2015's free cash estimate is also $2.5B.
GILD's Future
So GILD's cash is being eaten up by dividends at the moment, but things will get better. Free cash flow is on the rise and shares are falling. GILD's bank account will grow, and with a new eye to becoming a value stock, GILD will likely turn its focus from drug development to the desires of investors.
First, this implies acquisitions. After all, this is what many GILD investors are calling for. But GILD cannot be hasty with its acquisition choice; although GILD is essentially home-free from here, one wrong acquisition can ruin its cash situation.
More important to investors and the free cash of GILD is the promise of raising the dividend by 10% per year. With most of GILD's cash going to dividends, this pegs GILD's free cash flow growth rate at 10% per year. This is a large commitment, as it forces GILD to double its free cash by 2023.
Can they do it? Based on GILD's track record, yes. Management has confirmed that they will continue growing GILD's pipeline and making acquisitions to enlarge the company's future prospects.
The Stock
Now here's the catch: Everything I mentioned above has nothing to do with the stock. A great set of drugs that are gobbling up market share haven't driven GILD's stock price up. Nor has the amazing Q4 earnings report. Nor has management's track record. Nor has the fundamentals of GILD. Nor has the buyback program. Nor has the dividend…
Luckily, the stock has more-or-less bottomed out at around $85. With this price, the buyback program was initiated at roughly the right time. Investors, too, are in a unique position to buy GILD at a deep discount.
If GILD is indeed a value stock, worry about the market conditions should not affect your decision to buy (or buy more) GILD at this time. Yes, we do have two threats on our asses: A possible bear market and a possible biotech implosion. But GILD has changed as well, taking a new eye toward protecting its investors.
I believe the next event that will restart the stock-to-fundamentals correlation will be this year's Q1 earnings report. Two positive earnings surprises in a row from a stock in a suddenly underperforming industry during a suddenly weak market should be enough to convince fence-sitters that what GILD has done is not a fluke. A Q1 acquisition could do the same.
Risk
GILD's dividend, which provides a yield between 1% and 2% for now, is not yet enough to attract dividend investors. But with a promise to raise the dividend every year, early investors could get this value stock at deep discount at a time when most people don't see it as such. Another way of looking at this 2% dividend is as one of the two forms of protection management has offered investors (the other being buybacks); the stock can drop 2% and you'll still be whole (barring tax costs).
In addition, another way to look at the recent price drop in GILD is the risk of a bear market and declining biotech sector being built into the stock. Fans of technical analysis will see a support level forming at around $82. This is likely a bottom for GILD, unless a bear market really starts or the biotech bubble (my words) really pops.
But even these two situations can work to GILD's favor. In either case, GILD will be able to make its acquisitions at better prices. GILD has the cash to both weather a bear market and acquire companies simultaneously.
Overall, I believe GILD has little risk and that bad news for the general market can be good news for GILD in the long-term. The rational market risks have been irrationally overpriced into GILD's stock price, thereby producing the current discount. See the 2% discount as a form of protection and buy GILD as if it were priced 2% lower than it actually is.
Conclusion
Everything about this company screams "undervalued":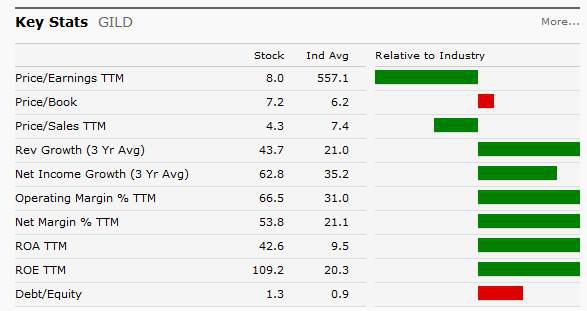 (Source: Morningstar)
Though the price-to-book is at the industry average, everything else is above the competitors'. Debt is not an issue here in respect to GILD's free cash flow. But perhaps most impressive is the current 5.8 forward price to earnings.
As someone who takes short positions as often as I take long positions, I see the average biotech stock's P/E as a badge that says "short me!" When the industry average has a P/E of 557, pretty much everything is ripe for shorting. This is an industry in which companies such as Celgene (NASDAQ:CELG) as hyped up for having a P/E of "only" 50. But in GILD, we see no such thing - rather, GILD is a contrarian value stock play in the biotech sector.
How often do you have the opportunity to buy a stock in biotech with a strong track record, a non-biotech P/E, plenty of cash on hand, a dividend, and a huge buyback program that will reduce the outstanding shares by nearly one-third? And how often do you have the opportunity to buy at a relative low? The February GILD is one of those investments that you either brag about or regret (for not making) in the future.
Disclosure: I am/we are long GILD.
I wrote this article myself, and it expresses my own opinions. I am not receiving compensation for it (other than from Seeking Alpha). I have no business relationship with any company whose stock is mentioned in this article.