I think all too often among Sirius XM (NASDAQ:SIRI) investors we find ourselves having to listen to the heckles from the other side. "Permabull," "emotionally attached," "married to the stock," "living in an alternate reality." All possibly valid descriptions of a handful of vocal individuals, but not really proper terms for the quieter, less "charged," broad base of investors who believe the company has real promise.
Call me a hopeless bull, call me delerious, call me emotional, call me delusional, call me crazy. I'm bullish on Sirius XM, both short term and long term. It has not always been that way for me. I've been bearish and sitting in cash at times. At times I have covered my position by selling out of the money calls (heck I even got burned in May of last year with my $2 strikes and had my whole position called away because of it), and at times, like the present, I have been extremely bullish and "all in." Apple (NASDAQ:AAPL), Pandora (NYSE:P), and heck, even terrestrial radio has made me just a wee bit nervous at times over the past 10 years, and rightfully so, but today they aren't much of a concern for my view of 2012.
I'm not sitting here screaming "SIRI $20 STOCK!" or even saying "this stock will be $3 soon!" And guess what? I *like* reading bearish opinions. They keep me in check, throw a little spice around, and if they are well written and well supported, then it gives me, as a SIRI bull, something to reflect on. As I stated in a recent article, know yourself, and know your enemy. And as important as it is to understand the bullish side, every bull must understand the bearish side, too.
This is not about the bearish side, but when I read some recent opinions, I have to pause and wonder "what the heck are these bears thinking?" As much as the term "permabull" is used, one could even coin the term "permabear" to describe the vocal opposite end of the spectrum. My suggestion to them? Go back into hibernation. It's February for Pete's sake.
We just started what many believe, and I think rightfully so, will be the very best year so far for Sirius XM. There are just so many positives going on right now and every single one of them could present significant upside to the value of the company, and as investors we all hope, to the stock itself.
January started the year off great for automobile sales, by far Sirius XM's primary source of subscribers. February is shaping up as well to return exceptional numbers, and consider (as silly as this sounds) this is a leap year for February, and that extra day could sneak in an upside of 3% or more. To the permabears who claim this is grasping at straws, excuse me as I use said straw to blow the wrapper off the other end and pop you in the forehead. For auto sales this year, we may be looking at 14M to 15M SAAR, depending on how the year plays out. This could be major for Sirius XM.
On top of *new* auto sales, this will be the first year Sirius XM has significant coverage in the used auto market. Time has yet to tell how successful this will be, but my guess is it will have a yield that is certainly better than "zero point zero." This is a new potential subscriber stream that should be increasing in potency as more dealers are signed up as the year progresses. While still "auto sales" this adds diversity and increases the pool that subscribers can be pulled from. This is shaping up to be very beneficial to Sirius XM moving forward.
This year should see the gradual implementation of SatRad 2.0. I don't expect this to be some blockbuster event, as some seem to wish it to be. I see it as an organic transition over the coming year to better functionality and features that will enhance the listener's experience, and give the subscriber greater value for his or her money. I own a Lynx, and I've been pleased with some of the features the radio offers so far. Five favorite stations which allow me to rewind and fast forward the last half hour to my heart's content, as well as those same stations being stored for listening offline, is a welcome feature. The ability to record, fast forward, and rewind exclusive content like Howard Stern and sports games, and the Martha Stewart channel if that's your thing, enhances the experience and helps make sure you don't miss a moment of your favorite shows. I am looking forward to on demand content, as well as personalized stations in the not so distant future.
I am bullish on Sirius XM's conference call, highlights of which can be found here. Some permabears will call me crazy on this, but, what else is to be expected? We've seen it trumpeted far and wide that Sirius XM blew it, that they didn't guide for increases in subscribers this year beyond what they took in last year, and that they guided for a slight increase in churn, and that they will soon fall victim to rising content costs like Netflix, and on, and on and on.
But you know what? When I listened to that conference call and had time to reflect on what I had heard, and what explanations were given for these things, I was thrilled. Guided 1.3 million sub adds for 2012. Perfect. Guided slightly higher churn. Great. And guided all other numbers, FCF, EBITDA, etc., with these two subdued numbers in mind. The stated reason for the lower guidance? "Caution" due to the price increase this year. I commend the company for guiding with caution, and protecting their investors with a longer horizon than the pump and dump surrounding most Sirius XM conference calls.
We all know how Wall Street punishes when a company misses its own guidance, and the choice for Sirius XM to guide a bit low, in order to avoid this punishment, is music to my ears. Does anyone really think that they will come in with only 1.3 million subs? Anyone who has followed this company for more than a few years knows that the thought of them missing this guidance this year is absolutely absurd. This leaves them free and clear to raise guidance as the year progresses and they are more certain of how the price increase is affecting people, if it affects them at all. I personally expect them to have a record year for subscriber additions since the merger due to the new and used car markets expanding, and the retail market picking up a little bit with the newer radios available.
On March 6th (not too far away), Liberty Media is free to increase to over 40% stake in Sirius XM. I can't see a single negative with this date at all. Liberty could take a handful of different roads, or they could do nothing at all and leave Sirius XM as-is. Any way you slice it, Sirius XM investors should break even, or benefit.
And remember, Howard Stern is hosting America's Got Talent next season. Another reason to be bullish as I truly feel that this will drive subscribers to Sirius XM, both new, and returning ex subscribers. If Sirius XM plays it right, and advertises properly, this could prove to be a big boost.
What are my expectations? What does this writer who is currently bullish see? I see upside both short and long term. I see increases in guidance across the board after Q1 is through, and again at the end of Q2, and Q3, assuming the prince increase has little to no effect on subscriber growth. I see the very best year ahead for Sirius XM in its history, and I fully expect that we shall see $3 per share "sometime this year." My personal feelings are that this $3 per share will arrive before the end of July. There, I stuck my neck out on that one.
Technically? Sirius M stock appears to be in a very very strong period of consolidation with very little movement. For all intents and purposes, we are in a bullish triangle, even with the recent few cents lost down to $2.09. Here is a chart from Friday the 17th.
Click to enlarge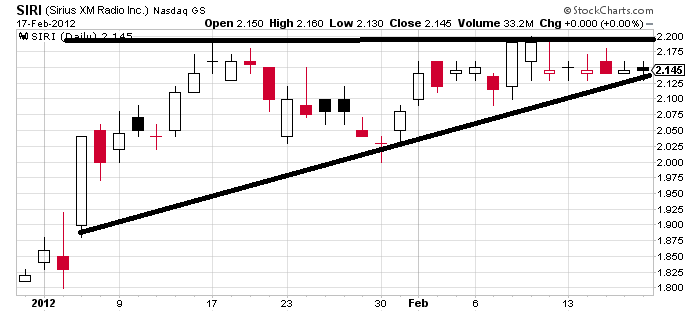 To support my bullish sentiment, here is how I am playing it going forward.
I currently hold a large core in Sirius XM shares that I add to monthly, and seldom trade. This comprises 70% of my position, and as the year unfolds I will pay close attention to the long term (one-year) prospects of the company and stock. As long as my bullish sentiment remains intact, I will hold fast to these shares unless I feel the share price has overextended itself.
I also hold a significant number of March $2 calls and am seeking one more entry point to buy more, which will bring my more speculative holdings in these calls to 30% of my position. This is my short term speculative play and requires more attention be paid to short term prospects ... February auto sales, David Frear speaking at Morgan Stanley on the 28th, any developments on or around March 6th, etc. This short term position is there to be traded. If I see short term issues, or things simply do not appear to be shaping up as I expect, I will exit this position immediately and wait for re-entry. If the price appreciates due to a catalyst, I am likely to exit my short term position and lock in gains.
For those of you who are with me, good! You're paying attention.
For those of you who are not quite there, but still bullish on the stock, I'd like to suggest an article by Rocco Pendola, here. While I may wholeheartedly disagree with his bearish Sirius XM sentiment, he does offer good advice to protect a bit against downside if you are somewhat less bullish, or more cautious than I.
For those of you who are permabears, well, there are plenty of apples for you in the vending machine.
Disclosure: I am long SIRI.
Additional disclosure: I am long SIRI March $2 calls. I have no position in P but may initiate a short position through purchase of P puts over the next 72 hours.