Looking for a way to take advantage of market mispricing? Many of our recent articles have covered beaten-down high dividend stocks which are priced way below analysts' price targets, and this article's focus stock certainly fits that bill.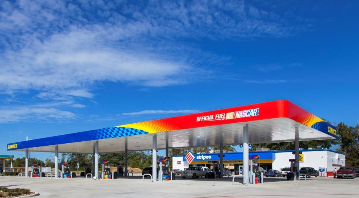 Sunoco (NYSE:SUN) is a growth-oriented Master Limited Partnership (MLP) that distributes motor fuel to convenience stores, independent dealers, commercial customers and distributors, and also owns C-stores. The company was formerly known as Susser Petroleum Partners LP, and changed its name to Sunoco Partners LP in October 2014.
SUN has quickly become a major player in the US retail convenience store/gas station industry via organic acquisitions and strategic dropdowns from its parent/partner companies, Energy Transfer Partners (NYSE:ETP) and Energy Transfer Equity (NYSE:ETE). SUN operates approximately 850 C-stores and retail fuel sites.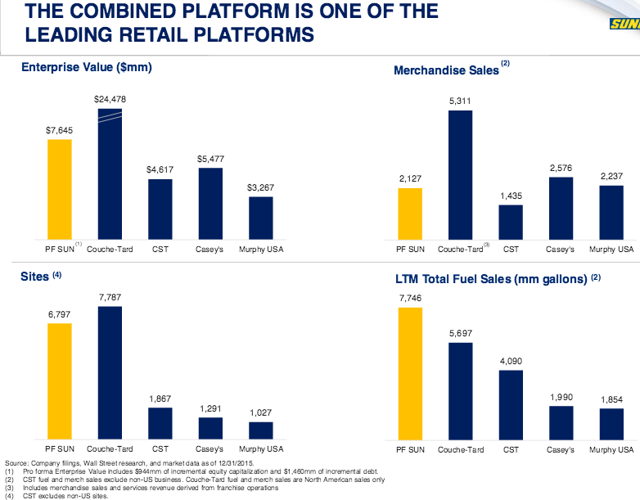 Click to enlarge
(Source: SUN website)
General partner interests and incentive distributions rights are owned by ETE, and ETP owns a 50.8% limited partner interest in SUN. ETP agreed in November 2015 to contribute to SUN its remaining retail marketing segment assets, including convenience stores operated by Sunoco, Inc. and a majority interest in the wholesale fuel operations of its Sunoco LLC subsidiary by the first quarter of 2016.
(Source: SUN website)
SUN has gotten pounded by the market, and is just around 3% above its 52-week low, another victim of the market's discounting of all things energy related.
But there's more to this story than just retail and wholesale motor fuel sales. As you'll see below, this is a company involved in a powerful transition toward more profitable channels. It turns out that attractive food service offerings seriously up the ante at C-stores and retail gasoline outlets.

Tacos and Gas - It's A Good Thing!: Far from creating an ill wind, SUN will profit handily by selling tacos and other Mexican-American fare at its Stripes C-stores/gas stations. This is a much higher margin business than wholesale or retail gasoline sales. SUN's Laredo Taco Company has a 45%-plus gross margin, and Taco-hungry customers visit its Stripes retail outlets 40% more often.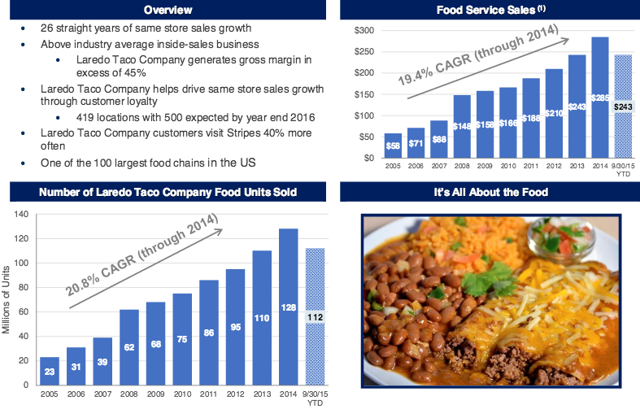 Click to enlarge
As the chart below illustrates, 2014 was the 12th straight year of merchandise sales growth within the C-store industry: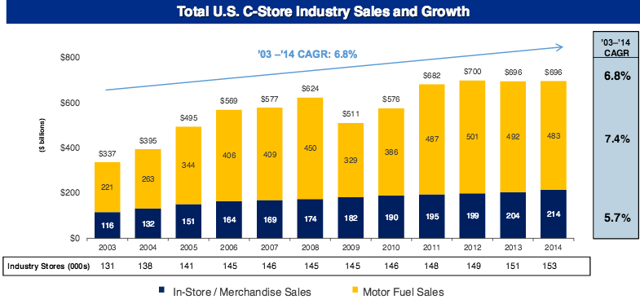 Click to enlarge
SUN's dropdown acquisitions have already shifted their mix into the more profitable channels of merchandise and C-store sales - this channel increased by 7% to 42% over the trailing 12 months as of 9/30/15.
There's also an attractive opportunity to grow this profitable channel even further. How? It turns out that the C-store industry is highly fragmented, with over 80,000 stores owned by operators that own less than 10 stores each. SUN's financial strength should allow it to continue to grow its C-store presence in the future.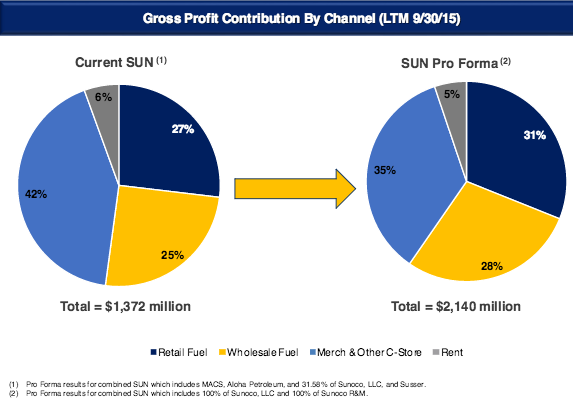 Another source of stability for SUN is that "fuel margins aren't commodity price sensitive, and have been resilient across numerous economic and business cycles."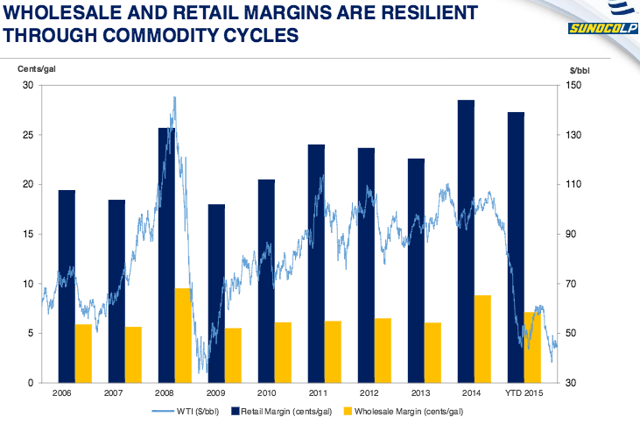 Click to enlarge
(Source: SUN website)
Distributions: SUN'S distributable cash flow/unit hit a record high in Q3 2015, and pushed its distribution coverage up to 2.37x. It declared an $.8013/unit distribution for Q4 2015, which went ex-dividend on 2/3/16. Its next ex-dividend date should be around 5/13/16.
Our High Dividend Stocks By Sector Tables now track SUN's price and current dividend yield (in the telecoms section):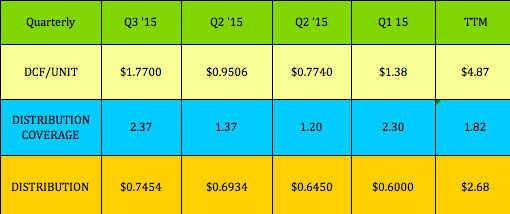 SUN has raised its distribution 11 times in a row, achieving a 24% compound annual growth rate for its distribution/unit.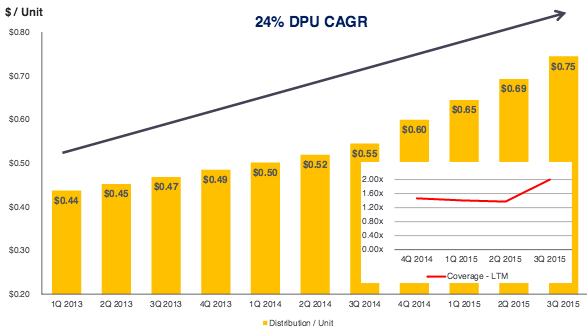 (Source: SUN website)
Options: As it turns out, SUN also has attractive option-selling yields if you're looking for a shorter-term income boost. We've listed a June Covered Call trade for SUN in our Covered Calls Table, which also tracks over 30 other income-producing trades:

Click to enlarge
The $25.00 call strike is $1.24 above SUN's $23.76 price/share and pays $2.40, around three times its most recent distribution amount. This table details the three scenarios for this trade:

Click to enlarge
The company's June $22.50 put strike pays a bit less, $2.15, but still has an attractive yield. Although you won't collect any dividends, it will give you a breakeven below SUN's 52-week low.
You can see more details for this and over 30 other put-selling trades in our free Cash Secured Puts Table.

Click to enlarge
Earnings: SUN has put up some very large growth numbers as it has taken on more acquisitions over the past four quarters.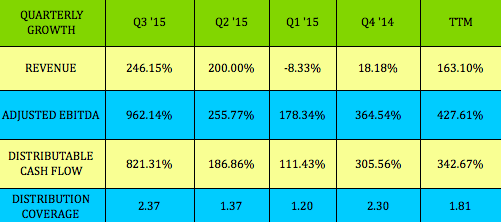 Revenue, adjusted EBITDA and DCF all hit record levels in Q3 2015. SUN will report Q4 and full-year 2016 earnings on 2/24/16.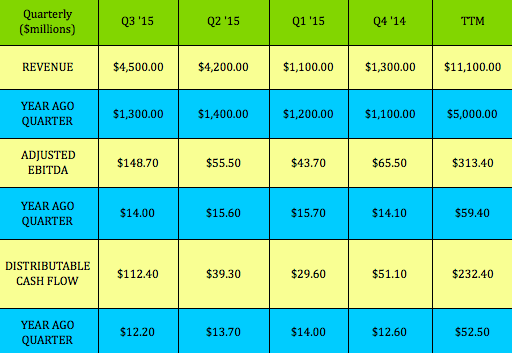 December 2015 Acquisition: On 12/16/15, Sunoco announced that one of its wholly-owned subsidiaries completed the purchase of a wholesale motor fuel distribution business serving the Northeastern United States from Alta East, Inc. for approximately $57 million plus the value of inventory on hand at closing.
The business distributes approximately 55 million gallons a year of branded and unbranded gasolines, including Sunoco-branded fuels. As part of the transaction, SUN's subsidiary also acquired a total of 32 fee and leased properties, including 30 properties which are currently operated by third-party dealers or commission agents and two non-operating surplus locations. The transaction also included supply contracts with the dealer-owned and operated sites.
The transaction was funded using amounts available under SUN's revolving credit facility and is expected to be immediately accretive to the company with respect to distributable cash flow.
Final ETP dropdown in Q1 2016 means big growth: ETP's final dropdown to SUN of its remaining retail assets is expected to close in Q1 2016, and is expected to further increase SUN's EBITDA by around 80%, and should also increase its merchandise sales by 36% while more than doubling the amount of retail sites it owns.
This should enable SUN to continue its distribution growth.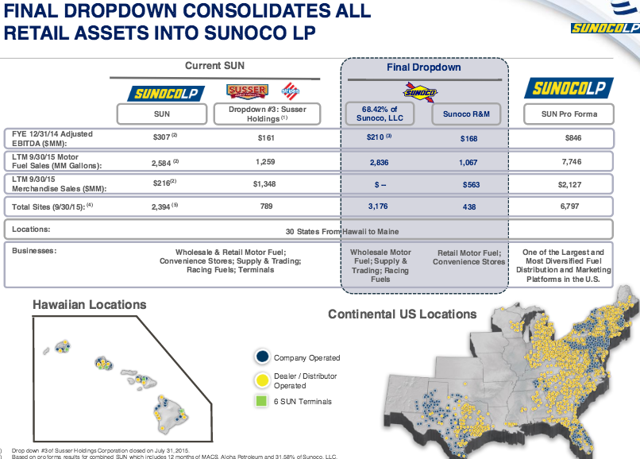 Click to enlarge
(Source: SUN website)
Analysts' price targets and earnings estimates: SUN is currently over 47% below analysts' lowest price target of $35.00.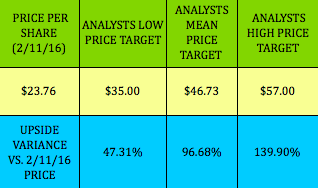 Analysts expect the company's 2016 revenue to ramp up considerably, at a consensus 42.60% rate, and are projecting its EPS to grow 63% in 2016 due to its accretive dropdown acquisitions. It has received two upward and one downward 2016 estimate in the past 30 days.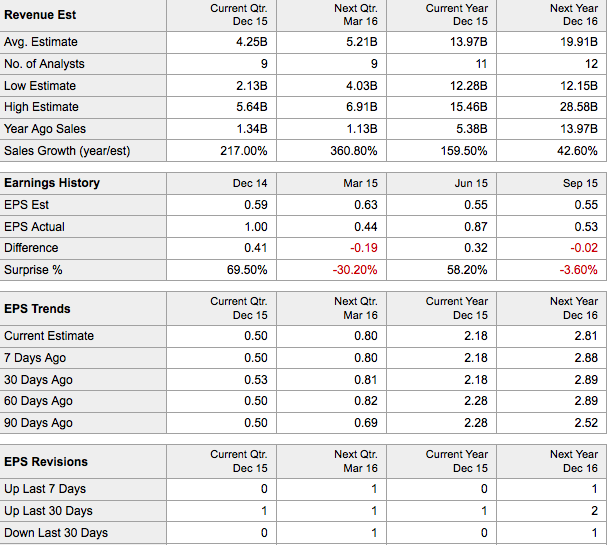 (Source: Yahoo Finance)
Valuations: SUN is currently selling at a 27% discount to its $32.76 book value/unit, and also has a very low price/distributable cash flow per unit of 4.87 - one of the lowest price/DCF valuations we've seen recently.

Financials: SUN's management efficiency ratios are mixed - better than average ROA, but lower ROE, and ROI. Its operating margin is scanty also, but these figures should improve in 2016, as its acquisitions kick in more earnings throughout the year.

Capital Structure: SUN appears to have plenty of liquidity - it had only used 21% of its credit revolver as of 9/30/15, and also has a $2B term loan (Even with using another $57M for its December acquisition in the Northeast, it's still only using under 24% of its revolver). The company's senior notes don't mature until 2020 and 2023.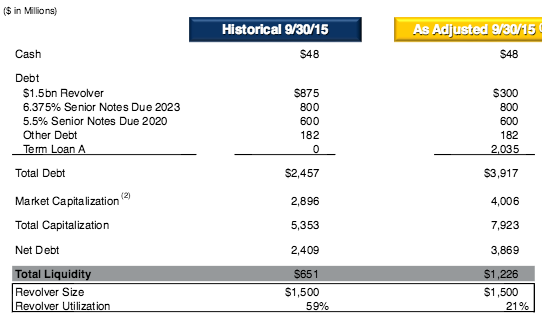 SUN received this note from Moody's in November 2015:
"While leverage metrics spike in the short term, we believe that debt/EBITDA will return to its normalized 5-ish range over the next 12-24 months." - Moody's - 11/24/15
(Source: SUN website)
All tables furnished by DoubleDividendStocks.com, unless otherwise noted.
Disclaimer: This article was written for informational purposes only. Please practice due diligence before investing in any investment vehicle mentioned in this article.
Disclosure: I am/we are long SUN, ETP.
I wrote this article myself, and it expresses my own opinions. I am not receiving compensation for it (other than from Seeking Alpha). I have no business relationship with any company whose stock is mentioned in this article.