In an article on BNP Paribas (OTCQX:BNPQY) reducing its exposure to the U.S. oil industry, the FT described reserve-based lending as follows:
Under RBL facilities, banks agree to lend up to limits set by the value of the borrower's proved oil and gas reserves. They then adjust those limits periodically to maintain adequate loan-to-value and cash flow coverage ratios.
Other indications from the article are that some lenders offered credit based on 80% or even 90% of the market value of the oil in the ground. That is a perfect example of the type of lending that I discussed last month, based on the writing of British economist George Cooper. The theory can apply to lending based on the market value of any asset.
The lender offers more and more credit as the price of the commodity goes up, heedless that the rise in market value may be temporary. The increased credit then enables further increases in the market value of the commodity until, one day, the market turns down. Then the credit enhances the downward movement as margin calls and interest rate increases exacerbate the natural selloff. The borrower often goes into bankruptcy, the lender has to write off substantial amounts, but it seems like no one ever learns.
According to the FT:
BNP said it remained 'fully committed to our robust North American energy and commodities platform and we will continue to service existing reserve-based lending clients to provide them with solutions that best fit their needs'.
I guess that is why French banks run in and out of hot markets, leaving only after taking large losses, running in after the bloom is off the rose, as BNP did in the U.S. oil market in 2014. Great timing, mes amis. Rather like Credit Agricole (OTCPK:CRARY) in Greece and Eastern Europe in the last decade, and Credit Lyonnais jumping in and out of American markets 25 years ago.
The banking business is a tough business, with spreads being squeezed by capital markets, and it tempting for banks to run across borders to try to find better opportunities. Unfortunately, the opportunities rarely really are better. They just look that way from afar.
Non-Performing Loans across Europe
European banks have owned up to a trillion euros of non-performing loans. Those loans seem mostly to be left over from the last crisis. Italy is trying to put together a plan (see here) to put some of those, loans into a "bad bank", but it is having trouble doing so because new rules prohibit government from laying out the money to do so, and the only way the "bad bank" trick works is by having government t pick up the tab. That is because all other bad bank theories depend on the loans not really being bad-and investors do not believe that.
The trillion euros of NPLs (as reported by Reuters) are going to cause many billions in still-unrecognized losses for many banks, and as investors, we cannot tell which banks will get hurt the most. At many banks, they are over 10% of loans and at some banks they are over 20% of loans. Those are the kind of numbers that one normally sees only at severely troubled banks that in the U.S. are rated "4" or worse on a scale of "5".
The European Banking Authority (EBA) released a report on European bank capital and non-performing loans on November 25, 2015. The EBA report was dubbed a report on its "transparency study" but although it has an appendix that tells the world which banks were studied, it has no individual banks statistics. The study says that the data are different from what individual banks disclose, largely because individual banks, reporting in accordance with International Accounting Standards, do not report loans that have been rolled over (forbearance loans) unless they have otherwise been determined to have been impaired. Thus, the transparency study is anything but transparent, and readers are left to wonder about the health of individual banks.
The report emphasizes that on the whole, bank capital has improved since the imposition of Basel 3 requirements. That is the set of ripe strawberries that the EBA has put on top. But many banks still have far to go to meet 2018 Basel 3 requirements. And the section on leftover non-performing loans is a great deal less reassuring.
The next chart shows how European bank non-performing loans stack up at what should be the best part of the business cycle, about six years after the last trough. NPLs at the big banks do not look so bad, and they seem to be fairly well covered by reserves. The same cannot be said for smaller banks. In general, they look to be in deep trouble, with 18% NPLs and only 40% of that reserved for. The smaller banks are not systemically important, but they often are important to local economies, and their failure often can trigger cascading effects that damage the economy as a whole and even larger lending institutions.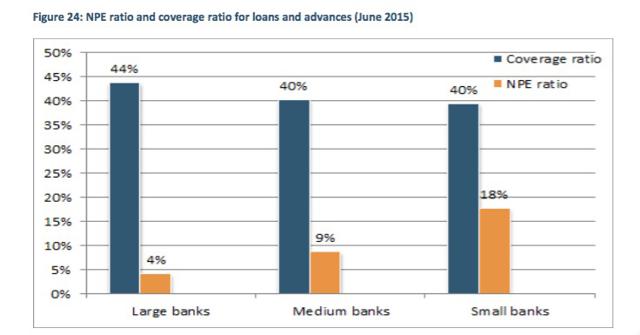 Many of the large banks, though better reserved for bad loans than the small banks, are struggling to deal with past misdeeds of their traders (colluding on LIBOR, EURIBOR, forex, etc.) and to redefine their businesses in a profitable manner without so much emphasis on volatile businesses like trading. These include bellwethers such Deutsche bank (NYSE:DB), Credit Suisse (NYSE:CS) and UBS (NYSE:UBS).
The following chart, that comes from the Acting Man blog via Seeking Alpha, illustrates why this situation may be more dire than the European Banking Authority's data might suggest. Pater Tenebrarum, who is Acting Man, and I do not see eye-to-eye on many policy issues, but he is a fine researcher, and on this subject, he has shed considerable light.
Pater's chart is a great illustration of the degree to which European reserving and write-off practices diverge from U.S. practices-and even the U.S. practices, in my opinion, are not the most pro-active that one could rationally imagine. As you can see, Europeans have far greater exposure to NPLs, reserve far less for them, and write off even less than that. Frankly, the write-off percentages are so low that one can be certain that much more write-offs remain to be taken, even from the loans that have been identified as troubled and have been reserved against. It reflects a level of laxity that suggests that there will be much higher levels of NPLs as the current credit bust continues. Those naturally will not fall evenly in nations or among banks. They are likely to fall less on northern nations and banks that have more capital and fewer NPLs and more on southern banks that have the reverse situation (although please note that the two top Spanish banks may be exceptions to such generalizations and may be sounder than the average).
One of the puzzling situations appears to be in Germany, one of the strongest economies in Europe. The major German banks do not appear to be among the strongest.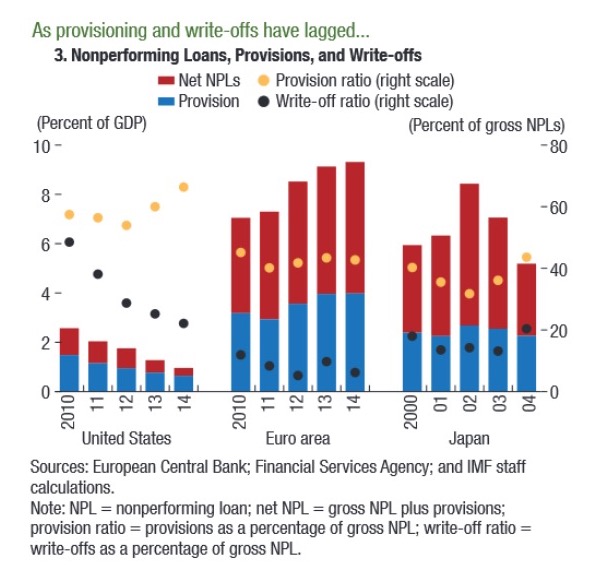 I believe that the losses on these loans-and the losses on newer loans that are going to go bad in the current credit bust-are going to be recognized more quickly than has been historically true because the reputation of the ECB and the EBA as supervisors are on the line for integrity of the stress tests that they will impose on banks this year. European supervisors have been far too lenient in their stress testing in the past, with the result that investors do not believe the findings. The agencies are under pressure to be more realistic-at a time they probably hoped would be more propitious.
Additional Capital Needed
Many European banks, despite improvements in their capital ratios in recent years, still will need more capital in order to meet tests that become binding in 2018. But many of the traditional investors they might turn to, such as sovereign wealth funds, are retreating from that market. See the Wall Street Journal story here. Some may have to raise new capital at below book value, which is very expensive for current investors.
Profitable Businesses Needed
The biggest problem may not even be the bad loans. It may be that so many European banks do not have reliably profitable business plans. Even great British banks like Barclay's (NYSE:BCS) keep restructuring and tinkering with their businesses in an effort to find a way to steady profitability in the wake of their failed businesses of a decade ago. Banking is a way hard business, and the large U.S. banks have taken over the most profitable part of investment banking ex trading-that is, M&A, underwriting and dealing in securities-which is an area that needs few competitors and naturally tends toward oligopoly. The Europeans are having to play catch-up there or else abandon the most profitable part of the business, which many are doing.
Pessimistic about the Near Future
European banking will recover some day, but the more one learns about it, the more pessimistic one becomes for the near future. And negative interest rates are not going to help, since they will merely crimp net interest margins still further, possibly forcing the banks to make riskier loans, thereby building the foundation for the next credit bust. See Neil Irwin in the New York Times here, and Gillian Tett in the FT here.
Huis Clos (No Exit), as Jean Paul Sartre wrote.
Some European banks are good buys, I am sure, but without better data, in the current credit climate, I do not know how to tell which ones. Despite recent market declines, perhaps with a few exceptions such as Santander (NYSE:SAN) or BBVA (NYSE:BBVA), which have good global consumer franchises, I would sell them all, if I had any.
Disclosure: I/we have no positions in any stocks mentioned, and no plans to initiate any positions within the next 72 hours.
I wrote this article myself, and it expresses my own opinions. I am not receiving compensation for it (other than from Seeking Alpha). I have no business relationship with any company whose stock is mentioned in this article.
Editor's Note: This article discusses one or more securities that do not trade on a major U.S. exchange. Please be aware of the risks associated with these stocks.