In line with our process of being on the ground in the countries we invest in, Senior Investment Analyst of the AFC Asia Frontier Fund, Ruchir Desai, traveled to Bangladesh to attend an investor trip in Dhaka.
Since this was my first visit to Bangladesh I was looking forward to it as we have been quite bullish on the consumer story in Bangladesh given the large young population with rising disposable incomes. This was not the first time in Bangladesh for the AFC team, as our fund manager and CEO Thomas Hugger has visited on multiple occasions. Just to give a quick snapshot, the country has a population of ~160 million with a median age of 26 and GDP per capita of just above USD 1,000, which is rising. These demographics reflect the potential that the country holds in the long run and the fund has exposed itself primarily to consumer related companies in Bangladesh.
Dhaka airport is like that of any developing economy but it serves its purpose. Getting through immigration on arrival was not time consuming as there were not many foreign passport holders in the "foreigners" line. This is kind of a good sign as the country is not yet on the radar of most foreigners except for the global garment industry. Garment exports from Bangladesh were about USD26 billion in the latest financial year and account for around 82% of the country's exports. Bangladesh has drawn a lot of global retailers to source from the country due to low wages compared to China and the garment industry now employs about 4 million employees.
I have heard a lot about the traffic in Dhaka and I guess seeing is believing in this case. Getting out onto the main highway (Dhaka-Mymensingh highway) from the airport took around 20 minutes which would be 5 minutes if there was no traffic and it was almost 11pm. This highway connects Dhaka city to the outskirts of Dhaka as well as other cities and so is always quite busy. Hats off to the traffic policeman who was managing the chaotic traffic as I did not see any traffic lights at this junction. Dhaka city has a population of close to 9 million so to have such traffic situations in a large developing city is not surprising.
The meetings were taking place at the Westin; the same place where I was staying. There are only a few well established hotel chains operating in Dhaka and that is why room rates are high at USD200+ per night. The Westin and Radisson have been around for quite a few years but Le Meridien has opened recently next to the airport and a JW Marriott is under construction as well, which suggests that the city offers potential to multi-national hotel chains, while it also indicates that room rates might go down in the future.
Over the next two days of meetings, I got a chance to meet sixteen companies across the banking, consumer staples, energy, financial services, pharmaceutical, power utility, and telecom sectors. One thing that stood out from the meetings with corporates was the discussion about political stability until the next election in the end of 2018.
Bangladesh witnessed a lot of political protests and blockades in the run up to the 2014 elections which were held in January 2014. As a result, the last quarter of 2013 and early part of 2014 impacted the country's economic activity. Things settled down towards the second half of 2014 but political protests marked the beginning of 2015 and economic activity was again impacted in the first quarter of 2015. Things have settled down since then and the past 9 months have not seen any political protests or blockades as the current government in power, led by Awami League's Sheikh Hasina, has strengthened its position while the opposition, led by Khaleida Zia of the Bangladesh Nationalist Party, has been weakened. Just to give a brief background, the opposition had boycotted the 2014 elections as the current government did not meet their demands regarding certain constitutional amendments. This resulted in the opposition resorting to political protests and blockades but this did not stop the elections from going ahead and the ruling Awami League was back in power as they did not have any opposition. The tactics used by the opposition over the past few years have weakened their support base and as a result, political stability has returned for the time being.
This political stability is obviously a good thing for the economy as corporates and consumers have been holding back on expenditures. With stability expected in the near term, banks expect loan growth to pick up while consumers could look to purchase more expensive consumer discretionary items such as apartments. Mortgage financing in Bangladesh is a growing market with housing loan penetration at less than 3% and one could see this type of financing pick up in the coming years on increasing urbanisation and income levels.
Besides loan growth, an industry which is expected to do well over the coming years is the Bangladeshi pharmaceutical industry. This industry's exports is still in the nascent stage of development with exports at only around USD 75 million which is just around 5% of the overall Bangladeshi pharmaceutical industry's total sales. The domestic market also offers potential given higher healthcare spending due to rising disposable income and urbanisation. Between 2010-2014, the domestic pharmaceutical market has grown at a compounded rate of 15.3% per annum.
Traffic in Dhaka city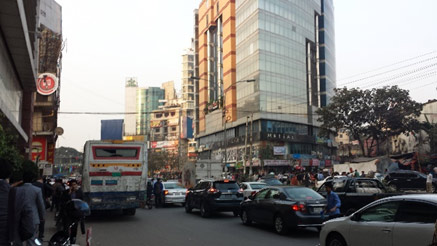 Source: Asia Frontier Capital
Food Court in Jamuna Future Park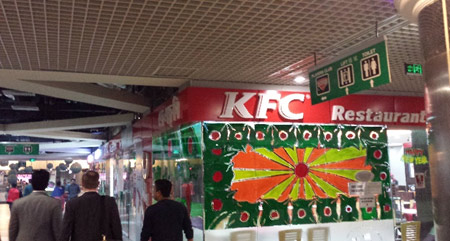 Source: Asia Frontier Capital
From the consumer companies I met, the one which has done exceptionally well and continues to have large market potential is a domestic biscuit company. The company has seen double digit growth rates in revenue and earnings over the past few years as its distribution network and brand have been well established. Furthermore, the price points of its products are focused towards the sizeable market opportunity that the country offers. For example, a packet of biscuits from this company sells at 12-15 taka which is around USD15-20 cents. Imports are also not a threat as import duties make these products almost six times more expensive.
After the second day of meetings, some of the attendees took a walk around the surrounding areas of Gulshan. This is where the Westin is located and Gulshan is one of the upmarket areas of Dhaka where many embassies are located. The walk-about was intended to get a feel of the city and also check out some of the retail stores, pharmacies, and grocery shops. First off was the most well established shoe retailer in Bangladesh and maybe even the sub-continent. The shop was fairly crowded for a Tuesday evening with affordable price points for most products. You can get a pair of leather shoes for USD30-40. Since this company is listed it is a great consumer discretionary story for this developing economy. We also ventured into one of the pharmacies to check out the range of products that were on offer given the potential that this industry holds. Lastly we checked out a grocery chain named Shwapno (the Bengali word for dream) to get a look at which products were being stocked by the grocery since many products being sold are produced by listed companies we had met earlier. Checking out the local grocery store is a good way to get a grasp of what is selling well or which products are being promoted.
The latter half of the evening was spent checking out Jamuna Future Park which is supposed to be the largest mall in South Asia. Since we were there towards closing hours one couldn't get an idea of footfalls but I am told it gets crowded on weekends. The mall is spread over five floors along with a food court and multiplex and many of the shops are wasting a lot of space given the way they are designed. You wouldn't see shops so big in Hong Kong or Singapore or even Mumbai! Most of the brands at the mall are local but it wouldn't be surprising to see this change in the coming years as consumer disposable incomes rise.
Open Market outside of Dhaka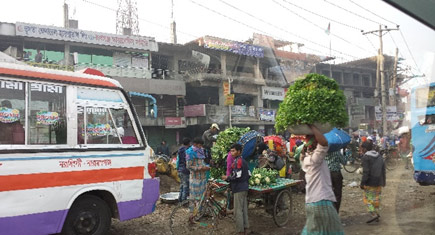 Source: Asia Frontier Capital
Farmland Outside of Dhaka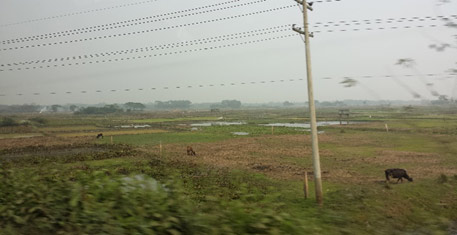 Source: Asia Frontier Capital
The last day was spent doing factory visits. The first was to the leading biscuit company in Bangladesh with the factory around two hours south of Dhaka. Getting out of city limits gave a good idea of logistical issues companies are facing as there are occasions when roads are clogged up and traffic does not move. There is obviously room for improvement here like in most developing countries. Getting to see the biscuit factory first hand was a good way to get an idea of which brands of products are in demand and the managers of the factory, who have been with the company for more than a decade, run a pretty tight ship. The last stop was to the third largest pharmaceutical company by revenue but the biggest in terms of export revenue. The company's factory was at Tongi, which is north of Dhaka, so we were in the bus for another couple of hours. Our lunch included Hilsa fish which is the national fish of Bangladesh, which is tasty but requires care as it has many bones in it. After lunch we got a chance to tour the manufacturing facilities which was insightful as pharmaceutical manufacturing is carried out in a very clean and safe guarded environment. It was good to know the company is taking the right precautions as it has recently got approval from the US FDA for this facility and it will begin exporting a blood pressure drug to the US later this year. Generic pharmaceutical companies in Bangladesh have a slight cost advantage over India given lower wages and it seems this is only the beginning of increasing pharmaceutical exports from Bangladesh.
Three days of company meetings combined with the experience of city life and visits outside of Dhaka gave me a good opportunity to gauge the potential of Bangladeshi companies. Though the country could face political uncertainty again, the young population of the country like many of its neighbours want to move forward economically and they form a rising consumer class which should offer opportunities to consumer-focused companies over the next decade. Though political uncertainty could come up at times, the country's macro stability is good, with rising foreign exchange reserves and a manageable fiscal deficit. Low oil prices are a positive for the economy as the country imports most of its fuel needs. Lower oil prices have not been passed onto the consumer yet and this could happen in 2016 which is another positive for consumer spending. With Bangladesh expected to post the third fastest GDP growth globally in 2016 at 6.5%, the outlook for the country is positive and I look forward to visiting Dhaka again.
For foreign investors it is still very difficult to access the Bangladeshi stock market. Local brokers are very reluctant to accept foreign direct investors and foreigners need a "tax consultant" which calculates the 10% capital gain tax (only applicable to foreigners).
Other ways to gain Bangladesh stock exposure:
- db tracker Bangladesh (underperforming though)
- Beximco Pharma GDR (listed in London) and trading at huge discount to the Dhaka listed stock (>70% discount!)
- Funds like AFC Asia Frontier Fund (has a 16% Bangladesh exposure as of 31st January 2016)
Disclosure: I am/we are long BEXIMCO PHARMA.
I wrote this article myself, and it expresses my own opinions. I am not receiving compensation for it. I have no business relationship with any company whose stock is mentioned in this article.