Alibaba (NYSE:BABA) is an equity I've been notably bullish on. I've said in the past that the company consistently outperforms, however expectations are incredibly lofty and when coupled with fears over China slowing, that the equity lags behind. This is an exceptional company, in my opinion. However, investors are frustrated with the now two major pullbacks in the equity over the LTM and do not want to see this second pullback sustained. After learning more about the company's correlations to major indexes, I argue that until global markets improve or expectations come down, this stock is going to experience a continued sell-off.

Click to enlarge
Source
The Stock's Drivers
Take a look at the graph below. It is Alibaba vs. the S&P 500 and the NASDAQ over the last year. What immediately pops out at you is the strong correlation that Alibaba has to the S&P 500, but incrementally stronger correlation to the NASDAQ.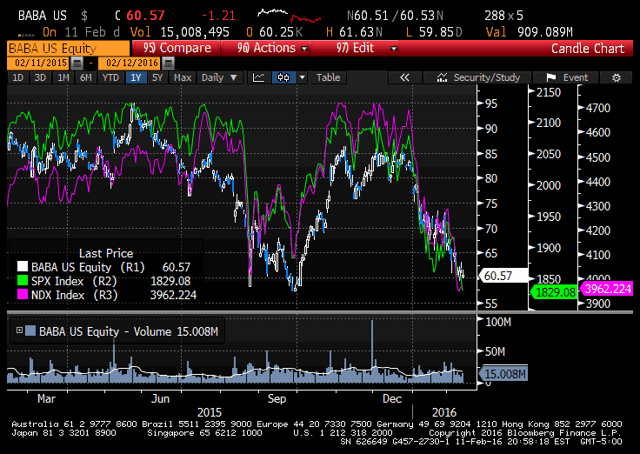 Click to enlarge
Source: Bloomberg
When I first saw this, I ran the correlations because I wanted to see what I was missing. By missing I mean how can a company this large and so immensely different than a majority of the stocks in the S&P 500 and the NASDAQ correlate so heavily to it? Below is the correlations for Alibaba to the NASDAQ and the S&P 500 over a one-year time frame: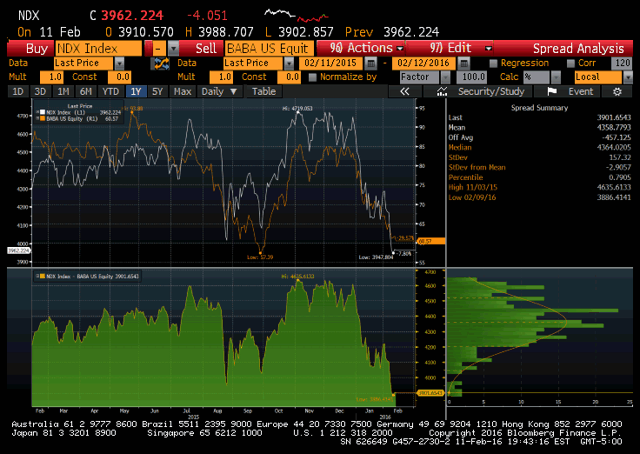 Click to enlarge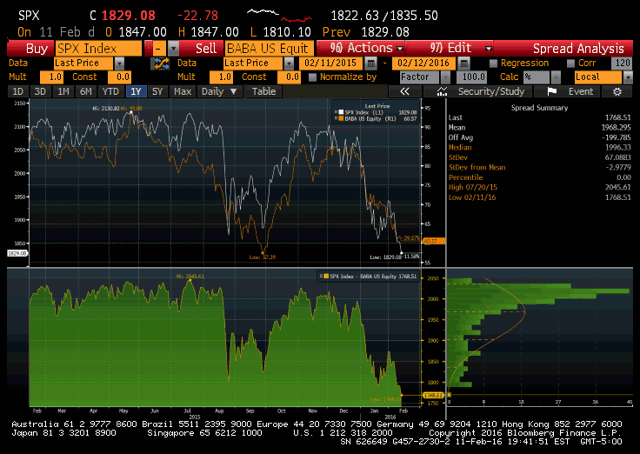 Click to enlarge
Source: Bloomberg
What was later derived from these graphs via a regression is that relative to the NASDAQ, Alibaba's raw beta is 1.33 and adjusted beta is 1.22, but for the for S&P 500 it's slightly higher at 1.651 with an adjusted beta of 1.43. In the simplest of terms, you could hedge your long bet on Alibaba by shorting the NASDAQ, buying NASDAQ puts, or heading over to the futures market and trading the NASDAQ mini contract. These are interesting strategies considering the indexes and Alibaba alike have been sinking rapidly this year. Now these betas aren't perfect, which does allow for event-driven premiums, yet these are largely mitigated by high expectations, as I'll explain toward the end of the article.
Until I looked at this, I did not realize the true drivers of Alibaba's stock and subsequent performance. While they should largely revolve around the company's performance against competitors, which has declined slightly (not nearly enough to warrant a dip of this nature) on earnings, as well as reactions to company specific-news, it's heavily tied to the overall market. What does that mean for you? The equity can be weighed on by everything from fiscal policy events and crude oil slides - none of which really affect the day to day operations of Alibaba. That's rather discouraging given the amount of headwinds in both of those areas of the global market.
Long-Term Catalysts
If we try and pull out of the immediate view for Alibaba, with its stock being suppressed on global pessimism, we start to have a really positive long-term picture. Breaking down complexity in this environment is going to be the key to making excellent trades. The way I see it, there are three primary reasons why you go long Alibaba at this point:
Potential Expansion Into The U.S.
Amid fears over China slowing, which we can clearly see priced into the downtrend, Alibaba also has declined but has a strategy for combating the slowdown. Back in October, we saw Alibaba push further in their expansion plans by opening up three offices in Europe, and if you recall in November, Jack Ma said that investing in tech startups in the United States was one of the best channels they had for future growth of the business. The potential is huge considering that startups could have a bridged gap when Alibaba is at Silicon Valley's front door from a communications standpoint.
Thus, it's really only a matter of time before we see Alibaba have offices in New York and the Silicon Valley, earning a fee from new startup customers in the U.S. on the logistics end. Furthermore, Alibaba can more widely broadcast its core business to U.S. consumers. That should be of significant interest to event-driven investors as Single's Day isn't yet in the U.S., which could boost Alibaba's top line revenue in a large way.
An Improved Risk/Reward Scenario
Take a look at the chart below of Alibaba over the last six months. The stock is trailing its 50- and 200-DMA considerably, and while it's not oversold on the RSI (current reading at 48.5), it's down 25.47% YTD and off of its 52-week high late last May of 95.06, which represents about a 36.28% difference. Now, if were to place an initial PT on it, I'm not going to be ambitious given the fundamental headwinds present. Instead, I'm placing the initial PT at $76.00. Perhaps if we see some sort of sustained uptrend, which would require broader market support, we could see BABA test the low $90s. However, I believe after such point it's going to take a significant altering of expectations for this company to see new highs. Stay conservative, not greedy - especially in this market.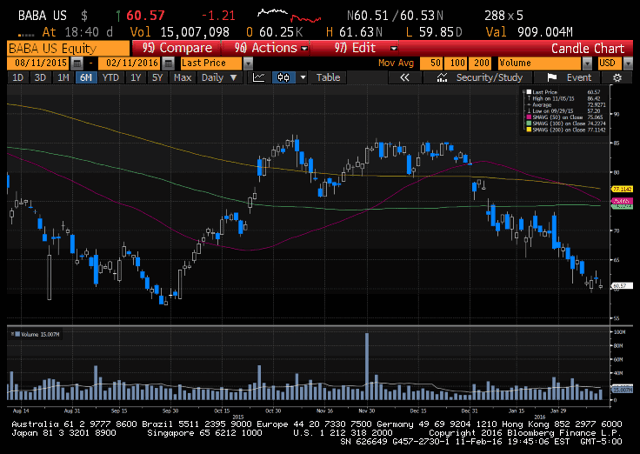 Click to enlarge
Source: Bloomberg
If you've been long Alibaba and you've hit your downside tolerance, then exit. Stick to your rules in this kind of down market. However, reevaluate and if the risk/reward is compelling enough for you, especially with the LT outlook provided, then reenter.
Expectations Will Improve
And by that, I mean they will come down. Let me give you an example - the company reported earnings on January 28 and beat on both the top and bottom line, showing an increase on the top line of 31.9% YOY. Instead, we saw the company dip from $68 to $66 a share the next trading day and have continued to see the broader market retain influence over Alibaba by sending it down to its current price of $60.53.
We saw this phenomenon with Single's Day. Despite increasing sales 60% YOY, that wasn't good enough for the equity to see even a slight increase. Does that mean expectations were 65%? 70%? Furthermore, gross merchandise value increased $5.0 billion YOY, which is incredible from an activity standpoint. The company's shares on Single's Day traded down 2.1% below $80/share, which clearly shows that expectations for the company are far too high. Growth rates like this are unsustainable for the long term and following the normal trajectory of many companies, they will begin to level off. Furthermore, I'd apply that thesis to Alibaba's top line, as well. At some point, everyone is going to need to scale back their expectations and see that this company is performing exceptionally.
Conclusion
Investing in Alibaba, especially over the near term, is going to require a large amount of patience. The stock is frustrating considering the high ratio of downtrends to uptrends since the company IPO'd back in the fall of 2014. If you don't want to go long in a new company right now, I'd advise you to conserve your cash as it looks like there is a lot more pain headed for equity markets in the coming weeks, which may push Alibaba down further. A question I will pose to the audience is if you're currently long, why do you own the stock? I'm curious about the ST and LT drivers you're seeing that the market may be overshadowing.
Disclosure: I am/we are long BABA.
I wrote this article myself, and it expresses my own opinions. I am not receiving compensation for it (other than from Seeking Alpha). I have no business relationship with any company whose stock is mentioned in this article.