In my last article, Love The Company, Hate LendingClub Stock, I pointed out three existential issues that LendingClub (NYSE:LC) must resolve to win back investor confidence. The three issues are:
compliance risk
increase competitive landscape
lack of innovative products
I was hoping that, in LendingClub's Q4 2015 earnings announcement, CEO Renaud Laplanche would address these critical issues head on in 2016, but I was disappointed. However, both Laplanche and CFO Carrie Dolan gave us a far more darker picture of what is to come for LendingClub.
In this essay, I put together evidence that will help you understand potentially the deepest and the darkest fear looming over LendingClub laid out clearly by Renaud and Carrie right in front of our eyes.
Fiasco
Before we dive into the hidden meanings behind what was said in LendingClub's Q4 2015 earnings announcement, let's take a look at an article first published by Bloomberg Business, LendingClub Models Misfire as Loan Write-Offs Top Forecasts, on February 5, 2016.
That article prompted LendingClub to respond with a blog post, Credit Performance Update, two days later.
Then came another editorial, LendingClub did not 'misfire' in their underwriting, by the CEO of a widely-respected marketplace lending portfolio analytics firm Monja.com. James Wu, the CEO of Monja.com offered a concise explanation in defense of LendingClub. But the media is still confused and looking for blood. I personally got a few calls from reporters trying to figure out what in the world is really going on?
Without getting into the subtle nuances of statistical modeling and various techniques to measure and correct model prediction decay, I will leave the debate of whether LendingClub's credit risk model has truly failed for another time.
If LendingClub's credit risk model is truly failing to predict the underlying credit risk of borrowers, then is it perhaps related to the recent news that Santander USA (NYSE:SAN) had stopped buying unsecured personal loans from LendingClub and offloaded over a billion dollar worth of personal loans to JPMorgan Chase (NYSE:JPM)?
In Bloomberg's, Santander Said Close to Selling $1 Billion of LendingClub Loans, Santander report a 4th quarter 2015 loss of $232 million on its unsecured personal loan portfolio, $123 million of which came from borrower defaults. Chris Donat, analyst at Sandler O'Neill & Partners stated: "In light of the damage that the personal loan portfolio inflicted on Santander's income statement in 4Q15, we will be relieved when Santander is out of this business."
On February 2, 2016 crowdfundinsider.com published a report, JPMorgan Chase Agrees to Aquire Nearly $1B Personal Loans Arranged by LendingClub. If LendingClub's portfolio is truly turning south, then why would JPM volunteer to take this hot potato off of Santander's hands? Is it also interesting that none of this was mentioned by the CEO and CFO of LendingClub in their Q4 2015 earnings announcement. The plot thickens …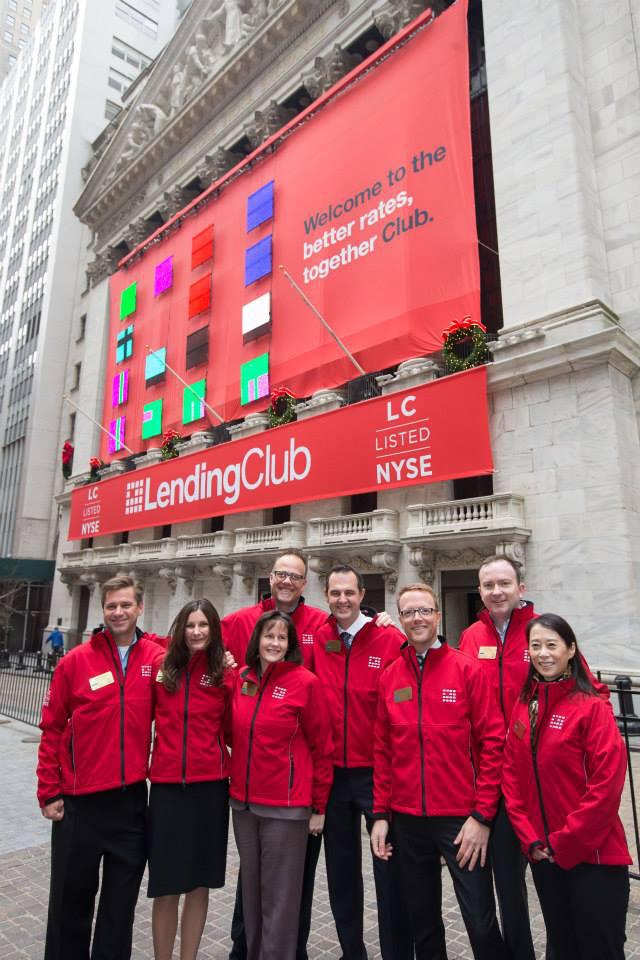 Well, there in lies the genius of JPM. Folks at Chase understand that default curves flattens after 20+ months of portfolio aging or vintage. The remaining borrowers that JPMorgan Chase purchased are borrowers that have been paying and will keep on paying their debt with little to no defaults. Genius!
Missteps
Okay, let's get back to the Q4 2015 LendingClub's earnings announcement. We will start by looking at LendingClub's new found love with supply of capital. For the first time, LendingClub is openly addressing the diversity of their capital. It's interesting that LendingClub made it a priority to talk about their source of capital after a major debt buyer such as Santander decided to pulled out of the program.
As published by LendingClub, out of $8.4 billion loans funded in Q4 2015, 54% came from 115,000 retail investors. That's close to $40,000 per person!
Renaud stated:
We believe that retail investors will continue to be a dependable source of capital especially in the event of an economic downturn. Accordingly, we are investing in more products, management and marketing resources into our retail capabilities this year.
Why is LendingClub so focused on retail investors in this earnings announcement? Because a recession is coming and institutional debt buyers are in the process of pulling out of the program just like as happened in 2007 and 2008.
To maintain LendingClub's growth, LendingClub must seek capital from retail investors. However, the cost to acquire retail investors is expensive, assuming retail investor appetite for debt is still there during a recession. That's a big if.
But fear not, even in the worst of the times, Renaud still believes investors will swarm the platform and give him billions to fund unsecured personal loans … here is their math.
LendingClub used Moody's S3 scenario and Fed CCAR 2016 (used by banks to stress test their lending portfolio) to model a worst case economic downturn scenario in Q1 2017 with 8% unemployment.
Surprisingly, LendingClub's portfolio still yielded a 4.9% return. This simulation is confusing because LendingClub's loans duration are typically averaging 49 months. So it begs the question as to what would be the loss adjusted yield after 2017, 2018, 2019, 2020 and beyond?
They further compared this "worst case" scenario against their actual worst case scenario back in 2008, which yielded a 2.4% return (they also sneaked in a 1.0% price increase to get to a 2.4% return). In reality, you are better off buying a 10-year treasury bond.
However, Renaud failed to mentioned that LendingClub only issued 3,000 loans in 2008 in his study. Hardly a fair comparison to provide any level of comfort for their existing or future retail investors during a recession.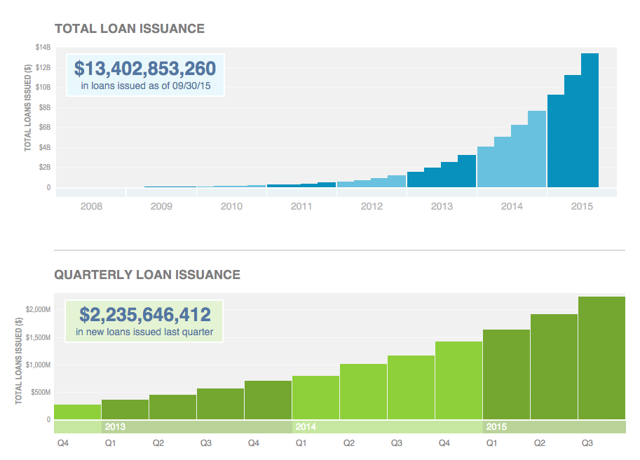 He further stated, "In an economic slowdown investors tend to [feed] the stock market and invest in fixed income." Last time I checked fixed income is bonds issued by federal and local municipalities, not unsecured personal loans.
All of this leads me to believe that LendingClub has seriously underestimated the amount of retail capital it thinks it can extract from the crowd during a recessionary scenario. Even if it manages to acquire additional retail investors, it will come at a much greater marketing cost. And they didn't go into any detail on this when asked by analysts after the earnings announcement.
Bad Omens
If the dreams of fueling demand from retail investors aren't bad enough, CFO Carrie Dolan continues to make comments that are full of doom and gloom scenarios:
On our marketplace, changes in demand for loans and supplier capital would impact origination volumes, which could impact our profitability. As Renaud shared, we believe we can minimize potential volume impacts by rebalancing supply and demand through pricing adjustments and continue to grow originations even in periods of slower economic growth ...

As we've shared, our technology and G&A spending has not been a function of current growth or revenue. This spend is highly discretionary. The pace of our investments have been forward looking as we develop new products and reinforce our infrastructure for future growth. As a result, we believe we could slow our planned spending in technology, product development and G&A today and still support our 72% growth in 2016. Under this scenario, we again believe we would show solid margin expansion. While slowing our technology and G&A investments could increase margins and free cash flow in the short term, the trade off would give us less support for maintaining rapid growth in late 2017 and beyond.
LendingClub is prepared to shift its capital source from institutional asset managers to individual retail investors to reduce binary risk. LendingClub is also prepared to slash staff and stop technology investment to maintain margin expansion and growth.
In addition, LendingClub has already raised price last quarter by 57 basis points and has a planned price increase of another 100 basis points in 2016 and 2017. Higher price usually attracts even worse borrowers. It's the definition of adverse selection.
Clearly LendingClub is preparing for a recession in early 2017 with some bad assumptions around retail investor appetite and utilizing price adjustments to cover credit risk. I would steer clear from making investment on this platform.
With the launch of Quicken Loans' Personal Loans program (RocketLoans.com) this month, LendingClub will be heading into significant competitive, legal and capital markets headwind in 2016.
Disclosure: I/we have no positions in any stocks mentioned, and no plans to initiate any positions within the next 72 hours.
I wrote this article myself, and it expresses my own opinions. I am not receiving compensation for it (other than from Seeking Alpha). I have no business relationship with any company whose stock is mentioned in this article.