Shares of iRobot (NASDAQ:IRBT) were down more than 10% Thursday in the face of strong quarterly earnings that were paired with lighter than expected guidance for the coming year. The company reported EPS of $0.65, beating estimates of $0.57. This was more than double the EPS of $0.31 of the prior year's Q4 and helped contribute almost half of the annual EPS of $1.47, which leaves iRobot trading currently at PE of 19x. For a technology company that is still in its growth stage this valuation appears relatively low. Combined with several other factors, this makes iRobot worth further examination of becoming an investment in younger investors' portfolios.
Let's start by addressing the concerns, specifically the lighter than expected guidance. iRobot is guiding for Q1 revenue of $125M-$135M and EPS of -$0.03 to $0.04, below a consensus of $137.9M and $0.25. Before that scares anyone off, here is what is contributing to the upcoming quarter's financials.
This assumes that the pending sale of iRobot's defense/security robot unit will close in Q1, which includes approximately a $0.05 per share costs related to one-time divestiture Arlington Capital Partners and a per-share loss of $0.05 to $0.07 resulting from a stub period for part of the upcoming quarter's defense and security results. This spinoff is justified as its "Warbot" sector only contributed $55 million of the company's $616.8 million in 2015. This will allow for a more focused approach to its more valuable home robots segment of the business.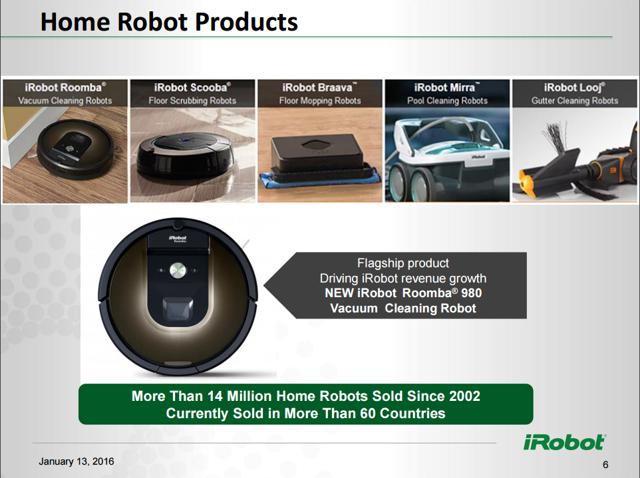 Now for the positives, such as free cash flow, debt levels, share buybacks and growing revenues while entering into developing markets.
A quick look at the books
A metric that investors like to see growing in free cash flow, and according to data from S&P Capital IQ, iRobot generated positive free cash flow of $48.5 million over the past 12 months. That is a whopping 42% more cash than it reported as net income. Take that FCF and the $212 million in cash iRobot has on its books and we see it has a debt-free balance sheet. Strong free cash flow and no debt are two tantalizing things to observe on a company's books - especially a tech company in growth mode. Gross margins were 46% for the fourth quarter and 47% for the year, which is very cushy to say the least. That comes alongside the reduction in operating expenses as percent of revenue declining to 35% of revenue for the fourth quarter compared to 40% in prior year.
While the company is growing - its share count will likely be shrinking
iRobot has a history of buyback programs, including an April 2014 $50 million buyback and in 2013, the company announced a buyback of $25 million. In 2013 though they did not buyback any shares due to the stock surging higher, nearly 70% from the time of the announcement to the end of of the year. In its Q4 call iRobot announced a $65 million addition to the 2016 share repurchase program, bringing iRobot's total 2016 authorization to over $100 million. Perhaps this may go unused as other programs have in the past, but I have a hunch if shares take a hit or decline further some of this money will be used. iRobot's management has once again proved itself a financially smart and responsible company - why buy back shares when they have surged 70%?
Growth
Compared to last Q4 iRobot reported 46% year-over-year growth in domestic home robot sales to $84.3 million, thanks to investing in advertising and national promotions as well as the sales of iRobot's latest robotic vacuum, the Roomba 980 the company's first connected product. Even more promising was the 19% growth in international home robot sales to $90.9 million. I would caution that 70% of this occurred in China thanks to successful execution of iRobot's e-commerce strategy in the country; it will be interesting to see what happens with Chinese sales over the coming year. iRobot still anticipates growth in the home robot business to be in 12-13% range for the upcoming range and increasing into the high teens by 2018 and there is still a large untapped segment of the domestic market that has yet to be reached.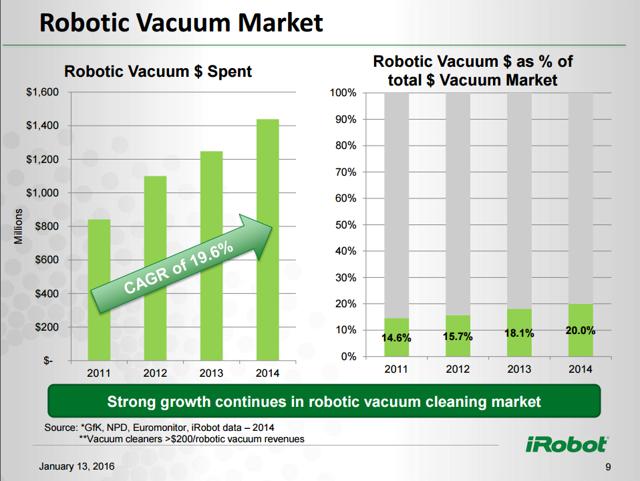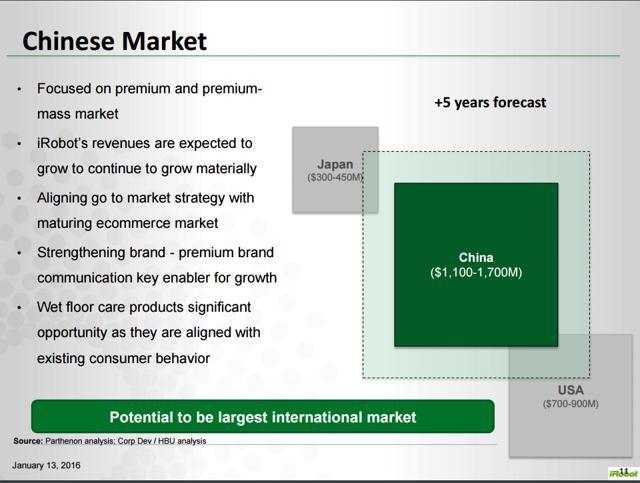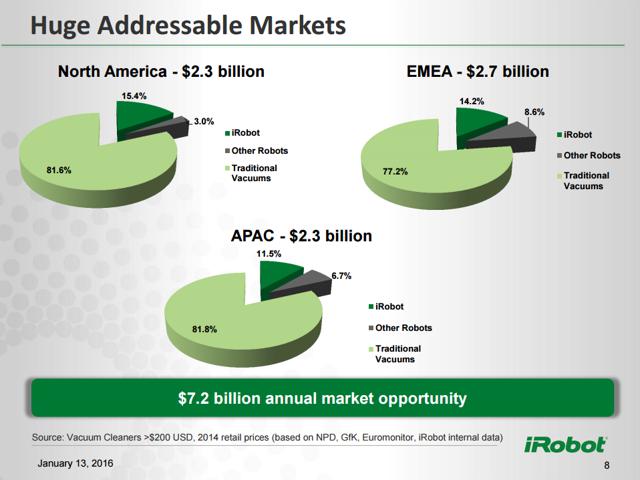 Conclusion
iRobot is a company that I believe has a promising future and with shares taking a 10% hit the other day (up 1.6% as I write this 2/11/2016) now may be a great entry point for investors looking for growth at a very reasonable value.
Disclosure: I/we have no positions in any stocks mentioned, but may initiate a long position in IRBT over the next 72 hours.
I wrote this article myself, and it expresses my own opinions. I am not receiving compensation for it (other than from Seeking Alpha). I have no business relationship with any company whose stock is mentioned in this article.