Investors that support share repurchase programs should be a jubilant bunch as 2016 has started with the major stock indexes declining. The Standard & Poor's 500 ETF (NYSEARCA:SPY) has declined 10%, and Yahoo Finance shows that 601 NYSE issues hit a new low today.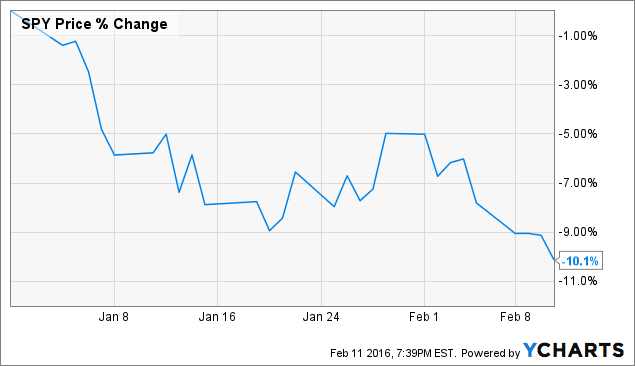 SPY data by YCharts
A share repurchase program takes place when the company transfers owner's cash in exchange for shares. It requires investors to sell shares. And 2016 has started with investors selling shares. Could they be seeking the cash Boards have approved to buy stock?
One argument for a share repurchase program is that it is more tax efficient. With many stocks setting yearly lows, the share purchase supporters have a point. Investors may not have a profit on the shares they sell.
Big Buyback and Long Buyback = Big Losses
GM (NYSE:GM) has lost $20 billion in market capitalization after spending $3.5 billion repurchasing shares in 2015. The 102.4 million shares repurchased at an average price of $34.49 have lost nearly $750 million in value. The stock closed at $26.90.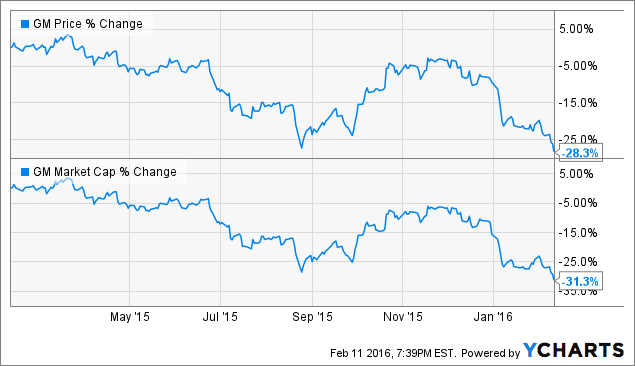 GM data by YCharts
IBM (NYSE:IBM) has $154 billion worth of Treasury Stock on the balance sheet with a market capitalization of $122 billion. The average price paid for Treasury Stock was $123.73 versus the current price of $117.85. There were 970,110,126 shares outstanding versus 1,249,449,000 shares of Treasury Stock on September 30, 2015.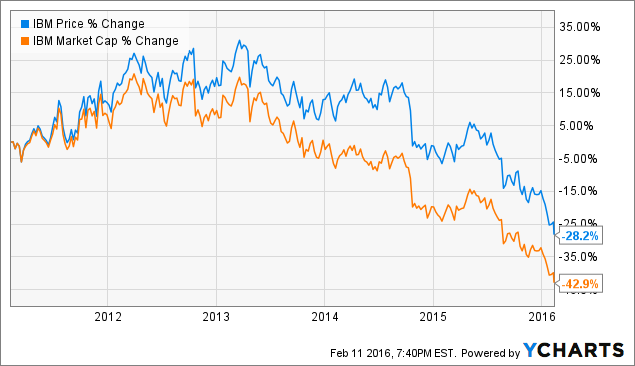 IBM data by YCharts
Steelcase (NYSE:SCS) has been repurchasing shares since the Board approved a share repurchase plan in June 1998. A $1,000 investment made on February 19, 1998, is now worth $633.40 with dividends reinvested, per its website. The price on February 19, 1998, was $35.00 according to the investment calculator; however, the final prospectus shows the IPO price of $28.00. The stock is now trading at $11.77. So far, it does not appear that the share repurchases have rewarded shareholders.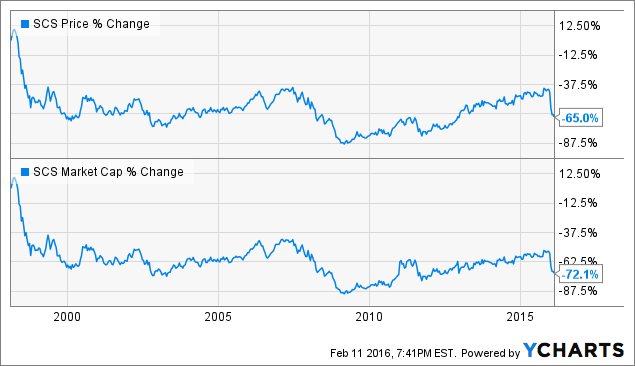 SCS data by YCharts
If firms want to repurchase shares, why not do a Dutch tender offer and give all investors the opportunity to sell shares or are they afraid too many investors might rush for the exit?
If management thinks repurchasing shares might make it more expensive for short sellers, then I feel they are wrong. However, paying the cash used to repurchase shares as a cash dividend could make it more expensive.
If share repurchase created value, then why does IBM trade for less than the Treasury Stock on its balance sheet or why has the Steelcase investor experienced a negative total since 1998. Something must be missed, but what?
Bottom Line
If you pick stocks based upon a share repurchase plan, then the results might disappoint.
Management and Boards could show confidence that the company is undervalued by placing their hard earned money into the issue. Or approving a Dutch tender at premium to the current stock price. Or buying shares, doing a Dutch tender and not tendering a single share.
Disclosure: I am/we are long GM.
I wrote this article myself, and it expresses my own opinions. I am not receiving compensation for it (other than from Seeking Alpha). I have no business relationship with any company whose stock is mentioned in this article.
Additional disclosure: Short GM calls, looking to sell puts and may exit position depending upon market conditions.