Thursday's 4.0% surge in the SPDR Gold Trust (NYSE: GLD) was guided by a faulty catalyst. The prospect of negative interest rates in the U.S. is a fallacy getting far too much weight by media and market thanks to Fed caution and congressional member curiosity. I expect that as Fed members begin to make that clear through public engagements, some of this latest luster will fade near-term. Also, some balance should return to the economic outlook, and fear should rise about the next action of the ECB over coming weeks. This should return some muscle to the dollar, and gold should give back some of its gains. Thus, I'm suggesting investors take profits in GLD for now, and wait for a better return entry point at a later date.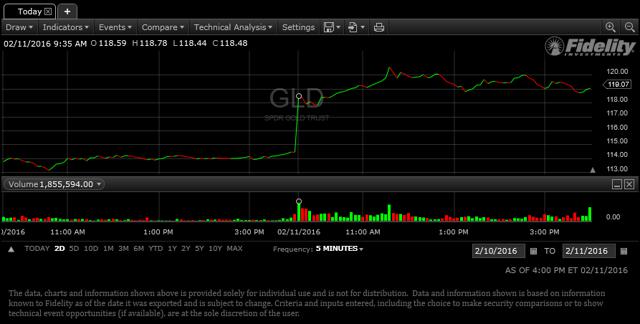 Click to enlarge
2-Day Chart of GLD at Fidelity.com
This two-day chart shows the most recent gains in the SPDR Gold Trust gold price matching ETF through February 11th. Gold spiked up not coincidentally as the term NIRP trended across Twitter and Google. NIRP is the acronym for negative interest rate policy, and it is something the Federal Reserve Chair gave too much attention to in her testimony before both financial panels of Congress this week. The credit for the topic coming up at all is due to the congressional members and not the Fed Chair. However, I felt like she mismanaged the situation by giving the topic too much of her time, given it is not worthy of serious discussion at this point. Negative interest rate policy is something that was shot down in the past by the Fed in favor of quantitative easing. However, its implementation in Japan and Europe is giving it new life. And there is the issue of the Fed's request to large banks to include in their stress testing the prospect of negative treasury yields. Stress testing is a preparedness endeavor for banks and meant to weigh worst case scenarios; it does not mean the Fed will go negative any time soon.
Negative interest rate policy matters to gold because it would represent a dramatic shift from the current monetary policy plans of the Fed. You'll recall that until now, we've been programmed for the prospect of four Fed rate hikes this year. As economic questions have intensified, investors have increasingly lowered their expectations for the Fed. Indeed, the Fed Chair seemed to imply, as I saw it, that a March rate hike was unlikely at this point. That is what has helped the GLD security to rise 17% year-to-date through February 11, 2016. The entire gold and silver complex has outperformed.
| | |
| --- | --- |
| Precious Metal Securities | YTD Thru 02-11-16 |
| SPDR S&P 500 (NYSE: SPY) | -10.3% |
| SPDR Gold Trust | +17.3% |
| iShares Gold Trust (NYSE: IAU) | +17.6% |
| iShares Silver Trust (NYSE: SLV) | +13.3% |
| Direxion Daily Gold Miners Bull 3X (NYSE: NUGT) | +117% |
| Market Vectors Gold Miners (NYSE: GDX) | +34% |
| Market Vectors Junior Gold Miners (NYSE: GDXJ) | +25% |
| Goldcorp (NYSE: GG) | +30% |
| Newmont Mining (NYSE: NEM) | +39% |
| Silver Wheaton (NYSE: SLW) | +19.5% |
NIRP is a fallacy that will be exposed for as much as the Fed realizes it is misguiding markets. The public engagements of Fed speakers should help to dispel this inappropriate concern over coming weeks. New York Fed President William Dudley made some ground on this today when asked about the issue of NIRP. Dudley said with regard to negative interest rates, it was extremely premature to even discuss the issue, and it should not be part of the conversation. This is exactly how Fed Chair Yellen should have responded to the questions of the congressional panel members, but she delivered instead a diplomatic response that did not dispel the issue.
The GLD's 4% gain of Thursday should be immediately erased given the NIRP fallacy caused it. And other developments should cost gold and the GLD in the near future. Economic data is still presenting a mixed picture of the economy, and it is important that we note the positive developments along with the negative. Yes, service sector data softened a bit but still showed economic expansion at last check. And importantly, today, Retail Sales data for January provided better than expected growth alongside upside revisions to December's data, which was concerning before the revisions. Employment data continues to reflect health in the labor market, despite the flaws in labor today. As the data begins to restore a balanced perspective to the economic outlook, stocks should gain back ground and safe haven gold securities should give back ground.
Let's look to the dollar finally. It has lost ground most recently on doubt about the Fed's plans and the economy, and also due to the NIRP fallacy. However, the Fed is still in monetary tightening mode. The Fed's data dependence will determine what it does this year, and financial markets could stabilize if data makes a case for it, thus taking pressure off the Fed to reconsider. I believe March is currently off the table as far as a rate hike goes, but we have more than priced that into gold and the GLD at this point. And, there are other things to worry about that will impact the dollar over the next few months.
With the euro gaining significant ground versus the dollar recently, and with European banks severely distressed, European Central Bank (ECB) President Mario Draghi is likely to follow through on his statement last month to enact more extraordinary easing in March. Such actions will serve to soften the euro against the dollar once again. The Bank of Japan is also well engaged in similar actions. These actions and the intensifying threat of them will weigh toward dollar strength over coming weeks, especially as this NIRP issue is dispelled. As dollar strength returns, gold must give way.
In conclusion, we called this year's gains in gold and gold relative securities. It's now time to take profits, as balance returns to the perspective about the U.S. economy, the Federal Reserve's plans and the outlook for risky assets. This NIRP fallacy has given gold excessive and unwarranted strength, and the dollar should regain strength as it is dispelled and as fear intensifies about the coming ECB meeting. Take your profits in the SPDR Gold Trust and other gold relative holdings here. Deprecation of value is likely near-term. I'll look to reenter gold positions at some point and will update followers on that tactical decision. Follow my gold analysis here at Seeking Alpha via my column.
Disclosure: I/we have no positions in any stocks mentioned, but may initiate a short position in GLD over the next 72 hours.
I wrote this article myself, and it expresses my own opinions. I am not receiving compensation for it (other than from Seeking Alpha). I have no business relationship with any company whose stock is mentioned in this article.