I was skeptical of Cutera's (NASDAQ:CUTR) valuation at $11 last month, and with shares down modestly at $10.90 at Thursday's close, three days after the company's fourth-quarter earnings release, I'm still skeptical - if not more so.
Giving credit where credit is due, Cutera had an excellent 2015, and finished strong. Q4 results beat analyst consensus (although not quite to the degree the headlines implied), with the company posting its first profitable quarter in three years. 2016 guidance is for a full-year profit, which would be the first such profit in nine years.
And that's kind of the problem; Cutera's history itself implies a bit of caution. So does what appear to be potentially significant macro challenges and a difficult competitive situation. The company seemed to hedge its guidance somewhat on the Q3 call, and even after recent declines, the stock price still assumes solid growth post-2016.
All told, CUTR is a stock that often has disappointed investors in an energy-based medtech space that has underperformed for nearly a decade at this point. That history doesn't doom Cutera to failure, but it does mean investors likely don't - and maybe shouldn't - trust that recent growth will continue. Indeed, at this point, the market doesn't seem to know exactly how to react to the Q4 report.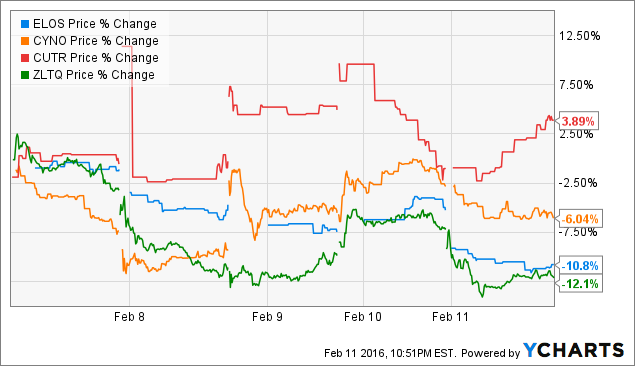 ELOS Price data by YCharts
The volatility this week isn't necessarily tied to the broad market or even the sector, as seen by CUTR's divergence from peers on both Wednesday and Thursday. (Cynosure (NASDAQ:CYNO) reported on Tuesday, and the market seems equally confused relative to that stock). But with shares back near $11, there's reason to stay skeptical of the current valuation - at best.
Q4 Earnings
Part of the reason for CUTR's big jump on Tuesday, and quick retreat, likely came from a bit of confusion relative to earnings. The headlines showed a substantial beat - $0.25 vs. expectations for $0.14. But the $0.25 figure was non-GAAP, which for the first time in recent memory excluded depreciation and amortization, which Cutera included in its EPS in Q3, for instance. Maxim's Anthony Vendetti - one of only three analysts who cover the stock - asked directly about the change on the Q4 conference call, so it seems likely that the $0.14 consensus was based on GAAP calculations. By that basis, Cutera did beat - but only by $0.01.
Still, there was a lot of good news in the report. Revenue grew 18% year over year, with the growth driven almost wholly by product sales, which rose 30% in the US and near that rate overseas excluding estimated currency effects. The company doesn't break out sales from individual products, but it did call out its enlighten product as "a major revenue contributor." That product - a laser-based platform for tattoo removal and treating pigmented lesions - competes with Syneron Medical's (NASDAQ:ELOS) PicoWay and Cynosure's PicoSure, among others, and all three products appear to be performing well. Gross margin touched 60% - the best figure since 2009 and reaching one of the company's cited targets for the year.
2016 guidance looks strong as well, with the company projecting full-year profits. Full-year gross margin is guided to increase 270 bps to the 60% level seen in Q4 (the latter is a somewhat inflated figure relative to other quarters, given that over 30% of full-year sales were generated in Q4). Sales and marketing is guided up on an absolute basis - somewhat sensible given the growth opportunities for enlighten and the excel HR laser hair removal solution - but the company is expecting ~300 bps of leverage there as well. R&D is guided up modestly - again, sensible in such a competitive space - with the targeted G&A increase rather modest (~3% at the midpoint).
So there is some support for the turnaround story here: driven by the success of the relatively new launches (excel HR and enlighten both were introduced in 2014), Cutera will return to profitability, with a post-2016 runway for top-line growth and operating leverage. It's the classic turnaround story, really, but it runs into the same concern that turnarounds often do: has the market priced in success ahead of time?
Cutera's revenue growth, for instance, looks solid - over 21% for the full year - but the demand for aesthetic products as a whole appears to have been strong in 2015. ZELTIQ Aesthetics (NASDAQ:ZLTQ) grew sales of its CoolSculpting product 46%, based on preliminary figures, and Cynosure increased revenue 16% for the full year - and both companies had stronger recent growth that made comparisons more difficult. Even laggard Syneron has seen sales rise 10% through the first nine months. enlighten and excel HR appear to still be relatively small revenue streams; on an absolute basis, sales increased less than $17 million year over year. Syneron's PicoWay itself is guided to $14-15 million, and the two products were launched around the same time.
Meanwhile, Cutera didn't exactly walk back 2016 revenue guidance - but it appeared to give itself some wiggle room if sales disappoint. On the Q3 call, the company had projected a 10-15% top line increase in 2016; on the Q4 call, the guidance was changed to exceeding "market growth." After two separate questions relating to a specific growth rate were tiptoed around by CFO Ron Santilli, CEO Kevin Connors said, "we think it's a double-digit growth rate and our view of the market hasn't changed and our commitment to capture greater share continues."
The implication appears to be that Cutera is a bit worried about the market - and likely with good reason. Though Connors said consumer demand in Asia was "pretty resistant," he added that "the business environment, as you can imagine, is more challenging." Asia is a key target market for enlighten, and given that product's contribution to recent growth, a slower ramp in that region could put pressure on that double-digit target.
There's an argument that pulling one point out of the call is nitpicking (at best), but, again, this is a company that has disappointed before. Cutera naturally touted its return to profitability, but this also is a company that has posted three profitable quarters (Q4 '09 and Q4 '12 were the others) in seven years. A full-year profit in 2016 would be the company's first since 2008. I'm not sure the market will be that patient, even with shares down ~one-third from summer highs, should the company even appear to disappoint again.
Valuation
From a broader perspective, CUTR still will look rather richly valued next year, even assuming another strong year. Using guidance for margin and opex, 10% revenue growth would drive sales of $104 million and EPS of $0.15 (including D&A and assuming a 0% tax rate, thanks to NOLs). 15% revenue growth would get CUTR to about $0.25. Even that latter figure still implies a ~30x multiple even backing out the company's $3.56 per share in cash.
There's a lot that seemingly can go wrong here, even at ~$11, and those concerns also lead to the question of why investors should choose this stock over its peers. CUTR is a highly economically sensitive stock in a jittery market, which implies some near-term risk; meanwhile, ZLTQ is down over 30% year-to-date, and seems a better choice in the space for bottom-fishers. It brings execution risk relative to new products despite a disappointing history; relative to that risk, I'd rather roll the dice with ELOS and its PicoWay and UltraShape (though the latter product disappointed in Q3). That stock offers a potential single-digit multiple as soon as 2017 if its targets are reached. And it's not cheap, but neither are ZLTQ or CYNO, and both of those companies perhaps have earned a bit more investor trust.
The case for Cutera is that it's performing better than Syneron, and early enough in the growth of excel HR and enlighten that its runway is longer than that of ZELTIQ and Cynosure, whose products should begin to mature. But the flip side of that argument is that it's still early; the company's truSculpt product has been a clear miss, with the company admitting in the Q3 10-Q that it "has not gained a share of the market segment to the degree it had expected."
It's simply difficult to see a compelling bull case here (unless my skepticism simply is unwarranted) given valuation. An acquisition seems unlikely; ZELTIQ makes sense from a portfolio standpoint, but such a deal wouldn't make sense anytime soon, as Cutera would be a drag on ZLTQ's industry-leading growth and margins. Meanwhile, particularly for investors who think the broad market has further declines coming, CUTR could provide a potential short opportunity. I'd have a hard time being tempted above $7; given the risks here relative to 2016 performance, I'd at least want to see a low-teen multiple to potential 2017 profits (~$0.40-50 assuming 8-10% top-line growth and additional leverage). From a trading standpoint, even if the Cutera story plays out, it will take a lot of patience. Given the current broad market, and Cutera's history, I'm skeptical that patience will last long enough.
Disclosure: I/we have no positions in any stocks mentioned, and no plans to initiate any positions within the next 72 hours.
I wrote this article myself, and it expresses my own opinions. I am not receiving compensation for it (other than from Seeking Alpha). I have no business relationship with any company whose stock is mentioned in this article.