When a policy is clearly not working, push even harder in the same direction to see if you can achieve the desired outcome. In other words, let's do the same thing over and over again and expect a different result, which is one of many definitions of insanity. It's not only insane, it is idiotic.
The European Central Bank was the first to employ a negative-interest rate strategy 18 months ago, cutting the rate further into negative territory in December, whereby banks are now charged an interest rate of -.3% to hold deposits with the central bank. The banks have yet to charge their depositors a negative interest rate, passing along this cost, for fear they will lose customers. Central banks in Sweden, Denmark and Switzerland have followed the ECB's lead with negative interest rates of their own. There have been no long-term benefits from this strategy in the Eurozone, and now the markets are plunging in a vote of no confidence, as evidenced by the bear-market decline in the Euro Stoxx 50 index.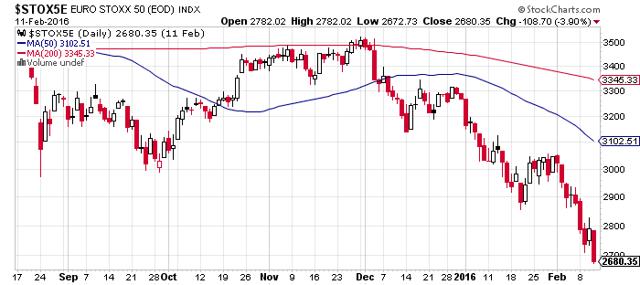 Click to enlarge
For this reason, it stunned the consensus when the Bank of Japan adopted a negative interest rate on January 29. This move has seemingly dismantled the stock market in a matter of days, with the Nikkei 225 index plunging 15% since the move was made.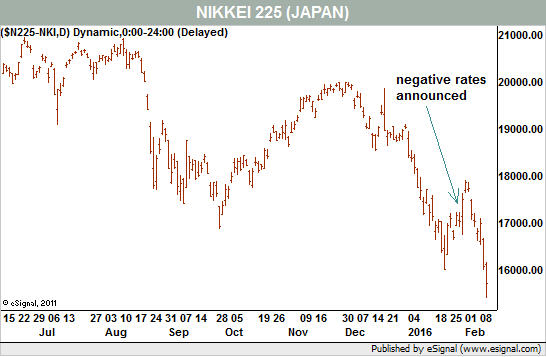 The theory behind this policy is easy to understand. If interest rates are lowered to such an extent that they penalize banks for holdings cash, then the banks will lend the money to businesses and consumers in order to earn a return. Yet what if the demand for the loans is not there, or the demand is coming from borrowers that are not credit worthy? That worsens the situation. Additionally, if bank profit margins are squeezed because the difference between their deposit rate and lending rate collapses as a result of the negative interest-rate policy, then they are incented to not lend. That's the reality.
The topic of negative interest rates has clearly punished US bank stocks. They were already under pressure as the consensus slowly started to realize that the Fed was not going to raise short-term interest rates in March, much less four more times this year. The collapse in long-term bond yields was also a negative for the group, as it reduces the profitability in lending and sends a negative message about US economic growth prospects.
Yet the decline in stocks like Bank of America (NYSE:BAC), JP Morgan (NYSE:JPM) and Citigroup (NYSE:C) since the beginning of the year seems to be excessive, even under these circumstances. The discounts below tangible book value imply that a nasty recession lies ahead, with the potential for systemic risk of some kind. While I remain a bear on the US stock market, I am not convinced that the US economy is headed into recession this year.
It was Fed Chair Janet Yellen's testimony to Congress this week that sent bank shares reeling from what were already depressed levels when she refused to dismiss the possibility of negative interest rates in the US. The three banks stocks were down approximately 10% during her two-day testimony. Despite Yellen's testimony, I see no possibility of negative interest rates in the US. The Federal Reserve spent nearly two years designing, testing and implementing what is now a $2 trillion reverse-repo facility to mop up excess reserves in the banking system and raise the floor on short-term interest rates to ¼ percent. In order to implement negative interest rates it would have to scrap this whole program and design a new one, which would take months if not a year or two. It won't happen. New York Fed President William Dudley affirmed my view, although based on a different reasoning, in comments he made today.
I view these events as an opportunity to take short-term trading positions in the three US banks I've mentioned. All three are extremely oversold and likely to realize a significant bounce in the days and weeks ahead should a counter-trend rally in the S&P 500 (NYSEARCA:SPY) ensue, after this index double-bottomed at 1812 this week. Using a point-and-figure chart below to show the action in the S&P 500 index, the double bottom is clearly identifiable at the 1820 level.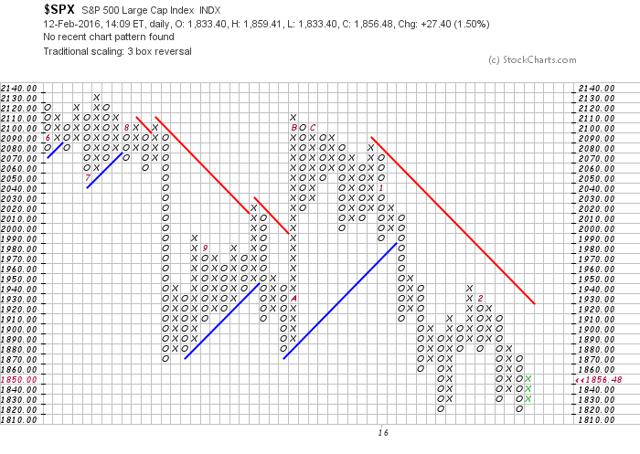 Click to enlarge
I believe that the S&P 500 can relief rally up to levels of several days ago between the 20- and 50-day moving averages between 1885 and 1965.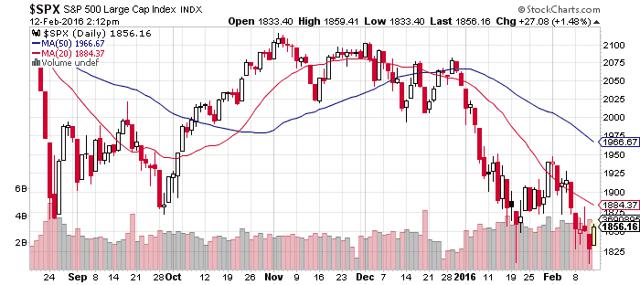 Click to enlarge
This should fuel a significant rally in the banks I have mentioned. The announcement from Deutsche Bank (NYSE:DB) that it will buy back $5.4 billion of its own unsecured debt is a significant move intended to bolster confidence. Deutsche Bank is not a bank that I would be buying, but seeing a floor in that stock, even if temporary, is critical to a bounce in the sector. Yesterday's announcement that Jamie Dimon had purchased $26.6 million of JP Morgan stock is also a confidence booster for the sector.
I find Bank of America to be the most attractive of the three, based on valuation and the fact that it has less international exposure than both JP Morgan and Citigroup. Yesterday I took speculative trading positions in Bank of America stock and the March 12 call options. I will reiterate that this is not a long term investment, but rather a speculative trading position. I am looking to take profits as the stock trades up to its 20-day moving average at approximately $13, meeting more significant resistance at the 200-day moving average of $15. I will take my losses should the stock fall to a new 52-week low or the S&P 500 break its double-bottom low at 1810, signifying lower prices. I must note that all three of these stock are up significantly as of this writing and more opportune entry points may present themselves on pullbacks next week.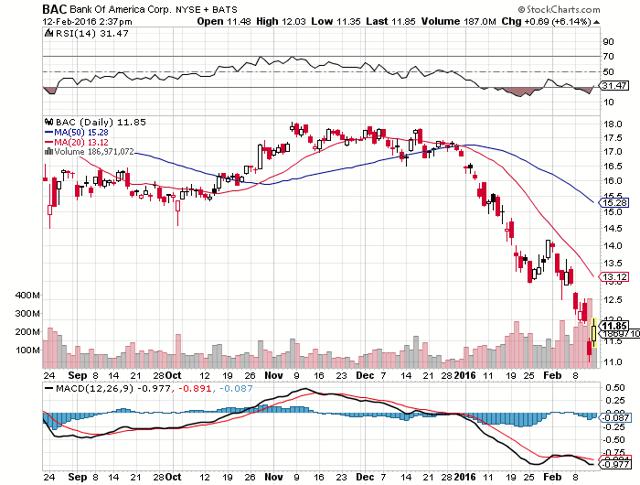 Click to enlarge
Disclosure: I am/we are long BAC, BAC MARCH 12 CALLS.
I wrote this article myself, and it expresses my own opinions. I am not receiving compensation for it (other than from Seeking Alpha). I have no business relationship with any company whose stock is mentioned in this article.
Additional disclosure: Lawrence Fuller is the Managing Director of Fuller Asset Management, a Registered Investment Adviser. This post is for informational purposes only. There are risks involved with investing including loss of principal. Clients of Fuller Asset Management may hold positions in the securities mentioned in this article. Lawrence Fuller makes no explicit or implicit guarantee with respect to performance or the outcome of any investment or projections made by him or Fuller Asset Management. There is no guarantee that the goals of the strategies discussed will be met. Information or opinions expressed may change without notice, and should not be considered recommendations to buy or sell any particular security.