Last week I covered some of the trouble facing China's banking sector. This is part 2 of an ongoing analysis of the potential collapse of China's $34 trillion banking system.
Kyle Bass of Hayman Capital
Kyle Bass, from Texas-based hedge fund Hayman Capital, has been the loudest voice propagating the theory that China's banking system is on the verge of collapse. He's not the only China bear doubling down on his firm's short yuan position, just the one getting most of the headlines.
Bass's argument made waves last week when he insisted that China has about 5 months left of excess foreign exchange reserves before the country reaches $2.7 trillion, the amount of money they need to keep the economy functioning smoothly. This week, his calculations have changed a little bit - suggesting that China is already out of money.
Does Bass's Lake Hold Water?
Let's start with the $2.7 trillion mark and work from there. Where does this number come from, and why is it significant? Think of this as the minimum working capital China needs to run the day-to-day operations of its economy. The equation comes from the IMF, which has boiled down the formula over the years. It includes capital requirements for exports, short-term FX debt, M2, and other liabilities. Going through China's numbers brings us to somewhere close to $2.7 trillion in FX reserve requirements.
Now China has $3.23 trillion in declared FX reserves. But the country spent $99.5 billion last month trying to stabilize the yuan, and it looks like that trend should continue, as international investors and global market conditions continue to exert downward pressure on the currency. From these numbers, we can see where Bass came up with the 5- to 6-month timeframe for China to hit its reserve threshold: There's about $530 billion in cushion, and China is spending about $100 billion of it every month.
We all know that China has a massive, complex economy, and there are a ton of things that could help or hurt its foreign exchange reserves. Last year, roughly $1 trillion left the country as investors, expats, and Chinese nationals pulled money out through Hong Kong and stashed it elsewhere around the world. Despite capital controls, there is the potential that a similar amount, or more, could leave the country this year. Another $1 trillion leaving the country amidst slowing trading would be a death blow to the country's financial system.
Has it already happened?
Getting back to Bass, his argument this week is that China has already crossed this threshold and is currently closer to $2.1-2.2 trillion in reserves. His argument for this subtracts the $700 billion tied up in the country's sovereign wealth fund, CIC, and other FX spending undertaken by the government.
I wouldn't call this last bit an outright lie, but it's definitely a suspicious manipulation of the data. To bring up China's sovereign wealth fund to support the view that the country is below its FX reserve needs is a bit sensationalist — and likely to increase net sellers of the yuan, which would help Bass's fund's position.
So I'm calling 'fish out of water' on Bass. From the IMF data, China has $3.32 trillion in FX reserves, not $2.1 trillion as Bass would like you to believe. The country started the year with $3.33 trillion and has spent $99.5 billion in January, plus some in February. While it's not a good situation to be in, China hasn't crossed the Rubicon just yet.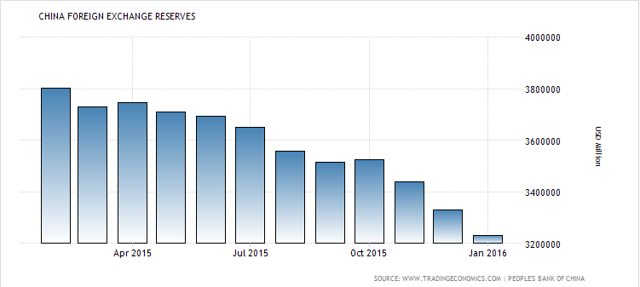 Source: Trading Economics.
The Implications
China's financial system is in a precarious situation; there's no doubt about it. The country is bleeding money to keep the yuan from collapsing; meanwhile, there are fewer dollars coming into the country this year, as global trade is slowing down and investors are protecting their assets.
The graph above demonstrates the abysmal trend China's financial system is facing. The great fear here is that when China's FX reserves fall below $2.7 trillion, in real terms, the financial system will stop working properly. The extent of this malfunction, and the ramifications, are uncertain. A total collapse of China's financial system is unlikely, but a crisis is looming, and as capital flight and government measures continue to blow through FX reserves, it's becoming more of a certainty. Any kind of disruption in China's banking system — or even the fear of it — is likely to add to the bearish sentiment in the markets, and could erase trillions of dollars more from equities markets worldwide.
Disclosure: I/we have no positions in any stocks mentioned, and no plans to initiate any positions within the next 72 hours.
I wrote this article myself, and it expresses my own opinions. I am not receiving compensation for it (other than from Seeking Alpha). I have no business relationship with any company whose stock is mentioned in this article.