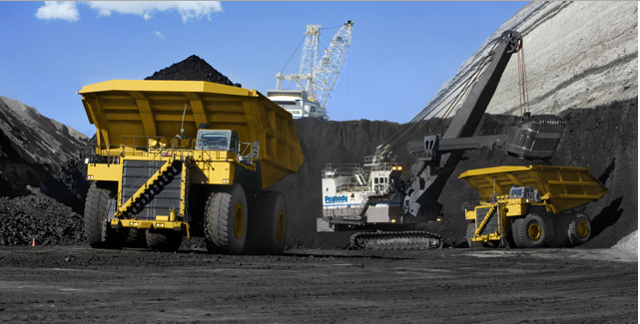 Click to enlarge
Source: Peabody Energy website
Peabody Energy (NYSE: BTU) has recently released its quarterly results, which I covered in my article "Peabody Energy: One Step Closer To Bankruptcy". After the results were released, I've been thinking about whether the company has any chance to survive the current downturn with current capital structure. In this article, I share my views on this topic.
Negotiations with bondholders
The company's earnings call had no Q&A session, as Peabody continued its negotiations with bondholders and clearly did not want to answer questions on this topic. In prepared remarks, Peabody stated: "While no agreements have been reached at this time, we expect to continue discussions with debt holders where appropriate." In my view, this is not a reassuring statement.
There were many comments regarding the fact that Peabody's conference call did not reveal more that was already known from the earnings press release. Some readers argued that such "secrecy" was good, while others found similarities between Peabody's behavior and Arch Coal's behavior prior to the latter's bankruptcy filing.
Besides market environment, debt is the key problem for Peabody.

Click to enlarge
Last year, the company spent $400 million on interest payments alone. The next debt maturity is in November 2018. Peabody will have to repay $1.5 billion of debt. There's no way how the company could pay this money from cash flows or cash on the balance sheet.
November 2018 is not that far way, especially if we consider the current state of both thermal coal and met coal markets. That's why the company has to deal with bondholders now. However, I believe that there is not much incentive for bondholders to participate in any kind of the deal.
As per the company's latest annual report, all senior notes are jointly and severally guaranteed by nearly all of the company's domestic subsidiaries. There was a discussion in the comments section of my previous article on whether Australian bankruptcy laws provide an incentive for Peabody Energy not to file for bankruptcy. I don't think that in current conditions this matters much.
Given the company's cost guidance for Australian assets and the continuing downside in seaborne coal markets, Peabody Energy will be happy to generate any positive EBITDA in Australia in 2016. At the same time, the U.S. business remains rather healthy and is likely to generate $750 million - $800 million of cash in 2016.
If we look in 2018 and assume that Peabody has no interest payments to make, no hedges and no reserve payments - the company will look healthy. In fact, with current spending rates, the U.S. segment in the above-mentioned scenario will be generating around $450 million - $500 million of cash flow annually at current costs and realized prices.
I think that bondholders have incentives to reject company's proposals even if it means saying goodbye to Peabody's Australian assets in one form or another. Just like with Arch Coal, bondholders will likely reject the deal. I was originally more optimistic when the company stated that it was in talks with bondholders, but time passed and no deal is reached. I think that the company had plenty of time to persuade bondholders.
If we look back at Arch Coal's case, the positions of bondholders were totally clear in just one month after the news of the debt exchange went public. It does not take that much time to arrive to a conclusion whether you want to participate in any kind of deal or not. The remaining six months of Arch Coal's life as an NYSE-traded stock were just agony. It looks like Peabody will share the same fate.
Will Bowie sale matter?
Another topic for discussion is whether Peabody Energy will be able to sell its New Mexico and Colorado coal assets to Bowie Resource Partners. Clearly, additional downside in coal markets and general financial turbulence at the beginning of this year decrease chances of closing this deal. However, does the Bowie sale make a difference?
The sole purpose of asset sales in the current market environment is to gain time. The rationale is that as hedge losses end and reserve installments are paid, Peabody's results will automatically improve. Of course, this is right, but there are two problems - the market environment and the debt axe.
In the U.S., Peabody was fully contracted for this year and this fact saved the company from price weakness. However, current prices point to continuing deterioration of the coal market.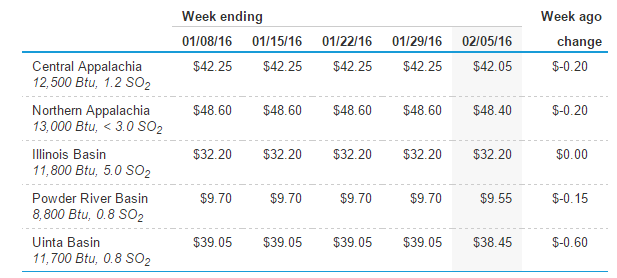 Source: EIA
Any rebound is once again pushed further into the future. Yes, Peabody will gain time if it closes the Bowie deal, but it is highly likely that this won't matter in the long run.
The company cannot operate with the current capital structure, period. The only viable way to compete with the companies which already filed for bankruptcy is to join them and also file for bankruptcy protection. In my view, low natural gas prices are killing any prospects for a fast rebound in thermal coal and problems in China mitigate the rebound prospects for met coal.
Sometimes the market environment prevails regardless of what the company does. The situation is just too difficult for Peabody Energy. As I'm writing this, the company's stock trades at $2.50. On a pre-split basis, this is less than 17 cents. The market assumes there's no value left for common shareholders, and I agree with this assumption.
Disclosure: I/we have no positions in any stocks mentioned, and no plans to initiate any positions within the next 72 hours.
I wrote this article myself, and it expresses my own opinions. I am not receiving compensation for it (other than from Seeking Alpha). I have no business relationship with any company whose stock is mentioned in this article.
Editor's Note: This article covers one or more stocks trading at less than $1 per share and/or with less than a $100 million market cap. Please be aware of the risks associated with these stocks.