Amazon.com's (NASDAQ:AMZN) newly announced share buyback program must have been just what the stock needed. In response to the news, AMZN shares jumped 2.7% on Thursday, then added another 0.65% on Friday. That's about three times greater performance than the NASDAQ during the same period, implying big expectations for this lavish buyback authorization of $5 billion. Unfortunately though, this buyback will do very little for AMZN stock, if anything at all.
Personally, I am a huge fan of buybacks as a means of companies returning capital to shareholders. Most recently, I explained and illustrated why Cisco's (NASDAQ:CSCO) $15 billion buyback addition is a game changer for the stock, which was very much tied to the effect that an 8% reduction in Cisco shares had on CSCO stock.
With that said, the size of a company's buyback is irrelevant. What matters is the spending relative to its market capitalization, and also the intensity involved. Below is the effect of buybacks on three different stocks, buyback plans of different sizes to fully illustrate my point; the linked article with Cisco is another good reference.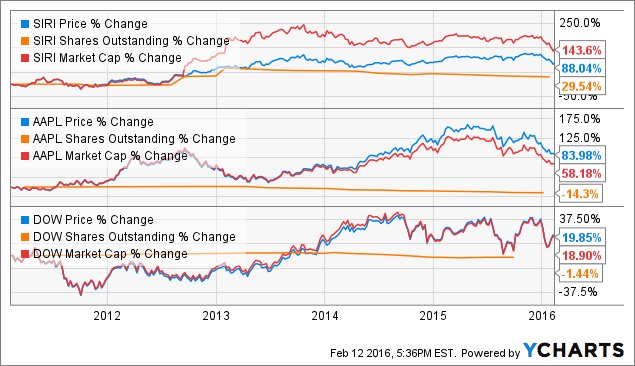 The above chart illustrates that bigger buyback programs relative to market cap create larger stock gains.
When a company reduces its sharecount (via buybacks) its stock price must work harder to support the same or a higher market capitalization. Over a five year span, Sirius XM's (NASDAQ:SIRI) stock price has outperformed its market capitalization gains by 62.5%. Apple (NASDAQ:AAPL) and Dow Chemical's (NYSE:DOW) stock gains have exceeded its market cap to the tune of 44.8% and 5.8%, respectively. Clearly, the stock performance of these three noted stocks relative to market cap can be correlated to its share reduction, thereby illustrating the effect that buybacks have on stock prices, and why big buyback programs are good for stocks.
However, Amazon.com's $5 billion buyback plan will reduce its share count by just 2%, and that's based on a reduction in Amazon's valuation over the last few months. So clearly, Amazon's $5 billion buyback won't have much of an effect on AMZN's stock price. It is equivalent to the buybacks of DOW or Honeywell (NYSE:HON), the latter of which has seen a 4% increase in its stock price versus market cap over the last five years. Theoretically, that's about what AMZN's shareholders can expect from Amazon's plan, a 4% to 6% premium to its market capitalization increase over the next five years.
All things considered, it is unlikely that Amazon launched this buyback to create legitimate shareholder value. Instead, there are two more likely reasons behind the plan.
First, it was a PR move, an attempt to reverse the bad fortunes of a stock that had fallen nearly 30% this year. So far, the plan has worked, with AMZN's stock going against the trend on Thursday, and significantly outperforming the broader indexes over the final two sessions of last week.
Second, Amazon is getting its feet wet before diving in the water. Historically, AMZN is not a stock that's driven by buybacks, but with free cash flow soaring more than 200% last year to $7.3 billion, Amazon can now afford the buybacks.
Seeing as how Amazon is new to the buyback game, and likely does not want to commit a large amount of capital to its first authorization, it is possible that Amazon blows through this money in a quarter or two, then launches something larger later on. I presented this same argument for Alibaba (NYSE:BABA) back in November after the company spent $2.74 billion in two months of a $4 billion buyback program that was supposed to span over two years. While Alibaba is yet to launch the $30 billion buyback authorization that I anticipate, the point is that AMZN may very well quickly spend this $5 billion and then launch a larger buyback afterwards.
As of now, no one knows what Amazon will do in response to its buyback plan. However, if Amazon elects to spend the capital quickly and launch something larger later down the road, it could have a profound effect on the stock price. If not, don't expect Amazon's buyback plan to have much more of an impact to AMZN stock.
Disclosure: I am/we are long AMZN, AAPL.
I wrote this article myself, and it expresses my own opinions. I am not receiving compensation for it (other than from Seeking Alpha). I have no business relationship with any company whose stock is mentioned in this article.