If you like to dine out, (who doesn't?), chances are you've eaten at one of the thousands of Sysco's (NYSE:SYY) food service customers.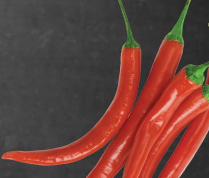 We've posted some recent articles about Dividend Aristocrats which have been outperforming this turbulent market. Although only about 25% of the group is in positive territory year to date, we've found one which has beaten the S&P 500 over the past year, quarter, month and year to date.

Sysco is the largest food service company in the US and Canada, having sales and service relationships with approximately 425,000 customers, including restaurants, hospitals and nursing homes, schools and colleges, hotels and motels, industrial caterers, and other food service customers. Sysco operates from 194 locations throughout the U.S., Bahamas, Canada, Ireland and Northern Ireland. SYY is around 7 times larger than its nearest publicly traded competitor.
The food service industry has had steady growth since 2009 and is forecasted to maintain growth in the coming years, running from 1.6% for full service restaurants (FSR) to 4.2% for retail hosts: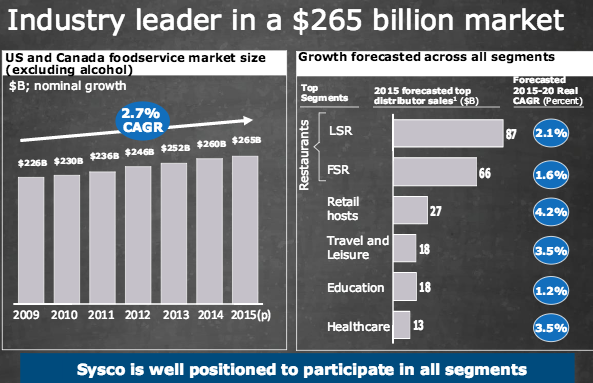 Recent upward trends are indicating that consumers began dining out more often in 2014 and 2015: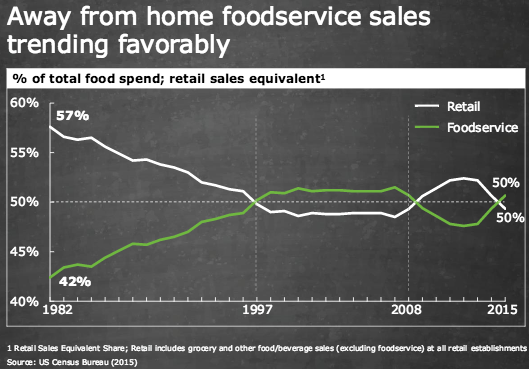 (Source: SYY website)
One traditional source of growth for Sysco is the fact that the food biz is a highly fragmented industry - around 58% of the industry is run by smaller, independent operators. Typically, Sysco gains entry into a local market by buying out a local company and incorporating it into the Sysco system. This includes food service companies and produce distributors, among other types of operators.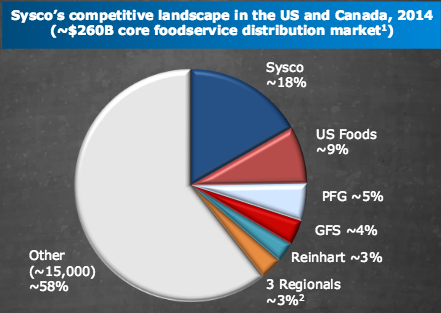 (Source: SYY website)
Dividends: Although it's not a high dividend stock, Sysco has raised its dividend for 47 consecutive years, and thus has been a member of the elite Dividend Aristocrat group for many years. Management just raised the dividend by 3.3% to $.31 from $.30. SYY's five-year dividend growth rate is a bit over 4%, slow but steady. Its next ex-dividend date should fall somewhere around 3/31/16.

Options: If you're looking for short-term income, SYY also has options available. We just listed a May covered call trade for Sysco in our Covered Calls Table, which also tracks over 30 other income-producing trades.

Click to enlarge
The May $44.00 call strike is $.97 above SYY's $43.03 price/share, which leaves you some room for price gains. It pays $1.05, a bit over 3x SYY's next $.31 dividend. The table below illustrates the three main scenarios for this trade:

Click to enlarge
We also listed a May cash secured put trade for SYY, which features a $42.00 put strike price and pays $1.35, giving you a $40.65 breakeven.
You can see more details for this and over 30 other put-selling trades in our Cash Secured Puts Table:

Click to enlarge
Bonds: Sysco also has several bonds available to investors, ranging in maturity from 2021 out to 2045.

Click to enlarge
(Source: Morningstar)
Earnings: Sysco's fiscal year 2015 ended on 6/27/15. The year was marred by a big loss stemming from a failed merger with competitor US Foods. Management decided to terminate its merger agreement with US Foods days after the U.S. District Court in Washington, D.C., granted the Federal Trade Commission's request for a preliminary injunction to block the proposed Sysco-US Foods merger. This action also terminated an agreement with Performance Food Group (NYSE:PFG) to purchase US Foods facilities in 11 markets.
The termination of the transaction required Sysco to pay break-up fees of $300 million to US Foods and $12.5 million to PFG, resulting in a $.69/share loss.
SYY's adjusted fiscal 2015 diluted EPS added back the $.69/share in merger and financing costs for the failed merger: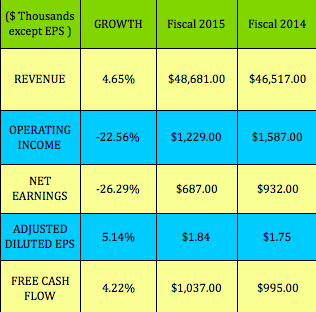 On 2/1/16, SYY reported its fiscal Q2 2016 earnings in which the company had strong growth. Although sales were flat, operating income jumped 37%, net earnings rose 72%, and adjusted diluted EPS rose 17%. Management started a $3B share buyback program in June 2015, which reduced SYY's share count by 4.59% over the past four quarters.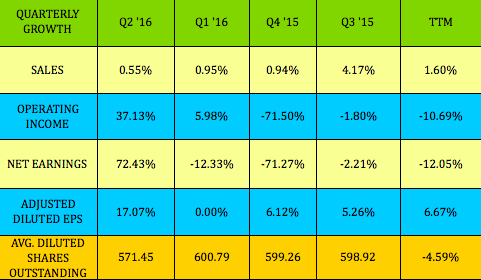 Dollar Figures: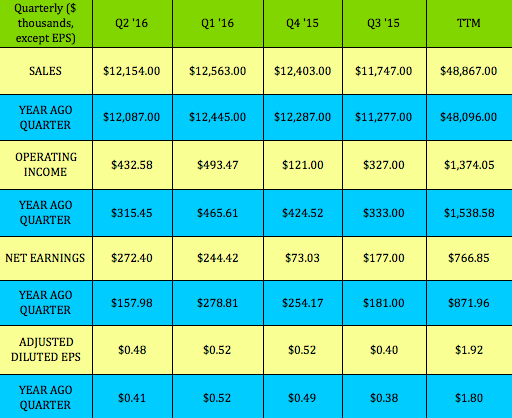 In September 2015, management launched a three-year plan in which it aims to grow its operating income by 20-30% in the first year...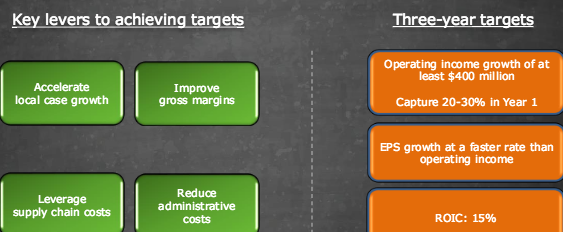 ...via growing its local case delivery volumes, improving its gross margins, pushing supply chain efficiencies and trimming administrative costs:

Here's the timeline for the three-year plan: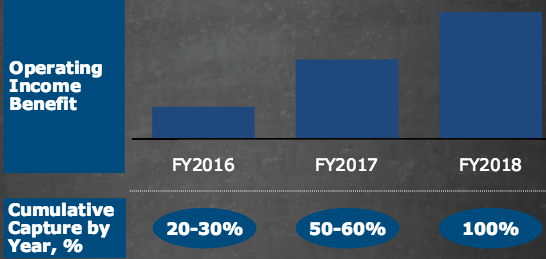 (Source: SYY website)
Analysts' Estimates and Price Targets: Sysco has received 14 upward estimate revisions for Fiscal 2016 over the past 30 days, which moved the consensus figure from $1.93 to $1.96. There have been 10 upward revisions for Fiscal 2017, with a consensus figure of $2.15. A few days after Sysco's 2/1/16 earnings release, Argus Research upgraded the stock to buy from hold, with a $50.00 price target.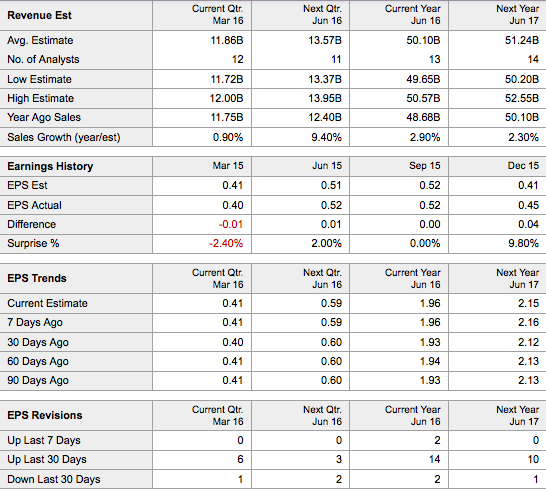 (Source: YahooFinance)
SYY's outperformance has put it above analysts' mean price target of $41.91: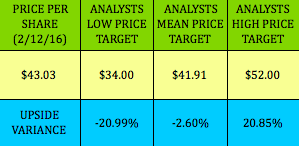 Valuations: As is often the case with industry leaders, SYY commands a premium price/book valuation. Its current P/E is toward the high end of its five-year range.

Financials: SYY's management efficiency ratios look good, but it does have a low operating margin - hence the push to improve this via the three-year plan. It carries a higher debt load, but has a strong current ratio.

Capital Structure: In September 2015, it announced a $2 billion offering of senior unsecured notes, $1.5B of which is being used to buy back shares. As a consequence, its debt load increased from $2.27B in June 2015 to $4.27B as of December 2015.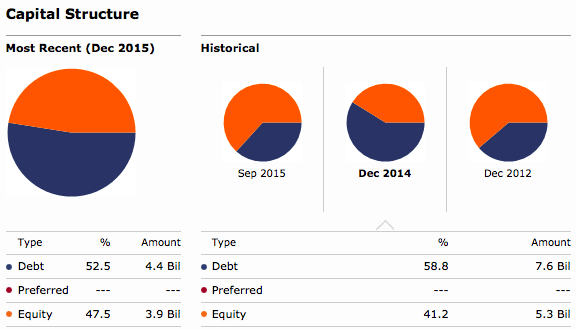 (Source: Morningstar)
All tables furnished by DoubleDividendStocks.com, unless otherwise noted.
Disclaimer: This article was written for informational purposes only. Please practice due diligence before investing in any investment vehicle mentioned in this article.
Disclosure: I/we have no positions in any stocks mentioned, but may initiate a long position in SYY over the next 72 hours.
I wrote this article myself, and it expresses my own opinions. I am not receiving compensation for it (other than from Seeking Alpha). I have no business relationship with any company whose stock is mentioned in this article.