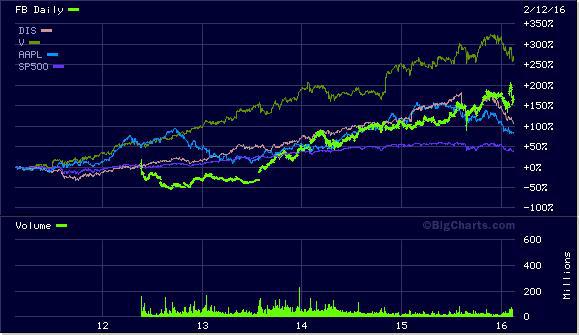 Buying a collection of growth stocks can act as a portfolio catalyst. I wouldn't recommend owning only four stocks. However, a small collection of growth stocks can be a part of an investor's portfolio to help boost overall gains.
Of the FANG stocks, Facebook (NASDAQ:FB), Amazon (NASDAQ:AMZN), Netflix (NASDAQ:NFLX), and Alphabet (Google) (NASDAQ:GOOG) (NASDAQ:GOOGL), I avoid Amazon and Netflix because of their lofty valuations. I see nothing wrong with GOOG, but I choose to own Facebook as my advertising-related investment because of the company's stronger expected earnings growth over the next few years according to consensus. I see Facebook in a stronger growth phase than Alphabet. Therefore, I expect Facebook to outperform Alphabet over the next few years. Disney (NYSE:DIS), Apple (NASDAQ:AAPL) and Visa (NYSE:V) are some of my other favorite investments that comprise my FANG alternative known as DAVF.
The DAVF collection of stocks are not my only holdings and I am not implying that investors should only own these companies without further diversification. What I am saying is that Disney, Apple, Visa and Facebook represent attractive growth at a reasonable price after the recent market sell-off. I also think that these four represent a viable alternative to owning the FANG stocks, with the exception of keeping Facebook.
I avoided Netflix because it trades at 345X expected 2016 earnings (consensus) and 80X expected 2017 earnings. Netflix also operates with negative operating cash flow. The negative cash flow is an issue because the company will need to add to debt or do a secondary stock offering to continue its global expansion. That is not an attractive position for a stock to be in. More debt will weaken the balance sheet and a stock offering would dilute the shares, thus putting downward pressure on the stock price. I look for growth at a reasonable price and companies that have positive operating and free cash flow and Netflix just doesn't fit the bill.
Amazon also has a lofty valuation as it trades at 111X expected 2016 earnings (consensus) and at 59X expected 2017 earnings. Amazon does produce positive operating and free cash flow. However, the stock is priced too high in relation to earnings to fit my criteria of growth at a reasonable price.
Disney
Frankly, I think that the fears over losing ESPN customers are overstated for Disney. I acknowledge that cable "cord-cutting" does lead to fewer ESPN subscribers. However, I don't think that the majority of cable customers are going to cancel their service. As stated in Disney's Q1 conference call, "95% of Americans with a multi-channel bundle watched sports and 81% of those viewers watched ESPN content." Another key statistic is that four out of five adults in the U.S. connect with ESPN on some platform every month. Therefore, I think that the fears about the loss of ESPN subscribers will not significantly hurt the company over the long term. Granted some millennials don't choose to buy cable packages, but I think that many of them will as they begin to earn more as their careers advance, especially for those who are sports fans.
Disney did achieve revenue growth in each segment in its Q1 results. Revenue increased 8% in the Media segment where ESPN is included. ESPN advertising revenue increased 25% in Q1. CEO Bob Iger said that there was an uptick in ESPN subscribers in Q1. Sports fans can get ESPN on alternatives to standard cable services such as Sling TV. So, millennials and other cord cutters who are sports fans are likely to get their exposure to ESPN in some form.
Disney's other segments, Parks and Recreation, Studio Entertainment, Consumer Products/Interactive Media are all continuing to grow. Ultimately, I think that the stock will perform well over the long term. The stock's valuation has become attractive due to the recent market sell-off. With a forward PE of 14.5, Disney is now trading below the S&P 500, which is trading at 15X next year's expected earnings. Furthermore, Disney is now trading with an EV/EBITDA of just 9.9, which was about where the stock was trading about three years ago. I expect Disney's stock to outperform as the company is expected to grow earnings at high single to low double-digit rates over the next few years. At the same time, the S&P 500 is only expected to grow earnings at about 5% annually.
Apple
Apple is a company that some people are giving up on because of slowing revenue growth. Last year was a big upgrade cycle for iPhones with the 6, 6S, 6 Plus, and 6S Plus models. Many consumers upgraded to the larger sized iPhones since the 6 and 6 Plus models debuted in late 2014. Consumer enthusiasm for the larger iPhones led to record sales of $155 billion for Apple's fiscal year ending in 2015 just for the iPhone segment. The fiscal 2015 sales were 52% higher than fiscal 2014 sales. After such a large leap, it should be no surprise that Apple will take a breather this year and experience a 2% to 3% decline in total revenue according to consensus.
Lower sales for the current fiscal year doesn't mean that Apple is finished as a long-term investment. The news of lower sales is already priced into the stock in my opinion. The stock is trading at only 10X expected 2016 sales and 9X expected 2017 sales. This is significantly below Apple's five-year average PE of 14.
The catalyst for higher sales for the iPhone is likely to be the iPhone 7, which is likely to be released in the fall of 2016. Therefore, most of the sales for the new model will be reflected in fiscal 2017. Although some of the specs for the new model aren't official yet, the MacRumors.com website states that the iPhone 7 will have a thinner design, no headphone jack (corded headphones will use the lightning jack and wireless headphones can connect via Bluetooth), two screen sizes, a dual-lens camera for the 7 Plus (offering DSLR-like image quality w/ 2-3X optical zoom), and an upgraded processor. It also could be made out of a new composite material, which is more water resistant.
The smartphone still remains most consumers' portable computer/camera/GPS/music player/phone/etc. all in one device. The iPhone remains a popular choice as evident in FY15 sales. Older models that are still being used such as the 5, 5C and 5S will eventually need to be upgraded. Therefore, the iPhone 7 and 7Plus will provide loyal Apple consumers with an improved product to upgrade to.
Even with a slight decline in sales for FY16, Apple will still produce billions in free cash flow. The free cash flow is used for share repurchases and to pay the 2% dividend. With the stock priced at a discount, I would expect Apple to continue its stock repurchasing, which will make existing shares more valuable over the long-term by reducing share dilution. Therefore, by owning Apple, shareholders are paid a dividend while they wait for the stock to go back in favor. The company is an innovator, so I think that the stock will be back in favor later this year when Apple officially announces the features for the new iPhone model. I expect Apple to continue to offer consumers improved innovative products going forward.
Visa
Visa is a steady growth stock for the long term. I like it because the company acts as a common denominator in the economy. It doesn't matter what is selling in the economy, it just matters that there is strong sales volume and that consumers are using Visa debit and credit cards for their transactions. Visa collects its fees every time its cards are used. Visa gets involved with new technology as well. For example, Apple Pay uses Visa account information for convenient shopping with an iPhone. Another example of Visa utilizing new technology is Square (NYSE:SQ), which allows credit cards to be swiped and accepted using smartphones. Interestingly, Visa has been purchasing shares of Square. However, Visa's plans for its stake in Square have not been disclosed. Perhaps Visa is interested in acquiring Square?
Visa tends to trade at a premium to the S&P 500 as evident in its forward PE of 21.6 compared to the S&P 500's current forward PE of 15. However, Visa consistently achieves above average earnings growth over the long term. Therefore, a premium valuation is justified. The trailing PE of 25 is below Visa's five-year average PE of 29.9. So, I think the stock is ripe for the picking after the recent pullback.
Consensus estimates are calling for Visa to average 16% to 17% earnings growth annually over the next five years. I expect the stock to continue to outperform the S&P 500 as Visa achieves its above average growth.
Facebook
Although Facebook trades at a premium to the market with a forward PE of 24 based on expected 2017 earnings, the PEG of just under one shows that the stock is valued attractively in terms of its long-term expected annual earnings growth of over 30%. Facebook's valuation is much more attractive than Netflix's and Amazon's.
Mark Zuckerberg previously stated that U.S. users spend an average of 40 minutes on Facebook per day. Facebook now has over 1 billion daily active users, which is a mouthwatering amount of eyeballs for advertisers, especially since many of the users are engaged on the site for significant lengths of time. This is why I like Facebook over Alphabet. Facebook users are more likely to spend significantly more time on the site as compared to those doing web searches. That makes Facebook's advertising potential much more attractive.
Facebook also has other future sources of revenue. The Oculus Rift is now available for pre-ordering. While the Rift will initially be for gaming, there is a long list of potential uses for this virtual reality headset. Some potential uses are surgery, driving/flying simulations, virtual vacations, PSTD/anxiety treatment, education, movie viewing, exercise viewing, etc. There also is the future monetization of WhatsApp to act as a future source of revenue for the company.
Conclusion
My DAVF collection of stocks is an alternative growth collection to the FANG stocks. By keeping Facebook and replacing the other three, I'm investing in reasonably priced growth stocks that are likely to outperform the market over the long term, driven by above average earnings growth. I'm more comfortable eliminating the highly valued Amazon and Netflix. I'm also more comfortable owning Facebook as a higher growth advertising related stock over Alphabet. I would recommend that the DAVF stock collection can be a part of a larger diversified portfolio.
If you like my analysis, click on FOLLOW at the top of the article near my name. This will allow you to see my new articles on your homepage. If you choose to get real time alerts, you'll get email alerts when my articles are published.
Disclosure: I am/we are long D, AAPL, V, FB.
I wrote this article myself, and it expresses my own opinions. I am not receiving compensation for it (other than from Seeking Alpha). I have no business relationship with any company whose stock is mentioned in this article.