On January 11, 2016, NorthStar Asset Management (NYSE:NSAM) ("NSAM") announced that they had engaged Goldman Sachs to assist them in exploring strategic alternatives to maximize shareholder value. In this announcement, they stated:
We believe our current share price undervalues the Company. Our Board of Directors and management have always been committed to acting in the best interests of our shareholders and we are aggressively seeking ways to maximize shareholder value.
Their largest "client", NorthStar Realty Finance (NYSE:NRF) ("NRF" or "NorthStar") had the following to say:
Nothing
NSAM's management and Board of Directors "have always been committed to acting in the best interests of our shareholders", while NRF's Board of Directors (comprised of the same people mind you) seem committed to maximizing the value of NSAM's shareholders. Not OUR shareholders, THEIR shareholders.
I must admit, NorthStar's Board knows how to play the fiddle...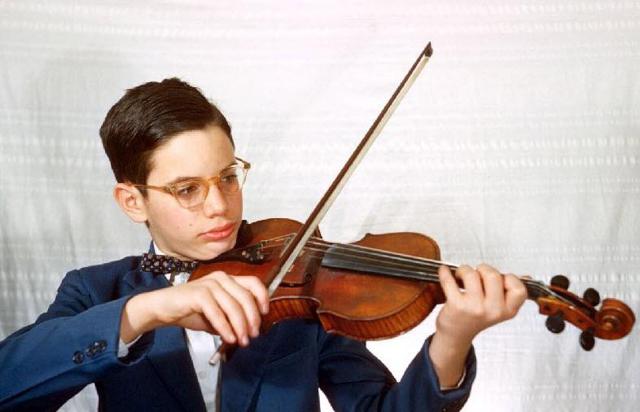 Click to enlarge
My Letter To The Board
Let me take this opportunity to address the following individuals:
Mr. David Hamamoto (Chairman of both NSAM and NRF)
Mr. Albert Tylis (President/CEO of NSAM, Board member NRF)
Ms. Judith A Hannaway (On the board of NRF and NSAM)
Mr. Wesley D. Minami (On the board of NRF and NSAM)
Mr. Louis Paglia (On the board of NRF and NSAM)
Mr. Charlie Schoenherr (the only board member that is NOT an NSAM board member or employee)
Mr. Jonathan A Langer (CEO NRF and Executive VP NSAM)
It has now been over a month since your asset manager, NorthStar Asset Management announced that they have retained Goldman Sachs to help evaluate strategic alternatives designed to maximize shareholder value. Since this announcement, NorthStar Realty Finance - their largest client - has not said a word as to what they are doing in order to maximize value for NorthStar Realty Finance's shareholders.
You describe yourself as a publicly-traded, diversified commercial real estate company that is organized as a REIT. Further, you add: Through a strategic spin-off in 2014, NorthStar Asset Management Group externally manages our operations and asset management business as a separate, publicly-traded asset manager.
As I understand it, you still view yourself as separate companies. It is time for NorthStar Realty Finance to take the necessary steps to show they are separate and independent from NorthStar Asset Management.
Please recall from the asset management agreement (emphasis mine):
NRF hereby appoints Asset Manager as of the Effective Time to act as its asset manager and attorney-in-fact under the terms of this Agreement. Asset Manager shall provide, either directly or through its Affiliates ("Affiliated Entities"), acquisition, disposition, financing, portfolio management, property management, construction, development, stockholder services, communication, offering, corporate governance, overhead and other administrative services, such as accounting and investor relations, to NRF and its subsidiaries and other similar services as may be agreed to from time to time by the parties in writing (the services to be provided, collectively referred to as the "Services"), including those described on Exhibit A annexed hereto, subject to, in all cases and in every respect, the supervision and management of the board of directors of NRF
As there is effectively no board independence, how can we expect supervision and management of the asset manager with a focus on increasing/maximizing value for NorthStar Realty Finance shareholders? Let me be very clear on this:
NorthStar Realty Finance shareholders deserve and demand a Board reconstitution which adds a majority of truly independent directors and/or shareholder representatives in order to ensure that NorthStar Realty Finance shareholders' interests are prioritized and options are explored independently from the asset manager in order to properly supervise, manage and direct the asset manager.
Corporate governance and board independence is hollow at NorthStar where there is truly no board or management independence. NorthStar has become a puppet of NSAM without the ability to create a sound, strategic and thorough review of its business in order to supervise and manage NSAM and have some input into its direction.
A five-person board of directors comprised singularly of NSAM related and involved individuals is no more than a straw man board serving the best interests of NSAM executives and shareholders. Essentially, the NRF board is a Pinocchio that has no hope of becoming a real boy.
NorthStar Realty Finance is at a crossroads.
Shareholders and the market are voicing their disapproval of the current structure and strategy (or lack thereof) by pricing NorthStar at distressed prices and discounts typically reserved for seriously troubled companies.
What is best for the shareholders of NRF may not necessarily be in the best interests of NSAM shareholders. I have proposed selling assets and buying back shares and repaying debt - focusing NorthStar on a circle of competence and building a battleship balance sheet. NorthStar's response to shareholders? Nothing. Silence.
Management and the Board have failed shareholders. Since the July 2014 spin out of the asset manager the combined complex has lost nearly fifty percent of its value due to management value creation. NRF has underperformed the asset manager since its spin-out as the asset manager has been stripping NRF of its cash flow and its resources - ignoring NRF in favor of their own self-interest and that of NSAM shareholders.
NSAM should immediately forgo cash compensation and instead be compensated with NorthStar shares, the determining price of which should be the price at the close of business the day before the "evaluating alternatives" announcement was made, or $14.96 a share. This will show that management and the board's interests are aligned with NorthStar Realty Finance's shareholders. You have made money from our company, now prove you are willing to make money with our company.
The shareholders of NorthStar Realty Finance look forward to increased communication as to the goals, objectives and strategy of the company going forward.
Thank you.
Brad Thomas
Consider The Following
One of the interesting things about management and the board, is the clear misalignment of economic interests from fiduciary responsibilities. Consider the following: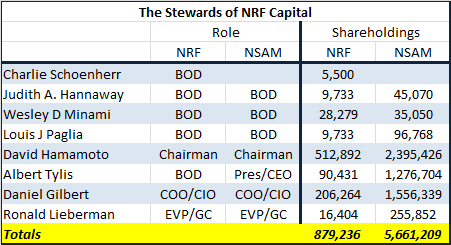 This has been drawn from sources and filings believed to be accurate and current)
Even the "independent" director has his hands in other pieces of the NSAM pie. Mr. Schoenherr is also an independent director and a member of the audit committee of each of NorthStar Income and NorthStar Income II, positions he has held since January 2010 and December 2012, respectively.
What is the cost of doing nothing?
Stakeholders in NorthStar continue to watch their investment in the company lose value - not because of low quality assets that aren't producing, but because management, through inaction and a self-serving focus, has refused to align their interests with stakeholders and commit to realizing the value of those assets.
Let's look at the "value" management has brought to bear on the stakeholders.
First on the NorthStar complex: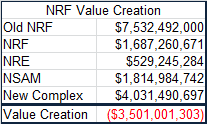 Since the spin out of the asset management business and NorthStar Realty Europe (NYSE:NRE), the complex has lost nearly 50% of its value (on an equity basis, enterprise value would be greater).
The equity of the "complex" entities has been devastated.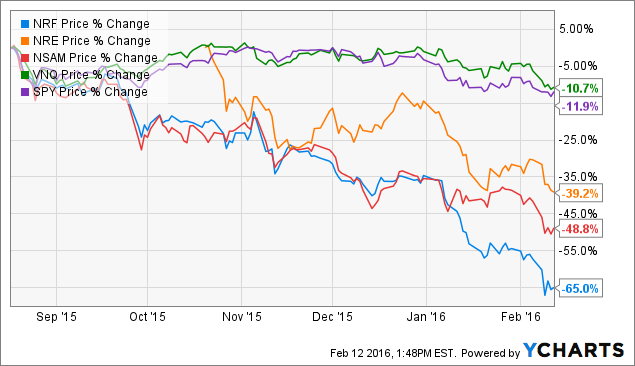 Likewise, preferred stock shareholders have also been punished.

Click to enlarge
Bottom Line:
I continue to believe that the assets underlying NorthStar Realty Finance have significantly more value than is being reflected in the market value of the REIT. I believe that management and the Board should "step up" and take actions that benefit the shareholders of NRF instead of themselves and the shareholders of NSAM. This cannot be done without an independent board and management that direct the asset manager to drive value for shareholders. Management must put down the fiddle and put out the fire.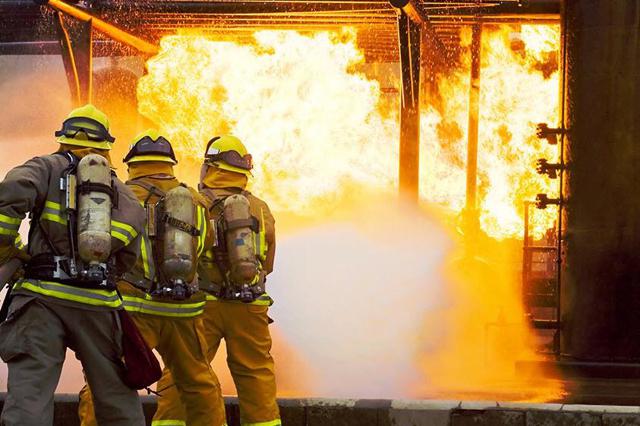 Click to enlarge
Author's Note: I'm a Wall Street writer, and that means that I am not always right with my predictions or recommendations. That also applies to my grammar. Please excuse any typos, and I assure you that I will do my best to correct any errors if they are overlooked.
Finally, this article is free, and my sole purpose for writing it is to assist with my research (I am the editor of a newsletter, Forbes Real Estate Investor), while also providing a forum for second-level thinking. If you have not followed me, please take 5 seconds and click my name above (top of the page).
The only guarantee that I will give you is that I will uncover each and every rock I can in an effort to find satisfactory investments that "upon thorough analysis promises safety of principal and satisfactory return. Operations not meeting these requirements are speculative." (Ben Graham)
Disclaimer: This article is intended to provide information to interested parties. As I have no knowledge of individual investor circumstances, goals, and/or portfolio concentration or diversification, readers are expected to complete their own due diligence before purchasing any stocks mentioned or recommended.
Source: SNL Financial and YCharts
Disclosure: I am/we are long O, DLR, VTR, HTA , STAG, GPT, ROIC, HCN, OHI, LXP, KIM, WPC, DOC, EXR, MYCC, BX, TCO, SKT, UBA, STWD, CONE, BRX, CLDT, HST, APTS, FPI, CORR, NHI, CCP, WSR, CTRE, WPG, KRG, SNR, LADR, HCN, HCP.
I wrote this article myself, and it expresses my own opinions. I am not receiving compensation for it (other than from Seeking Alpha). I have no business relationship with any company whose stock is mentioned in this article.