At first glance it might seem out of place for a Dow 30 constituent to describe itself as a growth company. Apparel giant Nike (NYSE: NKE) is not only comfortable to do so openly, but also fits the bill in more than one sense. Current and long term shareholders have enjoyed a meteoric rise in the share price over the last decade, with the stock returning just over 15% compounded annual price growth, as the company achieved 8% and 11% compounded growth in sales and earnings per share growth respectively over the same period. Perhaps more importantly though is that the company's recent growth has continued to impress, with annual growth in earnings and free cash flow are both in the double digits. Powering that growth has been the company's position at the head of the sports apparel market which is itself undergoing huge growth as professional sports continues a long secular trend of increasing commercialisation. Assuming that trend remains intact then Nike will continue to be a major beneficiary.
Nike: Unmatched Profitability
Key to understanding Nike's position as the leader in their industry is the huge branding power that they have established. In a consumer orientated retail market which is fiercely competitive this is the company's largest competitive advantage over rivals. As a consequence Nike has very high and stable returns on invested capital, which have averaged somewhere in the region of $20 in net income for every $100 of invested capital. Needless to say this is extremely high compared to the wider sector (in which Nike places within the top 10%), and on a relative basis is approximately double that of competitors such as Adidas (OTCQX:ADDY) and Under Armour (NYSE: UA).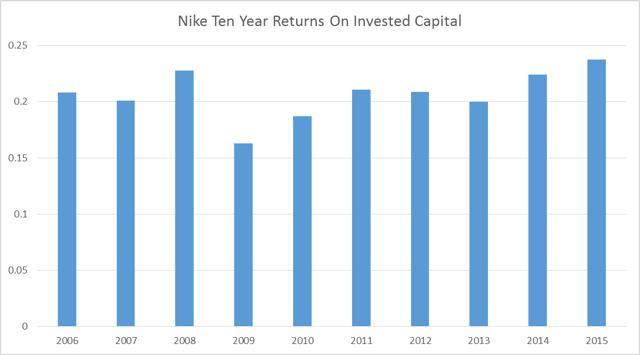 Operating and free cash flow margins have also been consistently well above the industry average which further underscores their branding power and execution of corporate strategy. The marketing strategy of associating with the most successful sports teams and athletes has established their competitive advantages and positioned Nike to be a great play on the aforementioned secular trends in pro-sports, which is driving the boom in related clothing, equipment and footwear. Assuming that the globally popular sports such as soccer, basketball and golf continue to attract vast amounts of money, then Nike will be very placed as industry leader going forward.
Digital innovations such as Nike+ enhance that consumer led approach, whilst at the same time further strengthen the company's brand. Combine that with Nike's e-commerce trade, which is itself growing rapidly, and other consumer orientated offerings such as the ability to custom design your own footwear and Nike's customer "experience" is pretty much unparalleled. The great thing for current share holders is that it all serves to reinforce the company's already strong brand. If you look at the five year trend in cash return on invested capital - which is merely the free cash flow equivalent of ROIC - then you can see how that strategy is adding to Nike's already high profitability and strong cash flows.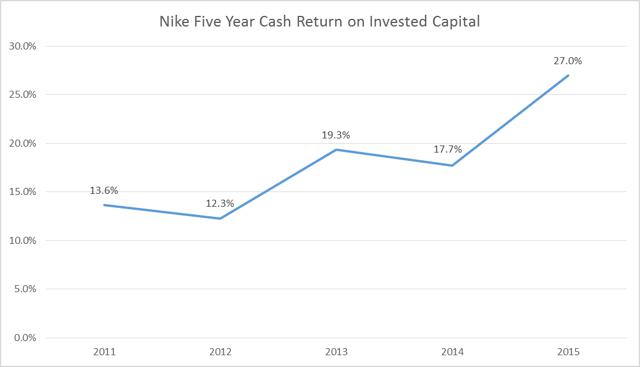 Again it is worth noting that neither established rivals such as Adidas, or newer challengers such as Under Armour, come close to matching Nike in this respect. When you add all of these factors together: incredibly strong brand, great execution under incredibly strong management, highly innovative with respect to the sector, a heavy emphasis on product research and development and operating in a relatively stable sector then what's not to like in the long run?
Premium quality equals a premium price
Unsurprisingly, the factors above, in addition to both historical growth and forward growth expectations, have placed a massive premium on the stock. Nike currently trades at just over 30 times fiscal year 2015 earnings and over 26 times average estimates for 2016 earnings. Just on that basis the shares looks very richly valued, even taking into account the 10% drop over the past three months on the back of the broader weakness in global equity markets. Comparing the current market value to figures for the prior decade (based on prior year earnings per share) shows that Nike is trading at historically high multiples.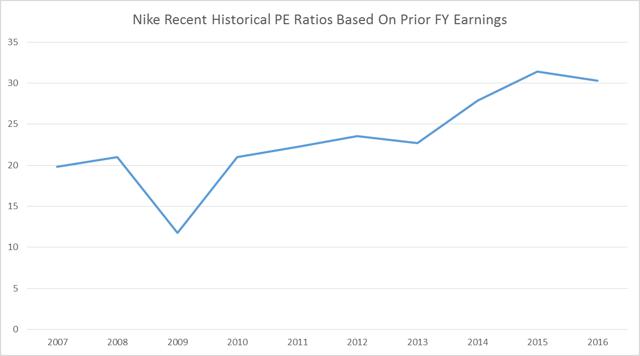 So as well as moving on good growth figures there has also been a good deal of multiple expansion in the stock price (15% CAGR price appreciation against just over 10% growth in earnings per share). It looks quite difficult to justify that valuation since over the long term the price appreciation will tend to move in-line with earnings growth, and you would expect that multiple to eventually contract. The "problem" for those on the outside is that Nike continues to post good growth, which combined with huge competitive advantages in a pretty stable industry will also command a premium valuation. Attempting to time an entry outside of extreme market turbulence like in the global financial crisis, where the stock had a large 30% plus drawdown, has proven next to impossible. So the larger question is whether Nike can continue to grow in line with its recent history and in-line with market expectations, with the current price baking in double-digit cash flow growth for the next several years.
Looking to the immediate future and there are the obvious headwinds that are currently affecting most of the US listed large-caps; chiefly the strength of the dollar and the state of the global economy. In addition they also face the generic industry threats such as potential new entrants and the fierce competition in the consumer retail space. The already mentioned economic moats that Nike already has over its competitors mitigates the competition in the sector; whilst their commitment to R&D, customers' experience and their already incredibly dominant branding power make them comfortably placed to deal with new entrants and shifting tastes. As long as Nike continue to post extremely stable (and high) profitability metrics that have defined their recent history then the competition threat will remain largely overblown noise over the long run.
In the shorter terms the strength of the dollar is the most apparent headwind to continuing growth, with ex-USA sales accounting for well over 50% so far in fiscal year 2016. To get a feel for the currency effects, the company's revenue growth was 5% for the first half of the financial year versus 13% on a constant currency basis, however this was offset by margin expansion and a lowering of the effective tax-rate. Once you factor in the buyback program, which is comfortably funded from existing cashflow, then Nike is still able to generate per-share earnings growth, making it a very attractive long-term buy on further prolonged weakness that is currently hitting all stocks.
Disclosure: I/we have no positions in any stocks mentioned, and no plans to initiate any positions within the next 72 hours.
I wrote this article myself, and it expresses my own opinions. I am not receiving compensation for it (other than from Seeking Alpha). I have no business relationship with any company whose stock is mentioned in this article.