Spectra Energy (NYSE:SE) posted earnings back on February 3, in which it missed on revenue and on EPS. Yet, the stock rallied up past the $28 level and despite topping out around $30 last week, the stock is still trading up for the year. Backed by an investment grade balance sheet and a well-above average dividend yield, I'm surprised this midstream company has not received more press. I'm bullish on its prospects in 2016, but will present my concerns.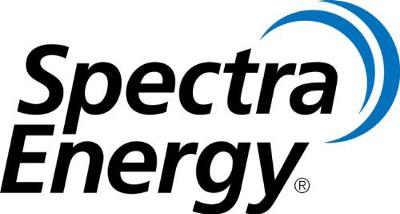 What Drives Spectra?
What's incredibly interesting about this company is that despite having a large fee-based natural gas revenue composition, it does not have an overly strong correlation to an underlying Henry Hub. Rather, it has maintained a strong correlation to oil prices over the last year, despite a few gray areas where price movements have become largely unpredictable and not true to the equity's beta.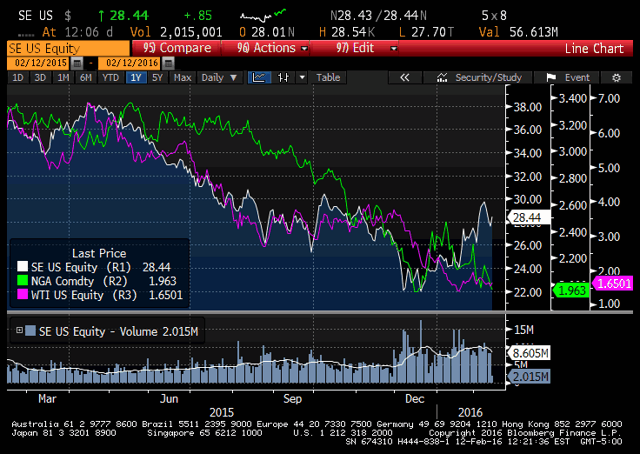 Click to enlarge
Source: Bloomberg
The company is 95% fee-based, a high amount like many of its competitors, and has an average remaining contract life of nine years. That's exceptional when you think about the cyclicality and day to day pressures of this industry.
What I appreciate about this company is the reasonable projections for growth over the next three years. The company is planning on $3.3 billion in EBITDA in 2018, up about $400 million from the current 2016 estimate. Furthermore, they expect DCF's CAGR to be 16%. While I don't think that's ambitious given their fixed-fee base, the underlying environment could certainly pose headwinds over the next three years, altering exposures for Spectra.
Spectra, in their recent earnings report, showed a strong increase in revenue QOQ of $1.32 billion. Unfortunately, a red flag is the extremely low gross income of $97 million, which was the lowest 2015 amount. In trying to pin down why COGS spiked so heavily, we have to understand that commodities dipped well below Spectra's expectations in Q4 and their sensitivities kicked in, impacting profitability. This led the company to post its first negative net income all year at -$263 million.
The company's current sensitivities are per $0.10 change in the Henry Hub, there is a $3.5 million EBITDA impact. For crude oil, per $1.00 change in the WTI, there is a $2 million impact in EBITDA. Now, what's interesting about these sensitivities is that they were calculated at an expectation for the full year 2016 of $2.50 HH and $45 WTI, which is well above current price levels for these commodities. Furthermore, we don't know how long prices will stay suppressed and projecting an ambitious outlook like that just isn't useful to shareholders.
Performance Against Competitors
Against a comparable universe of Kinder Morgan (NYSE:KMI), Magellan Midstream Partners (NYSE:MMP), and Energy Transfer Partners (NYSE:ETP), Spectra has outperformed. While KMI and ETP have begun to take on heavier correlations to oil and the latter has had a change-up in the c-suite which drastically affected its equity, Spectra has moved away from some of its underlying commodities. Additionally, Spectra has a far lower amount of debt relative to comps at $12.9 billion. If the company can stick to its DCF and EBITDA targets, then perhaps this number can start to retract and minimize the leverage associated with the equity.
Observe below the six month chart, in which Spectra has bottomed and surged up while comps have remained largely turbulent and low.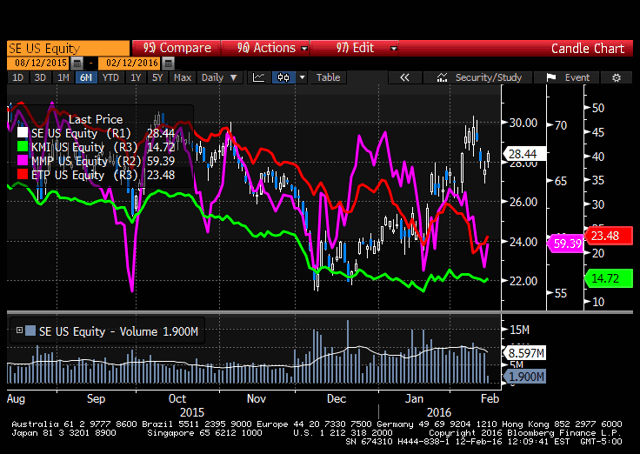 Click to enlarge
Source: Bloomberg
Trading Today
What's particularly interesting about Spectra's chart is the divergence between it and the S&P 500 over the last month, visible below. Had you been long in Spectra to kick off the new year it would've acted as a hedge against the broader market decline. Furthermore, the company is up from its December 8 low of $21.43 by nearly 25% and is now up 18.25% YTD. Additionally, the increase in average daily volume over the last two months in which the uptrend has occurred should give investors the bullish confidence they need in order to make an entrance into the stock.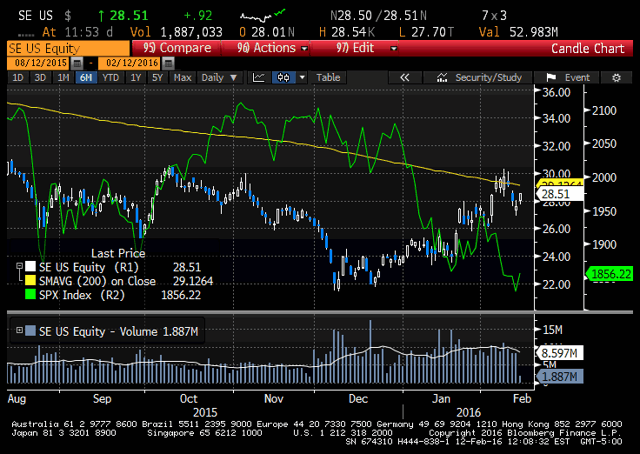 Click to enlarge
Source: Bloomberg
I was also expecting to see a much larger short interest when I started looking into this stock. At only 4.4% (29.5 million shares), its definitely on the low end of its peer group. Perhaps that is reflective of the 5.72% current yield on a 5Y net growth rate of 8.45%. It certainly has the attraction for current income investors and lack of correlation to create some sort of safe haven equity. Furthermore, the company is going to increase Spectra Energy Partners' (NYSE:SEP) distribution by $0.14 per year for the next three years, which is largely impressive and in a counter trend to that of the oil and gas industry. If anything, that should come as a large relief to MLP investors.
To back up that increase for SEP, the company is planning on having great coverage over the next years. This year they expect to have coverage of 1.2x, 1.3x in 2017, and 1.1x in 2018. I'd say the only real wild card you have to watch with this company is the CAD/USD. Although the company is headquartered in Houston, it derives a significant portion of its revenue from Canadian customers, and has currently estimated the CAD/USD to be trading at $1.40/$1.00. Furthermore, they've stated the exposure is per one cent change in the CAD/USD, there is a $1 million impact on net income and $2 million impact on DCF, which is considerable when you think back to the targets for DCF that the company has set for itself.
The CAD/USD is largely driven by crude oil prices and is currently trading at $1.382. The inverse pair is shown below, to display the correlation between USD/CAD and the WTI: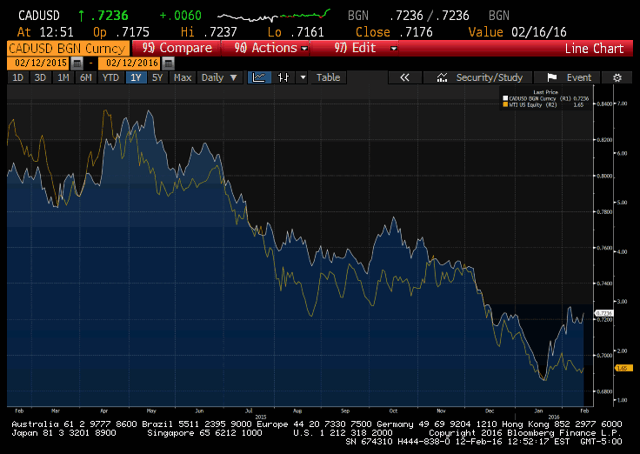 Click to enlarge
Source: Bloomberg
Conclusion
Spectra would have been an excellent stock to have in your portfolio at the start of 2016. Considering that it has outperformed its peers thus far in the toughest of operating conditions, it's likely that this equity is a pick for the LT. It may not have the massive amount of leverage associated with other midstreams, but the consistent growth in the dividend makes it an attractive equity to have in your portfolio.
Disclosure: I/we have no positions in any stocks mentioned, but may initiate a long position in SE over the next 72 hours.
I wrote this article myself, and it expresses my own opinions. I am not receiving compensation for it (other than from Seeking Alpha). I have no business relationship with any company whose stock is mentioned in this article.