Realty Income's (NYSE:O) fourth quarter and full-year results are in, and the real estate investment trust can look back on yet another successful financial year. Investors have started to appreciate Realty Income's value a whole lot more as an income vehicle over the last couple of weeks. Realty Income's stock is up ~17% year-to-date (!) in a very weak market that had a lot of negative surprises in store for investors. The S&P 500, on the other hand, lost ~11% YTD. But first things first.
Realty Income's fourth quarter results showed the strength that the REIT has become notorious for: Revenues and cash flow all grew at moderately high amounts Y/Y.
Revenues for the fourth quarter were said to be $263.7 million, which was 6.5% higher than a year ago when the company pulled in $247.6 million. Realty Income's funds from operations, or FFO, climbed from $143.7 million in Q4-14 to $177.9 million in Q4-15. On a per-share basis Realty Income raked in $0.71 in FFO in the last quarter versus $0.64 a year ago.
Adjusted funds from operations, or AFFO, also expanded at a healthy good clip from $145.4 million in the year ago quarter to $170.0 million in Q4-15. AFFO per share clocked in at $0.68 compared to $0.65 in the fourth quarter of 2014.
These were very solid financial results, and backed up by a strong portfolio performance.
Robust portfolio picture
At the end of the December quarter Realty Income had 4,538 properties in its portfolio which contrasts with 4,327 properties owned at the end of 2014.
Realty Income has done a great property management job over the years which has been proven by a sky-high occupancy rate. Realty Income managed to keep its high occupancy rate stable Y/Y, at a fantastic 98.4%.
Realty Income's same store rents climbed 1.3% Y/Y to $200.3 million, which was 'in-line' with expectations.
I love Realty Income, but the REIT has become too expensive for my taste now
Investors loved Realty Income's results.
On the day after the earnings release, Realty Income popped ~6% and climbed above $60. That was great news for investors who already owned the stock, but Realty Income has become rather expensive as an income vehicle after the latest surge: The REIT's stock now sells for ~21x 2016e AFFO and for a 3.94% dividend yield.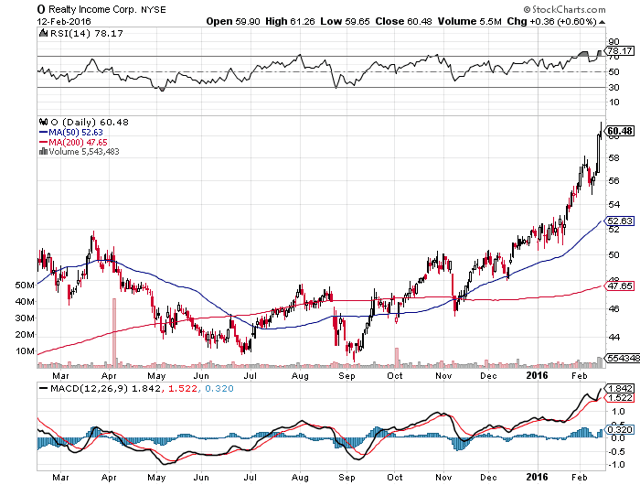 Click to enlarge
Source: StockCharts.com
Your takeaway
Realty Income handed a 4% dividend raise to investors earlier this year, and its fourth quarter results were underpinned by moderately high FFO/AFFO growth, and a magnificent portfolio occupancy rate. Because of that and because of the superior results the real estate investment trust has produced over time, Realty Income deserves to trade at a premium. However, the REIT's stock has become rather expensive now since it sells for ~21x this year's expected adjusted funds from operations. The dividend yield has also fallen below 4% after the surge last week, which makes an investment substantially less lucrative from income perspective compared to just a couple of months ago. I continue to wait for a pullback at this point in time.
Disclosure: I am/we are long O.
I wrote this article myself, and it expresses my own opinions. I am not receiving compensation for it (other than from Seeking Alpha). I have no business relationship with any company whose stock is mentioned in this article.