Disney (NYSE:DIS) has long been a company that wanted I to own, but at the right price. I thought it would take years and perhaps another recession for me to get that opportunity, but as I write this article I feel strongly that the time may have come.
Just as JJ Abrams was able to revive the long dormant Star Wars fever, buying interest in DIS will awaken at the stock's current valuation.
The big concern, of course, is ESPN. Let's dive into the numbers and see how bad the decline in subscribers really is and look at what the cold numbers tell us.
Has ESPN lost over half of its subscribers as young and old folks flee their television sets for Netflix (NASDAQ:NFLX) and Amazon (NASDAQ:AMZN)? Or is this a temporary downward movement in subscribers as ESPN must re-position itself to deliver sports content on new platforms and in new ways?
We shall find out.
Can You Smell The Fear?
ESPN has been the sickly elephant in the room for Disney as its subscriber count has fallen almost 7% in the past two years from 99 million to 92 million.
Why is this so important? Isn't Disney a diverse company with their movie studios, theme parks, merchandising and other revenue streams?
Yes and no. Media Networks, of which ESPN is a major part, accounts for 56% of Disney's operating income. Some experts estimate that the subscriber losses have cost Disney almost $1 billion in profit. The interesting thing is how that view compares with reality. According to the most recent full year results released by Disney in November 2015, revenues increased in every division except for interactive.
Operating income increased across the board, including a 6% increase at the all important Media Networks division.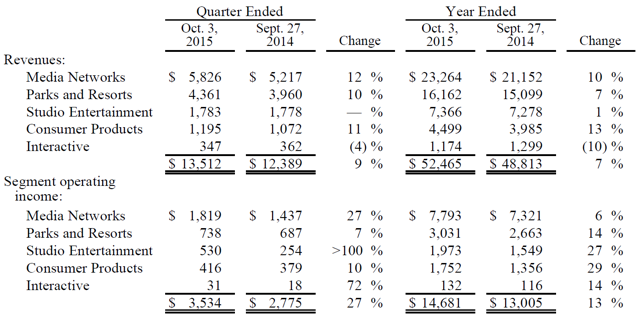 That doesn't look like a company in dire straits to me. But Greg, you might say, those numbers are old! Outdated!
Very well then, let's look at the most recent quarterly results, which were just announced on February 9, 2016.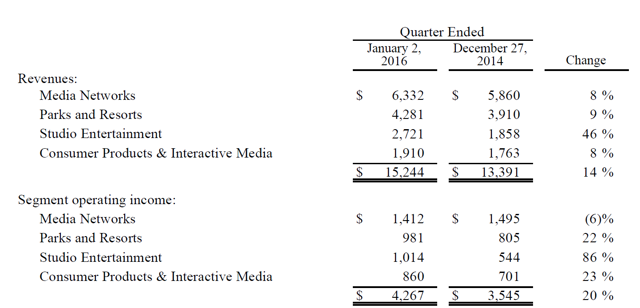 Ok, so operating income for the most recent quarter at the media segments dropped 6%. I see that, that is what everyone is worried about. But I challenge you for a moment, if no one is watching, take your finger and cover up that negative 6% on the screen.
What do you see? Growth? The power of the force?
When I dive into the conference calls and releases what I see going on with ESPN is that yes, they are definitely struggling there. The good results still posted by the segment are due largely to the company charging more for affiliate fees and solid results in other channels such as The Disney Channel.
Sure, the fact that ESPN executives might not have realized cord cutting was a threat until late 2014 is disconcerting, but you better believe they see it now.
I am not worried about ESPN because I can envision a world in 20 years where ESPN only has maybe 50 million regular TV subscribers, but they reach so many more eyeballs in many different ways.
Virtual reality live sports, Amazon Instant Video streaming sports, Netflix hosting reruns of the Superbowl in their library. Those seem like fantasies, but I recently noticed how heavily ESPN is pushing their mobile app. They had a campaign where they tried to bring awareness that you can watch ESPN anywhere, on any device with the app.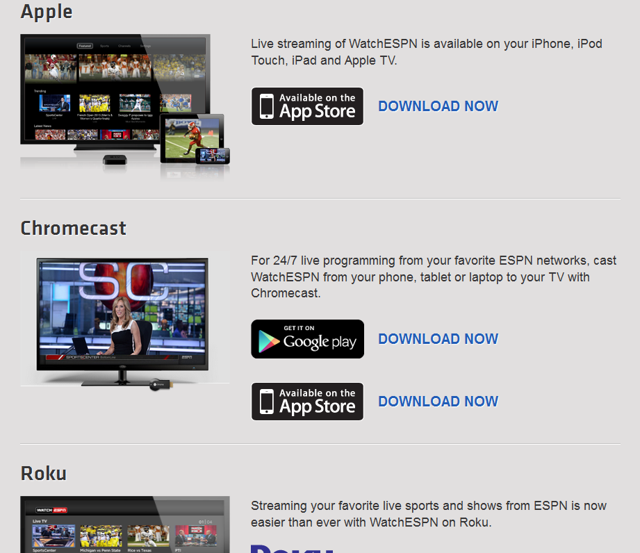 Now sure, the app might not bring in the same kind of revenue and profit per viewer that cable does, but if that is the direction this type of media is heading then ESPN is well-positioned to be on board.
If I was an analyst on the Disney calls I would ask about how they are increasing monetization of the WatchESPN app as that should be a key driver of growth going forward that may help offset some of the lost revenue from regular TV subscribers. Mobile advertising is in its infancy, though, compared to TV advertising. Only time will tell if mobile ads and other monetization methods can be as lucrative for the company.
Ultimately, I believe ESPN is in a time of transition and that will cause some near-term headwinds, but to totally write Disney off neglects every other segment that is by all measures doing excellent, as well as the other parts of the Media Networks division that is not ESPN.
Valuation
As of writing this, my brokerage shows that Disney is trading at 16.8 TTM earnings and 14.6 next year's earnings projections. The S&P 500 P/E ratio, for comparison, is at 20.45.
Notable growth stocks such as Google (NASDAQ:GOOG) (NASDAQ:GOOGL) and Netflix are priced at 30 times earnings and above, even with this recent downturn.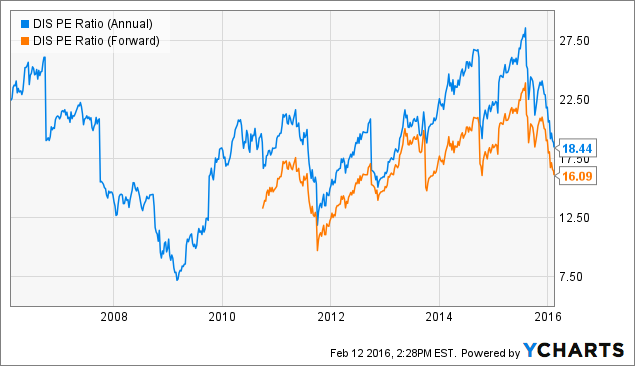 What these numbers tell me is that Disney is priced as if it can't grow at all and is simply a cash-generating dinosaur.
This is not a cigarette company that is struggling to hold on to the remnants of the glory days as their industry is slowly swallowed by shifting consumer tastes and regulation.
I have seen some recent commentary on Disney that the stock is too expensive based on free cash flow numbers. One example had the company at 24 times enterprise value/free cash flow.
I am agnostic to this kind of valuation. While numbers don't lie, free cash flow doesn't worry me because the company only pays out 24% of its earnings anyway. Even if the company does generate slightly less free cash flow, they are certain to get a better return on that cash making another Marvel movie or licensing out their intellectual property for more Star Wars video games.
They could even create an exclusive Star Wars channel to help out the media network segment. A Star Wars-only channel streaming online with ads every 15 minutes - I would watch it, and I am a millennial for what it is worth. Not sure what it would show, maybe just loop the original trilogy or the cartoon? Anyways ...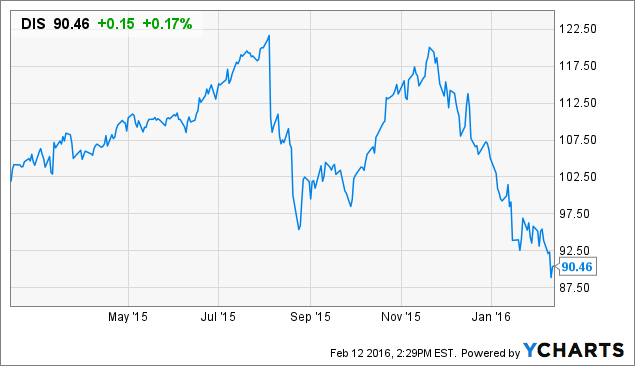 My fair value of Disney shares is around $120, where it was earlier this year. I think it can easily reach that plateau if ESPN starts to turn around and the rest of the company continues chugging along, steady as ever.
A lack of another Star Wars movie for the next two years is a bit concerning as the company might lack a short-term catalyst and get dragged through the mud with the rest of the market.
Conclusion
Disney's share price has declined more than it probably should have as a reaction to a 7% drop in ESPN subscribers over two years. Even as revenue in the Media Networks segment continues to grow, pessimism about one network has obscured the true growth rate and wonderful progress being made at Disney across its many business divisions.
This pessimism has provided the opportunity of a lifetime to buy Disney and I believe that a bargain has awakened, but for how long?
Disclosure: I/we have no positions in any stocks mentioned, and no plans to initiate any positions within the next 72 hours.
I wrote this article myself, and it expresses my own opinions. I am not receiving compensation for it (other than from Seeking Alpha). I have no business relationship with any company whose stock is mentioned in this article.