SA author Chuck Jones wrote a terrific article setting out the proposition that Apple's (NASDAQ:AAPL) margins were sustainable even in the face of slower iPhone sales. With respect to Chuck, he could not be more wrong.
A brief review of Apple's 2015 results and a bit of a sensitivity test should be enough to demonstrate the problem.
Before doing that review, I should review Apple's costs of producing an iPhone. The following chart from Business Insider provides reasonable estimates to support the case that Apple earns about $500 per iPhone sold.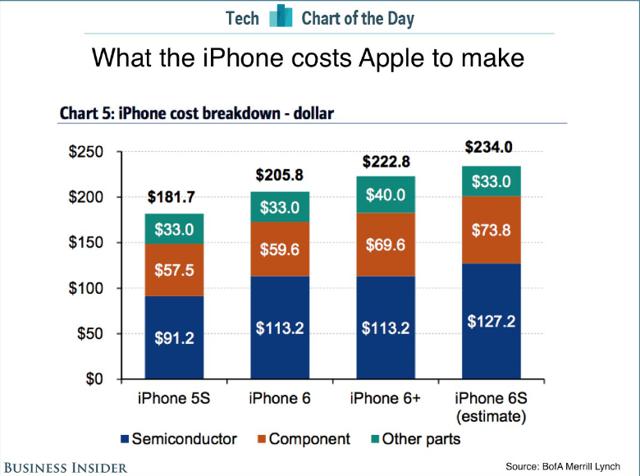 Source: Business Insider and Merrill Lynch reported by idownloadblog.com
In its fiscal 2015, Apple sold just over 231 million iPhones. At $500 per unit, the contributed value from those sales topped $115 billion. Contributed value is not accounting margin but is the additional profit earned on the sale of each unit shipped without any allocation of fixed costs. Fixed cost allocation produces a gross margin figure that is essentially contributed value less allocated fixed costs. Total gross margin for Apple for the 2015 fiscal year was just $93.6 billion.
Apple's results can be displayed separating the estimated contributed value of iPhones from all other revenues and expenses to show just how important the iPhone is in the total Apple world. I have prepared just such a chart taking data from Apple's 10-K and using arithmetic to adjust it to show the iPhone contribution more clearly.
The conclusion is that if Apple incurred all fiscal 2015 costs but shipped no iPhones, Apple would have lost $22 billion. Of course, if there had been no iPhone shipments Apple would have trimmed out the fixed expenses of that segment to the greatest extent possible. But I am not suggesting Apple is likely to ship zero iPhones, but merely showing the impact on margin if Apple incurs its fixed expenses and ships fewer iPhones.

What the analysis shows is that if fiscal 2015 iPhone shipments had been 190 million rather than 231.2 million, Apple's margins would have dropped to 35.4% from 40.1%. Every 10 million iPhones shifts margins by over one percentage point.
We are halfway through Apple's Q2 and there is scant evidence of any upturn in iPhone sales, with usage of the iPhone 6S and 6S Plus lagging last year's models by about 40%, according to Fiksu.com data.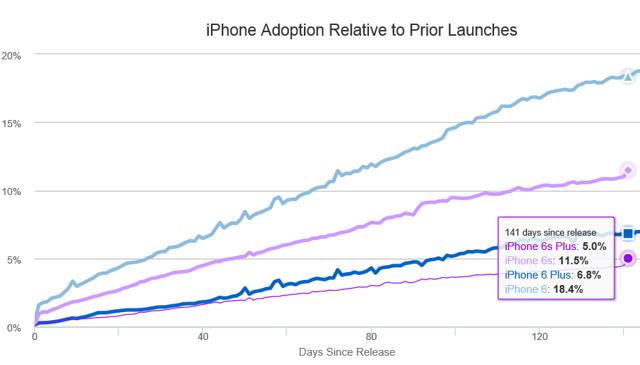 Source: Fiksu.com
Soft iPhone sales will be doubly damaging to Apple since it has stuffed 23 million units into channel inventory, according to my estimates, and has already recorded theses "sales" in its revenues. If carriers let their inventories fall, Apple's ability to recognize revenue will be impaired by the drop despite sales from carrier inventory to end users.
Apple has been a good short since peaking at $130 and remains a risky investment. Investors should wait for some evidence of stability in iPhone sales before buying the stock, and aggressive investors should be short, if iPhone sales fall off a cliff in response to the expected Samsung (OTC:SSNLF) Galaxy S7 launch. Forbes contributor Ewan Spence wrote a recent article which suggested the Galaxy S7 will challenge the iPhone: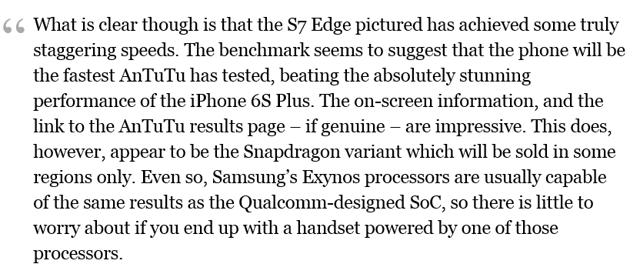 Source: Forbes
The Galaxy S7 is expected to launch February 21, 2016. A good launch may take the wind out of iPhone sales for a couple of quarters since Apple's next major upgrade is unlikely before September.
I would avoid the stock.
Disclosure: I/we have no positions in any stocks mentioned, but may initiate a short position in AAPL over the next 72 hours.
I wrote this article myself, and it expresses my own opinions. I am not receiving compensation for it (other than from Seeking Alpha). I have no business relationship with any company whose stock is mentioned in this article.