A recent Seeking Alpha article on Realty Income (NYSE:O) by Achilles Research caught our attention. Along with Brad Thomas, Achilles is one of the writers who write good articles on Realty frequently. Achilles suggested that Realty is now looking expensive after its recent 6% run-up after earnings. We agree with that thesis but waiting for a pullback is not the only strategy for investors who like the stock but not the current price.
Comments like the ones shown below (names redacted) are seen frequently on many articles, not just Realty Income. Investors tend to wait for a particular price point to buy in or aren't sure on where to buy. In such situations, we suggest selling puts instead of waiting for the magical share price, which we may never see.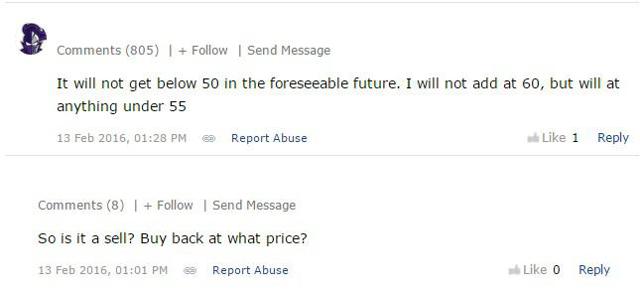 Click to enlarge
When you sell a put:
You are taking a bullish position on the stock, contrary to the misconception that when you do anything with "puts" you are being bearish.
You get a premium in your account right away for the obligation to buy the stock at the price you want on the date you want. So, you decide the date and the price you want to buy and they pay you for it.
But you are taking a "risk" in that if the stock drops well below your strike price, you still have to buy the stock at the price you chose, not the current market price.
You believe a stock will not drop below a certain level, and if it does, you want to be a buyer.
An Example: Below is Realty's option chain that expires on Sep. 16, 2016. Let's pick the $55 put for example. For selling one contract (one contract = 100 shares), you need to have a cash balance of $5,500 in your account. The premium on this particular put is $3.19 per share, that is $319 for a contract.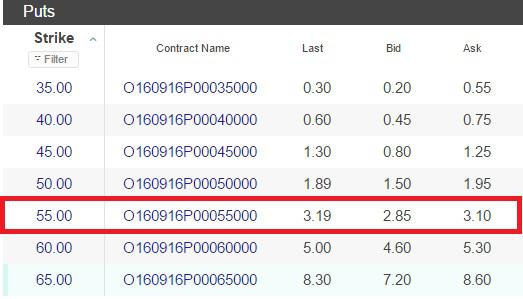 Source: Yahoo Finance
The Scenarios:
#1: Realty Income is well above $55 at the time of expiration. Your option expires worthless and you net a cool 5.80% for about a year for your willingness set aside $5,500 on this contract. Remember, your $5,500 is not locked up with Realty beyond this point. This trade gives you a higher return, nearly 6% vs. collecting dividends outright for shares (3.94%). This trade also gives you some downside protection as explained below.
Risk: If Realty really rockets up from here, your option returns will be lower than the stock returns. This could happen but the if the Fed sticks with its plans on interest rates, expect the market sentiment to bring Realty down a little at least.
#2: Realty Income is at or below $55, you are obligated to buy 100 shares at $55. Remember, you already netted $3.19 per share when you sold the put. So, your cost basis is essentially $55-$3.19 = $51.81. As long as Realty is above this, you will have a net positive return when this option chain expires.
Risk: The risk in this scenario is that if Realty really tanks in the next 11 months and trades below $55, you will still have to buy your shares at $55. With the stock trading at nearly $61, $55 would represent a 10% fall in price. That doesn't look impossible but Realty is seen as a stalwart and pullbacks usually get bought.
Why this particular strike price?
The $55 strike price would represent a yield of 4.40% based on the current annual dividend of $2.38 per share. This is very close to the five year average of 4.70% shown in red below.

Click to enlarge
Source: YCharts.Com
Forward Thoughts:
Business Aspects:
It is undeniable that Realty Income is a stalwart that would likely merit a position in any sort of portfolio. The monthly dividend company takes pride in being a reliable income provider and that is not going away anytime soon. However, as the recent earnings report showed, this stock also has growth potential.
With occupancy rate steadily near 98%, cash flow is one of the strongest points for this company. Rents from existing properties are on a slow but steady upward trajectory. It's not just about the existing properties as Realty continues to add new properties as well with 2015 showing a 5% increase in units compared to 2014. All these positives have combined to project a 5% to 6% increase in AFFO for 2016.
Market and Stock Aspects:
#1: Another REIT that we own, Omega Healthcare (NYSE:OHI) has been unfairly punished. If you own Realty and are sitting on some nice profits, it may not be a bad idea to raise some [not all] cash from them to buy Omega or any other stock that might interest you. No one got hurt taking profits!
#2: Anytime the Fed and interest rates are in news, REITs typically make a big move up or down as reported many times here on Seeking Alpha. Use any such opportunity to buy shares or to sell puts, which usually have a higher premium on down days.
#3: Investors who currently hold shares in Realty could also consider covered calls to enhance their income. This point has been pointed out repeatedly by readers in our previous articles about options.
#4: Investors are seeking safety in 2016 with the way the first two months have been so far. Realty Income has shown incredible strength in a topsy-turvy market and this is likely to continue if the macro conditions remain the same.
Conclusion: We are happily reinvesting our dividends but aren't buying new shares here except the ones accumulated with dividend reinvestment. However, if you are looking at initiating a position in the future, selling puts could be right for you. Realty Income is one of the few stocks in the market where time is very likely to trump timing in the long run.
Disclosure: I am/we are long OHI, O.
I wrote this article myself, and it expresses my own opinions. I am not receiving compensation for it (other than from Seeking Alpha). I have no business relationship with any company whose stock is mentioned in this article.