McDonald's, MCD, reported earnings of $1.28 per share on January 25. This was a rise of 13.20% from the 4Q 2014 earnings. Analysts were looking for $1.22 per share. In addition, the company's EBIT margins were 28.70% in 4Q15 compared to 36.7% in the four quarter of 2015. In 2015, the company shares were up 25.50% and its 52-week performance is 22.04%. The dividend is a quite attractive 3.03% or $3.56 per share. More importantly, the return on equity is approximately 42.80%. In terms of the International markets the same-store sales growth was 3.40% but thanks to a stronger dollar the revenue generated from the International markets fell 9.00%. In spite of this fall in revenue overseas we look at this as an opportunity for further growth in a unique and different area for the company. The self-service kiosk being tried in the US, UK, Austrailia and Hong Kong has allowed customers to make a choice. The breakfast items offered during the day are a good idea in the US. Sausage McMuffins have been offered all day in Hong Kong and elsewhere for quite some time. What we see unique is the ability to attract customers who are looking for something more healthy and comfortable. Will McDonald's "Next" take advantage of quality control and other issues at Chipotle, CMG to move forward?
We have always followed Peter Lynch's, (and the fictional character Bobby Axelrod of Showtime's CBS, "Billions") method of trying a product or concept and analyzing it. The concept here in Hong Kong is called McDonald's "Next." We have so far dined twice in Hong Kong's Admiralty district restaurant. We invited guests on each visit. We gauged reactions and their opinions about the food, service, prices, decor and opportunity overall for the Next brand going forward worldwide. Along with our own analysis we decided to present our forecast based upon the concept being developed in the US and elsewhere.
The McDonald's Next restaurant in Hong Kong, is located in part of the Admiralty district. Like many locations in Hong Kong it is in a high foot traffic area. There is an MTR, (train or subway) stop nearby along with a major bus stop at the location. It is across a footbridge from an upscale shopping mall and office complex called Pacific Place where the JW Marriott Hotel, Conrad, and Upper House Hotel are located. Local court houses and other major landmarks are also within walking distance.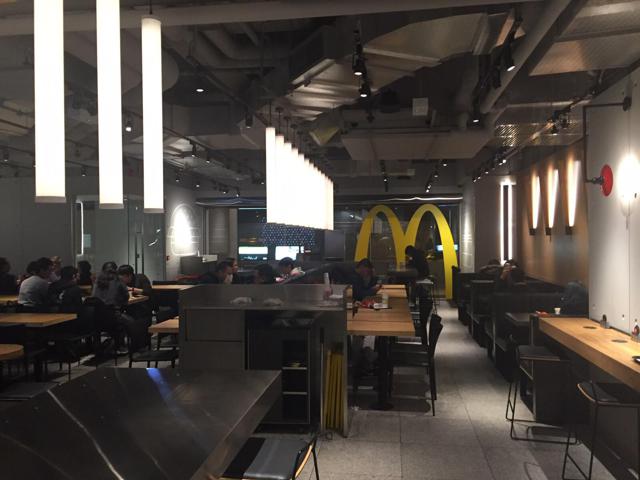 Click to enlarge
Our first dining experience was on a Friday evening and the other a lunchtime on a weekday. Upon entering one is directed to ordering kiosks or to registers. While one may order regular items from the kiosks the benefit is to secure the waiter service and a lit numbered disc, (used at other quick served restaurants). The benefit is to serve not just the burger fans, but health conscious and vegetarians as well. One can order the specialty made salads that feature couscous and quinoa along with asparagus and chicken breasts. An open kitchen is presented to all patrons to observe.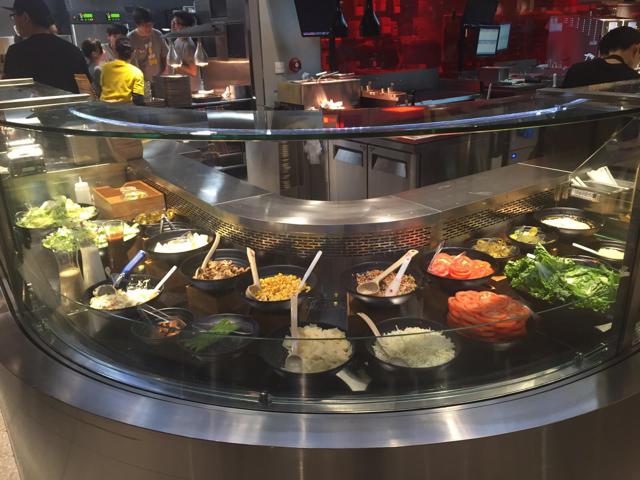 Click to enlarge
Along with deserts such as waffles and side dishes such as small Caesar salads help to round out meals. While the kiosks did not accept cash, a receipt was printed and one needs to walk to a register to pay.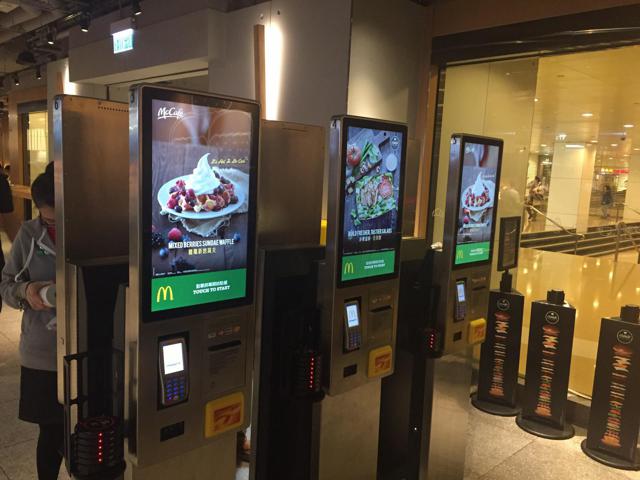 Click to enlarge
For our dinner event the register was empty and it was not an issue. For the lunchtime it had the customary HK lunchtime crowd. For those not familiar with this fact, it basically a large amount of people who break for lunch at the same time. As such the Next was almost at maximum capacity. Fortunately, the customer service manager noticed our issue and came to us and allowed us to pay him directly. Thus began our first notice of the "divided" customer issue that we will address shortly. Below, is the receipt for our first meal. Using 7.75HKD to the USD (or .1275 per HKD), one can see this is a not a simple, reasonable priced meal for two at McDonald's, as the total is approximately $21.29. We also noticed, that no wine or beer is served in this location in Hong Kong, similar to other McDonald's in Hong Kong. We believe this will be necessary for the concept to work with the after work crowd and with friends and family dining experience.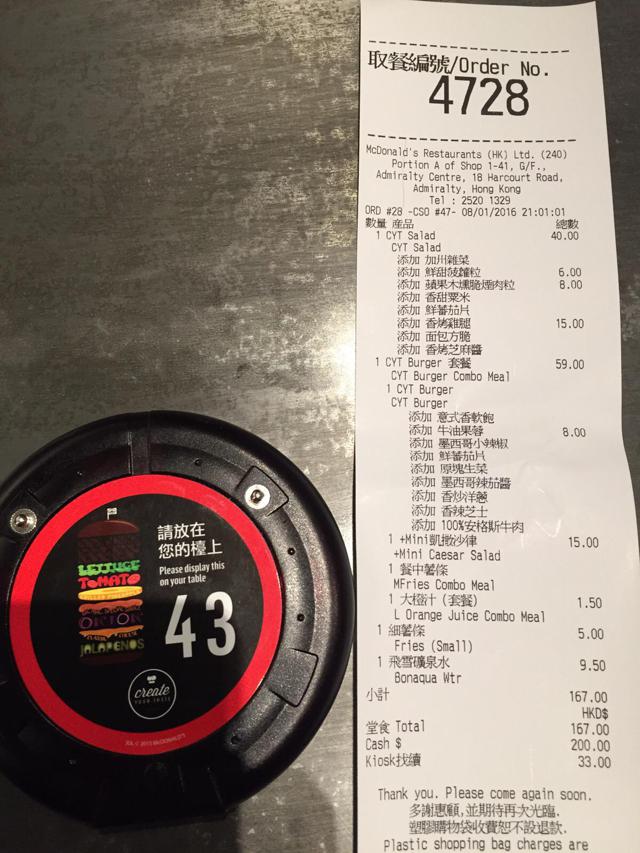 Click to enlarge
A short time after we seated ourselves for dinner the waiter arrived to retrieve the disc and to present our food and inquire if there was anything else he could provide. In terms of the quality, both the custom made Angus burger and the salad were above the usual McDonald's quality as the choices of cheeses, bread, and toppings were unique. All salads were removed from McDonald's in Hong Kong a few years ago as a result of a supply quality issue. As such, this was our guest's first salad of any type at McDonald's in years. It was quite fresh and nutritious with a choose of salad dressings. The fries were the same quality as usual, with no issues. The presentation in a wire basket added to the presentation and music was piped in for ambiance. Charging stations for tablets and phones, etc. at each booth were provided, but on both visits were not working. Sixty minutes free WIFI service is provided which is now prevalent in almost all Hong Kong McDonald's at this time.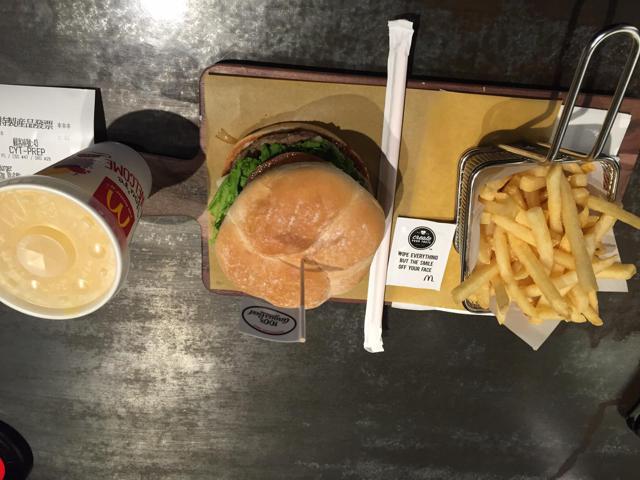 Click to enlarge
The usual HK lunchtime crowds alerted us to issues going forward and what we believe should be addressed to make the concept a success. While there were many patrons who were ordering from the kiosk for ease of use and time efficiency, it appeared on a cursory basis, not a large percentage were ordering the "upscale" menu items. In addition, large groups, frequently prevalent in Hong Kong, were sometimes heavily demarcated, with some ordering the rather reasonable "value" menu and others having the more expensive waiter service. In addition, there were some people well dressed patrons ordering the waiter service sitting in a booth next to manual laborers eating from the value menu. As everyone knows this is a truism of the McDonald's experience. It is a great equalizer, as much as the NYC subway. Unfortunately, it may not work for the "Next" experience. If McDonald's wants the Next experience to be a success the first issue is to unfortunately, demarcate the Next brand from the regular McDonald's. With diner patrons desiring a more upscale experience on a moderate budget blending with lower budget patrons it creates a conundrum for McDonald's. Separating the two brands may be the solution or creating a separate section for Next customers. Unfortunately, this will create further complications of the "have" and "have not" environment.
Overall, it was a good experience and worth the repeated visits. Our lunchtime companion believed it was overpriced but the environment at lunch may have had something to do with his outlook. We expect to return to try the other items from the menu but would most likely visit either during an evening or later in the afternoon after the lunchtime crush.
With the dollar weaker since the beginning of the year, we look for overall international sales revenue to pick up, (at least for the 1st quarter). In addition, the company states they expect to return $14.2 billion to shareholders in 2016 either through share repurchase or dividends. In terms of the share price, analysts are looking for a mean price target of $125.10 for the next 12 months, while Nomura analyst Kalinowski predicting $138.00. Our thinking is if the Next concept can effectively be deployed in the US and elsewhere over the next year or two and the demographic issues are addressed, McDonald's can easily exceed the $138.00 price target and take away marketshare from the "health conscious" fresh fast patrons of other establishments, such as CMG. Granted, as noticed by the interior and technological improvements the costs for upgrades or new locations will be a major expenditure that franchisees or the parent company will have to absorb. Fortunately, McDonald's has total cash on their balance sheet of $2.45B and debt outstanding of $19.9B at the most recent quarter. While the debt to equity ratio is obviously high at 216.50, McDonald's and other service sector companies frequently use a large amount of debt for growth and expansion purposes and manage it effectively.
As such, we are a strong buy on McDonald's based upon the Next concept. In addition, with a low beta of .56 at this time, we would include McDonald's in a defensive category and consider it a safe haven during market uncertainty. Once the key questions on demographics and demarcation are resolved we look for the Next concept to be a success and in your local (upscale?) neighborhood soon.
Disclosure: I/we have no positions in any stocks mentioned, and no plans to initiate any positions within the next 72 hours.
I wrote this article myself, and it expresses my own opinions. I am not receiving compensation for it (other than from Seeking Alpha). I have no business relationship with any company whose stock is mentioned in this article.
Additional disclosure: Information obtained from Yahoofinance, MarketRealist.com, and our own research.