I have long been bullish about the HDFC Bank Ltd (NYSE:HDB). HDFC is India's second-largest private lender, accounting for 6% of the total bank lending in the country. The Indian ADR has consistently delivered good returns to its investors, even when the INR depreciated against the USD. The bank is set to leverage from its presence in the fast-growing Indian retail credit sector. This, coupled with the fact that the bank is continuously expanding its branches throughout India will further propel growth in deposits and loans in the long term. Not only has the stock given good returns over the past year, but the company has also outperformed almost all its peers. Even as other large Indian private banks, such as Axis Bank and ICICI Bank (NYSE:IBN), have suffered from credit quality fears, HDFC has remain unscathed due to its low exposure to the troubled infrastructure sector.
The market capitalization of HDFC Bank is now almost equal to that of 20 nationalized banks (including the largest Indian bank, State Bank of India) put together. It has one of the highest valuations in the world for a large banking stock. But the valuation seems justified given its top-quality management, high growth rate and good asset portfolio. With the Indian central bank's astute monetary management and a growing Indian market, HDFC Bank has a bright future.
Recent developments that reinforce my bullish thesis
1) Increase in corporate lending - HDFC Bank has been a leader in retail banking and has experienced tremendous success in retail loans, including personal loans and credit card disbursement in India. The business conditions in India were not in a very robust condition earlier, but now with the Indian economy showing signs of recovery, HDFC has become confident to lend to large corporates and even small and medium companies. Moreover, with Reserve Bank of India becoming stringent with banks in recognizing bad assets, HDB is in a sweet spot, since it largely has a retail portfolio. Many banks in India have seen their stock prices fall recently, as their NPA ratios have gone up.
According to the bank's MD Mr. Puri, Indian banking sector loan growth is expected to reach 12-14% this year from 12.6% in the last year. HDFC is India's second-largest private lender, accounting for 6% of the total bank lending in the country.
2) 20%-plus growth rate - HDFC Bank has been successful in sustaining a double-digit growth rate despite a sluggish economic environment. The bank has increased its reach in the rural parts of India as well. Business in these areas is expected to account for almost 40% of its total loan and deposit book. HDFC's digitized platform will also help in driving cost efficiencies and increasing market share. The bank gave decent third-quarter results, with earnings matching analysts' expectations. The net interest income increased 24% on a yearly basis. Both deposits and advances grew by more than 25% during the quarter ended December 2015. There was an annual growth of 28% in the average asset base during its most recent quarter.
3) Competitive lending rates - HDFC cut its base rate to 9.3%, making it competitive with the largest state-owned bank, State Bank of India. After a steep cut of 35 basis points in September last year, the bank has cut this rate by a total of 70 bps since April 2015. Another prominent player like ICICI Bank has a base rate of 9.35%, while for SBI it is 9.3%. Note, the Reserve Bank of India has also cut its repurchase rate by more than 100 basis points in the last year since January 2015. This has made the borrowing and lending scenario in India more competitive.
4) A safe bet - HDB is the bluest of Indian blue chips and commands a top position in major mutual funds and tax-saving schemes in India. The company's assets are considered much safer than those of the other leading banks in India, as can be seen from the market capitalization values below. This has made HDB a preferred choice for investors in the banking sector.
"Within private sector banks, a majority of schemes holding HDFC Bank as the top pick shows fund managers' conviction in the stock," says Kaustubh Belapurkar, director (fund research), Morningstar India.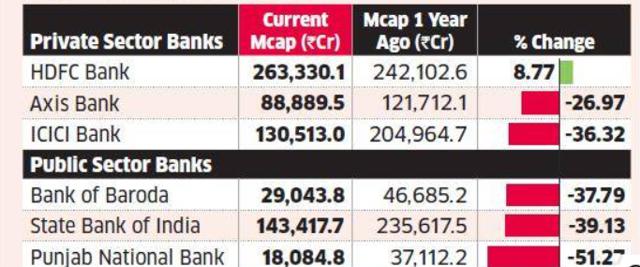 Source: Economic Times
Risks
a) Global macro-economic headwinds - Falling oil prices and the possibility of a credit crisis in China have raised insecurity in the minds of investors. The Indian stock market has also taken a hit from the rising risk aversion, though the quantum of the decline has been much smaller than that in other emerging markets. Growth of the Indian economy depends on foreign investment in the country and the stability of its currency. If the global economic growth deteriorates and risk aversion increases, then Indian corporates and citizens will also get affected. Given that banks have a high correlation with economic growth, HDFC might also see its growth rates going down.
b) Slight increase in NPA levels - Gross NPA in the most recent quarter stood at 0.97%, when compared to 0.91% in the previous quarter. However, it improved from 0.99% during the same time last year. India's banking sector has suffered a lot as a result of lending to infrastructure companies, most of which have become delinquent. State-owned banks had gross NPAs of INR 3.5 trillion at the end of September 2015. Though HDFC's NPA level does not look very alarming (when compared to a net NPA of 2.24% for SBI for the quarter and 1.65% for ICICI Bank), the management needs to remain watchful, especially now that it will start lending to bigger corporate houses as well. The NPA levels might further rise with RBI's directive to banks to restructure and reclassify their loans.
Stock Performance and Valuation
HDB stock has returned more than 80% in the last five years. The stock is currently trading at ~$54, which is 17% below its 52-week high price. The market capitalization is $45 billion, with a P/E of 19x as compared to a 7x P/E of ICICI bank. HDFC has always commanded a high valuation due to its strong growth rate and high asset quality. Its tremendous reach, brand name and presence across different banking segments makes it a good buy, even with a relatively expensive valuation.

Source: Google Finance
Conclusion
HDFC Bank is the second-largest private sector bank in a country which is expected to expand its GDP by more than 7% in 2016. The banking company has achieved competitive lending rates with leading banks in India, but still maintains a very low NPA level. HDFC is increasing its presence in rural India, and is also expanding in the investment banking sector. India offers a safe haven currently, as it is relatively insulated from a slowing Chinese economy. The US Fed rates are unlikely to increase further given the chaos in the global financial markets. India's currency has also remained strong at a time when most emerging currencies have tumbled against the USD. All these factors further reinforce my bullish stance of investing in HDFC, which is poised to leverage from the strong long-term economic growth in the country.
Disclosure: I/we have no positions in any stocks mentioned, and no plans to initiate any positions within the next 72 hours.
I wrote this article myself, and it expresses my own opinions. I am not receiving compensation for it (other than from Seeking Alpha). I have no business relationship with any company whose stock is mentioned in this article.
Additional disclosure: I hold mutual fund units of the stock.