Gold had its best week in years last week. The price rocketed higher, trading up to $1263.90 last Thursday and it closed the week at just under the $1240 level. Gold and other precious metals are safe haven assets; traditionally they have been a hedge against inflation. However, this time the rally in gold has separated the yellow metal from the rest of the pack. Gold's strength versus other commodities and assets is the story of the year so far in markets. However, gold is also strong against other precious metals and rallies in silver, and platinum did little to help these metals catch up with the lustrous leader of the pack. Inter-commodity spreads often shed light on the true value for commodities. For quite some time they have been telling us that gold has outperformed all other assets, last week's action did nothing to change that. In fact, gold's strength increased last week as the yellow metal continues to defy gravity.
Gold is one of the best performing assets in 2016
On December 3, 2015, the price of gold slipped to the lowest level since February 2010 when it traded to $1046.20 per ounce. During the same month, the U.S. Federal Reserve hiked the short-term Fed Funds rate for the first time in nine years. Gold looked horrible and I must admit, at that time I thought that we would see prices below $1000 sooner rather than later. Gold held those lows and closed the year at $1060.20; certainly not an exciting level but higher than the lows earlier in the month.
The New Year started with a bang. On the first trading session of 2016, fear gripped markets as the Chinese stock market plunged and other equity markets around the globe followed. U.S. markets were no exception. Fear reverberated around the world and on that day gold traded to highs of $1083.50 per ounce. It turns out that gold never looked back from its closing price of 2015; it has not revisited that $1060 level since. Now, just six weeks into 2016 gold is trading at $1240 -- almost 17% higher from the closing price one and one half months ago.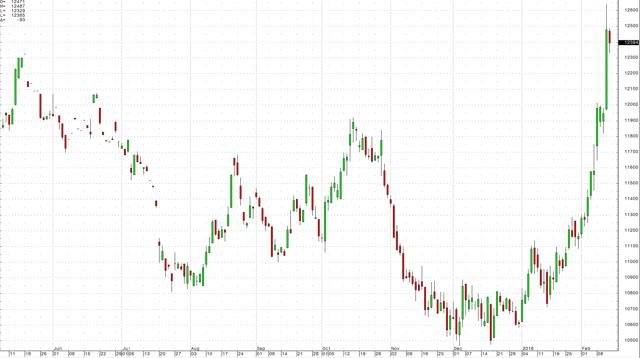 Click to enlargeAs the daily chart highlights, gold traded to highs of $1263.90 last Thursday before pulling back a bit. A look at the longer-term monthly chart reveals just how special the six-week move in the price of gold has been.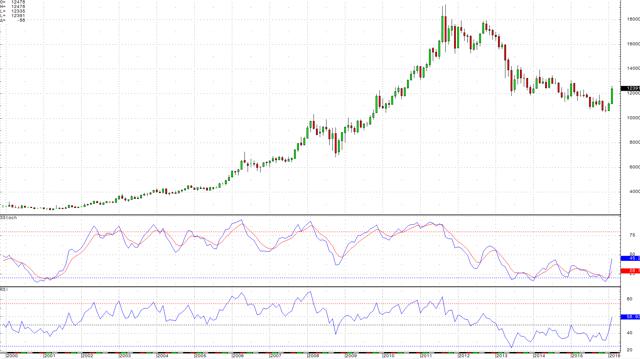 Click to enlargeGold has been in a bear market since making highs at over $1920 per ounce in 2011. During the past almost five years, the yellow metal has done nothing but make lower highs and lower lows. That does not mean there have been no recoveries in gold. However, each recovery resulted in selling that took the price to a new, lower low. That is, until last December. Since then the vicious cycle of lower lows has changed to a short-term pattern of higher lows and higher highs. On February 8, gold took out technical resistance at $1191.90, the October 15 highs. Last Thursday it blasted higher in a session that saw the price rally by more than $50 on heavy volume. The monthly chart shows that for the first time in years the slow stochastic, a momentum indicator has crossed to an uptrend in oversold territory. Both the slow stochastic and the relative strength index remain at levels that support further price gains. The move at the beginning of 2016 appears to be a game changer for gold -- the long-term bearish trend seems to have given way to a new bullish one, for now.
Gold lost 10.46% of its value in 2015; however, it has recouped all of those losses over the past six weeks and is up 18.5% from its December lows. Gold is not moving higher as the result of a general bottom for commodity prices. It is moving higher because of fear. Equity prices dropped the first day of 2016 and they have continued to move lower. While government bonds continue to attract buying due to their safe haven nature, corporate bonds have been weak and high yield debt has been tanking. Additionally, other commodity prices have moved lower. Last Thursday, on a day when gold exploded higher, the price of NYMEX crude oil futures fell to a new low at $26.05 per barrel -- the lowest price since May 2003. While oil recovered on Friday, the active month futures contract closed below $30. On the same day copper, which attempted to recover over recent weeks, fell below $2 per pound once again and it closed the week at $2.0335 per pound. Therefore, the move in gold has not translated into overall bullish price action in commodity markets.
Other precious metal prices have moved higher with the price of gold. Both silver and platinum have broken through upside resistance but their moves have been tepid compared to gold. In fact, inter-commodity spreads between the precious metals show that throughout the recent rally, gold has continuously outperformed the rest of its precious family.
Rich man's gold
Platinum traditionally has the name "rich man's gold." That is because platinum is a rarer metal. There is around 250 tons of platinum produced each year, while gold annual gold output is approximately 2,800 tons. Platinum is more expensive to produce than gold. 80% of the world's platinum production comes from South Africa, with the lion's share of the balance coming from Russia. Gold production is more widespread. This all contributes to the rarity of "rich man's gold," however, the reason for the term is that historically platinum trades at a premium to the price of gold.
Platinum has started 2016 in the same fashion as its precious cousin.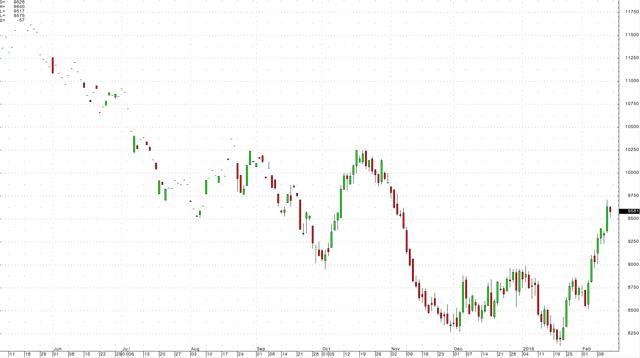 Click to enlargePlatinum traded down to $811.40 per ounce on January 21, which was the lowest level since December 2008. Since then the price has recovered, and it closed last Friday at $957.50. Platinum is now 18% off the lows and up 7.4% in 2016. However, gold has continued to outperform the rarer precious metal.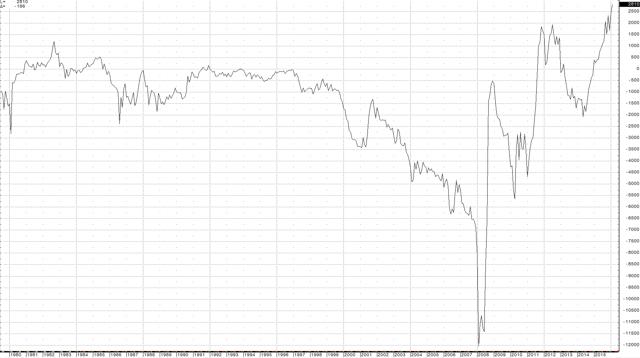 Click to enlargeAs the monthly chart of the gold-platinum chart highlights, platinum has been anything but "rich man's" gold since over recent years. While platinum was at a premium of over $1200 above the price of gold in 2008, last Thursday it traded at a $290 discount, a new all-time low for platinum against the yellow metal before closing last week at a $281 discount. Both gold and platinum have been moving higher in 2016, but these days only gold is "rich man's gold."
Platinum wears two hats; it is both a precious and an industrial metal. Platinum's uses in automobile catalytic converters, in the production of catalysts for oil refining and the manufacturing of fiberglass and its many medical applications account for its industrial applications. Jewelry also contains platinum. However, platinum also has a history as an investment metal, as a store of wealth and symbol of value. Today, platinum's value cannot compete with gold as it continues to trade at a wide discount, a deviation from the historical norm.
Poor man's gold
While platinum had been "rich man's gold," silver was "poor man's gold." Silver has lived up to that title over recent years, as it too has underperformed gold. The relationship between silver and gold dates back thousands of years. The first Egyptian Pharaoh, Menes, stated that one part gold equals two and one half parts silver. While the bible mentions gold and silver, this is the first historical reference to the value relationship between the two precious metals.
Like platinum, silver also has industrial applications. However, silver is a highly speculative metal and has a long history as a means of exchange like gold. Think of it this way: if gold is like currency bills, silver is the change. My grandfather always referred to the change in his pocket as silver because in his day, that change was made of silver.
Like gold and platinum, silver has done well thus far in 2016.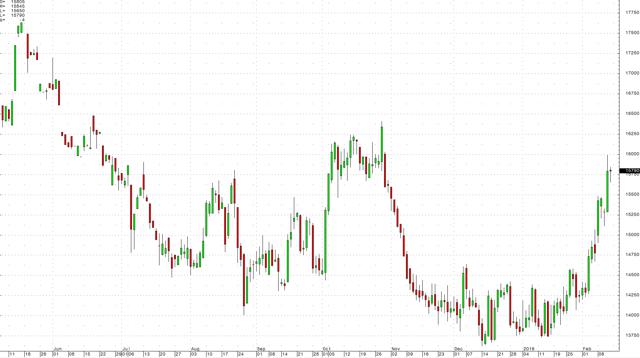 Click to enlargeSilver traded to lows of $13.62 per ounce in mid-December last year, and since then, it has taken off to the upside. Silver closed last year at $13.8030, and last Friday, the price was at $15.80 per ounce. Silver is up 16% from the December lows and 14.5% so far in 2016.
Over the past 40 years, the average number of ounces of silver value in an ounce of gold value has been around 55. Therefore, when it takes less ounces of silver to purchase an ounce of gold, we can assume that silver is expensive relative to gold on an absolute value basis. In 2008, when both silver and gold moved to recent highs, this relationship stood at around 32:1 or 32 ounces of silver value in each ounce of gold value. Since 2013, the relationship has been above its long-term norm. In 2015, it traded in a range of 71.22:1 and 77.65:1. Silver has been cheap, on a historical basis, relative to the price of gold. Last Friday, the silver-gold ratio traded at around 78.5:1, the highest level since 2009.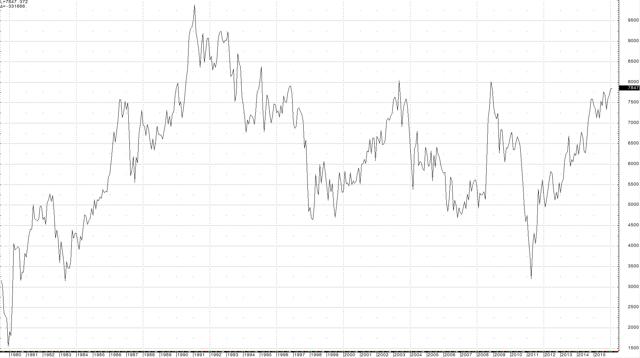 Click to enlargeThe monthly chart of the price relationship between silver and gold shows that silver continues to underperform gold.
Clearly, gold is king in 2016. Most commodities are down and gold has exploded higher. When compared to its precious cousins, gold has outperformed all.
Inter-commodity spreads will provide clues
This year has started as a confusing one. The dollar rallied at the beginning of the year and has since corrected lower. The U.S. dollar index now stands at a lower level than where it was at the end of 2015. This should be good news for raw material prices. However, the commodity bear market continues to take most raw material prices lower, with the exception of precious metals. Equity prices are falling. Lower oil is causing problems in not only the stock market but also the corporate debt market as worries about loan repayments from oil and other commodity-related companies abound. The Baltic Shipping Index has declined to the lowest level in history, down over 97% from its 2008 highs in a signal that economic activity around the world is, at best, anemic.
Divergence often occurs because of increased volatility in markets. The continued relative weakness in silver and platinum relative to gold amounts to a historical divergence. It is possible that these divergences will continue to widen, but it is my guess that if the trajectory of gold continues to be higher, as I suspect it will be, we could be in for some real upside fireworks in the silver and platinum markets.
My reasoning for this assumption is that if gold has in fact begun a new leg higher that will result in higher lows and higher highs this year, investors will look for value. They will find it in silver and platinum at current differentials. I believe that silver and platinum are waiting for more confirmation and validation of a change in momentum for gold. Gold open interest, the number of open long and short positions on COMEX gold futures contracts, has moved from 373,252 on January 28 to 424,537 last Friday, an increase of 13.7%. Silver open interest increased to a lesser extent and platinum open interest is actually down over the period. The rise in open interest provides some technical validation for the move in gold and silver but not yet in platinum. Additionally, over 390,000 gold futures contracts traded on COMEX last Thursday, which was the most in years. Meanwhile, silver also posted impressive volume on that day but platinum's was not quite as inspiring.
Things could get wild this year. China continues to be a giant question mark in terms of their growth and Europe continues to experience anemic economic conditions. The ongoing humanitarian refugee issue in Europe and the prospect for more terrorist events around the world are additional reasons for volatility. In the U.S., the Presidential election process has already confounded pundits and prognosticators with the leading delegate holders coming from extreme segments of each political party.
Precious metal prices trend to move higher during periods of inflation and uncertainty. This year is already rife with uncertainty. As far as inflation is concerned, cheap money policies by central banks around the world in an attempt to stimulate economies comes at a price. Gold could be signaling that the bill is due for artificially low interest rates, which debase all fiat currencies.
Investment demand and uncertainty
One of the most interesting statistics from the gold rally last Thursday was the action in the most actively traded commodity exchange traded vehicle in the world, the SPDR Gold Shares ETF (NYSEARCA:GLD).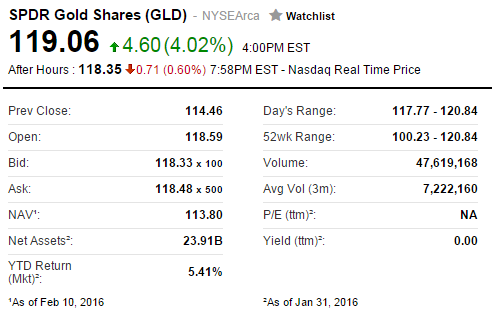 Volume in GLD last Thursday dwarfed average daily volume by over six and a half times. On Friday, the volume was twice the average.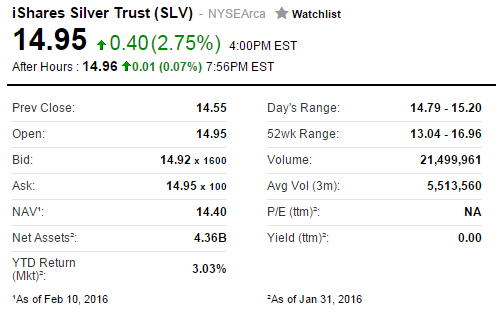 Volume on the most actively traded silver ETF (NYSEARCA:SLV) was 3.9 times normal volume; Friday it was 20% higher than the norm.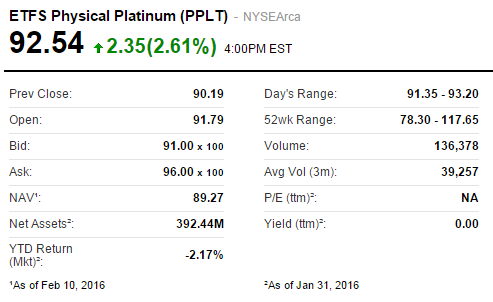 Meanwhile, volume on the platinum ETF (NYSEARCA:PPLT) was slightly lower than silver's on a relative basis, but was 50% higher than the average last Friday.
When it comes to all precious metals, fundamental supply and demand analysis always leads to the same conclusion. Investment demand, hoarding or dishoarding, dictates price direction. Gold has had a great start to 2016; the next level of technical resistance stands just above $1300 per ounce. When it comes to silver, $16.41 is the key technical level on the upside and $1025 is platinum's technical line in the sand.
Uncertainty and fear are leading to investment demand for gold right now. The yellow metals' cousins could be the next to move and if they do, watch out. These metals can be highly volatile and they take no prisoners when they get the wind behind their sails. That could provide further momentum for gold itself. As a bonus, I have prepared a video on my website Commodix that provides a more in-depth and detailed analysis on the precious metals markets to illustrate the real value implications and opportunities.
Disclosure: I/we have no positions in any stocks mentioned, and no plans to initiate any positions within the next 72 hours.
I wrote this article myself, and it expresses my own opinions. I am not receiving compensation for it (other than from Seeking Alpha). I have no business relationship with any company whose stock is mentioned in this article.
Additional disclosure: The author always holds a percentage of his portfolio in precious metals. That percentage varies with market conditions.