Papa John's Pizza (NASDAQ:PZZA) could have been the big winner at Super Bowl 50. But its long-term domestic and international growth plans is what excites us most. The company plans to grow its restaurant network by around 25% in the next few years.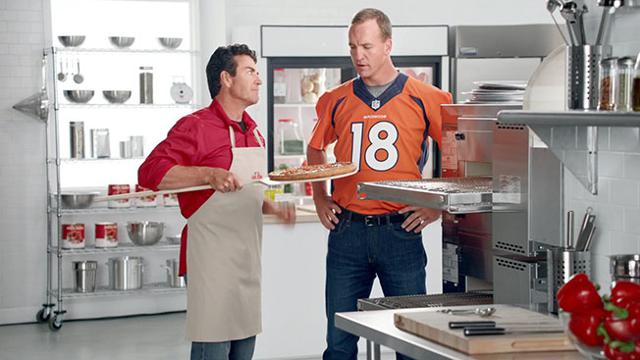 Click to enlarge
We think having Super Bowl 50's winning quarterback, Peyton Manning, as your brand ambassador will have been a big win for Papa Johns. Whatever your opinion of Manning, the publicity that Papa Johns has received should put their pizzas in a good position.
The growth plan for Papa John's global restaurant network is looking very impressive. The company plans to increase its network by 25% within the next 6 years. As of the end of last quarter its development pipeline consisted of approximately 1,220 restaurants. 250 of these will be in North America and 970 will be spread out internationally. This will increase the global restaurant network from 4,786, to almost 6,000. Of the 4,786 restaurants operating today, 3,361 are based in North America, the other 1,425 are overseas. Finally, of its US restaurant network 697 are company-operated and the remaining 2,664 are franchised.
As it does for many companies, the franchise model works very well for Papa John's. In order to protect the overall business, the company accepts only those that have strong management experience and the financial clout to be able to obtain financing of up to $275,000. As franchisees pick up the costs, as well as the risk, we see no reason why Papa John's can't grow at the pace mentioned above, or even higher. It certainly has a strong balance sheet capable of reinvesting in the business with company-operated stores if it sees fit.
By our calculations, this year we expect on average each company-operated restaurant to bring in approximate revenue of: $1,096,500, North American franchised locations $300,000, and its international restaurants $67,000. Although revenue is low in the international segments compared to the domestic franchises, there are FX headwinds we must take into account. In time we believe the international average will increase toward the $85,000 figure, but can't ever see it reaching the same level as its American counterparts. This is because, anecdotally, we have seen that many of its locations are much smaller and in less densely populated areas.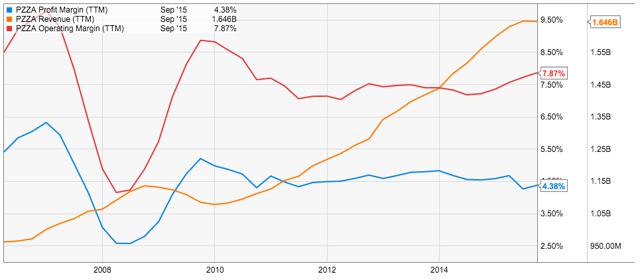 Click to enlarge
Source: Ycharts
As shown above, revenue has been growing very consistently. The company has maintained its operating and profit margins which is a big positive for us. Of course, we'd love to see these margins expand, but highly franchised businesses generally deliver consistent margins which lead to predictable and consistent earnings.
We expect the US business to have received a boost during the money-spinning Super Bowl weekend. Asides from having Peyton Manning as the brand's ambassador, with Chipotle (NYSE:CMG) and Buffalo Wild Wings (NASDAQ:BWLD) both still reeling from their respective food poisoning issues, it isn't hard to imagine many opting for pizza over Chipotle or chicken wings. We think everyone would agree that pizza is always a crowd pleaser.
Due to an increase in the company's auto-insurance, as a result of heightened claims, it will have an impact on earnings for some time. According to the most recent earnings call the impact it had to earnings per share in the quarter was 6 cents. FX headwinds impacted earnings per share by 2 cents, so it shows what a difference it does make. Having a few thousand cars driving around delivering pizza is always going to generate risks, we are hopeful though that their safety record improves in the future so the overall premiums reduce.
Management offered full year earnings per share guidance of $2.04 to $2.10. This guidance includes the impact of insurance costs. At the time, the market did not react well to the guidance, causing a sell-off that knocked 14% off the value of the company. It didn't stop there unfortunately for shareholders, as the shares have now dropped 33% since November 1 2015.
As the market is expecting $2.04 when it reports in a little under two weeks time, we feel anything better than this will be a catalyst to sending the shares higher. As we have forecast earnings per share of $2.06 we feel going long with Papa John Pizza is a good investment today. We are expecting the expansion of its restaurant network and ties with the NFL to power earnings growth on at a similar level in FY 2016. With this in mind, our forecast for FY 2016 is earnings per share of $2.39 off revenue of $1.74 billion. An increase in earnings of 16.5% year over year.
As for valuation, we believe it is trading at almost the right level (27 times earnings) at the moment and previously its valuation (47 times earnings) had gotten a little out of control. The drop may have been severe, but it does look to have been necessary unfortunately. Trading at 27 times earnings places it between competitors Domino's Pizza (NYSE:DPZ) and Jack In The Box (NASDAQ:JACK) which trade at 34 and 25 times earnings. To be conservative we'd like to see the shares eventually trade at 25 times earnings.
Our one-year price target based on earnings per share of $2.39 and a price-to-earnings ratio of 25 is $59.75. As the shares are priced at $48.26 at the time of writing, this means upside in the region of 24%. Not a bad return in our opinion.
Disclosure: I am/we are long PZZA.
I wrote this article myself, and it expresses my own opinions. I am not receiving compensation for it (other than from Seeking Alpha). I have no business relationship with any company whose stock is mentioned in this article.