Introduction:
In an article I wrote in December titled "Why Regal Entertainment is a Better Medium-term Star Wars Bet than Disney" I explained a thesis that concluded with why I thought Regal Entertainment (NYSE:RGC) would outperform Disney (NYSE:DIS) over the medium-term (and implicit with all my ideas, that RGC would also outperform the S&P 500 over that time period as well). I have found that it is always useful to track one's investment theses to see what goes wrong or right so that I can learn from our mistakes, or learn how I could have improved my thinking for future investments.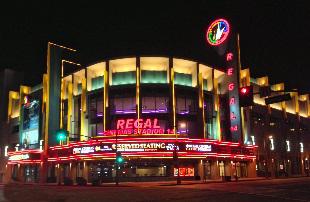 Examining the Star Wars catalyst:
I predicted that because Star Wars had a quality director, appealed to a wide demographic, and would likely have big story developments (like the death of Han Solo), that it was almost certain to surpass Avatar's record domestic box office total of $760.5 million.
All of those predictions came true, and I think it is safe to say that Star Wars met its lofty expectations. However, in investing, usually meeting expectations is not enough to move a stock. Generally, for a catalyst to truly move a stock, it must not just meet expectations, it must exceed expectations.
My prediction with regard to exceeding expectations was that there was a 50/50 chance Star Wars would reach a billion dollars in domestic box office. Currently the domestic box office for Star Wars stands at $906 million and it is still in theaters. Last week it grossed $7 million. So, while it might not quite hit a billion by the time its run is over, it is going to very close. Close enough that I feel very good about the 50/50 odds I placed on a billion dollar domestic gross.
At this point, I am comfortable declaring victory for the first part of my thesis. The next part contended that Regal was a better bet than Disney over the medium-term. While we haven't yet reached the medium-term, both companies have now reported their earnings for the December 2015 quarter. This quarter doesn't contain all of Star Wars' impact, but it does contain the initial impact.
Part of my initial thesis also had to do with the valuations of the two companies in question. My position was that Regal had been priced at a discount but Disney had not. Here is how the stock prices of the two companies have performed since my initial article. I also include the relative performance to the SPY: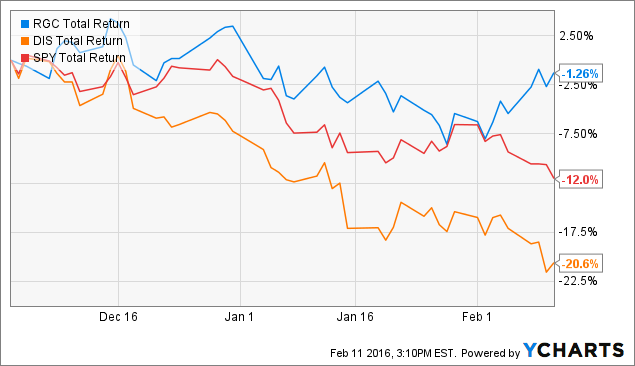 RGC Total Return Price data by YCharts
While none of the investments are positive over the past couple months, my prediction that Regal would outperform Disney was more or less exactly correct, and there is very big 19% difference between the two, and also over a 10% better performance than the S&P 500.
(As a side note, I now think Disney is close to a buy, and I have a limit order set for $83.50)
At the beginning of 2016, I noticed that even though Star Wars turned out to be a record-breaking film, and that there was a strong slate of films scheduled for the next couple years, RGC was actually down for the month. At that point, I recommended doubling down on the investment. Having a thesis in place at the time was very important because it enabled me to have the confidence to buy a declining stock in the face of a lot of stock market uncertainty. Here is what the price of the second Regal bet has done since then.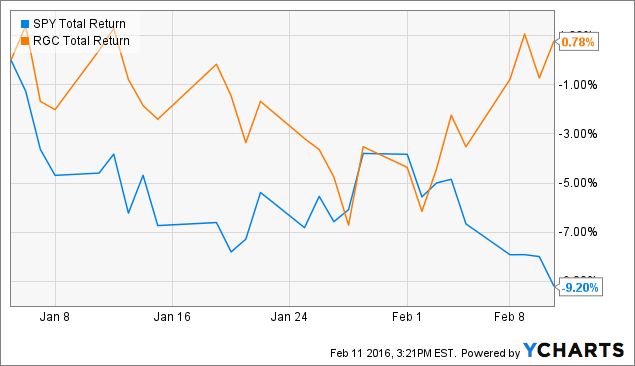 SPY Total Return Price data by YCharts
Averaging the two purchases together, the investment is down about 1% or so compared to the SPY which is down 10% or so (I'm writing while the market is open, so this is rough approximation.).
What about earnings?
Ultimately, my thesis was that RGC's earnings would be positively impacted by the Star Wars franchise. That thesis was proven correct for 2015, and RGC reported earnings that were not only higher than last year, but earnings that also beat analyst's expectations on both the top and bottom lines.
What about other movie exhibitor stocks?
I also thought that Regal would perform better than other movie exhibitor stocks because Regal was US based and operations had underperformed the other companies. I noted that Regal had the most empty seat and the lowest attendance per screen and I thought they would pick up overflow from high Star Wars demand.
I think this was probably the weakest point of my thesis, and I don't have a ton of confidence that it will play out as well as I thought it might. Due to a reporting change, Regal's earnings report contained a entire week less than the December report from 2014. Management adjusted some of the earnings for the report, but attendance figures did not appear to be adjusted. When I performed my own adjustments I saw decent growth in attendance, but I don't have a lot of confidence that I was able to accurately adjust the number.
Looking back, before adopting this part of my thesis, I should have looked a little closer into the mechanics of how overflow capacity crowds might affect attendance. If that assertion had been central to my thesis, things would have turned out quite differently. For example, if I had suggested a pairs trade with AMC (NYSE:AMC) or Cinemark (NYSE:CNK), I could have gotten myself into trouble. As it stands, I was focused mostly on Disney and the S&P 500 so either way, it won't turn out to be a big deal.
The next earnings report will tell us a lot because we will get an apples to apples comparison with Q1 2015. I expect Regal to get some outperformance related to the movie industry averages, some related to improved attendance, and some related to newly installed recliner chairs. So, I still think we are going to see operational improvement. It will be interesting to see how Regal's attendance growth compares to their competitors as 2016 unfolds.
Conclusion:
Having a specific investment thesis has not only helped with some of the stress of a falling market, it also allowed me to have the confidence to double down on Regal Entertainment at the beginning of the year. Even though there has been a lot of volatility in the stock price, Regal has outperformed both Disney and the S&P 500, as well as beaten expectations on Q4 earnings. So far, my thesis is playing out nicely, the only question is whether Regal can keep up the improvement for 2016, and whether they can improve more than their competitors on a relative basis.
Closing Statement:
I am currently building a simple, long-only, model portfolio, designed in such a way that an average investor could easily construct it in an IRA account. I am long every position I recommend, and while the weightings between my positions and the model portfolio's are not exact, they are similar. Currently, the portfolio is 20% filled. The positions are Gilead (NASDAQ:GILD) 6%, Regal Entertainment Group 4%, Foot Locker (NYSE:FL) 2%, Crown Crafts (NASDAQ:CRWS) 2%, Target (NYSE:TGT) 2%, Chatham Lodging Trust (NYSE:CLDT) 2%, Duluth Holdings (NASDAQ:DLTH) 1%, and BorgWarner (NYSE:BWA) 1%.
If you would like to read about these other investments, you can find links on my profile page. If you would like to receive updates on these investment or future investment ideas, click the 'follow' button near the top of the page.
Disclosure: I am/we are long RGC.
I wrote this article myself, and it expresses my own opinions. I am not receiving compensation for it (other than from Seeking Alpha). I have no business relationship with any company whose stock is mentioned in this article.