Gold has been the point of discussion among investors since the financial crisis of 2008-09 and the precious metal has offered several trading and investing opportunities. However, in the last 30 months, gold was largely sideways to lower as economic activity improved and as the dollar gained in strength.
On July 7, 2013, gold was trading at $1,235 per ounce and gold is trading at roughly the same level currently. The important point to note here is that gold was trading at $1,060 per ounce on January 1, 2016. This implies that gold has surged by 16.8% in the last 1.5 months.
I am of the opinion that this is the beginning of yet another bull run for gold and this article discusses the reasons to be bullish on the precious metal. Further, I am of the opinion that in the next 2-3 years, gold is likely to surge above its previous highs and the precious metal has the potential to deliver at least 100% returns from current levels.
Central Banks Buying Gold
The first factor to be bullish on gold is central bank activity and the demand for the precious metal on aggressive central bank purchase. For 4Q15, central banks purchased 167.2 tonnes of gold, representing an increase of 25% as compared to 4Q14 central bank purchase of 133.9 tonnes. Through 2015, central banks have been purchasing gold with the buying activity accelerating towards the second half of 2015.
As the chart below shows, Russia and China have been the biggest buyers of gold and I expect these two countries to continue buying gold over the next few years. Therefore, it would not be surprising to see gold trend higher over the next 2-3 years and potentially double from current levels as central bank gold buying accelerates.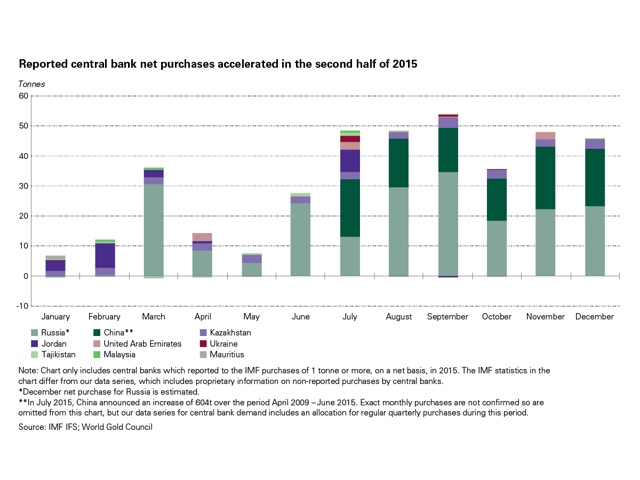 Click to enlarge
The reason to be bullish on central bank purchase is as follows - China and Russia have been looking at diversifying their currency reserves and considering the global market turmoil, gold is the best currency diversification for any central bank. Further, there is increasing geo-political rifts between the United States and the two countries in discussion.
This has resulted in increasing shift away from dollar trade towards trading in Yuan and other currencies. The implication for the dollar is that the currency is likely to weaken in the long-term as dollar demand wanes. I am not suggesting that this will be an overnight transition, but shift away from dollar is increasingly likely for countries such as Russia, China and Iran among others.
Therefore, central banks buying gold aggressively is also a function of geo-political tensions around the world and I see tensions escalating in the coming years. Recently, Russian PM has warned of World War if Saudi troops are deployed in Syria.
Global Economy Weakening
All risky asset classes have seen a major meltdown since the beginning of 2016 and the markets are discounting a meaningful slowdown or a possible recession sometime in 2016. While I believe that the global economy might not enter into recession, it is clear that growth will be muted through 2016 with some countries or regions experiencing recession.
I had earlier written that the fed is likely to cut rates sometime in 2016 and I stand by that opinion. Yellen recently opined that there is a chance of "downturn" in the foreseeable future and that the fed is ready to experiment with negative interest rates if that is needed. In my view, the strong days for the dollar are over and I expect weakness in the currency in 2016 and beyond. If the fed cut rates or introduces negative rates, the dollar is likely to decline and this will be positive for gold.
Investors might argue that weak economy would imply a deflationary environment and this can result in gold trending lower. However, the possible action of weak economic environment is expansionary monetary policies globally and as this erodes the value of fiat currencies, investors will seek refuge in hard assets like gold.
Investment Ideas
Investors can consider exposure to the gold (NYSEARCA:GLD) through various ETFs, but I like the idea of holding physical gold instead of investing in ETFs. Further, gold mining stocks have surged in YTD16 and I expect the rally for gold miners to continue.
The iShares MSCI Global Gold Miners ETF (NYSEARCA:RING) has surged by 43.5% for YTD16 and I expect further rally for this ETF that provides exposure to all the big players in the gold mining sector. As of February 2016, the company's largest holdings include Barrick Gold (NYSE:ABX) and Newmont Mining (NYSE:NEM) among others.
If I had to choose a gold mining stock, I prefer exposure to Newmont Mining with the company having an attractive all-in-sustaining-cost, a good balance sheet and attractive EV/EBITDA valuation of 4.87. While Barrick Gold is also a good stock, the company trades at TTM EV/EBITDA of 7.0.
Conclusion
The good time for gold is back in my view and I see the precious metal trending higher in the near-term and over the next few years. While I see central bank buying gold as a big upside trigger, retail investors are also likely to accumulate gold in 2016 and beyond as the global economy fails to experience sustained recovery and as investors diversify on geo-political tensions.
Disclosure: I/we have no positions in any stocks mentioned, and no plans to initiate any positions within the next 72 hours.
I wrote this article myself, and it expresses my own opinions. I am not receiving compensation for it (other than from Seeking Alpha). I have no business relationship with any company whose stock is mentioned in this article.