Teva (NASDAQ:TEVA) is a global pharmaceutical company that mainly operates in two segments:
1. Generic medicines: this segment manufactures and sells generic pharmaceutical products in several dosage forms, including tablets, capsules, injectables, inhalants, liquids, ointments and creams. It brings 49% of revenues.
2. Specialty drugs: this segment delivers solutions to patients and providers via medicines, devices and services. It brings 42% of revenues.
We can see from the chart below that the main two markets the company operates in are the U.S. and Europe (which collectively bring 82% of revenues).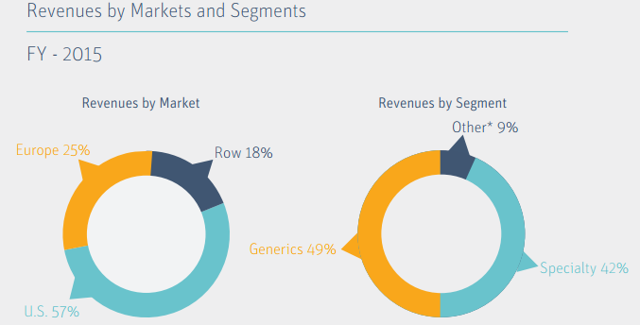 Click to enlarge
Source: Q4 Fact Sheet
On February 11th, Teva reported a fall in fourth-quarter and annual revenues on lower sales of its top drug Copaxone (5% decline) that faced heavy competition in 2015. Despite the revenue decline in 2015, the company reported a 3% growth of operating income and a 6% growth of net income. As a result, EPS grew 6% from $5.14 to $5.46.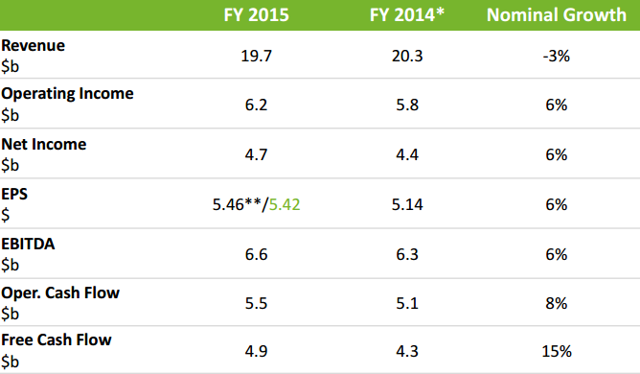 Click to enlarge
Source: Q4 results
Teva reported the decline of revenue in both segments: generics were down 3% from $9.8 billion to $9.5 billion and specialty drugs declined by 3% as well (from $5.6 billion to $5.2 billion) due to the struggling CNS drugs sales (6% down). However, Teva managed to increase the sales of respiratory medicines (18% growth) and oncology medicines (2% growth). These two groups of products didn't boost revenues much because of low volumes.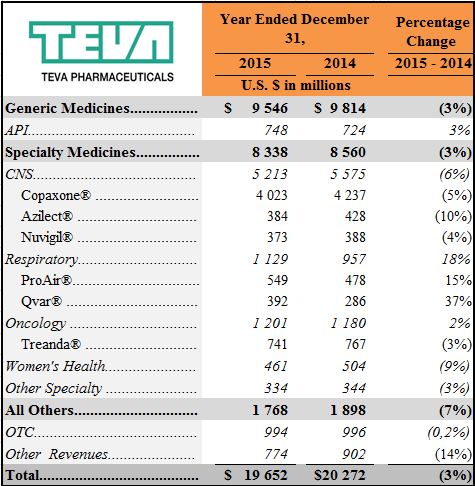 Source: Q4 results
FX effect was another factor, which hurt the company's revenues during 2015. Exchange rate fluctuations reduced 2015 revenues by $1.3 billion but non-GAAP operating income by $163 million. In 2015, the U.S. dollar strengthened against all currencies the company uses in its operating activity.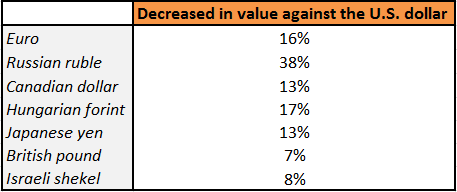 Source: created by the author, based on data from Bloomberg
In this regard, the biggest risk to Teva is posed by Venezuela. Today, the Venezuelan economy is in hyperinflationary state, and Teva's monetary assets in this country amount to $487 million. The government of Venezuela currently has three official exchange rates: the CENCOEX rate of 6.3 bolivars per U.S. dollar; the SICAD rate of 13.5; and the SIMADI rate of approximately 200. Teva uses the preferential CENCOEX rate to report results of operations and cash flows. If the company is not able to use the preferential CENCOEX rate, it might lose up to $227 million, using other exchange rates.
Management expects that during 2015-2018 the sales will grow at a CAGR of 12.5%. Additionally EBITDA and FCF are projected to grow at a CAGR of 20%.
The company views M&As as a major strategy to deliver growth during the next 5 years. Teva agreed last year to buy Allergan's (AGN) Actavis generic business for $40.5 billion as well as Mexico's Rimsa for $2.3 billion. Teva had expected to close the Actavis deal by the end of the first quarter though Siggi Olafsson, CEO of global generic medicines, said that could slip into early April as the anti-trust review proceeds.
One of the biggest concerns before the conference call was the status of the company's generic EpiPen and possibility of getting an AB rating. This generic can bring up to $0.5 billion to the Teva's revenues. Regarding the issue, Dr. Rob Koremans, President and CEO, said the following:
We had a targeted date in the middle of December. That date came and went. We have been in contact regularly with the FDA, but they haven't sent us any communication. So we are waiting, as you are waiting. Still of the opinion that we will get the CRL because we are not at that level of getting approval. We have been - we speak to the FDA every week about this product. But at this point in time, we are no closer what will be the content of the complete response letter.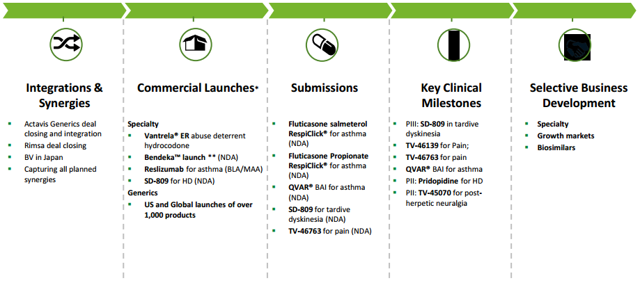 Click to enlarge
Source: Q4 results
In the long-them, Teva has huge potential and perfectly realizes a need for more competitive products in the future - there are dozens of new products being researched and six products are waiting for the approval. It still pays a lot for R&Ds and creates value for shareholders. In 2015, generic R&Ds were worth $513 million; in 2014 - $512 million; in 2013 - $488 million. Specialty drugs R&Ds were raised from $877 million in 2013 to $918 million. Operating margins are way higher than the industry average of 7.1%. Despite the high P/E ratio, it's still lower than the industry average (95.6). The execution of the recent acquisitions, licensing agreements, expansions into growth markets, advanced R&D activities, increasing EBITDA and free cash flow, and all the programs in the pipeline still make the stock a hot pick right now.
Disclosure: I/we have no positions in any stocks mentioned, but may initiate a long position in TEVA over the next 72 hours.
I wrote this article myself, and it expresses my own opinions. I am not receiving compensation for it (other than from Seeking Alpha). I have no business relationship with any company whose stock is mentioned in this article.