Introduction
This is part of a series of quarterly reviews that analyze the performance and portfolio characteristics of interesting equity managers running either public (mutual funds) or private pooled investment vehicles (hedge funds) that are not accessible by retail investors. Our aim is to provide readers:
An analysis of the manager's return and risk characteristics
An analysis of the manager's top portfolio holdings
An opinion on whether readers should replicate their portfolio
All analysis is based on a clone portfolio of the manager's top 10 disclosed holdings, which allows readers to replicate the portfolio with ease if desired. It may not be an accurate reflection of the manager's actual investment performance. That said, it is possible for some clone portfolios to outperform the manager's actual portfolio over time, due to the following factors:
No Fee Drag: Absence of management fees (high base fees + performance fees in some cases). Investors can buy the stocks directly to access the manager's stock-picking skill.
Higher Concentration: Managers typically over-diversify. Returns from the best ideas are usually diluted by a long tail of lower quality ideas. We focus only on the Top 10 holdings.
Equal-Weighting: Managers may have good stockpicking skills, but can be terrible at sizing ideas correctly. Our clone portfolios are equally-weighted so all ideas have an impact on returns.
Lower Trading: Managers typically add/trim positions on the margin too often. Quarterly re-balancing in line with 13-F releases reinforces a buy-and-hold discipline and reduces costs.
Manager Brief
| | |
| --- | --- |
| Company Name: | Valiant Capital Management |
| Location: | San Francisco, CA |
| Year Established: | 2008 |
| Investment Style: | Global Long/Short Equity, Growth Orientation |
| Lead Portfolio Manager: | Chris R. Hansen |
| Number of Employees: | 32 |
| 13-F AUM: | $1.9bn |
Valiant is a global equity long/short hedge fund established by Chris Hansen, formerly a Managing Director at Blue Ridge Capital from 2001-2008. In addition to the flagship long/short strategy, the firm also manages a dedicated Indian fund, such as this one that invests in distressed assets, as reported by the WSJ.
According to a recent article from Reuters, the firm currently manages $2.3bn. This means roughly a fifth of its book is invested in non-US stocks, based on its latest 13-F filing which carries a market value of $1.9bn.
Performance Review
Our Valiant clone portfolio returned an annualized +23.4% over the past 3 years, vs. +15.1% for the S&P 500 Index. This outperformance was driven by a very strong 2013, where it exceeded the benchmark by an astonishing +22.2%. Recent observations point to weaker alpha generation.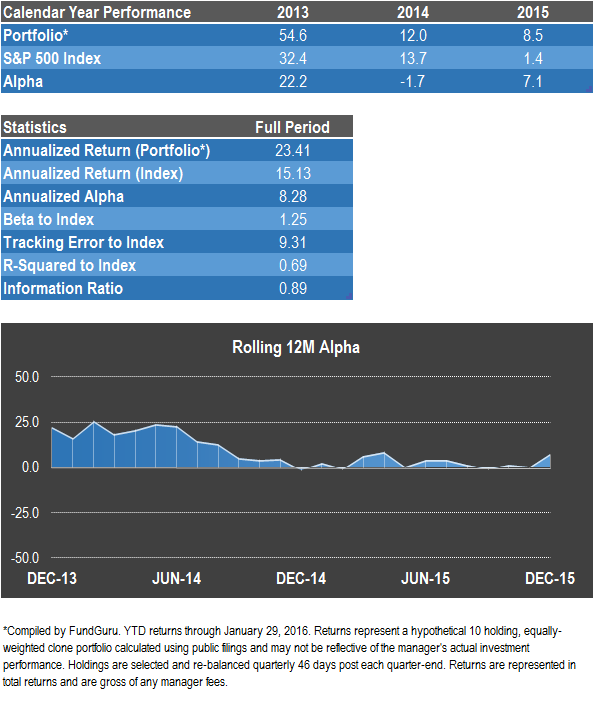 Portfolio Analysis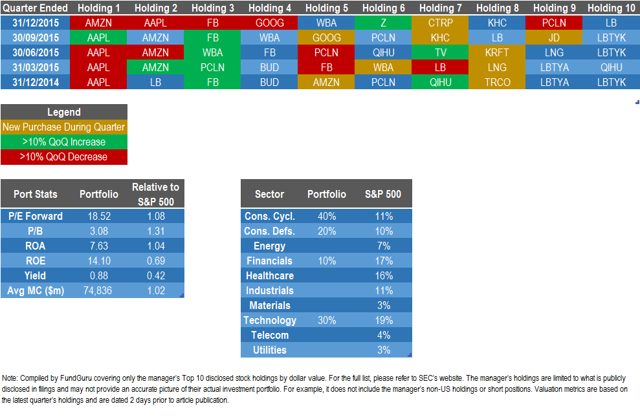 Click to enlarge
Portfolio Characteristics
This is a large-cap portfolio with a growth orientation. 60% of the portfolio is concentrated in the Consumer Cyclical and Defensive sectors.
Individual Name Analysis
Valiant trades quite a bit on a QoQ basis, although name-based turnover is not high. 4 out of top 10 names have been in the portfolio over the trailing 1 year: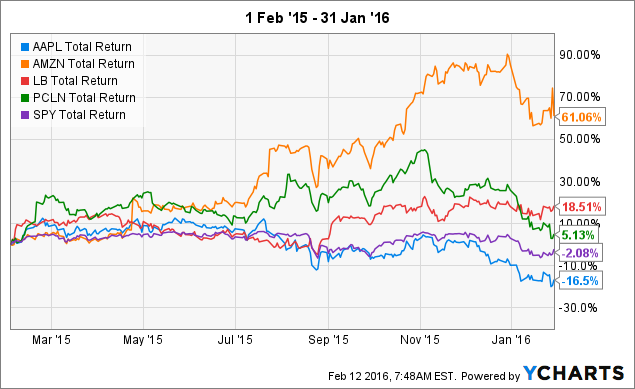 Amazon (NASDAQ:AMZN) was the top performer of the lot, driven by the strong performance of its Amazon Web Services unit. The manager has been reducing its position in AMZN over the past year, together with Google (NASDAQ:GOOG) and Facebook (NASDAQ:FB) in the most recent quarter. This appears to have been a good risk management decision as these stocks have declined sharply year-to-date.
L Brands (NYSE:LB), the owner of Victoria's Secret and Bath & Body Works, have also done well over the past year. This company has been on a tear, due to overseas expansion and stronger earnings growth. Share prices took a hit in February, and could be worth a closer look:
Apple (NASDAQ:AAPL) and Priceline (NASDAQ:PCLN) are going through a rough patch. Both companies are now off ~30% from its 52-week highs. The story with AAPL is well-known (fears over a sales slowdown), but the story with PCLN may be slightly different. The company has consistently grown its earnings over the past decade at a high rate: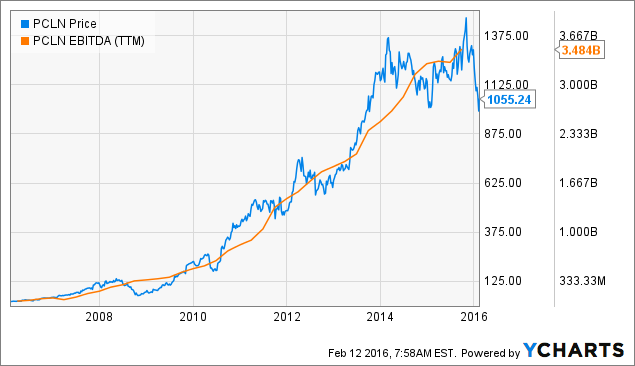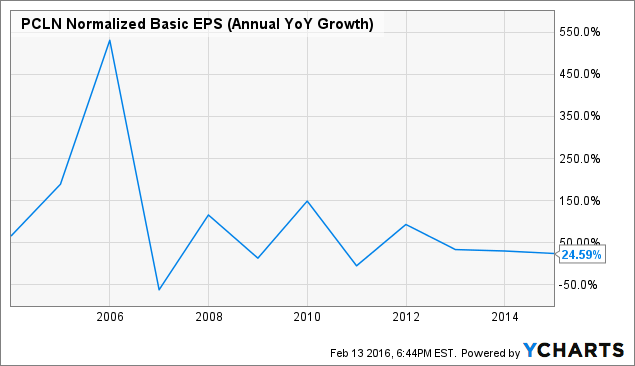 PCLN Normalized Basic EPS (Annual YoY Growth) data by YCharts
Its share price hit a speed bump recently due to the macroeconomic environment and dollar strength. As a result of the decline, PCLN now sports a free cash flow yield of 5% and a forward P/E of 16x, both low relative to its history. Not bad for a business that has grown its earnings at consistently high rates over the past decade. We think there may be a compelling opportunity here.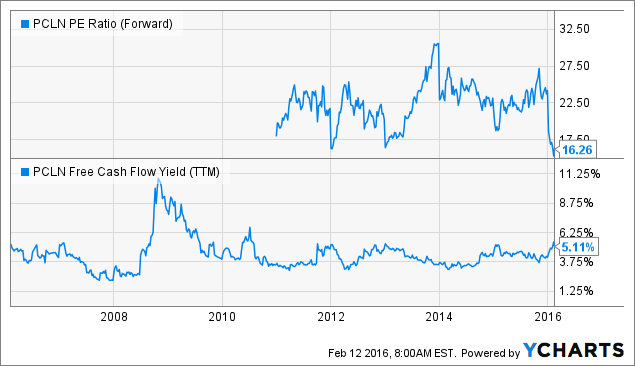 Finally, Valiant boosted its stake in Zillow (NASDAQ:Z) into the Top 10, and CTrip (NASDAQ:CTRP) is a new position in Q4. Zillow operates an online real estate database and merged with rival Trulia last year. CTRP is a mainland China travel agency.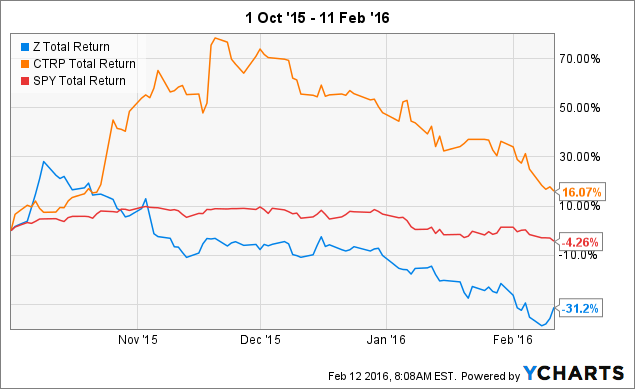 These names have not done well. Zillow reported a wider loss recently and fell 6% in the after hours on 02/11.
Our Take
We Liked
There is some alpha here, although this has come down in the last 2 years
We like how the manager reduced exposure to expensive names like AMZN, GOOG and FB after a period of strong price appreciation, likely on valuation grounds, before these shares declined in 2016.
We Didn't Like
Frequent adding/trimming around positions, although name-based turnover is not high.
Bottom Line
We will continue to monitor this manager to determine whether it is worth cloning. For now, investors may be better off looking at some of the individual names, such as LB, PCLN, AAPL and Z.
Interested in following more alpha? Take a look at other articles we've published in this series:
Disclosure: I am/we are long LB, PCLN.
I wrote this article myself, and it expresses my own opinions. I am not receiving compensation for it (other than from Seeking Alpha). I have no business relationship with any company whose stock is mentioned in this article.