Google Trends continues to prove itself useful in assessing the potential for important turns in the direction of gold, specifically the SPDR Gold Shares (NYSEARCA:GLD).
On November 29, 2015, I wrote "No Bottom Yet For Gold But Its Current Decline Should Soon Slow." In that piece, I used the trend in the odds for a rate hike in December to conclude that the rate of decline for GLD should slow going into the December meeting of the U.S. Federal Reserve. I used Google Trends on "buy gold" to conclude that a bottom had not yet arrived in GLD. Sure enough, GLD stopped going down for the next two weeks going into the Fed meeting. The following day, GLD gapped down and made a new 6-year closing low…but only by the thinnest of margins. GLD has not looked back since.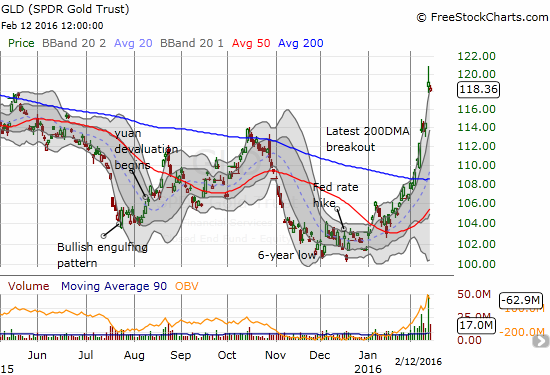 SPDR Gold Shares has skyrocketed in 2016 for an impressive breakout above its 200-day moving average (DMA) and a 17% year-to-date gain.
Source: FreeStockCharts.com
While the large and rapid breakout above the 200-day moving average (DMA) is impressive on its own, zooming out to a weekly chart reveals more momentum in favor of gold bulls. On a weekly basis, GLD has printed the FIRST higher high since it peaked back in 2011. This move further confirms a significant shift in market sentiment. The surge in buying volume is unmatched since the 2011 peak and provides a bonus confirmation of bullish sentiment coming off the lows.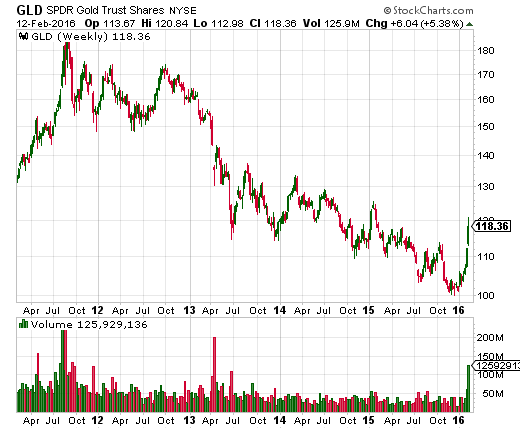 The momentum in GLD is finally starting to turn around with the first higher high since the 2011 peak.
Source: StockCharts.com
My assessment in November assumed that GLD would trade lower than it did before the next tradeable bottom. However, conditions changed, and Google Trends flagged the need to change the assessment. Google Trends showed a notable increase in "buy gold" in December. The December peak occurred in the final full week of the month. The coincident bottom was similar to the earlier dynamic in July, 2015 although December's rise was not nearly as distinctive as July's run-up.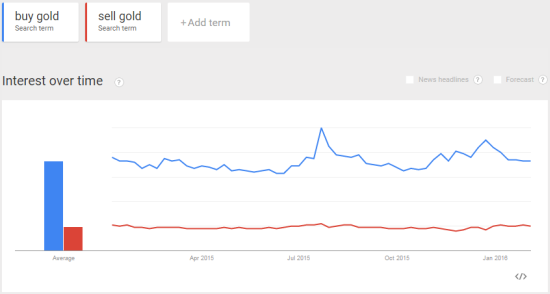 The interest in "buy gold" rose notably in December, right in the final full week of the month (Dec 20 to 26th). July's rise in interest was more of a true spike higher.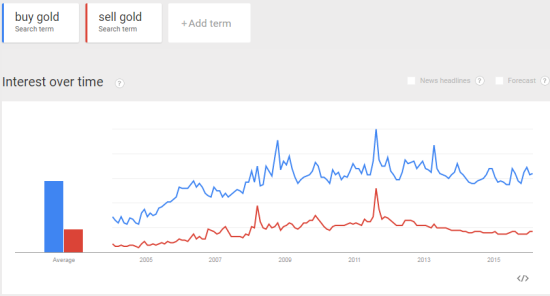 Interest in "buy gold" (and "sell gold" has reached higher heights in the past.
Source: Google Trends
I continue to compare "buy gold" to "sell gold" for reference. "Sell gold" has not provided a signal since gold's peak in 2011, so since then my projections of transitions in GLD's price direction have completely relied on "buy gold." Fortunately, "buy gold" has proven itself sufficient.
Significant changes in interest rates and rate expectations have supported the tremendous rise and breakout in GLD over the past two weeks. On January 19, 2016, Governor Mark Carney officially confirmed that the Bank of England (BoE) will punt on rate hikes in 2016. The Bank of Japan finally went negative on January 28th. The Swedish central bank Riksbank dropped rates deeper into negative territory and threatened to go further if needed. While most major central banks were already in retreat in 2015, it took increasing talk and action on negative rates to goad a response out of gold. Suddenly, the trends for the global rate environment are clear: as the Bank of England warned late last year, it is a low rate world.
Perhaps the most important change in the rate environment is the financial market's conclusion that the Federal Reserve will put "rate normalization" on hold for this year and beyond. U.S rate expectations started their retreat in early January. By the time of the jobs report for January, a boost in rate expectations still could not pull expectations back to 2016 for the first rate hike. Now, the odds for the next rate hike occurring in 2016 sit at a mere 33%.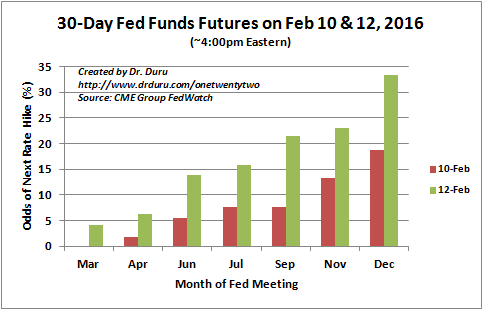 Following two days of testimony to Congress by Fed Chair Janet Yellen, the odds for the next rate hike to fall in 2016 shot upward. However, even December only has a 33% likelihood for the next rate hike.
Source: CME Group FedWatch
The change on rate expectations have driven bond prices skyward along with gold. While GLD has enjoyed a 17% year-to-date rise, the iShares 20+ Year Treasury Bond (NYSEARCA:TLT) has enjoyed a 9% year-to-date gain.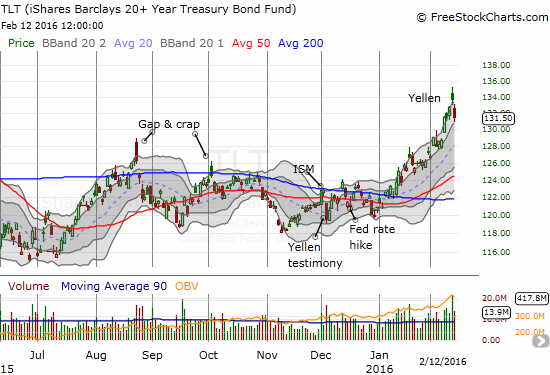 iShares 20+ Year Treasury Bond has taken off like a rocket in 2016.
Source: FreeStockCharts.com
These kinds of moves should not happen at the same time central banks are generally sticking to relatively optimistic projections for global growth. For example, in its January 20, 2016 Monetary Policy Report, the Bank of Canada maintained its relative optimism even as it acknowledged disappointment with past performance (the Bank of Canada held rates steady even as the market seemed to brace for yet another rate cut):
"At the global level, 2015 was a little disappointing as the world dealt with diverging economic prospects and shifting terms of trade, but we expect gradual strengthening to resume in 2016. There has been considerable attention paid to recent developments in China, and this has added to volatility in global financial and commodity markets. However, it was Governing Council's judgment that China will remain on its transition to a more balanced and sustainable growth path, from around 7 per cent annual growth to around 6 per cent.

…Our global outlook remains positive, albeit cautiously so. Governing Council believes that the U.S. economy remains solid-the fourth quarter of 2015 was soft, but we believe this to be largely temporary for reasons we discuss in the Monetary Policy Report (NYSE:MPR). Solid fundamentals, including strong employment gains, high consumer confidence and very strong investment outside the energy sector should see U.S. growth return to close to 2 1/2 per cent this year."
So, in the moment, debasement of paper currencies continues across the globe while looking forward financial authorities continue projecting positive growth responses from these debasements. As central banks insist on disproving the existence of a lower bound on monetary policy, the ironic impact may be to undermine confidence that sub-zero rates can rekindle the fires. Gold is currently a beneficiary of these dynamics. I would be very surprised if these dynamics continue to push GLD higher at the current pace, but they should support strategies to buy dips. If GLD gives up support at its 200DMA again, I will have to reassess my expectations.
Be careful out there!
Disclosure: I am/we are long GLD, TLT.
I wrote this article myself, and it expresses my own opinions. I am not receiving compensation for it (other than from Seeking Alpha). I have no business relationship with any company whose stock is mentioned in this article.