Introduction
In the past year, only three articles were written about Cardinal Health (NYSE:CAH), two of which were written by me. That's quite surprising, as I consider Cardinal to be one of the stronger companies on a cash flow basis. I recently also had a look at AmerisourceBergen (NYSE:ABC), and one of the readers there asked me for an update on Cardinal Health, so here it is. And yes, it has been a pretty good quarter!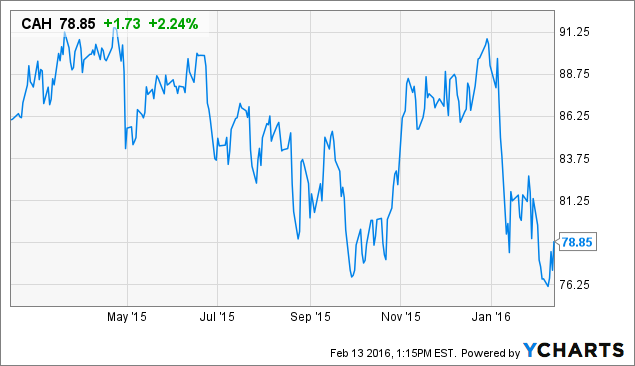 A good second quarter looks promising to confirm 2016 as another year of growth
Cardinal Health is still a company that is generating a massive amount of revenue, as the company's Q2 FY 2016 income statement is indicating the revenue increased by almost 25% to $31.5B on the back of several acquisitions that have been closed in the past few quarters. And these purchases are working out quite well for Cardinal Health, as its gross margin increased by approximately 10% to $1.6B.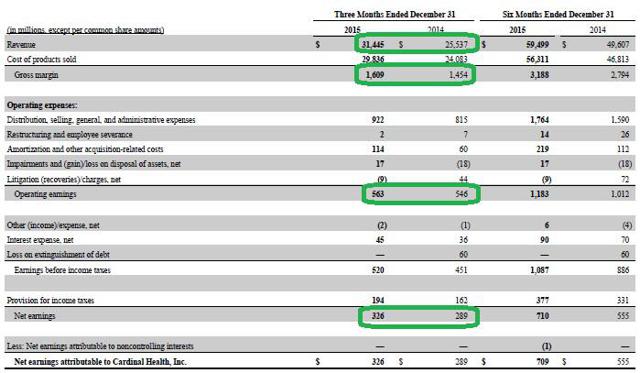 Click to enlarge
But, of course, integrating new businesses into an existing corporate model isn't easy and it will take some time to streamline the assets. The operating income increased by just 3% to $563M (indicating the operating margin will be lower as the operating income increased by just 3% versus a 25% revenue increase). However, the result has been impacted by higher SG&A expenses as well as 'acquisition-related costs'. As these costs should trend lower now the acquisition of Corbis has been completed, I see no reason why Cardinal's sustainable operating income couldn't be $600M+ next year.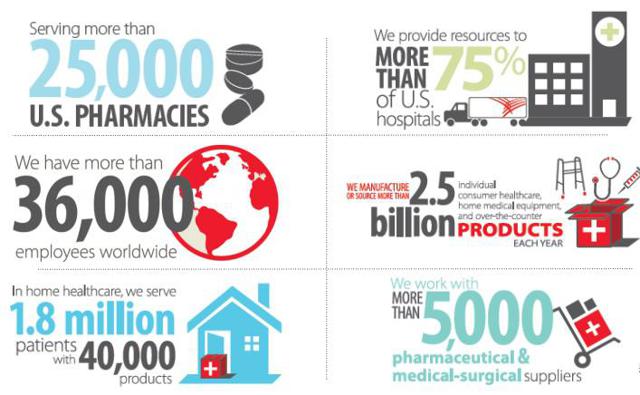 Click to enlarge
Source: Company presentation
The net income increased by 10% to $326M in the second quarter of FY 2016, whilst the net income in the first semester of the year was approximately $710M, a very impressive 28% increase compared to the final result of the first semester of the previous financial year. In my previous articles, I had a special focus on the company's ability to convert this net profit into a positive free cash flow, so I was quite enthusiastic to start digging in the cash flow statements to find out what I could come up with.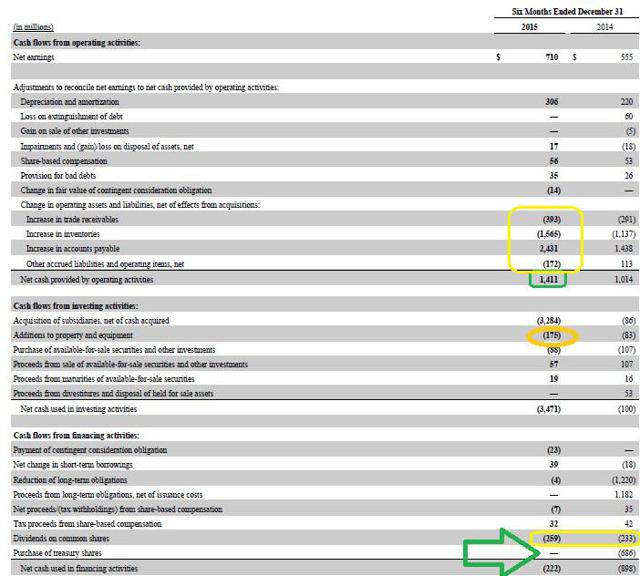 Click to enlarge
Source: SEC filings
Cardinal Health generated $1.41B in operating cash flow in the first semester of the current financial year, but it looks like this was positively impacted by a change in Cardinal's working capital position. I like to exclude these working capital changes as, for instance, a change in the company's inventory level doesn't really teach us much about the underlying performance. After excluding the WC changes, the adjusted operating cash flow was $1.11B. The capex more than doubled but still remained under control at $175M, resulting in an adjusted free cash flow of $925M in the first half of the financial year. As the adjusted FCF was $484M in Q1, this means the company generated approximately $440M in FCF in the second quarter. Yes, that's lower than in the first quarter, but again, don't forget the acquisition-related costs!
As expected, Cardinal Health hasn't restarted its share repurchases yet
Cardinal's free cash flow will be extremely welcome. A minority of the cash has been used to pay its dividend, and after spending the $259M on dividends, Cardinal still had approximately $675M in adjusted free cash flow it could use for a wide range of purposes.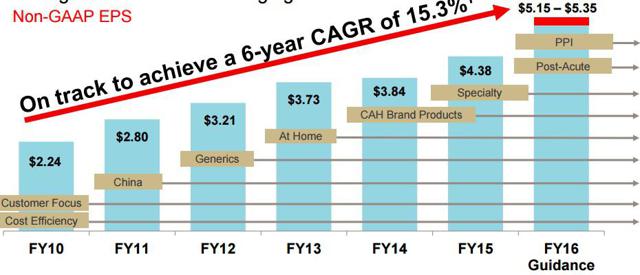 Click to enlarge
Source: Company presentation
Last year, Cardinal spent almost $700M on share buybacks in the first half of the financial year, but that hasn't happened this year, as the company wants to increase its cash balance again whilst it's digesting a whopping $3.3B spent on acquisitions this year.
In my previous article, I said I had thought I was in love with Cardinal Health, and after seeing how prudent the management team is spending its cash, these feelings have only been reinforced. A strong balance sheet and good financial health is (or at least, should be) priority number one for every company out there, and it's great to see Cardinal Health isn't doing anything stupid with its free cash flow. Share repurchases have been put on the backburner, but Cardinal's management is definitely open to re-start the program. From the conference call:
We did not repurchase shares in the quarter and had about $700 million remaining on our board-authorized share repurchase program. As I've said in the past, we will continue to evaluate share repurchases opportunistically in the context of our overall capital deployment strategy.
Of course, the dividend will be holy, but as you can definitely notice, share repurchases aren't something Cardinal's management will do 'no matter what'. Yes, Cardinal's has balance has fallen from $4.6B to $2.3B but let's keep in mind that a) the long-term debt position has NOT increased and b), this $2.3B takes the $3.3B spent on acquisitions fully into account.
Investment thesis
Based on the current financial results, I think a full-year free cash flow of $2B should definitely be achievable for Cardinal Health as the company already generated $925M in FCF in just the first six months of the year, despite incurring costs associated with two expensive acquisitions.
Cardinal Health remains a very robust company and its exceptionally strong cash flows will allow it to continue to expand and I expect the share repurchases to resume by the end of this year. Cardinal's adjusted free cash flow will very likely reach the symbolic $2B threshold this year, and as the share price has decreased since my previous article, the anticipated free cash flow yield has now increased to approximately 8%.
Disclosure: I am/we are long CAH.
I wrote this article myself, and it expresses my own opinions. I am not receiving compensation for it (other than from Seeking Alpha). I have no business relationship with any company whose stock is mentioned in this article.