Chipotle (NYSE: CMG) is one of the most successful companies in the fast food industry. Its growth averaged over 10% in the past decade, and its quick adaptation to consumer tastes made it a force to be reckoned with against traditional fast food players. At one point, its stock price had peaked at a high of $758.61 a share.
But a string of E. coli cases has caused Chipotle's bullish stock run to come to an end. It currently trades more than 35% below its 52-week high. Although the damage has already been done to the company, I think the rest of 2016 will be tough for the company. I see value in the company, but it will take a long time before the markets realize its full value again.
Here are 6 factors that I think are holding the company back for 2016:
The cause of the outbreak is still not found
Chipotle has completely revamped how the servers will be handling the food - boiling the onions prior to cutting, creating central prep kitchens, and more inspections of the food. But the biggest question health officials can't figure out is what is the source of the outbreak? There were 53 people that were left sick in 9 states over three months.
Since the source of the outbreak hasn't been found yet, there could still be a chance of another outbreak happening. This can hurt the brand even further.
The Lawsuits, Marketing, and Supply Chain Adjustments
From a financial perspective, I don't believe the lawsuits will hurt the company's bottom line too much. But it is a distraction for management as they need to focus on a turnaround.
As well, Chipotle is offering free food to entice customers back into its stores. These marketing campaigns are great to bring bodies into its chain, but it is a cost that will hurt its revenue over time.
Back in early 2015, there was a shortage of pork from its suppliers and now with an E. coli outbreak, I believe there is an immense pressure on its suppliers to step up its quality standards. During this time, there will be changes in Chipotle's process and consequently, some of these changes will take time and money.
Sales Figures Had Started Peaking Prior to the Outbreak
On a quarter-by-quarter basis, sales growth had started declining since Q3-2014. Chipotle was able to achieve higher and higher sales volume but that rate of growth was slowing. This points to Chipotle approaching a saturation point in the US market: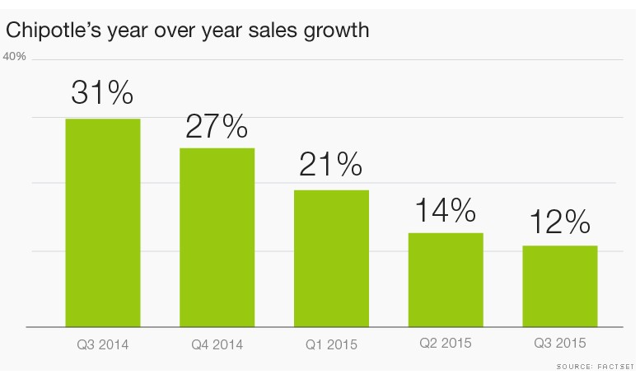 Click to enlarge
(Source: CNN Money)
Chipotle Strategy for 2016
Taking all the above factors together, I can see upper management being more conservative by opening fewer restaurants in upcoming quarters and focusing more on improving sales in its existing restaurants. In other words, revenue growth and achieving higher income will not be the focus for the rest of 2016.
Its Strength: Financials
There is a silver lining to all this and it is the financial statements:

Click to enlarge
(Source: Author, data came from Chipotle's quarterly and annual statements)
In looking at the balance sheet, its debt ratio is low and its current ratio is high. This gives Chipotle the means to spend more to revamp its operations. If management wants to, it has the balance sheet to spend its way out of this mess:

Click to enlarge
(Source: Author, data came from Chipotle's quarterly and annual statements)
But Chipotle can't just throw money at the problem to make things go away. This time around it is the brand that has taken a beating. It will take time for customers to trust the company again. The company has some strong core values such as promoting healthy eating that resonates with customers. So in time, consumers will return to the restaurants.
Financial Forecast:
Since there is an ongoing challenge in its supply chain and weakening sales, I have projected sales to continue to drop in the next 4 quarters for 2016 (-17%, -13%, -8%, -4.50%):

Click to enlarge
I have also set expenses to remain historically high at 91% to 94% of total revenue for each quarter. This is to highlight that Chipotle will need to spend more than usual on marketing efforts, toughening safety standards, new training initiatives, and to deal with supply chain issues.
Overall, the quarterly NOI and EPS will remain positive but should stay below its average 2010 to 2015 annual averages.
Disclosure: I/we have no positions in any stocks mentioned, and no plans to initiate any positions within the next 72 hours.
I wrote this article myself, and it expresses my own opinions. I am not receiving compensation for it (other than from Seeking Alpha). I have no business relationship with any company whose stock is mentioned in this article.