The price of oil is currently governed purely by fear.
While the Saudis may have pushed the price of oil (NYSEARCA:USO,OIL) over a cliff in 2014, where it falls is completely out of its control. Too many conspiring issues have intermingled to determine a firm landing spot. Some of these include improved efficiencies in U.S. shale oil production, high inventories, Iranian oil becoming available, a weakening global economy...the list goes on and on.
The combined result of those factors is leaving everyone guessing at the root cause of oil's price breakdown and the Saudi motivation for their production actions. It's now becoming clear that the Saudis could have a multitude of reasons for their actions, ranging from long-term market-share strategies to homeland cultural control (via taxation); or even some combination thereof.
But it really doesn't matter anymore.
What does matter is the future price of oil. So let's get into oil's fear-based price range. Both the low- and high-side price limits are now primarily based on psychological fear factors rather than technical trading or charting factors.
No Support On The Low Side
Regardless of Saudi rationale, or its effect on other producers who are trying to maintain their own market share or economies, the fact is we have an oil surplus relative to demand right now. And the two biggest issues with respect to this problem are timing and oversupply:
When will we reach peak oversupply?
How much oversupply will be produced?
Cash costs are low, with most oil profitable at $35/barrel, keeping production going. Even Canadian oil sands production is unlikely to halt at current pricing. Ongoing oversupply is inevitable.
Some estimates have put the timing of peak oversupply at roughly mid-2017. Some say rebalancing will occur in the second half of 2016. The best oil-professional guesses have been pretty off-the-mark for the last couple of years so I wouldn't put too much weight on these. But these do point to a high probability this is an extended problem with well over a year in its making and correction.
But consider this, to which I have no answer: What if rebalancing isn't a one-time event?
What if it becomes a frequently recurring oscillation in oil's price? The complex interaction between many producers with different motivations could lead to a much more complex trading scenario than we've seen in the past.
And now the biggest fear generator: the amount of oversupply. What happens to oil's price if production exceeds storage capacity?
This is the biggest contributor to downside fear. It essentially leads to no downside price support. If oil production exceeds storage capacity, producers may need to dump oil at exceedingly low prices to get open up new, unconventional storage avenues. Or worse yet, they may need to pay to have the oil taken off their hands.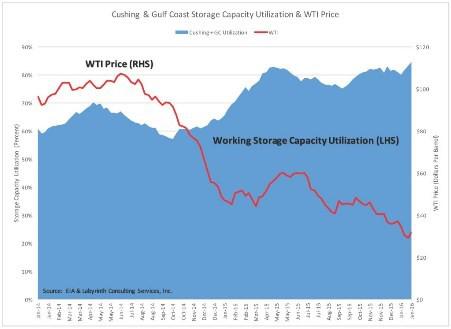 (Chart reference.)
This downside fear will linger until after there are clear and sustained increases in storage availability. This situation will likely take years to remedy as well.
Strong Resistance On The High Side
The driver of fear on the high side is this lingering question:
If prices rise, how much new oil will come onto the market?
Now that U.S. shale has proven itself viable and competitive, U.S. and world shale-oil reserves will pose a constant threat to oil's pricing high side. While U.S. shale oil currently has the most cost-effective production capability, other countries are ramping up to join the shale-oil revolution, too.
Argentina has the fourth highest recoverable shale-o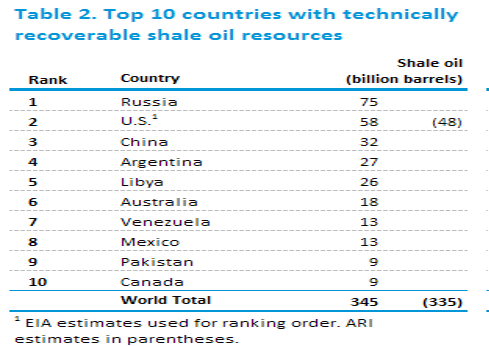 il reserves and activity in the region by large U.S. corporations, like Shell (NYSE:RDS.A) and Chevron (NYSE:CVX), has been significant over the last few years totaling billions of dollars of investments. Argentina's potential was on display late last year when the discovery by the Chevron collaboration of a super well, producing over 1500 barrels/day, was announced. The shale-oil threat is clearly extending out of the U.S. and becoming worldwide.
The "what if" is too significant to be ignored now. Oil traders will be constantly wary of these upside pressures and these will keep oil prices in check for a long time.
The threat is too significant to be ignored, even if it remains just that, a threat. The fear here is just too great.
Conclusion
Fear is currently the governing factor in oil pricing and will likely remain so for a long time. As I've argued previously, I expect oil to trade in a low price range of $20-40/barrel for up to several more years.
Sure, greed will kick in now and then, maybe exceeding this range on the high side. But fear is a stronger, long-term factor here and will mitigate many upside moves, making them only temporary. Fear will probably lead to some strong down-side exceedances, too.
What will this do to the top-pick oil companies, even those who have strong downstream segments? Companies like ExxonMobil (NYSE:XOM), Chevron, Occidental Petroleum (NYSE:OXY), and EOG Resources (NYSE:EOG) will continue long-term to struggle with significantly reduced earnings. I'm also skeptical that energy services companies, like Schlumberger (NYSE:SLB) and Halliburton (NYSE:HAL) will see any near-term improvement. On the other hand, large refiners, such as Valero (NYSE:VLO), are likely to be biggest long-term beneficiaries. That may be the only place in the oil patch where I'd plant my money right now.
Disclosure: I/we have no positions in any stocks mentioned, and no plans to initiate any positions within the next 72 hours.
I wrote this article myself, and it expresses my own opinions. I am not receiving compensation for it (other than from Seeking Alpha). I have no business relationship with any company whose stock is mentioned in this article.