Any time a new financial fad comes up, it gets burned. The stocks of the companies still may be good, but their glory days are pretty much over. Case in point, FANG. As soon as Jim Cramer came out with this pick, it should have been a clue to head for the exits. CNBC even came out with the FANG real-time alerts.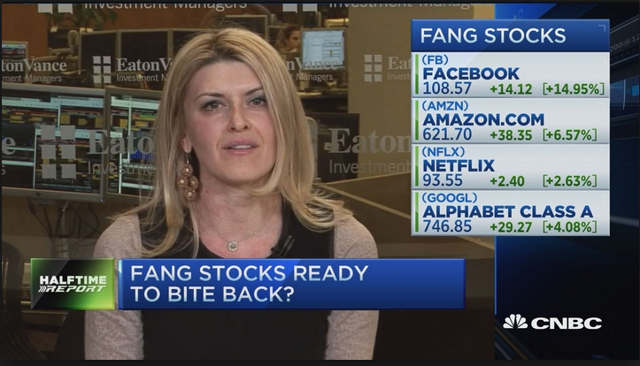 Click to enlarge
Source: CNBC
Yes, we are all in stocks for the long term, but I believe your proactive actions in the short term will help build a solid return for your long-term portfolio.
That being said, if you are holding Amazon (NASDAQ:AMZN), it may be wise to pay attention to the following observations.
The Trend
When you look at the overall picture of Amazon's charts, what do you see? For most of you, I am sure you will see an uptrend. Even with the recent fall, you could construe that Amazon is pulling back or holding at a support level. Unfortunately, that is only looking at the "upside" as most analysts would call it.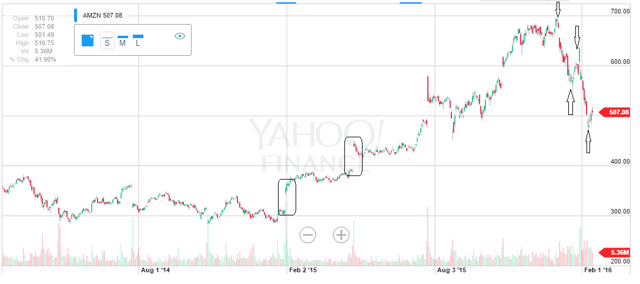 Click to enlarge
An uptrend is defined by higher highs and higher lows, while a downtrend is defined by lower highs and lower lows. Currently, Amazon is in a downtrend as I have indicated by the arrows. In my experience, it has been prudent to not fight the current trend. No matter what the reason, if everything seems to be collapsing, do not try to buy because you believe in the future of the company. Wait until the overall market strengthens. When crises and uncertainty hit the market, correlations of all stocks go to one.
With that being said, there are two gaps along the way. As I stated in my Facebook (NASDAQ:FB) article, these areas tend to be magnets. Do not be surprised if Amazon continues its downtrend to fill these areas as long as market conditions stay volatile.
Sector Health
Because Amazon is part of the Consumer Discretionary Sector, it is worthwhile to pay attention to the Consumer Discretionary Select Sector SPDR ETF (NYSEARCA:XLY). Even though Amazon comprises 10% of the ETF's weight, it was not enough to push the XLY to new highs and seemed to be struggling most of 2015.
Interestingly, upon closer inspection, the ETF fell before Amazon started to fall. Whether or not this is a chance occurrence is up for debate.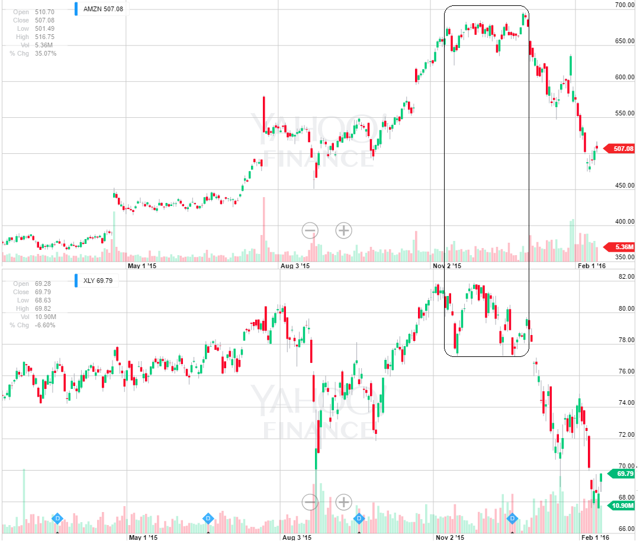 Click to enlarge
Market Cap
I question analyst price targets on any stock or whenever someone says the upside of a stock is unlimited, because if you pay attention to the market capitalization for a stock, you will realize that price targets are not helpful and stocks cannot go to infinity. Amazon's current price is around $500, with a market capitalization of approximately $240 billion.
Below are the analyst price target estimates. For instance, assuming the targets are good for 12 months starting now, how likely is Amazon going to sustain the market capitalization for a $750 share price? Not likely in my opinion. A $360 billion level (240*1.5) in one year is the equivalent of Amazon gaining $120 billion on its current market capitalization. It took close to 22 years to reach the current $240 billion level. I do not believe Amazon has done anything significantly different since it started, according to Jeff Bezo's 1997 letter to investors.

Source: Yahoo Finance
Wal-Mart (NYSE:WMT) has been around longer and has more revenue per share and total revenues compared to Amazon, yet it sits at a $211 billion market capitalization with a $66 price.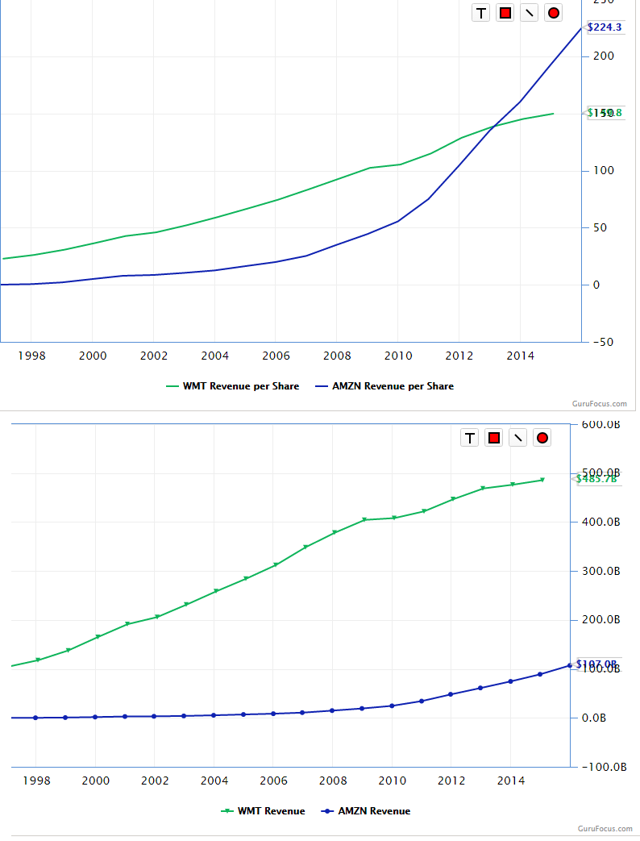 Click to enlarge
Source: Gurufocus
Put Options
It is difficult to watch a stock you invested money in go down, but that is why options are so helpful in times like these. Depending on your assumptions on the stock, you could buy a put as a hedge. If you believe Amazon may continue to go down further, at-the-money puts may be ideal. Some of you may think the downtrend may be close to ending. In that case, you may elect to receive income by the way of a bull put spread or selling a naked put if you want to generate income stream to reduce your cost basis.
Disclosure: I/we have no positions in any stocks mentioned, and no plans to initiate any positions within the next 72 hours.
I wrote this article myself, and it expresses my own opinions. I am not receiving compensation for it (other than from Seeking Alpha). I have no business relationship with any company whose stock is mentioned in this article.