It was another ugly week for natural gas prices, which settled below $2 once again. Natural gas suffers from a number of serious issues these days. There is lots of gas around, both inventories and reserves are bountiful. On balance, it has been a warm winter season in the United States, meaning that heating demand has been below normal levels. The technical price trend of the energy commodity came into the winter season with downside momentum. Finally, contagion from the crude oil market has weighed on the price of natural gas, which is an alternative fuel.
Last Friday, natural gas closed towards the lower end of the trading range that dates back to late October 2015.
Trading at the lower end of the recent range
Natural gas closed on Friday, February 12 at around $1.97 per mmbtu. A close below $2 was not positive for the energy commodity -- particularly on a day where the price of crude oil rallied by over 12%.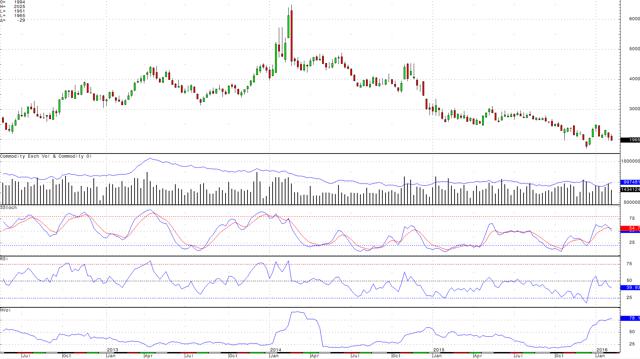 The weekly chart for NYMEX natural gas futures paints an ugly technical picture at this time. The range since last October has been $1.6840 to $2.4950 -- with the extremes on both sides of the market coming since mid-December. While the relative strength indicator remains in neutral territory, the weekly slow stochastic has crossed to the downside meaning that momentum is now lower for the price of natural gas. Moreover, open interest has moved from 895,870 contracts on January 26 to 997,461 last Friday -- an increase of over 11%. This could be a sign that shorts are returning to natural gas as it approaches short-term support at the December 18 lows on the March NYMEX futures contract at $1.91. Below there, the continuous contract lows at $1.684 will come into play so the shorts are seeing visions of profits in a commodity that can move like few others. Fundamentals are also favoring the shorts here, as stockpiles remain historically high.
Inventory bonanza
Last Thursday, the Energy Information Administration reported that inventories fell by only 70 billion cubic feet as of February 5, an anemic withdrawal for this time of the year. Total stockpiles now stand at 2.864 trillion cubic feet, 25% above last year's level and 23.4% above the five-year average for this time of the year.
Actually, stockpiles of natural gas, which rose to all-time highs of over 4 trillion cubic feet at the start of winter, remain at seasonal all-time highs. Although there was a massive snowstorm that hit the populous areas of the U.S. in the Northeast at the end of January, the weather leading up to the winter snow was too warm to get the price of natural gas going.
Brrrr -- A cold snap
It has been cold across the U.S. over recent weeks. In New York City, the temperature was in the single digits last Saturday night with lows of 3 degrees. In Boston, the lows hit negative 6 degrees and in Chicago, it was a chilly 10 degrees. Demand for heat was certainly up over recent days. However, in a sign that spring could be just around the corner, temperatures are heading above freezing in the Midwest at the beginning of this week, while NYC and Boston will see readings in the high 40s and maybe even the low 50s. The current cold snap should mean that withdrawals from inventories will be steady next week but after that, heating demand will likely fall as winter ends and the spring season arrives.
The energy sector continues to be under siege; last week oil did what natural gas did back in December. It fell to the lowest price in over a decade.
Energy sector contagion -- Chesapeake
Although crude oil rallied dramatically last Friday, it still fell by $1.45 or 4.7% last week. On Thursday, crude oil put in yet another new low.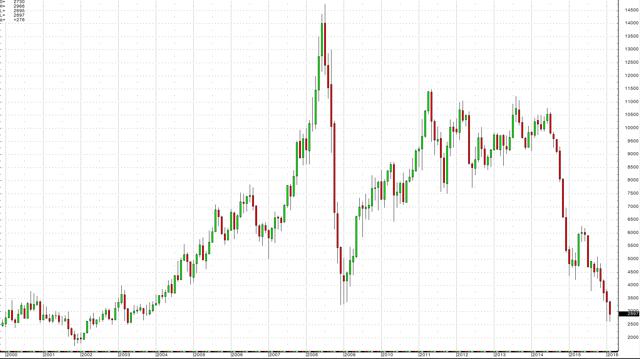 The monthly chart of NYMEX crude oil futures highlights that last week's lows were the lowest level since May 2003. Oil and natural gas, both energy commodities, have been in brutal bear markets for quite some time. Some companies in the energy sector produce both commodities and they are suffering these days from a double-whammy of bearishness.
As an example, last week shares in Chesapeake Energy Corporation (NYSE:CHK) dropped to the lowest level since 1999 when they traded to $1.56 per share on heavy volume.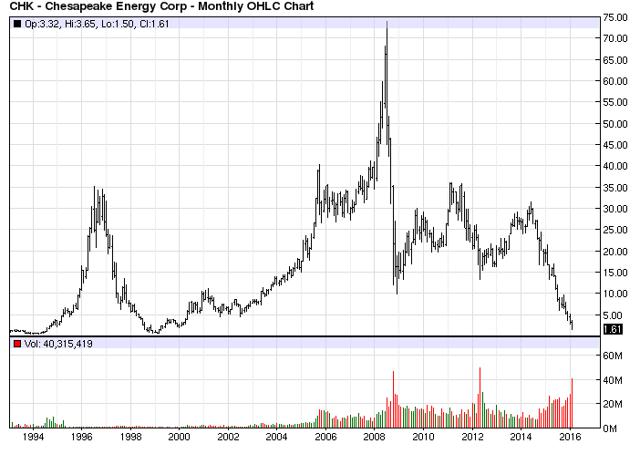 Rumors are swirling around the market about the future of CHK as their shares have fallen from $21 on February 13, 2015 to close last Friday at $1.59 per share. The energy producer is on the verge of bankruptcy and they are not alone.
The bear market in crude oil and natural gas is likely to take many companies out of the game. As prices have dropped to a level where production is uneconomic with market prices below production cost, many will fall by the wayside. While this is bad news for these companies and their shareholders, it could be good news for the future prices of crude oil and natural gas.
Classic economic theory suggests that moves like those that we are seeing in energy are the result of gluts or oversupply. As prices drop to uneconomic levels, production declines and demand increases, leading to a rebound in price. Unfortunately for Chesapeake and other marginal energy producers, they may not have the resources to wait out this bear market. Prices continue to move lower and this is bound to start claiming victims very soon. Oil is an international market and there are political as well as economic factors involved in where it will eventually find a bottom. Natural gas traded on the New York Mercantile Exchange is a domestic U.S. market. Producers could be in store for a lot more pain based on both technical and fundamental factors in the market right now.
A combustible price runs out of fuel
Natural gas is a volatile commodity, we saw that when the price traded down to $1.6840 in mid-December and then exploded 48% over a three-week period. Since then, big inventories and demand that has been less than the norm has returned the price back below $2. With the winter ending and technical indicators now pointing lower, we could see prices fall once again.
It is hard to be very bearish for natural gas on a long-term basis given the current price level. A price under $2 is simply not a level that will sustain producers. Production is bound to fall. However, over the coming weeks, short-term market dynamics suggest that the price is heading lower once again. Real carnage in the natural gas market will present an opportunity to invest in those companies that will survive the current bear market. Moreover, the price of the commodity itself will eventually find a bottom. Uneconomic prices for the production of a commodity are unsustainable. Prices will eventually have to rise to a level where production becomes profitable once again and that price is north of $2 per mmbtu.
As a bonus, I have prepared a video on my website Commodix that provides a more in-depth and detailed analysis on natural gas and other commodity markets in the current bear market to illustrate the real value implications and opportunities.
Disclosure: I/we have no positions in any stocks mentioned, and no plans to initiate any positions within the next 72 hours.
I wrote this article myself, and it expresses my own opinions. I am not receiving compensation for it (other than from Seeking Alpha). I have no business relationship with any company whose stock is mentioned in this article.