Aircastle (NYSE:AYR) reported Q4 2015 earnings on February 11 with both revenue and EPS (i.e. $208.3M and $0.67) beating expectations (i.e. $186.8M and $0.45). The positive surprise was primarily driven by strong maintenance revenue (actual: $15.9M vs. mid-point guidance: $7.0M) and gain from aircraft sale (actual: $15.0M vs. mid-point guidance: $7.5M), which was partially by $17.5M impairment charge.
In Q4, AYR continued to progress well with its portfolio improvement plan. 14 aircrafts were acquired in the quarter with 12 narrow-bodies and 2 wide-bodies as management continues to view mid-age narrow-body planes offer the best value under the low fuel cost environment. 11 aircrafts were sold in the quarter. These include 2 wide-bodies and 2 freighters, which are currently out of market's favor. As shown in the table below, the sale in 2015 was primarily focus on old, wide-body, and freight aircrafts, whereas the acquired fleet is mostly comprised of narrow-bodies with young to mid age.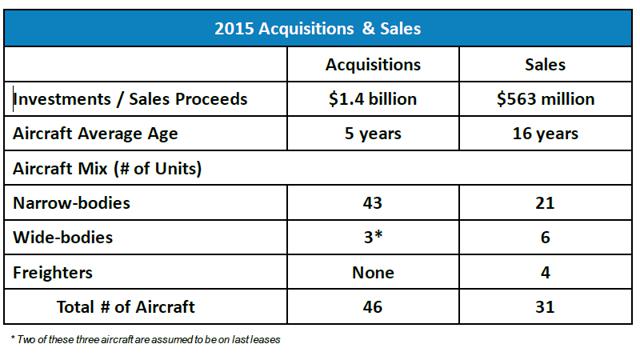 Click to enlarge
The continued shift in asset mix has substantially de-risked AYR's fleet portfolio. Weighted fleet age and lease term have moved favorably by -1 years and +0.5 years since 2014. The out-of-favor freighters now accounts for only 10% of AYR's net book value, compared to 14% in 2014, whereas the most popular wide-bodies currently represent 45% of the NBV, an increase of 10% from prior year. The company's cash ROE reached its all-time high at 15.6% by the end of 2015, which exceeds target cash return of 15.0% and highlights management's wise decision to pursue mid-age narrow-bodies and shrink freighter exposure.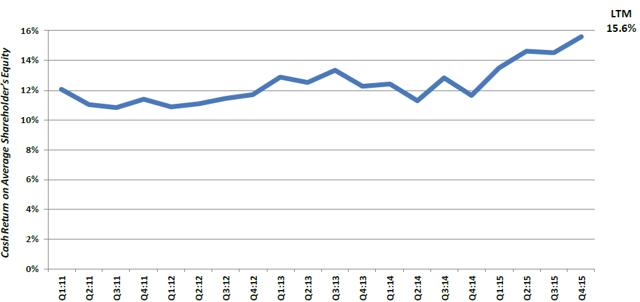 Click to enlarge
In earnings call, management emphasized AYR's ample investment flexibility, which is largely owing to its limited capital commitment. By the end of 2015, the company had committed to acquire additional 10 new narrow-bodies for $380M in 2015 and 25 new E-Jet E2 planes from Embraer from 2018 to 2021. The total number of committed aircraft acquisitions (i.e. 35) is notably smaller than the company's 46 acquisitions in 2015 only and substantially lower than the number of commitments made by Air Lease (NYSE:AL) and AerCap (NYSE:AER) (387 and 458, respectively). In addition, the company has also increased unencumbered assets substantially. Unencumbered net book value has risen by a whopping $3.3B from $0.6B (14% of NBV) to $3.9B (64% of NBV) over the past 5 years. With debt to equity ratio (2.3x) being well below comps average of 3.4x, the company is believed to possess the greatest flexibility in shifting portfolio growth strategy according to changes in market appetite.
AYR continues to be very shareholder friendly. The company bought back $19M value of shares in Q4 and $31M since the start of 2016. A new $100M repurchase has been authorized. Together with an annualized dividend obligation of ~$70M, the current active capital return plan represents 13% of market capitalization and can be comfortably supported by the company's strong operating cash flow generation (see chart below) and the aforementioned investment flexibility.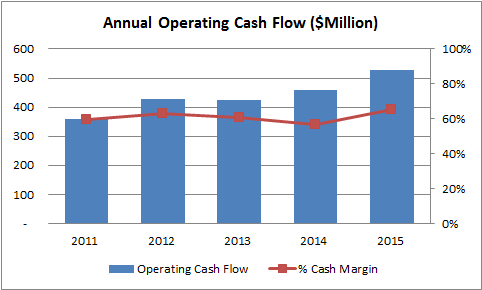 The quarter was not completely perfect. An impairment charge of $17.5M was incurred owing to repossession of a 19-year old A330 from a customer in Russia, where the travel market was described as "awful" by management. The instance raises a red flag for potential impact from weakened emerging economies such as Russia and Brazil. As only 4% of AYR's NBV is exposed to Russia, the deteriorated travel market there should not be a material issue for the company. Although 9% of NBV comes from Brazil, management emphasized that the company's major customers in the market (i.e. LATAM and Avianca Brazil) have been performing well and no glaring risk has been noted. In terms of aircraft subject to potential impairment, the company's monitoring list currently includes 6 old freighters with average age of 24 years and 2 passenger planes. Given that the values of the 6 freighters were written down to scrap values in Q3 2015 and management's plan is to scrap them when their leases expire in the coming 2 years, I believe the risky assets should really be limited to the 2 passenger planes.
Another concern comes from the company's significant lease expiry in 2017. There will be a total of 19 aircrafts coming off lease in the year (see below), which account for ~12% of NBV. However, a vast majority of the book value is concentrated on the 6 A330 and B777 wide-bodies, which management expects no difficulty in re-marketing given they are relatively newer. For the remaining 13 planes with low values, management plans to scrap 4 to 8 of them at lease expiry. Note that these include the freighters in the monitoring list. As such, the net book value subject to releasing risk does not appear to be significant as the number suggests.

Click to enlarge
For 2016, I think investors should focus on management's effort to continue de-risking the fleet portfolio and potentially scale up book value through portfolio acquisition in order to receive an investment grade credit rating (current rating is BB+ with stable outlook). With 6.0% dividend yield and shares trading at 22% discount to book value (compared to 3-year average of 9%), risk-reward remains appealing.
All the data presented in the above charts and the article is sourced from Capital IQ as well as company filings, presentations, and earnings call transcripts, unless otherwise noted.
Disclosure: I/we have no positions in any stocks mentioned, but may initiate a long position in AYR over the next 72 hours.
I wrote this article myself, and it expresses my own opinions. I am not receiving compensation for it (other than from Seeking Alpha). I have no business relationship with any company whose stock is mentioned in this article.