Athletic apparel and footwear sales are soaring around the globe, but the market sell-off is hurting sportswear stocks. The world's largest sportswear company, Nike Inc. (NYSE:NKE), is down 10% year-to-date and is trading 17% below its 52-week high. As the growth story of Nike is still very convincing, the squeezing valuation is an opportunity for the long-term investors to add some Nike shares.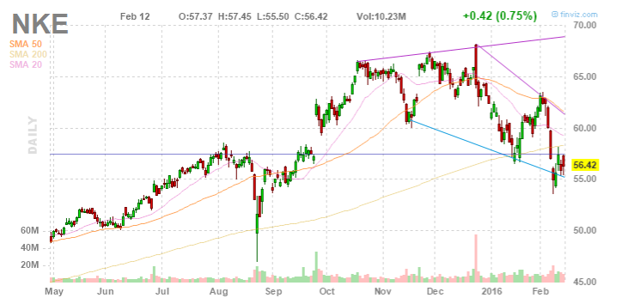 Click to enlarge
Source: Finviz
Over the past seven years, the global markets have witnessed 42% increase in athletic footwear and apparel sales, and the retail sales value has surged to $270 billion. The flattering growth in emerging markets, the International Monetary Fund (IMF) has slashed the global economic growth outlook by 0.2% for 2016 and 2017, and challenging economic environment in the developed markets may impact the overall consumer spending for a while. However, the emerging concept of social fitness and efforts to increase the sports participation should subside these concerns.
The U.S. athletic footwear industry increased 8% to $17.2 billion in 2015, according to NPD Group, and Matt Powell expects the momentum to continue in 2016. As the industry size is poised to expand further, the market leader is positioning itself to achieve $50 billion sales by 2020. But Nike is not alone in the race as Under Armour (NYSE:UA) and Skechers (NYSE:SKX) are also trying to increase their presence while Adidas (OTCQX:ADDYY) is playing its cards to regain the lost status. Although these players are showing healthy progress, Nike's is holding onto its leading position, and it is evident from the fact that Nike and Jordan remained the top athletic footwear brands in 2015. Besides spending billions of dollars on marketing, Nike is aggressively introducing new innovative products. Nike has recently released new sneakers for 2016, which includes Nike Air Max Zero, Nike Air Force 1 Flyknit, Air Jordan XXX, Jordan Cement IV, Kobe 11 Royalty, Nike Tennis Classic Ultra, Nike Air Zoom Classic and Max Classic. Nike's new range of running sneakers should do well due to Rio Summer Olympics 2016.
The overall economic growth rate in China has undoubtedly slowed to 25-year low of 6.9%, but the services sector is doing well and registered 8.3% growth during 2015 as compared to 7.8% in 2014. Thus, the fitness and health market is growing at faster pace primarily due to improving disposable income and increasing sports participation. According to Boston Consulting Group, the upper-middle class will double over the next five years, and consumer spending will significantly increase due to solid wage growth. Similarly, Morgan Stanley (NYSE:MS) estimates that athletic apparel and footwear sales in China and emerging markets will grow at a five-year CAGR of more than 30%. That said, China is Nike's one of the major advantages over Adidas, Under Armour, and Skechers.
Adidas is making solid progress in China primarily due to focus on supply chain network. On the other hand, the expansion of women's sportswear in the first and second tier cities is helping the second largest player to gain the attention of consumers in China. Moreover, the collaboration with the local celebrities including Eason Chen and Fan Bingbing is helping Adidas to gain share in the rapidly growing sportswear market. The company's efforts are fruitful so far, which is evident from the fact that Adidas' sales revenue in China surged 18.4% during the first nine months of 2015.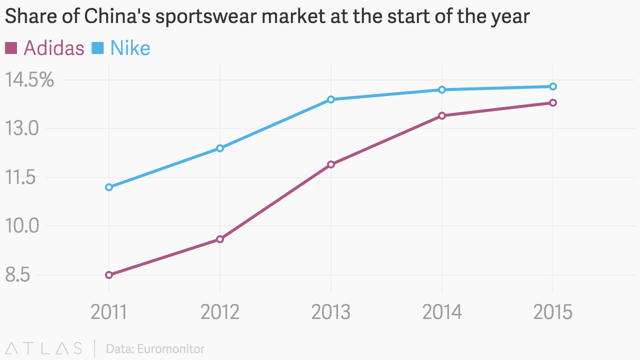 Click to enlarge
Source: Quartz
China loves Nike, and this bond generates more than 11% of Nike's total sales revenue, up from previous 9.35%. In China, the market share gap between Nike and Adidas is pretty close, but the recent performance indicates that Nike's growth momentum is much powerful than Adidas. Nike witnessed impressive 33% increase in footwear sales and 27% overall revenue growth in China during the first half of the fiscal year 2016. Though Michael Jordan's visit to China worked out well, Nike should increase its endorsement efforts in China. With Chinese investors pumping billions of dollars to buy broadcasters and football teams, endorsing the local players will further strengthen Nike's position in China. While 300 million currently play basketball, the Chinese government want 500 million people to participate in sports regularly by 2025, which will significantly boost the retail sales value of sportswear industry.
Traditionally men's sportswear business has remained Nike's primary target, but the enhanced focus on women's sportswear makes a good sense. While the global sports apparel market is expected to reach $184.6 billion by 2020, women's segment is likely to grow at a higher CAGR of 5.7% owing to increasing interest and participation in sports activities. Although the dramatic surge in women participation in Olympics increases the demand, the landscape is very competitive in the U.S., and it will be very tough for Nike gain more market share. Thus, Nike is pumping money into the women's segment to accelerate the growth rate. And to make its marketing efforts effective, Nike has released eight-episode series called Margot vs. Lily. On Nike's women YouTube channel, the trailer and first two episodes have been watched approximately 13 million times. Alongside the series, Nike has released a new range of running shoes for female athletes to make sure that its marketing efforts are generating revenue.
Adidas lost the market to smaller players, but Nike is well aware of the competition and makes quick moves to protect its market position. The company's cross-training shoes sales dropped in December, and Nike lost market share to Skechers. Nike's new pair of popular CrossFit series, the "MetCon 2", for men and women would help the company to get back in the game.
Finally, Nike is accelerating the digital strategy to amplify direct-to-consumer business. With the appoint of its first ever Chief Digital Officer and new Android app, it seems that Nike is formulating some solid strategy to boost profit margin by directly selling more sneakers to the consumer. Nike's gross margin is a bit less than Under Armour's gross margin. Thus, the flexibility to hike the average selling price in future and focusing on the online retail market will improve Nike's profit margins.
Nike is the best choice for the consumer as well as for long-term investor. While the company is selling the most innovative sneakers out there, it returns massive cash to its shareholders. As the previous $8 billion share repurchase program is expected to complete over the next few months, the board has approved another $12 billion share repurchase program, which will play its part in creating value for the shareholders.
Nike's balance sheet is very healthy as it holds only $2.1 billion in debt and massive cash & cash equivalent of $3.85 billion. Just for an idea, Under Armour's debt to equity ratio is almost 59% and Nike's debt to equity ratio is just 15.5%. Thus, the expected double-digit earnings growth over the next five years and less leveraged balance sheet will enable Nike to keep increasing dividends. Nike has raised the dividend at a CAGR of 16% over the past five years while its payout ratio is approximately 26.5%. As Nike has the plan to increase the payout to 35% by 2020, the investors should expect a similar pace of future dividend hikes.
On the valuation side, I don't think that Nike is an overvalued stock. In fact, the stock has significant upside when you look at the growth prospects. Nike is trading at forward price to earnings of 22.6 times while the footwear sector is trading at a forward price to earnings of 26.1 times and Under Armour is trading at forward PE of 45.3x. Moreover, the brand loyalty, long list of endorsements, and robust product portfolio makes Nike a less risky investment as compared to Under Armour and Skechers. That said, Nike is one of the reliable stocks to buy amid volatile and weak scenario.
Disclosure: I/we have no positions in any stocks mentioned, and no plans to initiate any positions within the next 72 hours.
I wrote this article myself, and it expresses my own opinions. I am not receiving compensation for it (other than from Seeking Alpha). I have no business relationship with any company whose stock is mentioned in this article.