Kinder Morgan (NYSE:KMI) has certainly seen its fair share of price depreciation alongside oil's and trading about 66% lower than its 52-week high while flirting with junk bond ratings. The payout has been drastically reduced by 75% and is now yielding 3.2%. These actions and the others following are management's plan that it believes will see the company through the remainder of oil's downturn.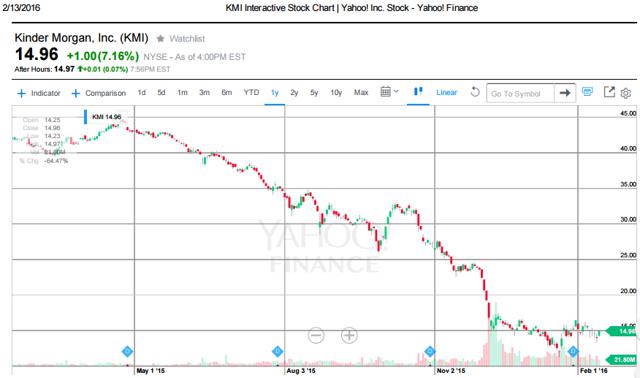 Click to enlarge
The good news is that 90% (slide 7 on company presentation) of the company's income is derived from fixed-rate fees for services under long-term contracts which provide it some protection from the cyclical swings in commodities. The other good news is with the painful (but necessary) dividend cuts, DCF came out to $4.7 billion in 2015, and now with the new dividend cut, the company is expecting $3.6 billion cash flow in excess of covering 2016's dividends. That's a very sizeable amount of coverage that should have KMI's investors sleeping well at night.
The primary driver of the dividend cut however was not concerns over covering the already reduced dividend, but to cover the management's projected capex for the coming year of $3.3 billion. Due to the company's shares nosediving in value, raising the money in capital equity markets would have been terribly inefficient and not nearly as effective as reducing the dividend. The other alternative had it not cut the dividend to current levels would have been taking on the debt necessary to fund these projects, causing KMI's credit rating to be cut to junk, and thus, greatly increasing borrowing and refinancing costs.
KMI has already started to utilize its maintained credit rating and has announced $2 billion of unsecured loans which are being used to mostly refinance its existing debt. Additionally, management seems confident that it won't need to access additional debt or equity markets for 2016 (slide 5 on company presentation). That being said, KMI does have a heavily leveraged balance sheet at the moment, which has made many investors uneasy, and it seems the company is all too comfortable with its current 5.6 net debt to EBITDA as it has set a "goal" of reducing it to 5.5 for 2016.
The part that I am still trying to figure out is why has KMI's stock price depreciated so poorly with its main business being natural gas transportation and storage with the production of crude oil contributing only a 10% segment to its 2015 EBDA. Yet, below we see WTI prices have greatly influenced share prices.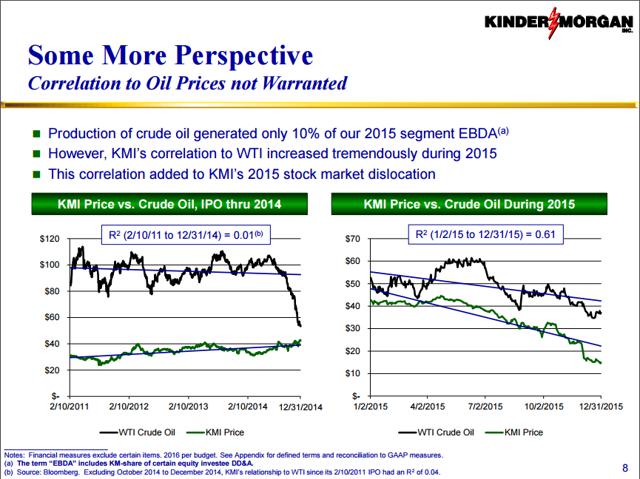 Click to enlarge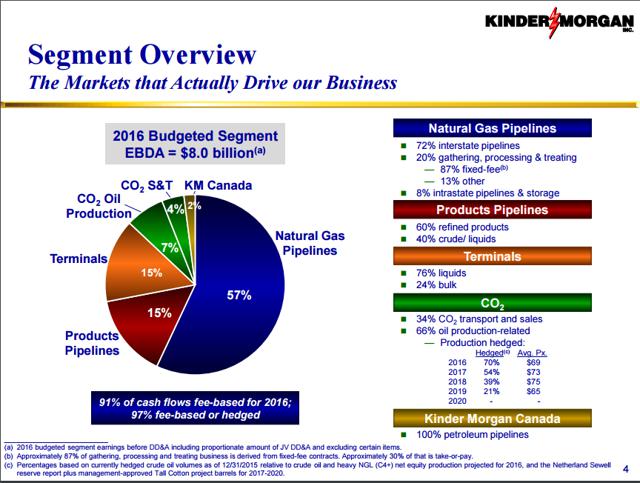 Click to enlarge
Now, let's examine some of the company's assumptions which will determine if 2016 will turn out as it is planning. Those of you reading feel free to dig into the others, but I would like to focus on the pricing assumptions.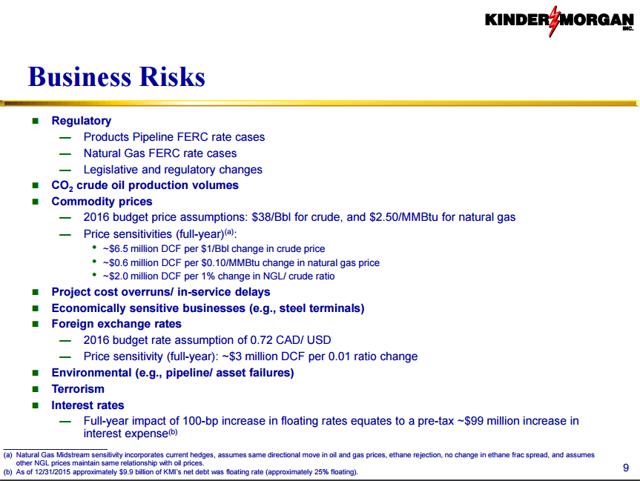 Click to enlarge
We see KMI assuming $38/Bbl for 2016. Every $1 of difference will result in approximately $6.5 million difference in DCF. The price of oil has not been $38 so far and has a hard time staying above $30. Yes, I know we are quite early in the year, but just keep that in mind if things don't change for another 10.5 months.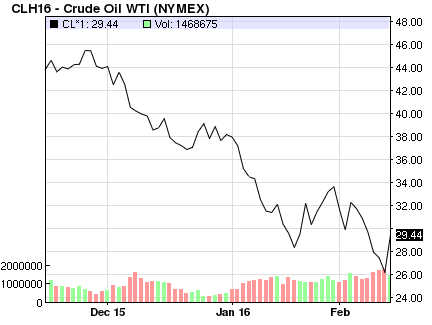 Secondly, there is a price assumption of $2.50/MMBtu for natural gas which looks more feasible given the EIA's forecast due to growing global and US consumption, though last week was at $2.05/MMBtu, so don't count on this just yet.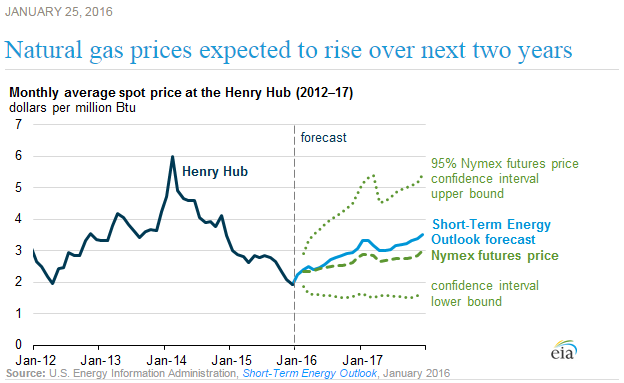 Last, and certainly not least, is the threat of the company's shrinking backlog. Kinder Morgan is only focusing on projects that are more likely to be profitable in the current downtrodden energy markets, and as a result, last quarter's backlog shrunk by 14.5% to $18.2 billion. To further exacerbate this concern, management has forewarned of more backlog cuts in the coming quarter, and one of them may be the Trans Mountain pipeline for which the Canadian Government may not make a decision on until later in 2016. This project alone accounts for 30% of the company's current backlog and would be a major blow should it not come to fruition. This would greatly hamper the company's long-term potential and limit its future growth.
While Kinder Morgan has taken prudent steps ensuring it is in better shape to survive the current markets, its 2016 assumptions seem a bit lofty to me. I think the company will survive just fine this coming year, but it will be interesting to see how gas and oil prices are halfway through the year, and I am eagerly awaiting the next two quarters' earnings calls and will be listening for any signs of improvement and the updated full-year guidance for 2016.
Disclosure: I/we have no positions in any stocks mentioned, and no plans to initiate any positions within the next 72 hours.
I wrote this article myself, and it expresses my own opinions. I am not receiving compensation for it (other than from Seeking Alpha). I have no business relationship with any company whose stock is mentioned in this article.