As a dividend/dividend growth investor, I've really liked Realty Income (NYSE:O) over the years. The 'Monthly Dividend Company' has managed 81 quarters of consecutive dividend increases. Last week Realty Income announced solid full-year 2015 results and some nice guidance for 2016, plus a 5% divided boost. Shares have recently touched the $60 level, an all-time high for Realty Income.
Tempting as it is to keep this winner running, I actually think it's time for investors to cash their chips in and look for other income investments in the REIT sector. This article looks at Realty Income's recent performance, its guidance, and finally its valuation vis-a-vis similar names within this asset class.
Valuation
Typically I start an article by looking at operating results, but this time I'd like to start with valuation, as that is at the center of this article's thesis. Both Realty Income's stock price and its valuation are quite high. Have a look.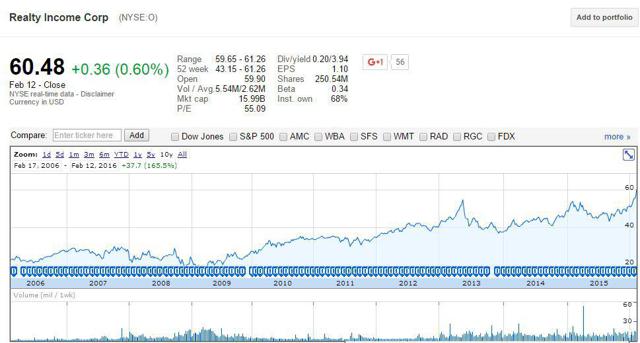 Click to enlarge
Courtesy of Google Finance.
I'm not a big fan of super long-term charts, but this one is useful because it shows just how high Realty Income has gotten. Shares are at an all-time high. Valuations are quite lofty as well. Right now Realty Income trades at 21.8 times FFO, which is something I might expect from a high-growth company, but Realty Income is not a high-growth company.
According to data from FAST Graphs, Realty Income has averaged a valuation of 16.3 times FFO over the last ten years. That means Realty Income trades at a 33% premium to its average valuation over the last business cycle. Shares of Realty Income could drop quite a bit before prices become reasonable. Right now shares yield only 3.9%, and that low yield doesn't give income investors much reason to drive the price higher.
Solid performance
All that said, Realty Income has performed well in 2015, and 2016 guidance was pretty good too. Full-year revenue increased 9.6% with acquisitions included. Adjusted Funds From Operations were up 6.6%. Average rent increased a modest 1.3%, but buoyant acquisition volume drove growth: Last year the company acquired $1.26 billion worth in high-quality real estate investments.
In 2016, however, management expects $750 million in acquisitions. Historically, that's quite a bit, but still not as much as last couple years. Competition for retail real estate is heating up, apparently, and that is narrowing investment spreads for new investment. As a result, FFO growth is expected to moderate to 1.8%-4.3% in 2016. AFFO is expected to grow by 4.0%-5.8%. With a dividend-to-FFO ratio of between 80% and 90%, I don't expect dividend growth to exceed AFFO growth. I would expect continued dividend growth in the mid single-digits per year. While those growth numbers aren't bad, I don't believe they merit the high valuation which Realty Income today carries.
Other options?
There's no doubt that Realty Income has been the beneficiary of a "flight to safety." At this valuation and technical position, I would be a little nervous about this 'high ground.' There could end up being a lot of downside here. Unfortunately, some of the other high-quality retail REITs are also near their highs. One name I do like at this time is WP Carey (NYSE:WPC), an office REIT with similar occupancy levels to Realty Income, and similar contract durations as well. I intend to cover WP Carey in greater detail in later articles.
The bottom line is, right now I think it's time to take some chips off the table if you're still long Realty Income. As for myself, I'll consider adding Realty Income once it gets down to its average valuation. That would be 16 times FFO, and the share price there would be $45. That's where I would feel comfortable recommending this one.
Disclosure: I am/we are long WPC.
I wrote this article myself, and it expresses my own opinions. I am not receiving compensation for it (other than from Seeking Alpha). I have no business relationship with any company whose stock is mentioned in this article.