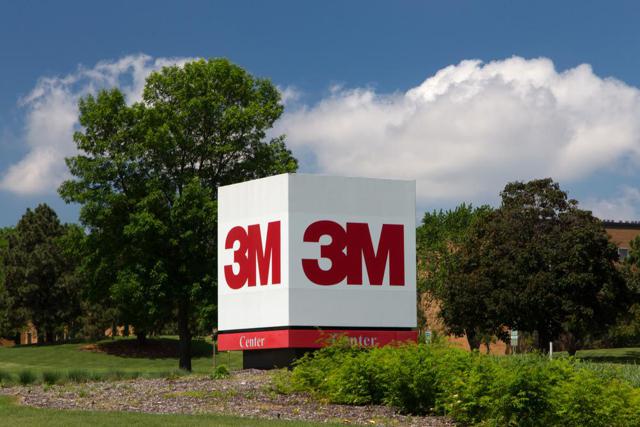 Although I haven't finished detailed reviews of all the major industrial earnings reports for the December quarter, it is looking as though Honeywell International (NYSE:HON) and 3M Co. (NYSE:MMM) have managed to stay on track. In the case of 3M, the company's broad end-market diversity seems to be serving it well, but I wouldn't ignore the weakness in the company's Industrial and Electronics/Energy businesses, nor the weak results in the U.S.
Relative to Honeywell, 3M doesn't have quite the same attractive end-market exposures, but then aerospace and non-residential construction aren't looking quite as good now as they were a little while ago, and 3M's sizable healthcare exposure is looking like a solid plus in its favor. 3M isn't cheap, and Honeywell does look like a better relative value, but I'm in no rush to kick this stock out of my portfolio, particularly when the overall industrial outlook is pointing more towards a bunker mentality.
A Solid Performance Against A Lower Bar
3M lowered its guidance in the middle of December, so any talk of "beating expectations" has to be kept in that context. Still, it was a better performance than most industrial conglomerates have managed this quarter.
Revenue fell more than 5% as reported, but declined about 1% in organic constant currency terms. Honeywell and Danaher (NYSE:DHR) did a little better, while Illinois Tool Works (NYSE:ITW) was similar. Companies like Dover (NYSE:DOV) and Emerson (NYSE:EMR), with far more exposure to oil and gas, were notably worse performers. Surprisingly, 3M showed some pricing power this quarter (up over 1%), and that's not a very common occurrence right now. It did come at the cost of volume (down over 2%), though. I believe this marks the first negative quarter for 3M since 2009.
Gross margin was down 20bp for the quarter, and operating income was down 10% as reported. Adjusted for restructuring charges, operating income fell about 3%.
Industrial Fading, Electronics/Energy Falling
3M's industrial segment saw organic revenue contraction of about 2%, as steep declines in adhesives and abrasives were only partly offset by growth in purification and auto (up high single digits on share gains). 3M seemed to do better than Honeywell, Dover, and Illinois Tool Works in auto (again, share/content gains helped), but weak adhesives and abrasives speak to the underlying problems in the "general industrial" space. I think it's worth noting that the U.S. was the only geographic region to be negative for the quarter, and I'd also note that this segment has been weakening steadily for a while now.
3M is also seeing growing weakness in its Electrical and Energy business, as revenue fell about 8% this quarter, with an 8% decline in Electronics and a 6% decline in Energy. The Electronics business saw weak materials sales and significant pressure in consumer-related products, which isn't too surprising in retrospect given the weakness in handsets, PCs, and so on.
Healthcare Does Its Part
Those industrial conglomerates with healthcare exposure (3M, Danaher, General Electric (NYSE:GE), and Siemens (OTCPK:SIEGY) among others) are going to benefit from that exposure during this industrial slowdown. 3M saw revenue up more than 4% this quarter, with growth in all segments and geographies. Management elected to keep its health information business, and I would expect to see food safety continue to provide good growth as the U.S. government has gotten more serious about mandating food safety improvements.
Consumer was also a growth business this quarter, with 3% growth driven by home improvement demand, home care, and office supplies. Safety/Graphics was weaker (down almost 3%) as growth in roofing and commercial solutions was offset by weakness in personal safety brought on by tough comps from the Ebola scare a year ago.
From Here To … Where?
3M did okay this time around, but it is still a tough market out there. While a few companies (Emerson, notably) seem to think that a second half recovery is more likely than not, I'm not quite that optimistic yet.
Relative to my expectations a few months ago, my outlook for 3M hasn't changed all that much. I'm a little more concerned about the outlooks for commercial aerospace and non-residential construction, but those aren't very relevant to 3M. Electronics is looking a little worse than I thought, and that's a bigger risk to 3M than to Honeywell or Illinois Tool Works. General industrial is about as bad as I thought it would be, and auto may actually be a little better than I'd expected (good for 3M, Honeywell, and ITW). Healthcare is going about as I expected, and this should be 3M's strongest business throughout 2016.
I still think Europe is likely to be stronger than the U.S. this year (for 3M, sales in the EMEA region were up 1.1% versus down 0.4% in the U.S.), and China remains a big unknown.
I'm still expecting 3M to be a long-term 3% to 4% grower on the revenue line, with free cash flow growth in the mid single digits. I suppose I could argue that the shares aren't all that expensive given the strong year-after-year performances in ROE and ROIC (and the implied book value multiple that comes from that), but the shares don't look cheap to me on the basis of discounted free cash flow.
The Bottom Line
Among the industrial conglomerates that I think of as relatively safe, Honeywell is probably the cheapest option today. 3M and Illinois Tool Works seem more or less equivalently valued to me, and while Ingersoll-Rand (NYSE:IR), Rockwell (NYSE:ROK), and Parker-Hannifin (NYSE:PH) look cheaper, there's a safety trade-off to consider there.
I'm content to sit tight with my 3M position. There is a risk that the industrial downturn gets worse and starts dragging consumer-related sectors down with it, but there's likewise the "risk" that this downturn more or less works itself out by the end of 2016.
Disclosure: I am/we are long MMM.
I wrote this article myself, and it expresses my own opinions. I am not receiving compensation for it (other than from Seeking Alpha). I have no business relationship with any company whose stock is mentioned in this article.