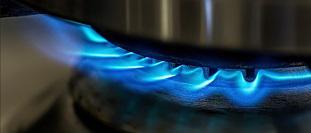 Important note: This article is not an investment recommendation and should not to be relied upon when making investment decisions - investors should conduct their own comprehensive research. Please read the disclaimer at the end of this article.
While investors are closely focused on day-to-day swings in crude oil price, a quiet crisis has also been unfolding on the natural gas side.
Responding to the decade-low U.S. natural gas prices, the industry set another activity anti-record: as of Friday, February 12, the Lower 48 natural gas-directed rig count dropped to just 100 active horizontal and directional rigs, according to Baker Hughes' survey. The vertical rig count stood at 2 rigs.
This compares to ~350 rigs drilling for natural gas as of Fall 2014.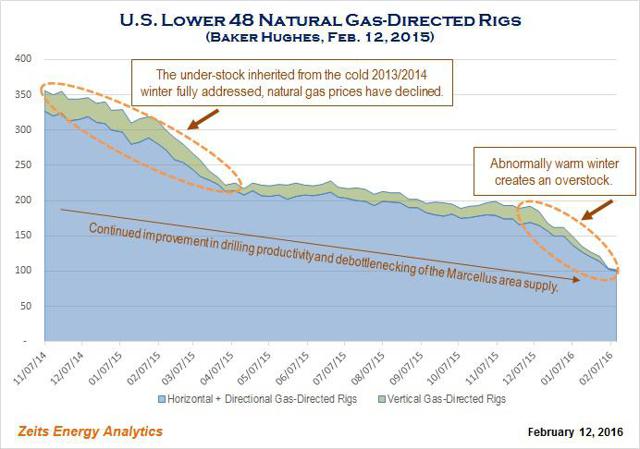 Click to enlarge
The dramatic decline in the natural gas rig count in less than eighteen months is driven by four big factors.
The first factor relates to the impact of the extremely cold winter season of 2013/2014. It is important to note that winter weather remains the largest demand variable. The 2013/2014 weather anomaly created a deep storage deficit and necessitated increased levels of drilling activity throughout 2014 to enable producers to replenish storage. The storage deficit was essentially eliminated by early 2015 (the graph below).
As natural gas supply accelerated, natural gas prices dropped by mid-2014, eliminating the strong economic stimulus to producers that existed in early 2014.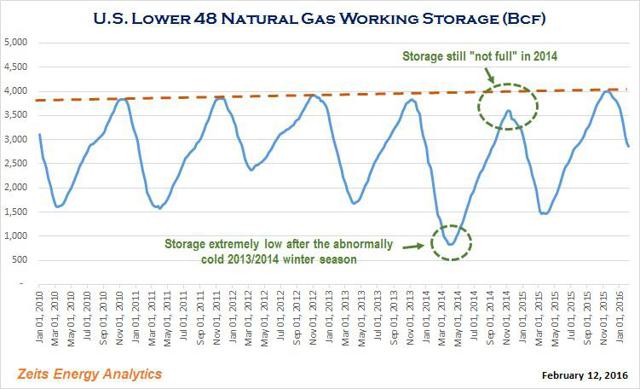 Click to enlarge
Lower natural gas prices resulted in an adjustment in drilling activity in early 2015, with the natural gas rig count declining from ~350 rigs to ~200 rigs. The rig count remained relatively stable throughout the remainder of the year.
The second major factor reflected in the current rig count is the recent weather swing in the opposite direction. The abnormally warm winter of 2015/2016 created a large shortfall in demand. The weather surprise came at the time when natural gas storage was ample, driving natural gas prices to record lows. In response, the natural gas rig count dropped precipitously from ~200 rigs to ~100 rigs in just three months.
The wide swing in weather-related demand between the winter of 2013/2014 and the current winter accounts for a large part of the drop in the rig count. The weather factor is obviously random and "non-recurring" in nature.
However, I would argue that the current rig count, despite appearing extremely low, is nearly sufficient to serve demand at its current pace of growth. Going forward, the industry is unlikely to see the natural gas rig count anywhere close to the 350 rig level observed in 2014. Moreover, even the ~200 rig count that prevailed throughout most of 2015 may be an overkill, at least for the next few years.
The backlog of wells waiting on completion is just one factor that allows operators to use less rigs. Other factors - which are secular in nature - keep redefining the rig requirement to ever lower levels.
The impressive gains in rig productivity have been well communicated by operators. In addition to the high-graded rig fleet and technical innovations in drilling, the industry is also benefiting from efficiencies that stem from multi-well pads, longer laterals, better well control in development mode and optimized workflows.
Another important secular factor is the market share capture by the Marcellus and Utica fueled by additional takeaway capacity continuously coming online. Wells in these prolific formations generally tend to be more productive than in Tier 1 shale plays where operating activity is in decline. As a larger portion of new wells comes from the most prolific areas, it takes less wells - and less rigs - to deliver the same volumes.
While the rig count is currently running below sustainable level, based on my estimate, the shortfall is minimal. Assuming no change in the DUC inventory, I estimate that ~150 rigs would be sufficient to grow U.S. production volumes at a rate of 2-3 Bcf/d per year.
The plausibility of this estimate can be illustrated by the following anecdotal example. Cabot Oil & Gas (NYSE:COG), a large Marcellus operator, plans to grow its production by 2%-7% in 2016 by bringing 40 net new wells on production. I estimate the company's gross operated production in the Marcellus to be ~1.8 Bcf/d this year, or ~2.6%-2.8% of the estimated U.S. Lower 48 total marketed production less associated gas volumes (gas from oil wells) and gas production from the offshore. If Cabot were to leave its well inventory unchanged, I estimate that it would need ~2.0 operated rigs to drill 40 new wells in a year.
If all the new natural gas wells in the U.S. were as productive as Cabot's wells in Susquehanna County, PA, the industry would need only ~75 gas-directed rigs to grow production at low-single digits. However, if I were to make a more realistic assumption that the average well productivity in the U.S. natural gas industry is approximately half of Cabot's (based on the rig time to drill the well), the required rig count for production growth in line with demand growth would be ~150 rigs. During the upcycle, the rig requirement may temporarily exceed 200 rigs.
If I were to stay on an extra conservative side and assumed that the average well will have one-third of Cabot's productivity in the Marcellus, the required rig count would still remain relatively low ~225 land rigs nation-wide.
Implications For Natural Gas Prices
Given the current natural gas over-stock and large inventory of wells waiting on completion, the current natural gas-directed rig count of ~100 rigs is actually not low.
From a commodity price perspective, I would not view this "collapse" in drilling activity as a harbinger of a decline in natural gas production volumes in Lower 48 with a natural gas price spike to follow. The rig count decline is simply a step by operators to adjust to the weather-driven change in demand - in many cases, operators' well inventories, in combination with the remaining rigs, are more than sufficient to meet their production goals this year.
That being said, some price incentive may be required within a year to motivate operators to bring additional rigs back to work to meet medium-term demand increases. Over time, an increase in the rig count to the ~150-200 range will likely be required to meet growing demand.
While the rig count may occasionally spike to even higher levels when an acceleration in natural gas production is needed, the rig requirement for sustained growth has been substantially re-defined by the technology and market share gains by prolific sweet spots.
Implications For Drilling Contractor Stocks
The sharply reduced rig requirement for the natural gas segment is no good news for the contract drilling sector. The upcycle in the land drilling industry becomes strongly dependent on oil prices and the "call on U.S. oil shales" as very little help in terms of demand will come from the natural gas side.
Investors in land drilling stocks - such as Helmerich & Payne (NYSE:HP), Patterson-UTI (NASDAQ:PTEN), Nabors (NYSE:NBR), Precision Drilling (NYSE:PDS) and Ensign Energy Services (OTCPK:ESVIF) - need to evaluate potential demand from oil-directed activity in the context of the significant additional spare capacity effectively created by more efficient operations in natural gas shales.
I estimate that the industry currently has ~700 modern-generation AC-drive rigs rated for 1,500+ horsepower and 7,500 psi mudpump capability. Going forward, this segment of the market will represent the core capacity of the land drilling industry. Once the rig utilization in this segment comes close to full, dayrates for these type of rigs may come reasonably close to replacement economics levels, even if overall equipment utilization throughout the industry remains far from full.
Given that significant productivity gains have also occurred in oil shales, it may take a very robust recovery in industry activity to fully employ 700 premium rigs, alongside several hundred lower-specification rigs. Such a robust recovery would require a strong bounce in oil prices, particularly considering re-inflation of supply chain costs and operating costs that would correspond to such an intense activity level. Getting to that point may take significant time.
For more in-depth data and analysis of commodity fundamentals, please consider subscribing to Zeits OIL ANALYTICS that provides in-depth analysis of global and North American crude oil market.
The fundamentals discussed in this note may be relevant to natural gas-focused ETFs, such as:
Disclaimer: Opinions expressed herein by the author are not an investment recommendation and are not meant to be relied upon in investment decisions. The author is not acting in an investment, tax, legal or any other advisory capacity. This is not an investment research report. The author's opinions expressed herein address only select aspects of potential investment in securities of the companies mentioned and cannot be a substitute for comprehensive investment analysis. Any analysis presented herein is illustrative in nature, limited in scope, based on an incomplete set of information, and has limitations to its accuracy. The author recommends that potential and existing investors conduct thorough investment research of their own, including detailed review of the companies' SEC filings, and consult a qualified investment advisor. The information upon which this material is based was obtained from sources believed to be reliable, but has not been independently verified. Therefore, the author cannot guarantee its accuracy. Any opinions or estimates constitute the author's best judgment as of the date of publication, and are subject to change without notice. The author explicitly disclaims any liability that may arise from the use of this material.
Disclosure: I/we have no positions in any stocks mentioned, and no plans to initiate any positions within the next 72 hours.
I wrote this article myself, and it expresses my own opinions. I am not receiving compensation for it (other than from Seeking Alpha). I have no business relationship with any company whose stock is mentioned in this article.
Editor's Note: This article discusses one or more securities that do not trade on a major U.S. exchange. Please be aware of the risks associated with these stocks.