During most of 2015, I was pretty bearish on the custodian banks. That list includes ETF giant State Street (NYSE:STT) as I said back in August that shares had substantial downside risk, then trading at $78. I felt the enormous multiple STT was being assigned was far too much and that it would have to come back down to Earth at some point. That has certainly happened as the meltdown in global markets has taken its toll on STT and after Q4 earnings failed to excite the bulls, the stock is still floundering down at $54. With shares still near their multi-year lows, is it time to pick STT up off the scrap heap?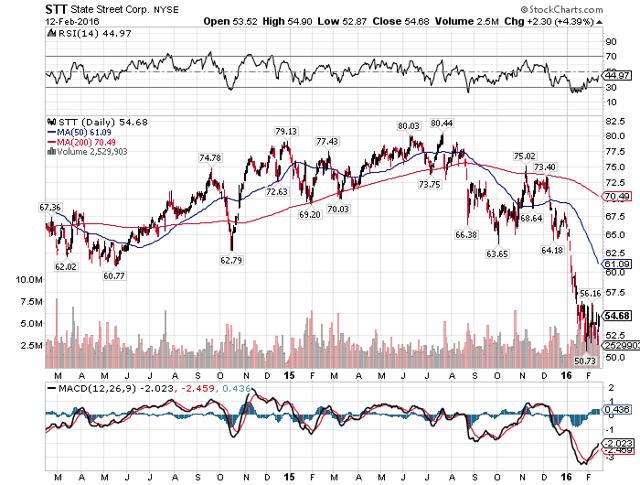 Click to enlarge
As the Fed was busy preparing all of us for higher rates last year (remember that?), I was quite bearish on the prospect of paying premium multiples for a bank that relies on fee income rather than generating its revenue from lending. STT's interest income is only about 20% of its total revenue, meaning the other 80% comes from fees that have little or nothing to do with interest rates. That means STT's leverage to higher rates is almost meaningless and at a time when I thought the Fed was going to hike a bunch of times in 2016, that made me bearish. However, the Fed has completely botched its tightening cycle so we now have lower rates and a confused market that doesn't know what to do. That could, however, leave an opportunity open to pick up cheap shares of STT if you like the longer term story.
On the revenue front in Q4, STT saw NIM higher by six bps against Q3 but to a total of only 101bps. STT doesn't try to make its living by lending and it shows; this company's NIM is atrocious but that is by design. This is why I thought STT was so out of favor last year as rates were being prepped to go higher; who wants virtually zero leverage to higher rates?
As it turns out, that may be exactly what investors want in this new, unexpected environment because the company's fees move irrespective of rates. STT's fee revenue was down 1.9% Y/Y in Q4 so it isn't exactly setting the world on fire but a fee-based model introduces some variability. The company's ETP woes certainly did not help but none of its businesses are particularly weak; they're mostly just a little volatile. And the pending deal to purchase GE's asset management arm will provide a $110+ billion shot in the arm for STT's slowly melting AUM base. If revenue loss continues throughout 2016 we'll have something to talk about but until then, STT's revenue issues are nowhere near serious enough to warrant further discussion.
In a move that I've found to be quite encouraging, STT has continued the great work it has done in the recent past with its State Street Beacon program. Expenses continue to fall - moving down 3% Y/Y in Q4 - and that is something that will serve STT very well as it gets it revenue base back in order. BNY Mellon (NYSE:BK), for instance, has struggled mightily with controlling costs in the past and it is great to see STT wants to avoid such an unpleasant situation. The fact that it has its expenses under control and that they are going lower is really terrific.
STT is also making capital returns a priority as it continues to pay its ~2.5% dividend and buy back its own stock. The company has $780 million remaining on its current authorization that expires this June. That means it has only a few months to buy a lot of stock. However, with shares languishing at multi-year lows, I have a lot of faith that management is busy right now trying to grab cheap shares while it can. That authorization is good for more than three percent of the float so it could certainly have a material impact on EPS should STT make good on it.
Another headwind that could be a tailwind for STT in 2016 is the dollar. STT lost $53 million due to currency translations of fee income in Q4 - a sizable loss indeed. However, that loss could potentially turn into a tailwind in 2016 as the dollar has taken a beating against many of the world's major currencies. Unbridled strength in the second half of last year has given way to just the opposite in 2016 as the Fed continues to pump a steady diet of confusion into the world's markets. If the dollar continues to fall STT could see a sizable revenue tailwind in 2016 from it but at the least, I expect that it won't see a huge headwind and that is quite a change from what I thought just a few months ago.
At less than 10 times next year's earnings and about 11.2 times this year's estimates, STT isn't cheap by standard bank multiples. However, STT's fee model means it will never trade with traditional banks and right now, it is as cheap as I've seen it in a long time. And with rates throwing a temper tantrum right now, its fee model is very attractive. In addition, there is a bit of upside potential to estimates as analysts have slightly negative revenue and EPS projections for 2016 despite the fact that the company could see a dollar tailwind and is going to buy back a lot of stock. In concert with falling expenses, I think EPS is low for this year. STT has a pretty good shot at hitting $5 in 2016 and if it does, it will trade back over $60. I think the odds are much higher of that happening than for STT to retest $50.
Disclosure: I/we have no positions in any stocks mentioned, but may initiate a long position in STT over the next 72 hours.
I wrote this article myself, and it expresses my own opinions. I am not receiving compensation for it (other than from Seeking Alpha). I have no business relationship with any company whose stock is mentioned in this article.